Every month I share how much I make online and in addition to my regular 8-5 job. It's a record for myself that there are other ways to make money other than working for someone else. It's a happy thought.
In January I made a decent amount. To be exact I made $131.60. It's a little less than the $265.30 I made in January of 2017, but that's ok. It's still on the right path. =)
We do more on Wallet Squirrel than track our income though, we write articles about saving money, making money and personal finance hacks that make us better people. Here are some of the highlights in January.
What We Wrote About In January
Andrew Typed Away Frantically
Adam Liked Apps
January Income Report
I kind of shot the gun saying how much we made in January, but it was such a great lead in. Here is the full income report and break down.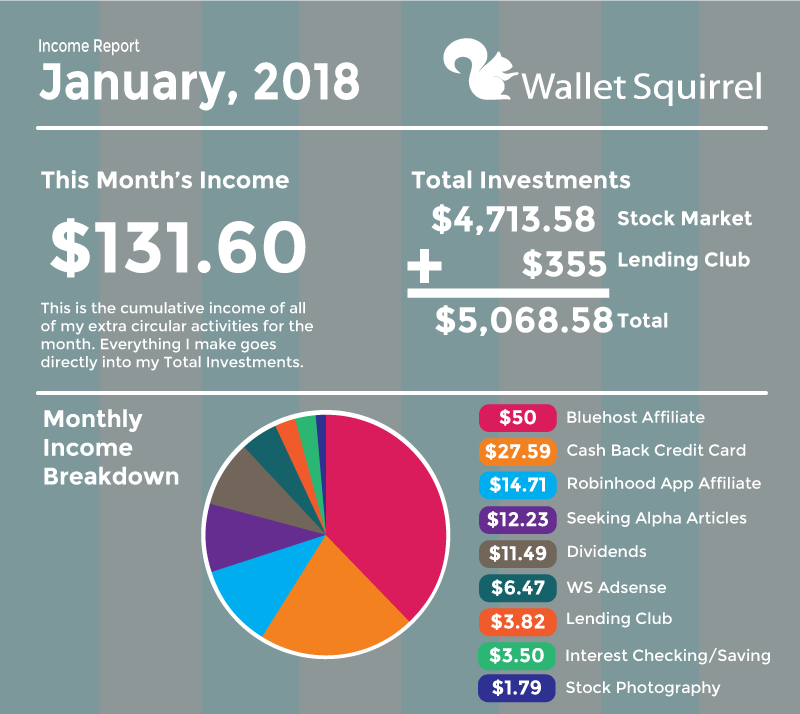 The full breakdown with how I made each income stream is pretty awesome.
$50 – Bluehost Affiliate Income
$27.59 – Cashback Credit Card
$14.71 – Robinhood App Affiliate Program
$12.23 – Seeking Alpha Articles
$11.49 – Dividends
$6.47 – Wallet Squirrel AdSense
$3.82 – Lending Club
$3.50 – Interest Checking/Savings Account
$1.79 – Stock Photography
Where Does That Money Go?
We have some minor expenses like our social media software that costs about $30 a month, but the rest of Adam's portion goes toward paying off debt. However, my portion goes towards investing in my portfolio. Specifically this last month I bought 1 share of Realty Income (O) and Walt Disney (DIS). I'm a big fan of both of these stocks.
What Are We Doing in February?
For me that's easy. In February I am hoping to finally launch the new affiliate site for our Epic Niche Site Battle. In January I spent the month creating the website from scratch, now I need to create some great content for people.
Adam, however, will focus on Wallet Squirrel in February. He has a laser-like focus on doing everything we can to rock out our Pinterest social media traffic. I'm really excited to see how this works!
https://walletsquirrel.com/wp-content/uploads/2018/01/January-2018-Wallet-Squirel-Income-Report-Infographic.png
714
800
Wallet Squirrel
https://www.walletsquirrel.com/wp-content/uploads/2015/09/Wallet-Squirrel-Logo.png
Wallet Squirrel
2018-02-01 12:30:05
2018-01-31 19:53:54
Income Report - January, 2018