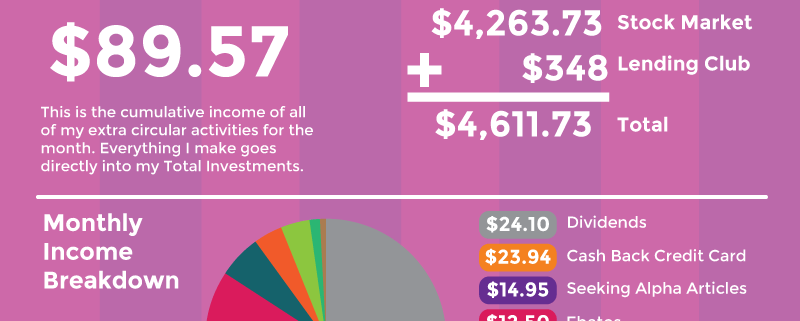 Every month I publish our income reports. These are a "behind the curtains" look at how much Wallet Squirrel (Andrew & Adam) make online. As well as what we do with it.
Typically Adam takes his share of our extra monthly income and pays off his debt and Andrew (me) uses his portion to invest in stocks.
This is great for YOU because we're covering both major forms of personal finance as we're writing about both saving and investing. Ying and Yang if you will.
Cool Stuff We Covered In November
Andrew got excited about stocks
Adam's rocked personal finance and productivity
During November, Our Side Hustles Earned Money
This month we didn't have any big affiliate sales, which is fine, but hurt our monthly income. We only made $89.57 which is 47% decrease from last month's $171.10. Graphically, this is how it breaks down.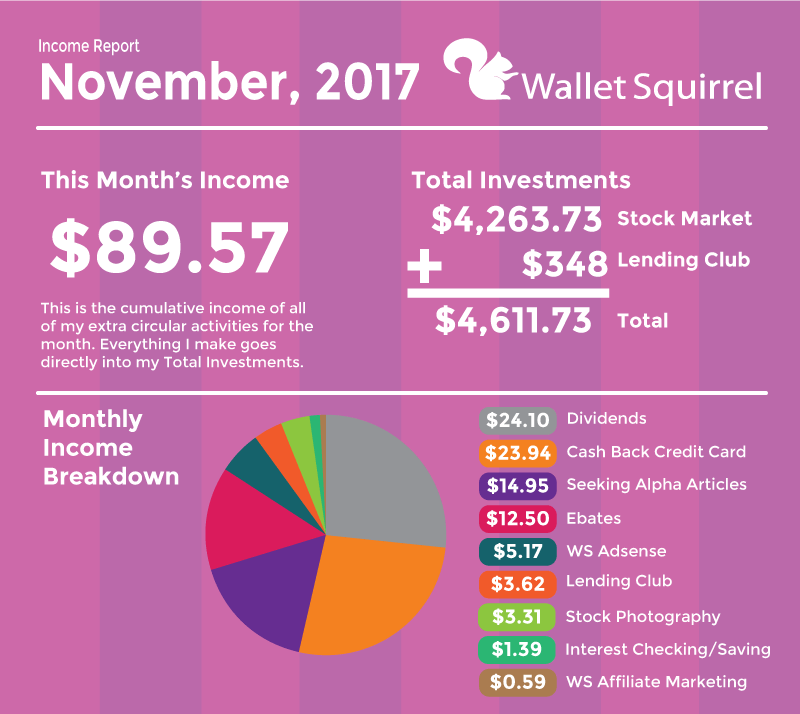 A few cents shy of $90 which for some reason feels like so much more. Still cool that we made $89.57 from these:
$24.10 – Dividends
$23.94 – Cashback Credit Card
$14.95 – Seeking Alpha Articles
$12.50 – Ebates
$5.17 – Wallet Squirrel AdSense
$3.62 – Lending Club
$3.31 – Stock Photography
$1.39 – Interest Checking/Savings Account
$0.59 – Wallet Squirrel Affiliate Marketing
All of these totals are small. Like really small, but they add up. Most of these are passive incomes, so we'll continue to do everything we can to build these up!
Anyone notice that my dividend stock portfolio made the most money out of all these passive income streams?
What Do We Do With That $89.57?
Wallet Squirrel is unique in that we show you where all of our money goes. That $89.57 is my portion of our extra monthly income so it goes towards investing and my portfolio, found here. In particular, I bought 1 share of Disney earlier this month as I explained in my article talking about how Disney will soon rock streaming TV.
Adam uses his portion of our extra side income to help pay down his house mortgage and student loans. His goal is to be debt free while mine is to invest and buy more stocks. Both good ideas!
Let's Talk Goals for Next Month
Did I mean last month's (October's) goals? –
Yes
Considering I left my goal mysterious, it wasn't hard to beat. However, that mysterious excitement was about the Epic Niche Site Battle I'm doing in 2018. I think I have an idea of the niche site to build, but I'm still trying to nail down a domain name. It's surprisingly hard.
December Goals
I am REALLY trying to nail down that domain name and think through on my process because once January 1st hits. I need to be going full stream on the new niche site! Remember this is a competition and I'm using everything I know to build a niche site so strong, it becomes sentient and runs itself. #goals
https://walletsquirrel.com/wp-content/uploads/2017/12/November-2017-Wallet-Squirel-Income-Report-Infographic.png
714
800
Wallet Squirrel
http://www.walletsquirrel.com/wp-content/uploads/2015/09/Wallet-Squirrel-Logo.png
Wallet Squirrel
2017-12-07 12:30:04
2017-12-06 20:17:43
Income Report - November, 2017