How To Start A Blog
THIS POST MAY CONTAIN AFFILIATE LINKS. PLEASE READ OUR DISCLOSURE BELOW FOR MORE INFO.
Two of my friends want to learn How to Start a Blog. Justin wants to start a cooking blog and Emma is going to start a travel blog. Since I've created over a dozen websites/blogs, I wrote them a guide on How to Start A Blog When You Know Nothing About Blogging. They've never set up a blog before, so this is a complete guide (tons of screenshots) for setting up your first blog.
No matter if you want to set up a Finance, Fashion, Travel, Cooking or Photography blog. This guide will set you up with your own unique blog in 20 minutes.
Why Do People Start Blogs?
Both Justin and Emma want to learn how to start a blog so that they can do what they love, write! They want to write about topics they're passionate about and knowledgeable on. Their goal is to make enough money with their blog, so eventually, they can quit their job and work from home blogging. It's entirely possible and super easy.
Other popular reasons people start blogging are:
Make Money from blogging Anywhere – Many people make a great side income or full income from writing about what they love and know. Plus you can do it anywhere, at home, in a coffee shop or in an RV traveling the United States.
Self-Publish Writing – If you have a story you want to tell, but don't have the resources to find publishers and print hundreds of books. Try starting a blog and share your story immediately. You can start to build an audience and become an expert in your field with a website.
Promote a Business – If your business isn't online, it doesn't exist. This is how people find if a company is open, what it does and how it affects the community. A blog is a simple and FAST way to get your business online and start reaching customers.
Save time, don't use third-party blogging websites.
Save yourself so many future headaches when learning how to start a blog by NOT using a third party blogging site. Some people start blogging on these because they think it's easier than setting up your own blog, but it's not.
If you use a third party website like Blogger, you won't have a custom domain (like WalletSquirrel.com, it'll be something like www.blogger.walletsquirrel) which comes off odd, then you'll pay tons for add-ons to get the look and feel you want and you'll never have complete control over your own blog.
One of the biggest reasons to start your own blog is so you can later make money off of it. You just can't easily monetize if you use a third-party website. Click here to start your own blog on WordPress.
WordPress is the most popular Blogging Platform, use it!
Most blogs use WordPress, in fact, 25% of the websites on the internet are run by WordPress. That's the ENTIRE internet. Every website I've ever built runs on WordPress because it's SUPER easy and convenient. If you learn the easiest way to start a blog, start your blog on WordPress.
Easy Steps on How To Start A Blog
Here is the basic overview on how to start a blog. It's really simple to set up a blog in 20 minutes.
Figure out what your blog is about
Decide on a domain name
Choose a web host (I use Bluehost because it's one of the best, and cheap)
Click 1-button install for WordPress
Start writing for your blog & customize
Easy Step 1 – Figure out what you want to blog about
Whether you're creating a finance, fashion, cooking, travel, photography or business blog. You want to have a solid idea of what you're going to write about.
If you're like Justin wanting to create a cooking blog, it helps if you niche down to a Gluten-Free Cooking Blog or Farm-To-Table Cooking Blog. If you don't niche down, your blog will likely get lost in the sea of other cooking blogs. When you niche down to a specific cooking blog, your blog will stand out more and be recognized as THAT Gluten-Free Blog or whatever you want to write about.
Also when you're thinking about "How to Start a Blog", think about how your blog could grow and make money in the future. If you want to create a Gluten-Free Cooking Blog, start thinking about how you could incorporate affiliate links into your favorite recipe books and cooking tools or where advertisements may go in a sidebar.
The better you can visualize and plan what your blog may become, the easier it will be to come up with a name and direction for your new blog.
Easy Step 2 – Decide on a Domain Name
Domain names are what people will type into their website browser to find your website. It's your online address.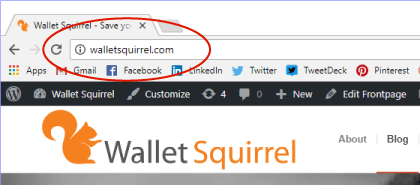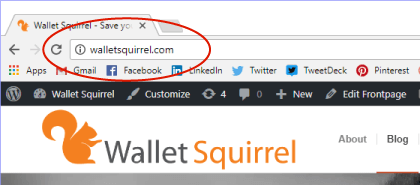 Not going to lie, when I started Wallet Squirrel I had over 100 domain name ideas. I would daily write new domain name ideas on my phone like "MillennialRetirement.com" and search GoDaddy.com to see if they were available. It wasn't….


I always use GoDaddy to see if a domain name is available because it has a nice and clean search option to find available domains. So think about different domain ideas that relate to your website and use GoDaddy to see if they're available. A good domain can really help your website. However, don't buy a domain through GoDaddy. When you sign up for web hosting through Bluehost later, you'll get a free domain name.
I always chose a (.com) domain because those are the most trusted domain extensions. If I chose "MillennialRetirement.net" it would only sound cheesy and made up to me. People might be hesitant to click on it because most websites are (com). You could take a risk choosing a different extension like (.net) or (.co), but I wouldn't.
Get creative and find a unique (.com) domain that's:
short
easy to remember
easy to type
reflects what you want to write about
Before I settled on WalletSquirrel.com I went through TONS of different domain name possibilities. Here are a few.
You may get the idea that I was pretty focused on Dividends. However, like I mentioned in Step One, think about the future of your site. I considered expanding beyond dividends and the stock market, so I went with Wallet Squirrel with the tag line "Save your nuts". It was relatable to finance with the word "Wallet" but fun with "Squirrel" and the tag line "Save your nuts" is pretty memorable. This way I would have some flexibility on how I wanted to grow Wallet Squirrel.
When you're planning how to start a blog, think about how your website may grow. I usually think of my websites like TV seasons. Where do I want my website to be in season 4? Does my domain name idea still make sense?
Easy Step 3 – Choose a Web Host (Important)
This is the virtual cloud that will host your blog. Think of it digital real estate that will house your blog on the internet. Your web host will affect how fast your site is, how much you pay and how good their tech support is.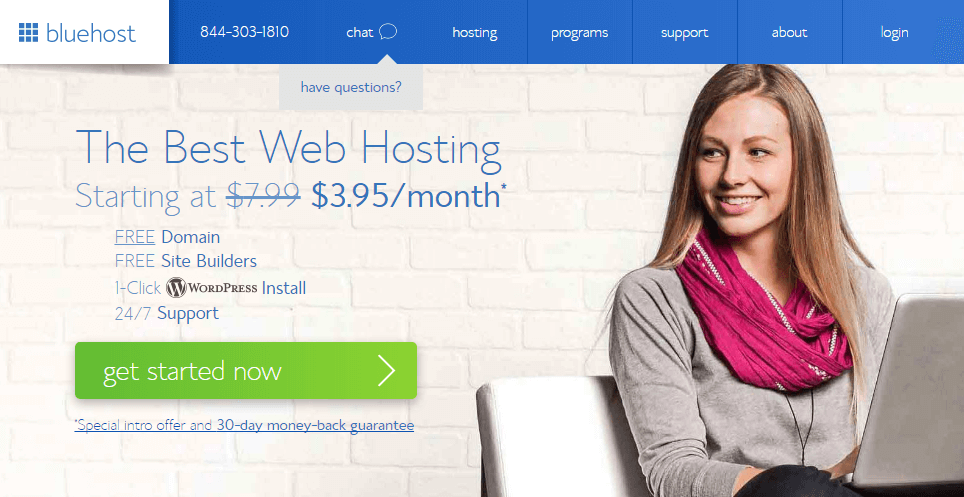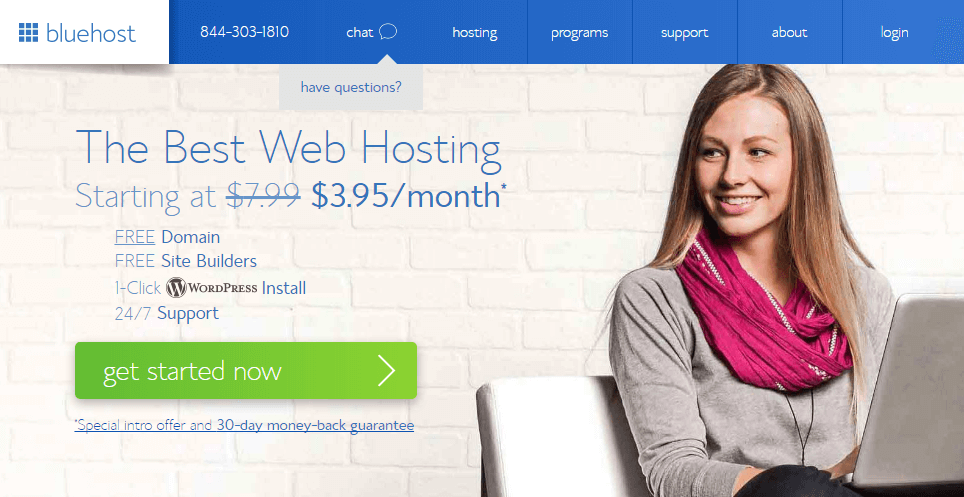 I personally use Bluehost for all my websites (including Wallet Squirrel) because it's the best price for how fast Bluehost runs my websites (Google ranks faster websites higher) and their tech support is amazing. I just shoot them a text on their website if I have a question and they solve any issue in minutes, it's the best. You can even just chat with them before you sign up on how to start a blog.
For reading this post, you can use my referral code to get a great discount on hosting and start at $3.95 per month. Plus you'll get a free website domain (your internet address), which normally costs $12.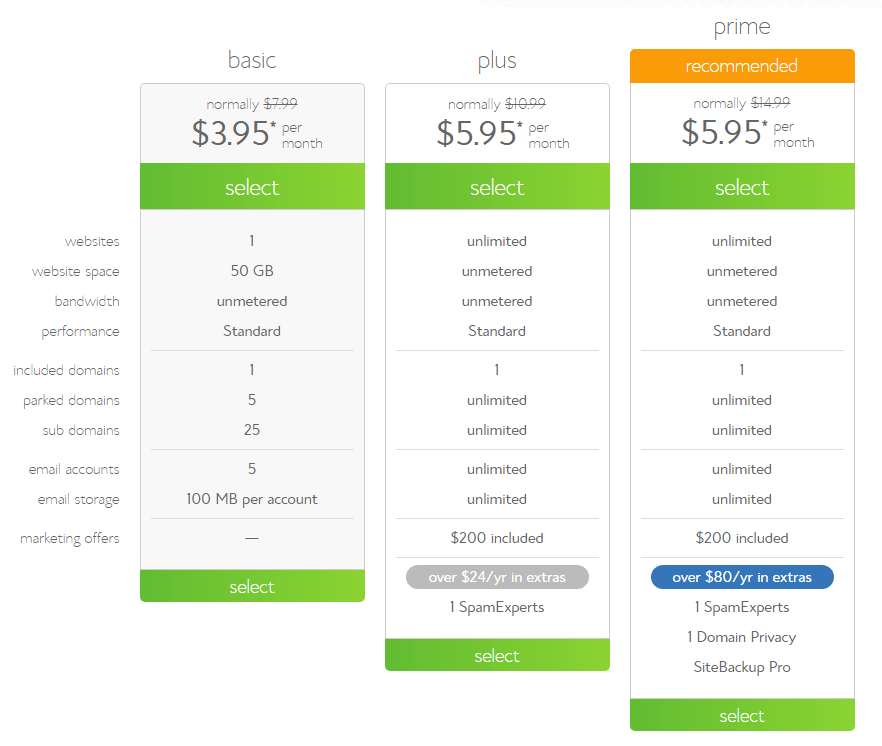 Other reasons to use Bluehost for your first blog
WordPress through Bluehost is free!
There is a 1-click button to automatically set up WordPress on Bluehost (EASY & FAST)
Bluehost is faster than most web hosts, which will better your Search Engine Optimization (SEO)
Hosting your own website on Bluehost looks more professional than a third party site like Blogger
Their Tech Support works with tons of new bloggers like you, and you can text them rather than calling (I love that!)
30-Day Money Back Guarantee. No risk if you don't like it.
Fill Out Some Info
Select the plan you like (you can upgrade/downgrade anytime) and fill out the general account and billing Info. This is what the General account information will ask you.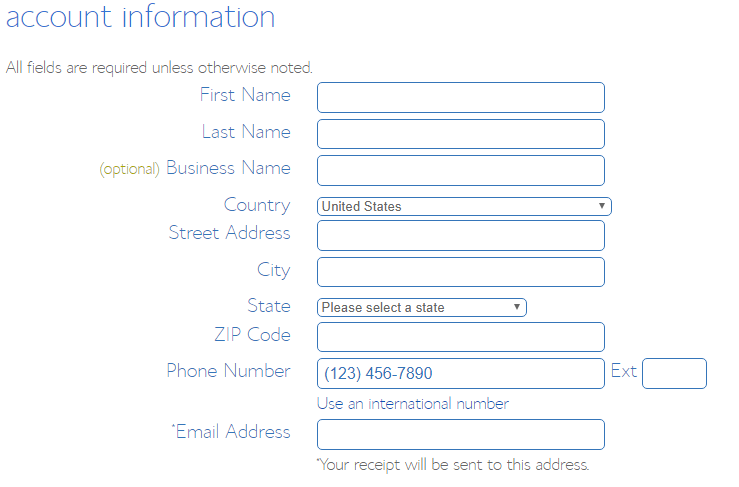 It's really not that intrusive. You don't have to fill out a social security number or anything too personal. Once you fill out the "account info" you scroll down for the package you want. The "package information" or hosting options seems really intimidating to someone who's never signed up before, but only because you've never done it before. Here are the options.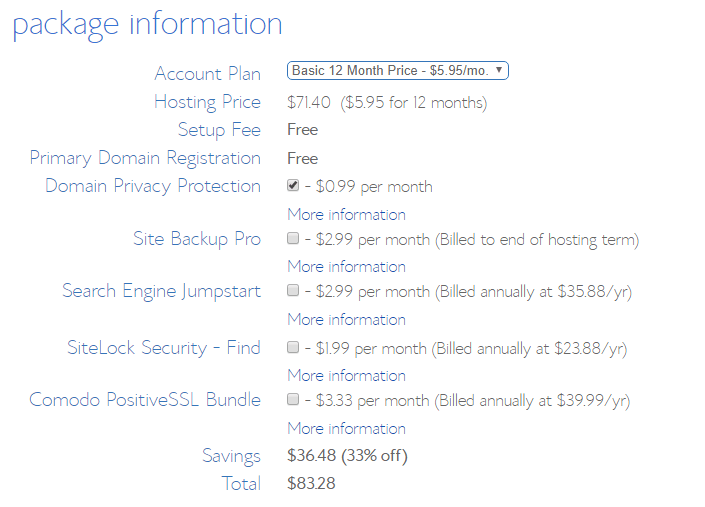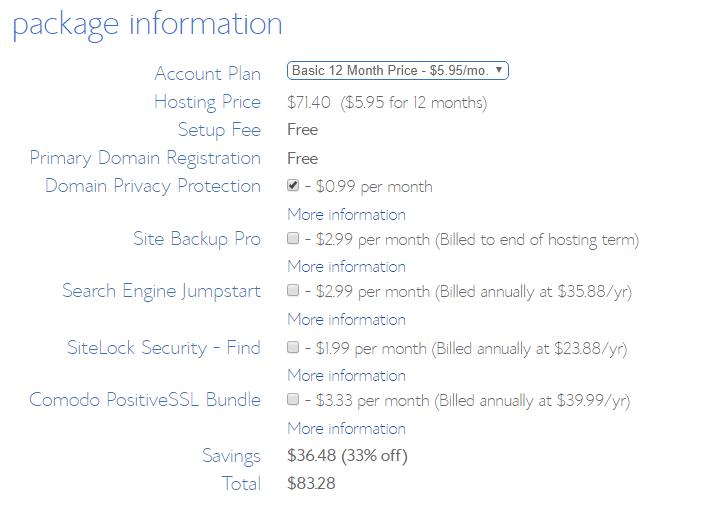 Here is what I choose for my websites.
Account Plan – If you're just starting off, keep it cheap and choose only 12 months. If you really like blogging, you won't mind paying for a new plan in 12 months. If you don't like it, you didn't spend that much money and you always have your 30-day money back guarantee.
Domain Privacy Protection – The internet has a database for which websites are owned by who. Domain Privacy allows you to keep your name off that list so you don't get bugged by salespeople who found your email as the owner of your new website. I usually order this.
Everything else is not really needed. I'd consider adding additional services only once you get more familiar with your website and find a need. There is no need to pay for things before you realize if you need them or not.
You're Signed up!
That's it! Once you sign up, you'll get a confirmation email that will take you to your Bluehost menu. You can start right away, no 3-5 business day set up time.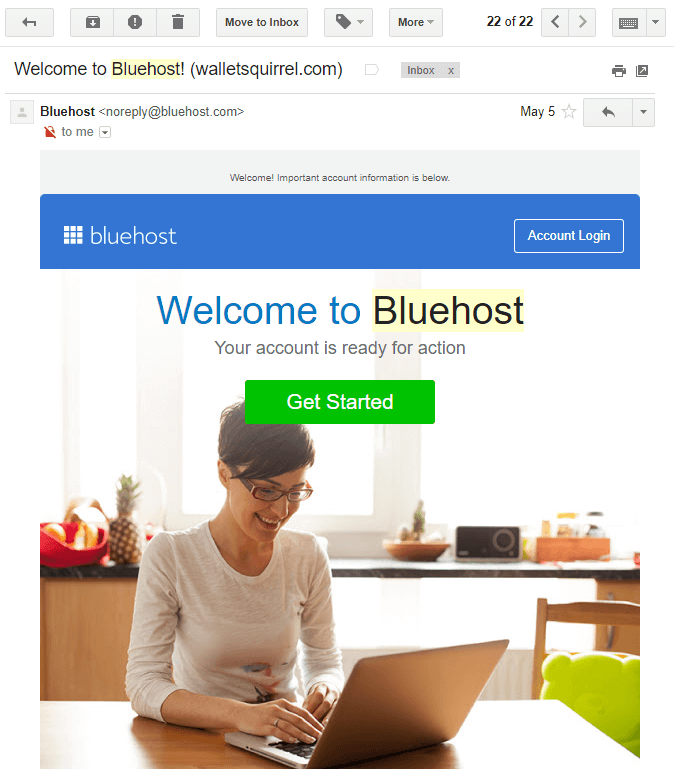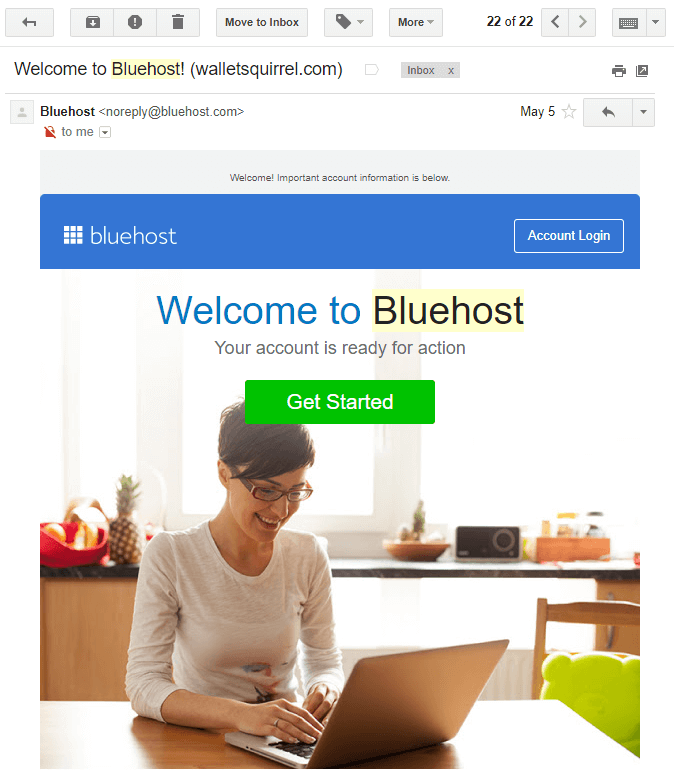 Easy Step 4 – One Button Install For WordPress
So you planned what you want to write about, you picked a domain and signed up with Bluehost to host your new blog. Now you just need to install WordPress. This part is easy. The menu on Bluehost is called their cPanel. This is the main menu that you'll be directed to once you click their confirmation email.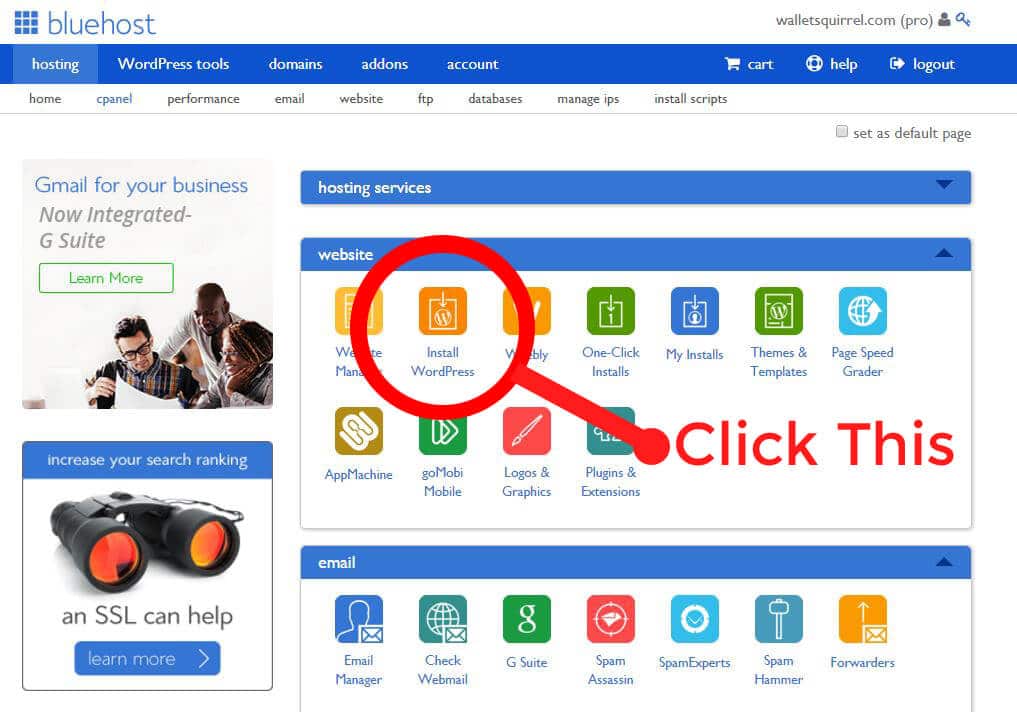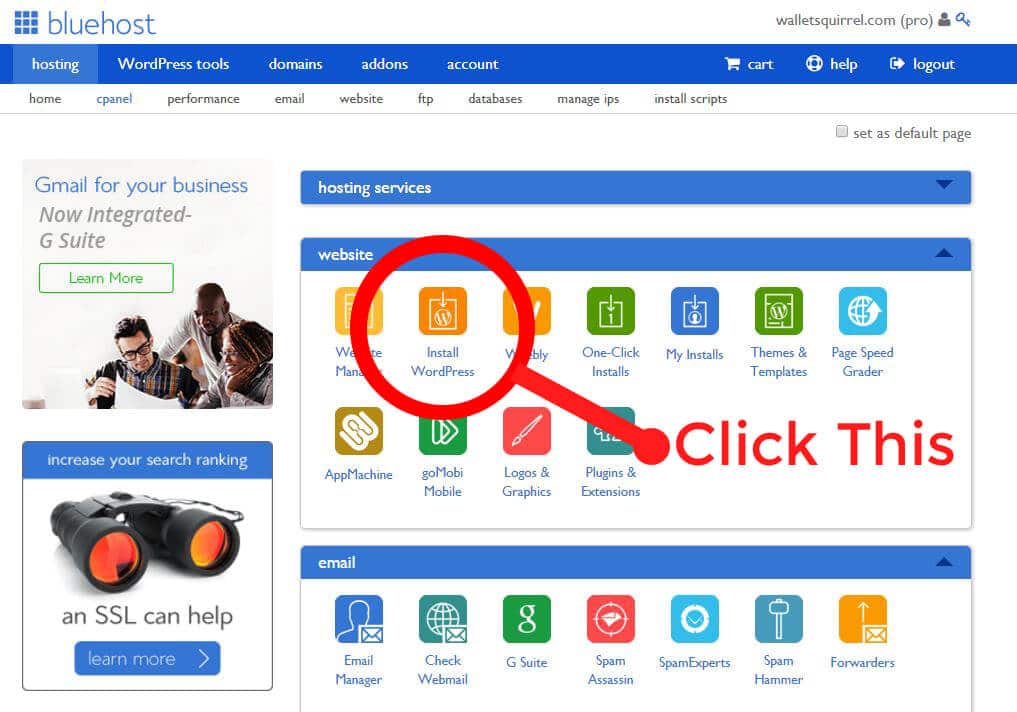 Select the "Install WordPress" button. It's a one-click install button. Once you do that, you're in the process of installing WordPress, you'll just need to:
Select your domain name, from the options to install WordPress on
Select Advanced Options and choose a username and password. Remember that websites sometimes get attacked. So choose a username and password that's long. The longer the password, the harder it is to break.
Select "Install Now".
At this point, you have a WordPress blog!
Easy Step 5 – Design and Start Writing for Your Blog
From now on, all you have to do is go to your new domain "yourwebsitename.com/admin". To sign into your WordPress Blog. You no longer have to deal with Bluehost at all. Everything you do from here on out is all on your new WordPress blog.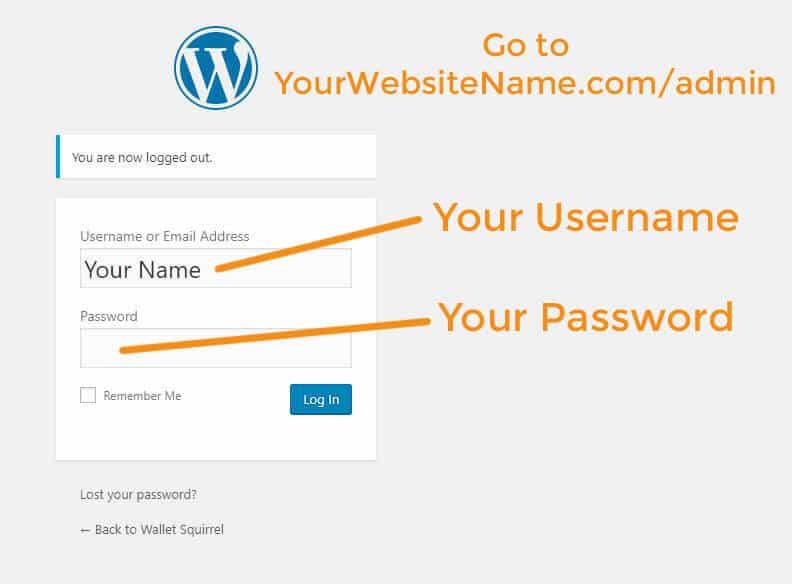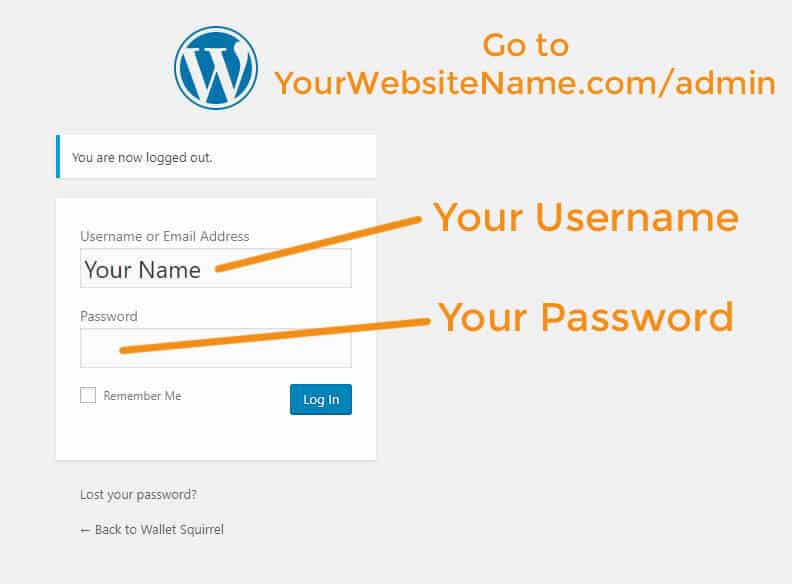 Once you log into your new WordPress Blog, Your Admin Menu will look like this.


This is close to what every WordPress Blog looks like, the main options for every WordPress blog are:
Posts – These are where you write you daily, weekly, monthly articles for your blog. These are your cooking articles or travel adventures. This is the "blog" portion of the blog.
Media – Every image/video you upload to your blog, all those media files live here. You can add images within your actual posts and pages, but all your media content can be viewed here.
Pages – These are the "About Me", "Contact Us", "Ways to Make Money" pages. These are usually static pages that aren't your daily, weekly, monthly posts.
Customize the look of your blog
If you want to want to change the look of your blog, you can change the theme under "Appearance". Themes are like costumes for your blog. Different themes will change the colors, fonts, and style of blog. I personally use the Enfold theme, bought from Themeforest. It's very user-friendly (plug and play) with tons of documentation.
*
Bonus

* – Make money with your blog

Don't come off cheezy placing ads everywhere, instead install a plugin like Viglink for affiliate marketing. Now, anytime you reference a blender (my personal blender) on Amazon, Viglink will automatically track clicks on that link and you'll receive a commission if someone buys. Viglink is partnered with over 2,000 online merchants (including Amazon), chances are your favorite websites are included. So once you learn how to start a blog, your blog can start making a little money.
Done, You have a blog!
I ran through this (while talking) with Justin and Emma to set up their blog in under 20 minutes. They took it from there and immediately started writing and designing. Again, I set up their blog through Bluehost, which made it a lot easier. You could probably set up a blog on your own (not talking) even faster.
Let me know if you have any questions on how to start a blog! I'd love to help or share more of my experiences!
*Disclosure – I host all my websites on Bluehost and we receive a commission if you sign up using our referral links.
https://walletsquirrel.com/wp-content/uploads/2017/07/Horizontal-how-to-start-blog.png
512
1024
Wallet Squirrel
http://www.walletsquirrel.com/wp-content/uploads/2015/09/Wallet-Squirrel-Logo.png
Wallet Squirrel
2017-07-20 12:32:43
2018-01-04 19:49:13
How to Start a Blog - When You Know Nothing About Blogging