Betterment Review: Everything You Need to Know About How Betterment Makes Investing Easy
THIS POST MAY CONTAIN AFFILIATE LINKS. PLEASE READ OUR DISCLOSURE BELOW FOR MORE INFO.
Today let's talk about investing. Specifically, we are going to talk about the super easy to use Betterment application. This Betterment review will show you just how easy it is to start investing.
I jumped on the Betterment bandwagon a couple years ago because I do not have that much time to research the stock market.
This is why Betterment is the best and easiest way to invest for anyone who does not have the time or knowledge to research the stock market. The financial experts (more to come later) over at Betterment take all of the hard work out of the equation for you.
For me, I personally look at Betterment as a glorified savings account for a variety of different financial goals.
These goals could include saving up for a vacation, an emergency fund, or a house remodeling project.
The money I have put away here was used for our mortgage down payment and saving up for a vacation to Maine this past summer. We still keep an emergency fund and vacation fund within Betterment.
To be upfront with you for this Betterment review, I am showing you screenshots of our Vacation account which currently has zero dollars in it. This is the account that we put money away into to save for vacations. Since we were so aggressive at paying off our car, learn how we did it here. We have actually just restarted our savings for a vacation this month.
Who is Betterment
Alright, let's start this Betterment review by taking a look at who Betterment really is.
Based in New York City, Betterment was created by Jon Stein in 2008 who wanted to improve the way we invest, "by combining proven investment strategies with technology that drives down costs." The way the company earns money (more detail later) keeps them from being, "incentivized to recommend certain funds, and we don't have our own investment products to sell." This means they will look out for what is really yours. (Betterment)

Overall the company is said to manage $10 billion in assets! That is pretty impressive for a company that is just reaching their 10 year anniversary.
Betterment offers many services such as financial planning, retirement, trusts, access to financial experts, and so much more. Really you can get all of your financial needs satisfied here.
Using their technology, Betterment claims that you will "earn 2.66% more per year than a typical investor." (Betterment). Whether this claim is true or not, I do not know. It is very enticing though!
Why I like Betterment
Here are the main reasons as to why I choose to use Betterment instead of other services.
Interface: It does not get much easier than using the mobile Betterment application. Here I can see how my accounts (will talk about these next) are performing, easily add more money to those accounts, or adjust how aggressive those accounts are. The clean interface will also quickly tell you if you are on track with that particular account's goals or not.
Basically, it is a way for the application to kindly yell at you that you are slacking financially.
They also have a very clean online interface (you will see examples later) as well. For me, I mostly use the mobile application because it does everything I need on the fly.
I wanted to have examples in our Betterment review of the mobile application but because of their security policy, the application denies the screenshot request.
Customizable: While talking about how clean the interface is, I kept mentioning accounts. You are asking yourself what the heck those are! Within your Betterment, you can have multiple accounts. These accounts are different investing goals you might have. You might have an account with different goals such as retirement, house down payment, or even that new car.
With each account, you can customize the portfolio's allocation by adjusting the ratio of bonds vs stocks.
I love this because some accounts you will want to have more aggressive portfolios compared to others. I made our house down payment account more conservative by setting it to invest in more bonds. While I made our vacation fund more aggressive by setting it to invest in more stocks.
Dividends: Another cool feature that I liked was that Betterment takes the dividends your stocks earn and reinvests them automatically for you. I know Andrew loves this idea based on his love for dividend stocks.
It is always fun to receive the notifications from Betterment saying that I earned a dividend and they are putting them to work for me.
When Wouldn't I use Betterment
Now it is time to change gears in this Betterment review to see when I would not want to use the service. These points are not to negatively reflect on the service but rather to show if you should be using the Robinhood application instead.
Control: Wanting more control as to what stocks your money goes into instead? Then Betterment is not the service for you. Betterment limits your control on purpose as they want to simplify the investing process as much as possible. Plus, as I mentioned earlier, their technology that makes the proper recommendations are said to make 2.66% more per year, so Betterment is wanting you to use their technology.
Robinhood would be a better option for you if you want to put in the research to pick each individual stock yourself.
Time: If you have more time and passion to research your stocks then I would probably use Robinhood instead. Personally, I love to research companies and their stocks. This was a passion that started back when I was around 15 years old.
Between a one-year-old, Wallet Squirrel, and other passions I just do not have the time to do the research.
This is why I decided to go with Betterment. Andrew is a bachelor so he has the time to put in the research. This is why he uses Robinhood.
Cost: Betterment does cost you some money. They base their fee on your overall account balance. There is a 0.25% annual fee for the basic service which will cost you $25 a year if you have $10,000 in your account. Betterment also offers a Premium service that is 0.40% annually which would cost you $400 a year if you have $100,000 in your account (Their minimum balance for the Premium service).
The Premium service sounds pretty awesome as you get unlimited access to a personally picked CFP professional.
To put this into perspective, let's take a general look at what a CFP can cost.  Some CFP professionals will charge based on an annual fee like Betterment while others change by the hour. Since this is a Betterment review looks compare that way. A CFP professional can charge anywhere between 2% to 0.50% annually depending on how large your portfolio is. Based on these numbers, you can see that Betterment is a cheaper option.
How To Get Started
Head over to Betterment (yes, that is an affiliate link) to get started by clicking the Get Started link in the top right-hand corner. They will walk you through a series of questions to make sure you get the account set up right.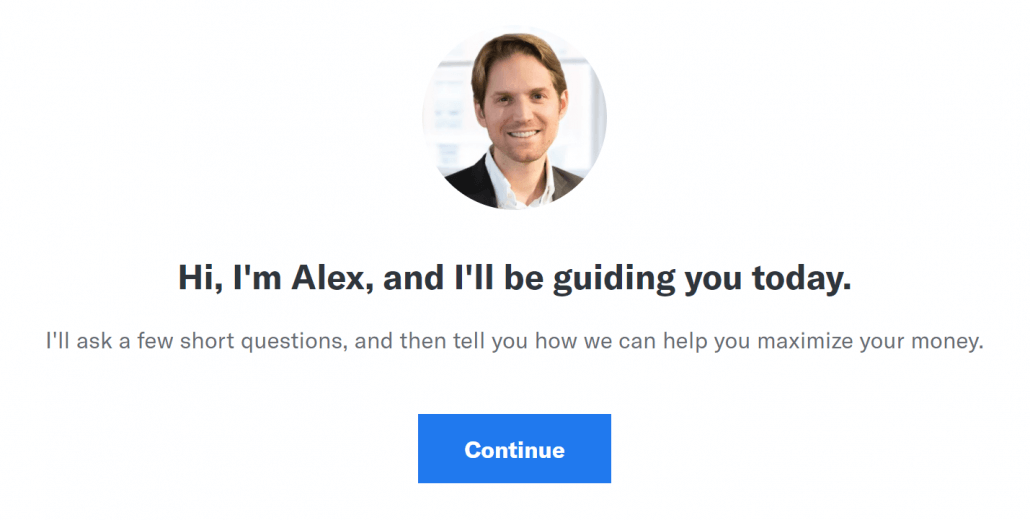 Once you complete the initial set up, you can set up the bank account to make deposits into your new Betterment account. This is located in your account settings in the Bank Accounts sections.
Now it is time to set up an account by clicking the Add Account button on your summary page.

Betterment will walk you through the setup process until they get to my favorite part, the portfolio strategy for this account. Click the Continue button one more time. Here is where you can customize the allocation by adjusting the slider. After you are satisfied with the allocation, Betterment will help you get started on the first deposit to keep you on track with the goal set up.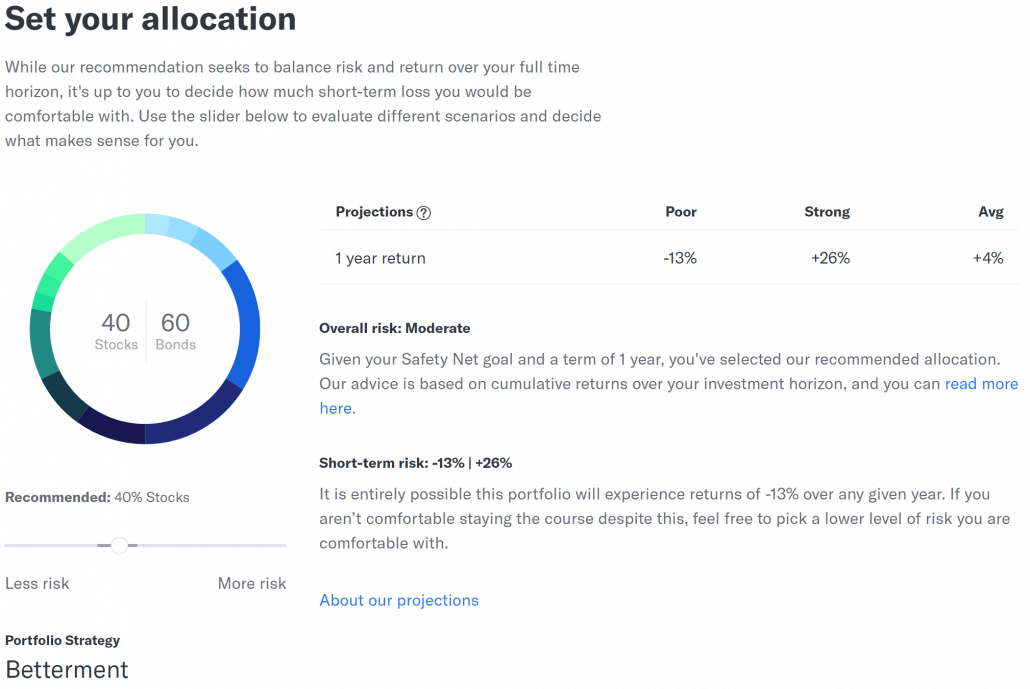 That's it! You have set up your first account with a goal to keep you on financially on track!
Want to change up this new account you set up? Do not worry! You can do this by clicking the three dots next to the accounts balance. Then click on Edit Goal and Betterment will walk you through the whole process. Within this menu, you can also edit your allocation or even delete the account once you do not need it anymore.
Well, that is it to get you started within Betterment. There are other options for you to explore such as the Smart Deposit feature or even upgrading your plan to take advantage of their financial experts.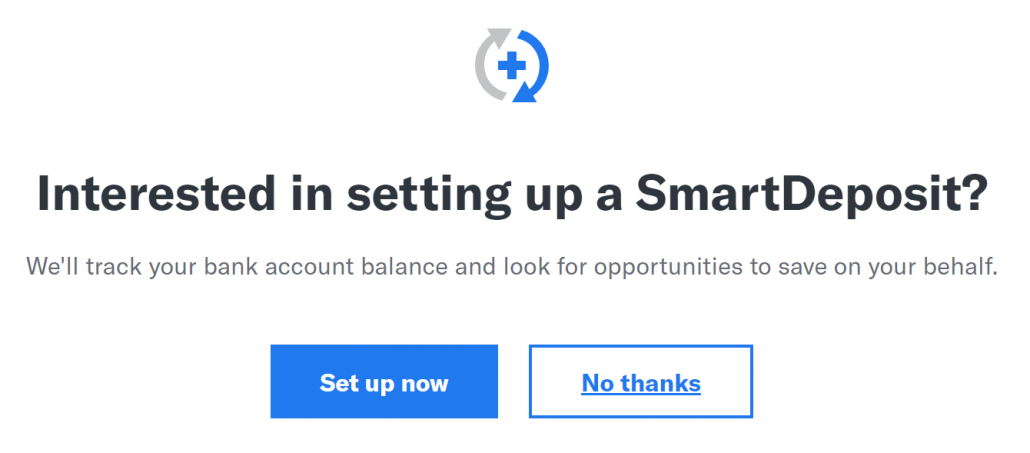 Conclusion
To conclude this Betterment review, overall, I love Betterment as a more robust savings account. Right now I do not use it for anything else.
If you are looking for a new investing service, I would highly recommend trying out Betterment. If you use this link to signup for your own Betterment account you will get 90 days managed free! I only get 30 days managed free if you use that link.
Looks like you win!
When I first started using Betterment, I would not have even thought about using this service for a retirement fund. Since 2015 they have really expanded their abilities and now I would consider it. One day, I actually might end up using it for our 401k as well. Until then, we will just keep putting money away here for our vacations and emergency fund.
What do you currently use for your investing needs?
https://walletsquirrel.com/wp-content/uploads/2018/01/horizontal-betterment-review.png
512
1024
Adam
http://www.walletsquirrel.com/wp-content/uploads/2015/09/Wallet-Squirrel-Logo.png
Adam
2018-01-08 12:30:18
2018-01-08 07:21:04
Betterment Review: Everything You Need to Know About How Betterment Makes Investing Easy