Robinhood App now offers a free share of stock for New Signups & Referrals
Robinhood App the free stock trading app that I've used for my portfolio and reviewed last year has a new promotion making some unique headlines. Now for every person you get to sign up with the broker Robinhood, both you and the person who signed up, get a free share of stock.
What Stocks Do You Get?
It appears to be a randomized assortment of stocks from the messages posted on social media. Robinhood states that the stocks range in value from $3 – $150, so you could technically get a share of Apple (AAPL) randomly if you sign up now, or you help a friend signup.
What Are Your Chances of Getting $175?
Depends, how lucky are you? Like REALLY lucky. You have a 1% chance of getting a stock valued at $175. Reading the fine print on their website you're most likely to get a $2.50-$10 stock.
Here are your chances for a free share of stock when you sign up.
98% of getting a stock valued at $0.50-$10
1% of getting a stock valued at $10-$50
1% of getting a stock valued at $50-$200
Thanks to Social Media, we have an idea what it looks like.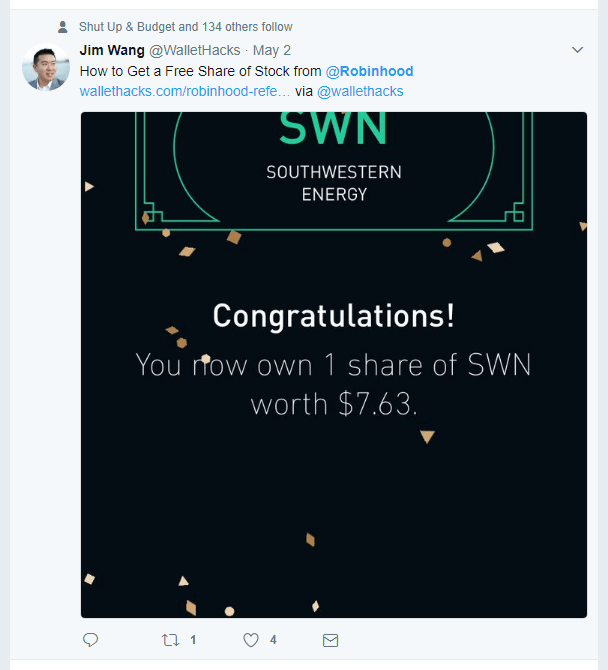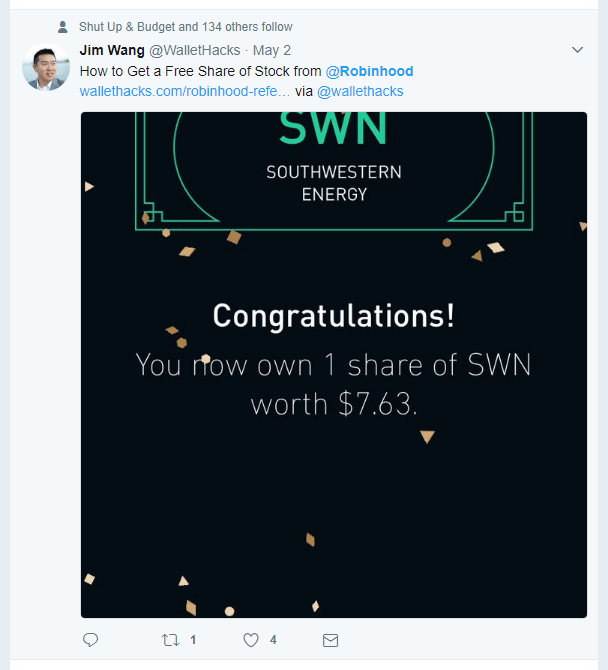 So get all your friends to sign up?
For everyone you get to sign up, both you and your new sign up friend get a free share of stock. All you need to do is use the referral code that Robinhood gives you.
If you've been with Robinhood for a while, this is the same referral code you've always had. Now there are just perks for you to refer a friend to Robinhood.
Here click on my referral code (http://share.robinhood.com/andrewk48) to see what it looks like. You don't have to sign up.
However, if you're someone like Kim Kardashian who can get ONE MILLION people to sign up, you won't get $1M free shares of stock. You'll be capped at $500 worth of stocks no matter how many people you refer. Lame I know.
Is this promotion available to anyone with Robinhood?
It started off a few months ago. I was NOT one of the early testers for this. However earlier this week I saw on my Robinhood App that I'm NOW able to this. I'm not sure what changed. If everyone is able to do this now or what (I'm not special). They must have just opened this up to a much wider pool of users.
If you're curious if this works with your Robinhood referral code. Go to your app and if you can't find "Free Stocks" in your sub menu. You're not in the program yet. Maybe send the Robinhood App people a tweet (@RobinhoodApp) and say "Hey, can I join this super cool referral club like @WalletSquirrel". I'll retweet for you.
Should you feel comfortable referring friends to Robinhood?
If it helps, I refer all my friends to start investing with Robinhood. It's a great broker to start off with (one I personally use) because there are $0 fees to start buying stocks and all of their securities customers are insured up to $500,000 by the Financial Industry Regulatory Authority (FINRA) and the Securities Investor Protection Corporation (SIPC).
Also keep in mind that Robinhood recently raised $110M in Series C round of fundraising, which they're valued at $1.3 Billion. Some of the investors working with Robinhood are Google Ventures.
These guys are growing and they have the support of some major players in the game.
This promotion makes Robinhood worth considering
If you've ever considered the stock market, you should do some research on Robinhood because not only are you going to get free trades while using their app, you'll start off with a free share of stock that could be Apple.
This isn't on our list of ways to make money, but maybe it should be.
https://walletsquirrel.com/wp-content/uploads/2017/07/Robinhood-App-Free-Stock-Promotion.png
317
843
Wallet Squirrel
http://www.walletsquirrel.com/wp-content/uploads/2015/09/Wallet-Squirrel-Logo.png
Wallet Squirrel
2017-07-27 12:41:03
2017-09-15 22:13:14
Get a free share of stock from Robinhood for New Signups & Referrals