Who does not love to earn extra money while laying on the couch watching Netflix and playing games? I thought the same when I started playing with appKarma.
Spoiler alert: I really did not enjoy this application but this is because of my personality. I really do not enjoy playing games on my phone anymore. I would rather be reading or working on our Pinterest strategy (article to come later this year).
So do not stop reading yet! First, let's find out if appKarma is meant for you or not.
Who is appKarma?
AppKarma is a rewards application that was created by a small software development firm, Darkfield Software, out of California. Darkfield was co-founded by Andrew Lin and Adebayo Olowoyeye.
To be honest, there is not much more information about who appKarma or Darkfield are. I could not even find information about the data they collect except the data about who you are. As a data guy, they have to be collecting more information than that. If not, they are leaving a lot on the table.
Even though this sounds really sketchy, I do believe they are a legit company.
Andrew, not this Andrew, seems very active with the application. Plus, they have over 1 million downloads in the Google Play Store with a 4.7-star rating.
Even though they are small they do seem like a real company.
What is appKarma?
As mentioned above, appKarma is a rewards application. You will earn reward points for playing around with applications you have installed on appKarma.
Basically, you earn points for playing with applications on your phone. Then you can use those points to purchase gift cards.
Throughout the whole process, you can earn Achievement Badges which will give you bonus earnings each time you complete an app offer. These badges can be earned by reaching particular milestones such as installing 5 apps, watching 25 videos, and so on.
You can also earn more through referrals as well!
If you click on this particular link to sign up, I will earn 30% of what you earn! That is awesome!
YouTubers that generate over 1,000 views a week get to upgrade to VIP. This requires you to promote appKarma through your own video. Then you will earn 50% of what your referrals earn compared to the normal 30% rate. The more views a week you get, the better your referral gets.
Do note, since I get this question a lot on my Achievement App article, AppKarma is available to users worldwide except for Vietnam.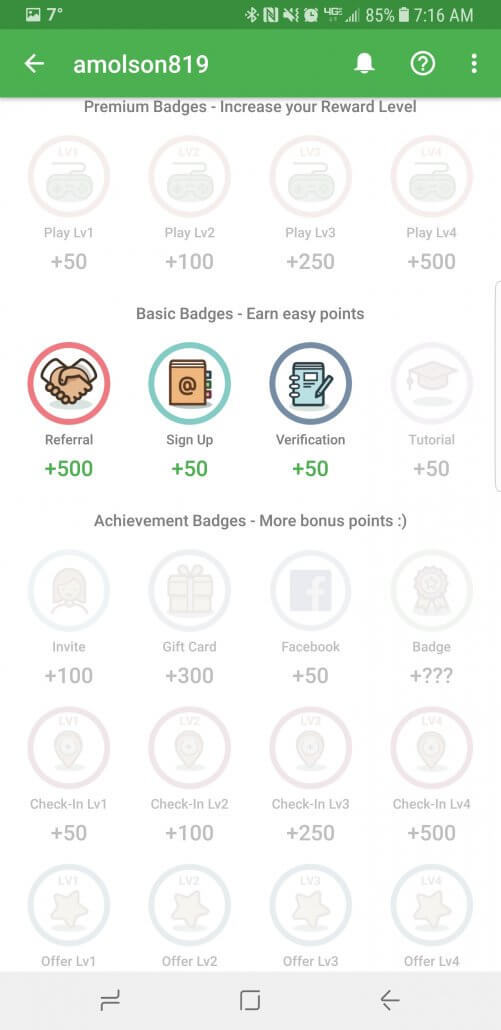 Do I like it?
To be honest, I do, to a certain degree. This app, like many others, is not a way for you to earn extra money to get rich fast. You are going to only earn a small amount of extra money to companies like Amazon.
I would compare this service to Google Opinion Rewards. You can read more about that service and how you can earn very little money in 30 seconds or less here. The big difference is that it only takes seconds to earn rewards on Google Opinion Rewards. On appKarma, it takes awhile, you have to level up pretty high in the games to earn the reward.
Enter that spoiler alert I mentioned in the opening. I do not like playing mobile games that much anymore. I do not know what happened but I find 99% of mobile games super annoying. The "Free, With In-App Purchases" platform really bugs me and has turned me off in recent years.
Because of this, I did not find it enjoyable spending time to earn the rewards. BUT! This should not turn you off from trying appKarma if have not had the fun sucked out of you like me. If you still enjoy mobile games, appKarma is the rewards app for you.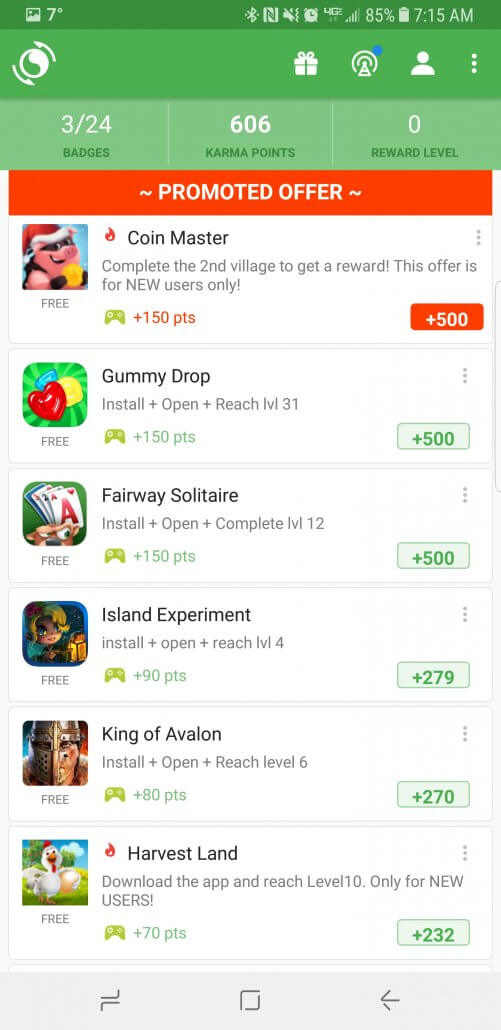 Get Signed Up!
It took no time to get signed up.
All I did was hop into my phones app store to download/install appKarma. From here I just followed the instructions after opening the application for the first time. These were the stereotypical instructions, enter your email, username, and password then confirm your email. Nothing out of the ordinary.
The next step I did was start checking off the beginner rewards such as confirm your email, watch the tutorials, enter the referrer code (mine is amolson819), and so on. Before I knew it I was already at 606 points!
Now, once you earn enough points, you can redeem them to earn extra money in the form of gift cards. You can see the different options by clicking on the little present icon in the top right-hand corner of the application. These cards are from many major companies such as Amazon, PayPal, Starbucks, Steam, and so on!
It takes a lot of points to earn the gift cards though. For Amazon, you can get a $5 card with 5,000 points. With my 606 points, I am 12% of the way there!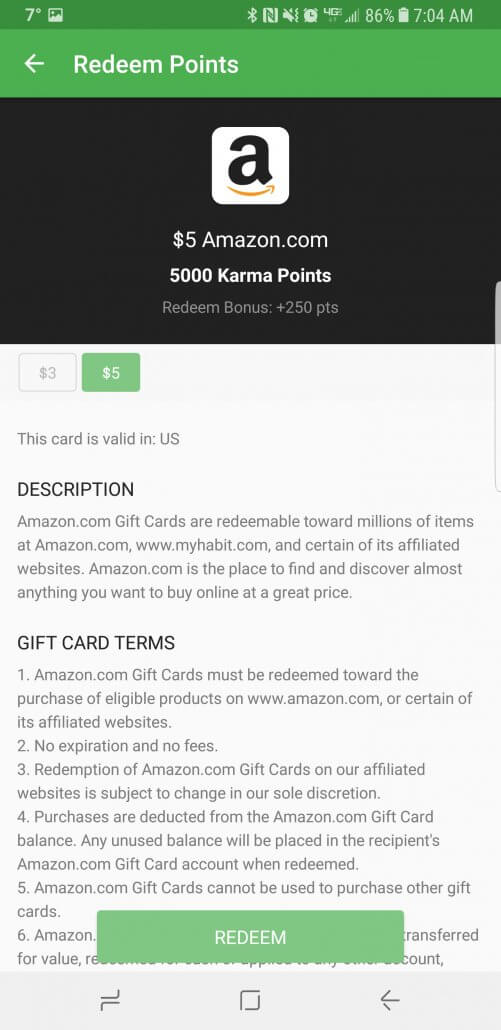 Conclusion
Overall, I do think AppKarma is worth it. It is a good way to earn some extra money throughout the year. This is something you can do while watching a show on Netflix or Hulu.
Minus Andrew, he cannot multitask while watching a show to save his life.
Just remember, you are not going to get rich while using this app. You will earn some extra money to save some money on Amazon.
When you use my referrer code, amolson819, you will get 300 bonus Karma points! Be sure to do that if you decide to get signed up.
Is appKarma not for you but you still want to earn more money? Check out our Ways to Earn More Money page. Here Andrew and I personally review as many different ways to earn extra money as we can to help you decide if it is right for you.
https://walletsquirrel.com/wp-content/uploads/2018/01/Horizontal-appkarma.png
512
1024
Adam
https://www.walletsquirrel.com/wp-content/uploads/2015/09/Wallet-Squirrel-Logo.png
Adam
2018-01-22 12:30:07
2018-01-24 13:35:48
appKarma Review - How You Can Earn Extra Money While Playing Games on Your Phone