The income report for May is a little different. Typically Andrew writes these for us on a monthly basis but we are mixing things up this month. For today you will get the voice of Adam telling you how we did for the month.
June 1st, today marks the start of the second half of the year. Andrew and I have a lot planned for this second half of the year to help us tackle our 2021 goals for Wallet Squirrel.
But! Before we dive into May's Income Report, the first week of June is always a special week for me. My wife's birthday is on June 1st, it is always a pleasure to celebrate such a beautiful soul who has blessed my life beyond what I could have ever imagined. Then on June 4th, my wife and I celebrate our 10th wedding anniversary. I cannot believe that we are celebrating 10-years already!
Our monthly income reports are an opportunity to share exactly what it's like to run Wallet Squirrel. These are a transparent look at what we make, all the struggles/successes, and perhaps most importantly, how we build from an audience of zero to 17,000 this last month.
If you're curious about our progress, we share these income reports every month.
What We Accomplished in May
Andrew spent a lot of the month working on our affiliate website. He is revamping this to make it more friendly with Amazon.
Adam started working on a new social media campaign through Instagram (more about this soon).
We worked with many great partners to continue syndicating amazing new content on Wallet Squirrel.
We worked on several projects that will help gain wider brand exposure for Wallet Squirrel.
Our May Website Traffic
It is still a little crazy we share our website statistics, but we sincerely hope those reading get an idea of what it's really like to run a blog. It's very tough, but incredibly rewarding when we see people appreciating our content.
A majority of our traffic comes organically from Google. Strong SEO tied with the perfect keyword really does work! Here's what the month's traffic looked like!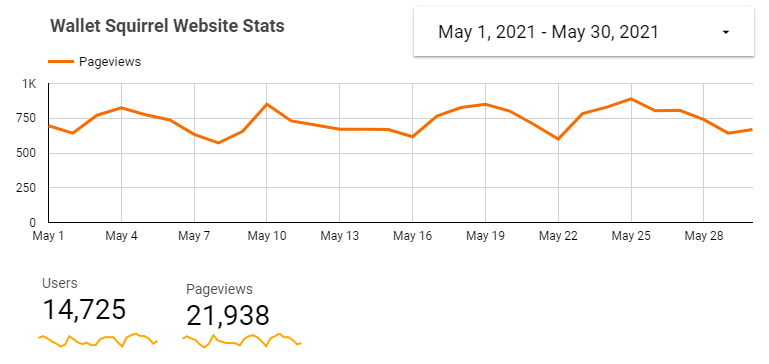 Our May Website Income
It's exciting to say that we had another month of over $500 in income! We continue to be consistent with our income and are finding new avenues for more revenue for the second half of 2021. We tend to take this money, immediately reinvesting in us and Wallet Squirrel.
A big contributor to our high income is our How To Start A Blog page which continues to be one of the best on the internet (in terms of design). These affiliates are great, but we hope that our website ads and additional affiliates will become bigger contributors as we grow!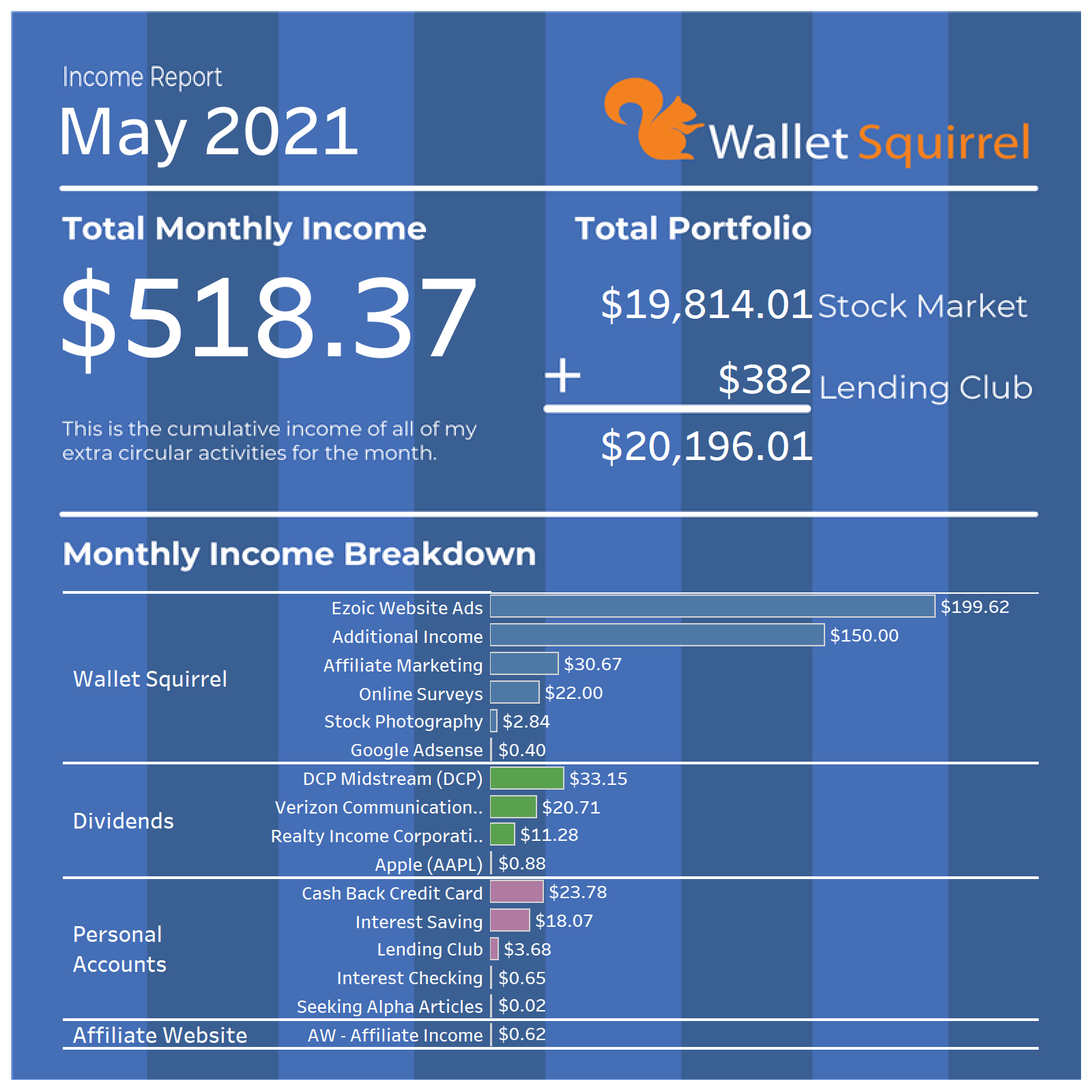 Every month we continue to try different ways to make money, and these passive income experiments continue to boost our potential income. Every day these grow and will eventually replace our entire income through blogging. Cool Right!
Monthly Expenses for Wallet Squirrel
While it's great to talk about the money we make. We also spend money to help our blog grow. Here is how much money we spent in May.
Monthly Expenses – $219
Bluehost ($36) – hosting service
Sitelock ($8) – extra security add-on from Bluehost
Domain Name ($2) – so we can reserve the domain name WalletSquirrel.com.
Bloom ($7) – our creative email signup forms.
Noun Project ($40)  – Unlimited Icon Downloads
Money Mix Insiders ($166) – Great mastermind group for finance bloggers + Ahrefs Membership
In addition to our monthly blogging expenses, I did purchase a few dividend stocks to add to my stock portfolio. I purchased a few shares of Microsoft and Verizon. These purchases will continue to boost my monthly dividend income!
What's Next For June
We will continue to build on what we have started in the first half of 2021. We continue to look for ways to get the Wallet Squirrel brand out in front of people. Andrew is participating in the North Carolina Banker Association conference at the beginning of June. Adam plans on launching the new Instagram social media campaign mentioned above (more about this to come). We also might be participating as guests in our first podcast appearance (the details are still in the works).
Overall, we are very proud of what we have accomplished in the first half of 2021. We cannot wait to tackle the second half.
Wallet Squirrel is a personal finance blog by best friends Andrew & Adam on how money works, building side-hustles, and the benefits of cleverly investing the profits. Featured on MSN Money, AOL Finance, and more!
https://walletsquirrel.com/wp-content/uploads/2021/05/May-2021-Wallet-Squirel-Income-Report-Infographic.png
1600
1600
Wallet Squirrel
https://www.walletsquirrel.com/wp-content/uploads/2015/09/Wallet-Squirrel-Logo.png
Wallet Squirrel
2021-06-01 07:30:55
2021-05-31 20:29:05
Income Report – May, 2021