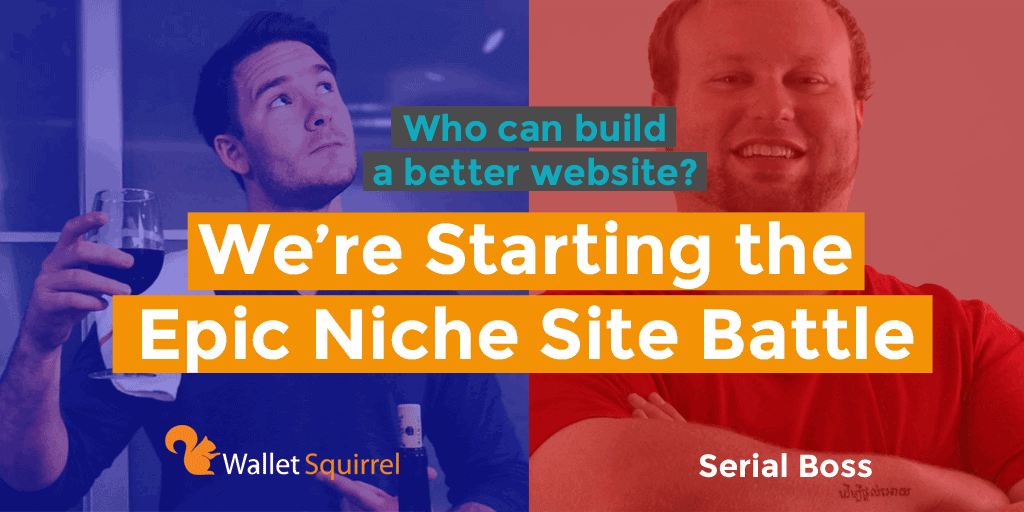 "Let's do this!" is how I responded to a LinkedIn message from Barnabas of TheDadWallet.com & SerialBoss.com.
Back in May, Barnabas reached out to Wallet Squirrel following up on all our talk about building a niche website. He's been wanting to do the same thing and he suggested we do something like Pat Flynn's Niche Site Duel and compete to see who could make the better niche website.
F*#k, I freaked out. This is the first time I'm going against a real blogger and sharing every step of the process. What if my ideas suck?
Although terrified, I REALLY want to do this. I want to build something awesome with everything I've learned the last year. So I accepted the challenge of what we're calling the "Epic Niche Site Battle"!
Niche Site, What Is That?
In an older post, I gave 50 Examples of Amazon Affiliate Websites. Essentially a niche site is a website that caters to a particular narrow group of people with a common interest. For example, people who own large fish tanks could be a particular niche. You could totally have a website about that!
You can also monetize these niche websites and have them make money for you. I'll admit, that's my motivation to start this. I'm hoping to build a passive income with this new website and use that money to buy more dividend stocks.
How the Competition Works
Barnabas and I sat down (via Google Hangouts) to lay out how the competition works.
Duration: We are giving each other 1 year to build & grow our niche sites. Starting on January 1st of 2018 we're starting our site and giving comprehensive reports quarterly on both our blogs (walletsquirrel.com & serialboss.com). We each may add additional posts, but we have to share all of our stats every three months. Whoever has better key metrics at the end of the year wins.
What We're Competing On: We're both building niche sites to help us grow our incomes, so making money is key but not the only factor. We are tracking 4 key metrics we both felt were vital to the success of a niche website.

Updates: We'll share our updates quarterly with January 4th as our first post. Damn that's soon!
First Update – March 29th
Second Update – July 5th
Third Update – September 7th
Last Update – December 6th
Rules: The only rules we came up with were:
No one else can help us. I can't have my buddy Adam helping me or hire any Virtual Assistants. The same goes for him. It's just him and I each bootstrapping a website from scratch.
Paid Advertising must be deducted from profits. I don't plan on using a lot of Paid Advertising since I'm poor and don't want to spend money, but I may try $50 in Facebook Ads to see/track if it helps.
That's it. All else is fair to build the ultimate niche website!
Full Transparency: We're sharing EVERYTHING (good times and bad) except the domain names. We want to be as transparent as possible since we want to help others build niche websites and show how it's done, but we've both heard horror stories of people using similar domain names and stealing traffic from new sites after the keyword research has been done.
I may share my domain name at the end of the competition, once established, but it's up to Barnabas to share his or not. For now, we'll call our respective sites the Wallet Squirrel Niche Site and the Serial Boss Niche Site.
My Previous Niche Site Experience
So far my previous niche site experience leaves room for improvement. In the past I've built 4 unsuccessful niche websites, but each one got better.
That's right, I've built 4 awful niche sites in the past. It's time to build something awesome!
Starting when I was 24 I built my first niche site reviewing online universities, it was called Top5OnlineUniversities.com. It was awful because I wrote generic school descriptions and only made money with AdSense. I hated myself for building something so lame. So I quit after a year.
At age 25 I built a website called LanguageMindMaps.com (it's not up anymore). I wanted to use my graphic design talent to create mind maps of typical conversations in different languages to help people visually learn new languages. It was better looking but I had no way to really monetize it and knew nothing about marketing. It failed because no one was searching for the term language mind maps.
At age 26 I built a deodorant niche website that started doing well for the keyword search, but it lacked ways to monetize the website. Plus I wasn't exactly thrilled to tell people I had a website on deodorant. So since I wasn't excited to market it, I lost interest and it died.
At age 27 Adam (of Wallet Squirrel) and I built a Halloween Costume website. This was something that looked cool, had great keyword research and did really well. However, it was just a seasonal website so the rest of the year I lacked interest in maintaining it since it only turned a profit once a year. That lack of motivation destroyed me and I game up. By the time Halloween came around again we didn't have the keyword strength and lost tons of traffic. It's slowly been dying.
Now! I plan to build something that's graphically cool, that I'm excited to share with other people, has awesome keyword strength with a topic I can write about throughout the year. These are the guiding factors for my new niche site.
Strategies
It was pretty funny when we shared our initial strategies, they were very different approaches. So we'll get to see two common strategies in action.
I wanted to go with a traditional affiliate site where the purpose is to rank high for a particular keyword then get my audience from my niche website to a product as fast as possible. When people use my tracking codes, I get a portion of the sale if they buy anything. So my strategy is to gain traffic through keyword targeting and quickly get them to a product site quickly. The idea being the more people I get to a product site, the more products that will sell.
Barnabas with SerialBoss has a bit different strategy. He plans to make most his income from Google AdSense rather than affiliate sales. So he is focusing on ranking highly in Google in a particular niche and gain revenue through visual AdSense ads.
Overall: I anticipate I may make more money first, but he is playing the long game by trying to become the premier expert in a particular niche field. If he can rank highly for one particular keyword, it's easier to start expanding into other similar keywords and significantly grow his traffic.
So It Begins
I'm currently in the pregame phase. I've built a few niche sites in the past, but none have been overly successful. I really have no idea what I'm going to do. I know I'm going to build an affiliate niche website and it's going to follow rules I stated above from past lessons learned, but I don't know exactly what it will be yet. I don't even have a domain name in mind.
So I'm currently rapidly typing domain names into GoDaddy to see what's available and sounds good. Rapidly strategizing in my head because on January 1st we're going fulling speed!
Does anyone want to join?
The main Epic Niche Site Battle is between Barnabas and I, but anyone is welcome to join in. Does anyone want to join us building a completely new niche website in January? Sign up for my email newsletter below to follow the action!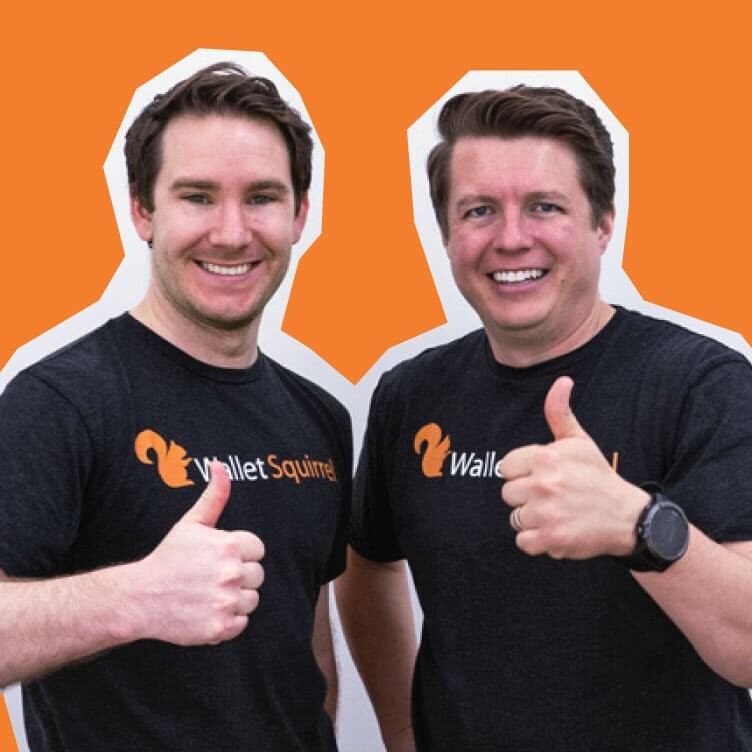 Wallet Squirrel is a personal finance blog by best friends Andrew & Adam on how money works, building side-hustles, and the benefits of cleverly investing the profits. Featured on MSN Money, AOL Finance, and more!