December Roundup – Our Favorite Income Reports From Around the Web
Today we take a look around the internet at our favorite income reports from around the web. These articles bring together seven to ten bloggers to see what they did in the past month. Some of these people will be fresh for this month while others will be regulars.
The point of this article is for all of us to learn what other bloggers are doing to bring income in each month. Hopefully, you will find something new to increase your own income next month.
Before we get started, let's take a look at how Andrew did in December. Overall, he had a pretty successful month bringing in $190.49 during the month. He also wrapped up 2017 with a total count of the income he made online. So, go check out his income report to see how he accomplished it and give him a congratulations comment at the bottom.
Here we go with this month's featured bloggers!
Pat's income reports are always a month behind because I do this roundup at the beginning of the month and he posts later on in the month.
This month Pat talks about how he is getting anxious to start something new. Most of his business has become a well oiled automated machine so he has no place for creative freedom. Well, this month he decided to make a bigger dedication to his Youtube channel.
With this new old adventure (he has had his channel since 2009) he is energized again to have a new challenge. As it is every year, it will be fun to see what he does in 2018!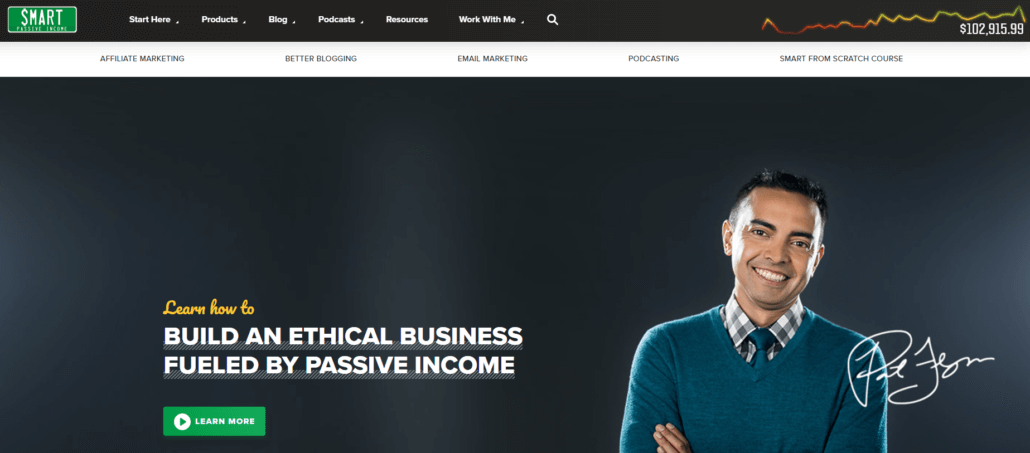 WOW!!! What a year by Michelle!
Every December she wraps up the year by totaling up what she earned throughout the year. Back in 2013, when she left her 9-5 job, she earned $116,519. Four years later she has multiplied that number by 13 to earn 1,536,732 in 2017!
It is going to be exciting to see what Michelle does in 2018 to keep the ball rolling. Keep up the good work Michelle!
So I had to do a double take when I saw Lanny's dividend income this month. I thought I was looking at a total for 2017! WOW! What a month Lanny!
This is the way to end 2017 and how to go into 2018 fired up!
Obviously, December 2017, was a new personal record for Lanny bringing in $2,009.22 just off of dividend income. Two of his stocks, PRFDX and VINIX, brought in over $1,000 alone.
This is really impressive Lanny! Keep up the good work!
Curious as to what the heck dividend income is? Andrew explains it really well in his What are Dividends and Dividend Investing article. Check it out to learn more!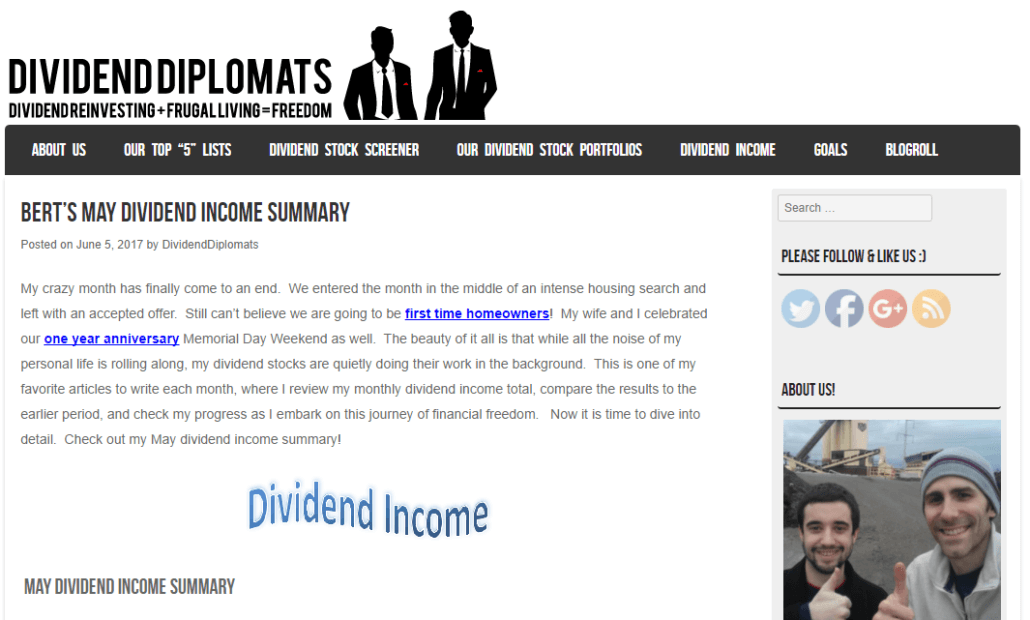 Reverse the Crush is fairly new to the dividend investing world, starting just six months ago. He just completed his second-best month ever earning $11.57 in December!
Reverse the Crush has a goal to make $1,500 each month from only dividend income. This will allow him to leave the 9 to 5 job to focus on blogging full time.
We wish him the best of luck in the coming months. Keep up the good work!
Bobby is a pretty incredible blogger to follow because he knows how to reach people. His blog set many new personal records during 2017 such as reaching over 1 million readers! That is pretty awesome Bobby! Congrats!
In December he brought in $13,186.26 through affiliate marketing, advertisements, and digital marketing consulting. This month he just let the website do its thing while he focused on completing and planning some new projects.
Keep an eye out for those new projects!
Millennial Boss (MB) is new to this report. I stumbled upon her blog on Twitter earlier this week.
It is really impressive what MB has accomplished such as paying off over $90,000 in loans to become debt free. She also co-hosts a new podcast called the Fire Drill Podcast. AND she crushed her goal to make over $18,000 from side hustle income during 2017 by actually making over $23,000.
Basically she does it all!
MB capped 2017 off by bringing in $2,560 in the month of December. She mainly makes her money affiliate marketing. It is actually really impressive how diversified her affiliates are. I suggest you check out her list!
Keith crushed it in the month of November! He had a 26% year over year gain to bring his monthly total to $682.74. Well done Keith! Keep it growing for 2018!
Keith has a very nice and clean strategy to gaining extra income from dividends. Andrew has also written up what his strategy is in his My Dividend Investing Strategy.
More from Keith to come up next!
Outcomes
I always love the wise words that Keith speaks in his posts. This month he talks about the patience and persistence of dividend investing. It takes time to build a solid passive income no matter what your income stream is.
Even if you have a down month, keep your head up and keep moving forward.
If you are looking to diversify your income sources more. Check out our Ways to Earn More Money page. Here Andrew and I personally review as many different ways to earn extra money as we can to help you decide if it is right for you.
https://walletsquirrel.com/wp-content/uploads/2018/01/December-2017-Round-Up-Horizontal.png
512
1024
Adam
https://www.walletsquirrel.com/wp-content/uploads/2015/09/Wallet-Squirrel-Logo.png
Adam
2018-01-15 13:00:29
2018-01-15 07:59:11
December Round Up - Our Favorite Income Reports From Around the Web