If you ever asked yourself "Can I make money online?". The answer is yes.
I can say with complete accuracy that through the entire year of 2017, through side hustling, learning new tricks and perfecting everything we do on Wallet Squirrel. I made money online.
I made $2,197.81 in 2017. Can you freaking believe that???
Every month I publish these income reports to show how much we make, how much you can make and how we did it. Everything I (Andrew) make, I invest in my portfolio and everything Adam makes, he uses to pay off his family's debt.
Cool Things We Did In December
Andrew Ended The Year Right
Andrew announced that Wallet Squirrel is starting a completely new affiliate website from scratch. I'll be publishing everything I do on our blog here and share how the site is doing while competing with another blogger for the Epic Niche Site Battle.
Andrew conducted a Review of TeeSpring which allows you to make money by designing cool t-shirts to sell. This was my second time trying TeeSpring. It's OK, but not a realistic way to make extra money.
Andrew had a mid-life crisis over his happiness at work, so I wrote "Serious Question, What Makes You Happy At Work". I'm still thinking about this. Any feedback would be appreciated!
Andrew missed his Thursday article last week because our entire website crashed. So I spent the Thursday working with Bluehost to get our site back up. This is the second time it's happened, once before with our iPage account. It should be resolved. =)
Adam Got In The Holiday Spirit
How Much We Made In December
These Income Reports are primarily how much I (Andrew) made last month, but Adam and I share a lot of the revenue, so duplicate the revenue for Adam.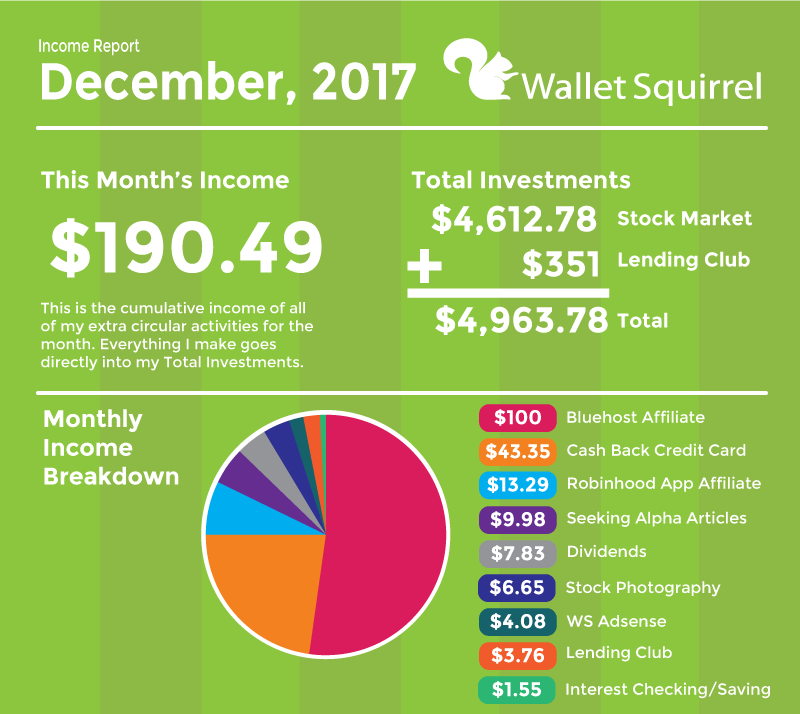 Cool right?
A majority of this income came through my cashback credit card because I spent money during the holidays. Yes I suck. Plus a few Bluehost affiliate sales. Here is the complete breakdown.
Sources of Income for December
$100.00 – Bluehost Affiliate Income
$43.35 – Cashback Credit Card
$13.29 – Robinhood App Affiliate Program
$9.98 – Seeking Alpha Articles
$7.83 – Dividends
$6.65 – Stock Photography
$4.08 – Wallet Squirrel AdSense
$3.76 – Lending Club
$1.55 – Interest Checking/Savings Account
What Do We Do With That $183.84?
Well after paying for website hosting, our CoSchedule account. I use that extra money to invest in my portfolio and Adam uses his share to help pay off his families debt.
However in January since I'm starting the Epic Niche Site Battle, I'm using some of that $183.84 to pay for a new affiliate website domain name and a cool WordPress theme. That's about $12 for the domain name and $70 for the WordPress theme.
What's Happing Next Month?
I've spent all of December thinking about my new niche affiliate website. I added them up and thought of over 234 different website domains to match the niche idea I have in my head.
January 2018 Goals
I hope for the end of January to have my affiliate site completely up and running with a few awesome blog posts under its belt, but I still have much to do like buy the domain, build the site (and all pages) as well create some awesome posts, and start promoting it. Wish me luck!
https://walletsquirrel.com/wp-content/uploads/2018/01/December-2017-Wallet-Squirel-Income-Report-Infographic.png
714
800
Wallet Squirrel
http://www.walletsquirrel.com/wp-content/uploads/2015/09/Wallet-Squirrel-Logo.png
Wallet Squirrel
2018-01-04 12:30:13
2018-01-03 20:52:14
Income Report - December, 2017