Hi, I'm Andrew.
Wallet Squirrel is the embodiment of my financial independence journey (it's really Adam and myself). So monthly, I publish these income reports to show how we're doing and how we make our money.
I use these to explain where our extra side income is coming from and what we're doing with it (aka, how we're investing it). We figure if we find enough extra ways to earn money on the side, we can use that extra cash to plan for our future/retirement (build a $10,000,000 portfolio) on top of our regular 8-5 job.
May Highlights
I have to give credit where credit is due, Adam CRUSHED IT with our SEO! We jumped from a MOZ Domain Authority rank of 19 to 23 this month! That is huge! It's hard. "Domain Authority" is a score developed by Moz that predicts how well a website will rank on search engine result pages. So basically Adam, with his SEO vodoo, made Google like us more, thus already we're getting TONS more traffic! Our switch over to Bluehost was probably a big help along with our other SEO Improvements earlier this month.
Our highest visited post EVER was this month! Adam's "How You Can Save Big Money On a Home Remodel" has been a huge hit. There are many DIYers out there using his tips on how to save nearly $5,000 on their back yard remodel. As someone who helped him with the yard work, friends are cheap labor. =)
As always, the main highlight is our Income Report!
Income Report – May, 2017
Anytime I can beat my average $65 a month, it's a good month. This month I came in at $80.48. I made some extra money through new sources like Ebates where I had one referral PLUS I used it to buy flowers for my Mother through 1-800 Flowers and gained 25% cash back ($12.50 cash back). Pro Son Tip – Mothers love it when flowers are delivered to their work.
Plus our stock photography was awesome, it's my favorite form of passive income. I will note, It was Adam who made money from his stock photos this month, but they are all under the Wallet Squirrel brand which we split. Below is my income report for May.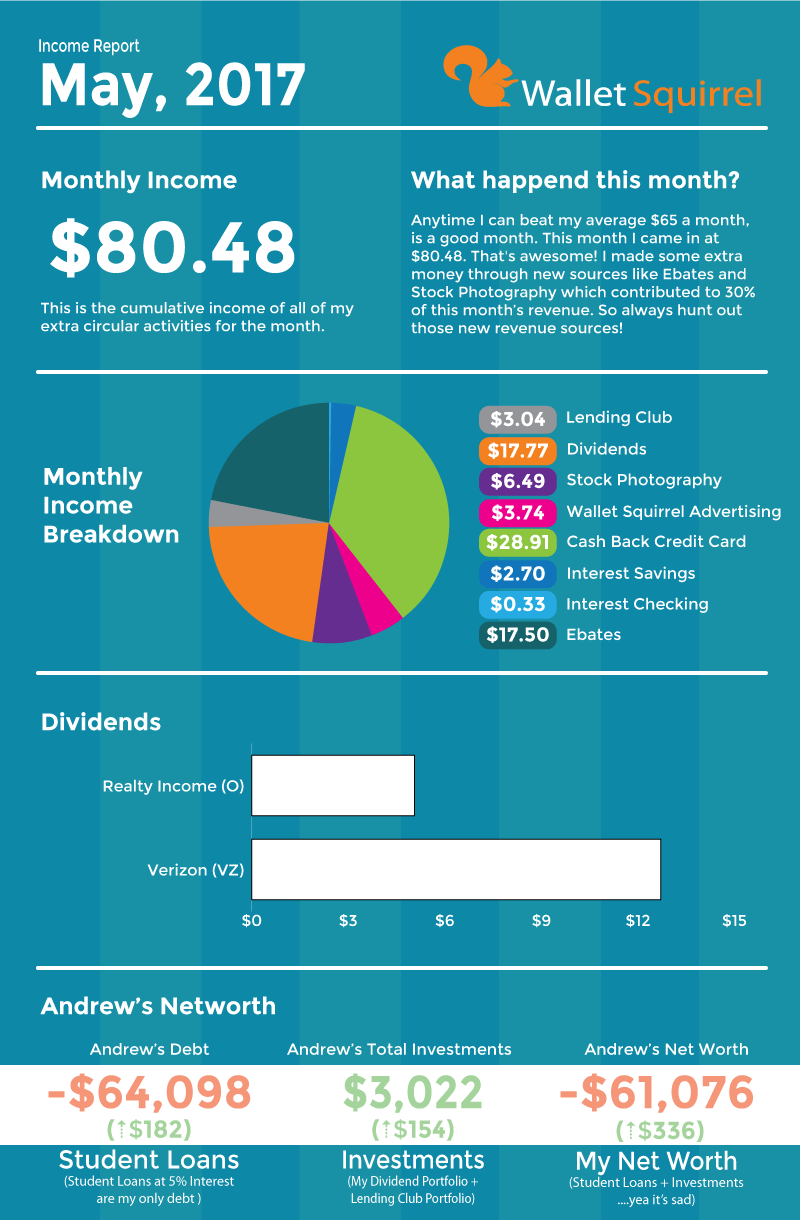 What did I invest in this month?
I earned all this money, but what did I do with it? Well, as always, I invested it.
This month I started Dollar Cost Averaging into stock I already owned. So I picked up a few more shares of Verizon (VZ) and Realty Income (O) while they were on the dip and diversified more by picking up Microsoft (MSFT).
I think Microsoft is crushing it when it comes to cloud storage, so I just expect their share price continue to climb. It's definitely a little high right now, but I still think it has room to grow. This is my stock portfolio right now.
Side Note – I also reinvested into my Lending Club account, I only originally put $300 in to test it and it's averaged about 5% overall so far. It's not great, but when you have under $2,500 in the account you have to reinvest your interest gained manually. So I bought one more "note" to help someone reconsolidate their credit card loan under a lower interest rate.
June Goals for Wallet Squirrel
Did I meet last month's (April's) goals?
Update the About Me Page –

SOMEWHAT FAIL

, I did update this page adding the purpose and mission of Wallet Squirrel. However I didn't add a fun comic idea I have. This isn't a big deal, but the About Me page seperates Wallet Squirrel from every other FI blog out there, so I want to put a little more effort into it this month and finish my comic idea.
Write 2 articles for money –

FAIL

, I did research to find A LOT more websites that pay for articles however I didn't have much time this month with 2 separate groups of friends visiting this month. I had an AWESOME time, but they did occupy my weekends which usually are my best writing times. I want to complete these goals this June!
Yes it sucks I didn't meet these, but I am being completely transparent on what I hope to accomplish. If I don't get it done, I have to face you. It's scary.
June goals for the month?
Complete my previous month's goals of updating my About Me Page and writing 2 articles for money.
Complete my interview for the Fluid App. After my review of the Fluid App, I reached out to their team and offered to do a synopsis interview for their blog of my experience in return for a link back to Wallet Squirrel. They loved the idea! It's a great app that I enjoy using and I'll get another link back, increasing our SEO for Wallet Squirrel. I'm stoked!
How did you do this month?
https://walletsquirrel.com/wp-content/uploads/2017/06/May-2017-Dividend-Monthly-Income-Report-Infographic.png
1220
800
Wallet Squirrel
https://www.walletsquirrel.com/wp-content/uploads/2015/09/Wallet-Squirrel-Logo.png
Wallet Squirrel
2017-06-01 13:00:36
2017-09-15 22:02:05
Income Report - May, 2017