March was a weird, productive, and milestone month!
First, if you're new to Wallet Squirrel, this isn't a normal post. It's normal for us to share a peek behind the curtain every month with exact revenue and expenses for this website. It's not normal for every blogger to provide this amount of detail to their readers.
Here is a recap of everything in March, including behind the scenes, revenue, and expenses.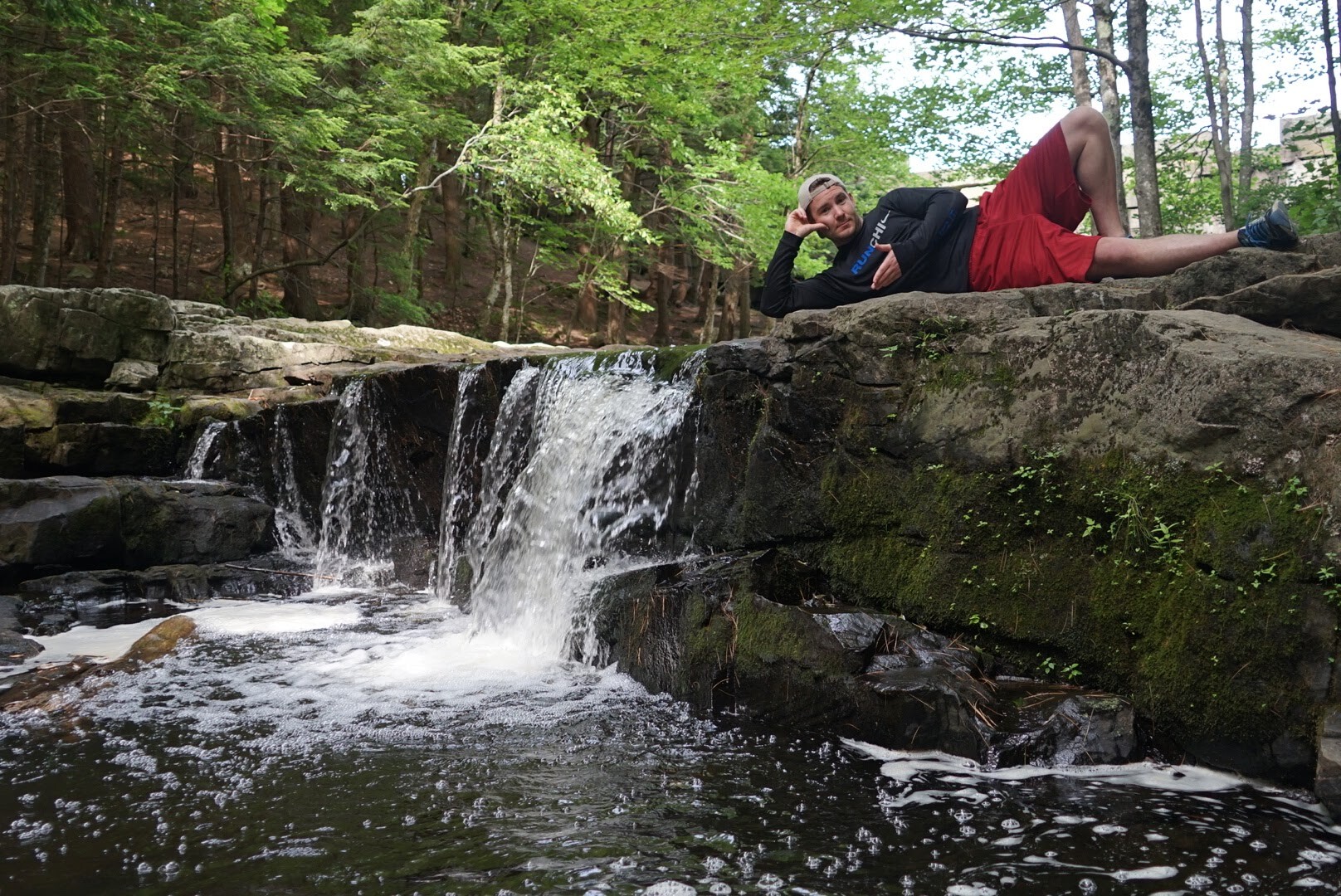 What Happened In March?
What Our Traffic Looked Like In March
We've hit a weird traffic plateau that comes right before another bump in website traffic. Much like improving at a sport, you practice hard while not noticing a difference, then WHAM something clicks, and you're next level!
That's us.
Because we show our actual Google Analytics data, we need to address a weird drop in traffic at the beginning of the month. As we mentioned before, we moved over to a new ad platform (Ezoic). During that transition, someone *cough* Ezoic *cough* blocked data to Google Analytics. Ezoic fixed the problem in a few days, but it left a weird drop I felt needed explaining.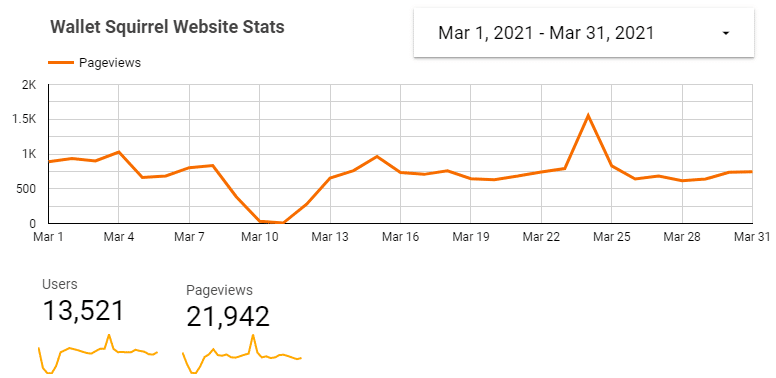 March 2021 Income Report
We bring in revenue from 13 different sources that continually provide impressive income for this site.
This month we're at $441.89, which doesn't break our ideal $500 mark, BUT you'll notice that our biggest revenue generator for the first time is our website ads through our new Ezoic partners.
This revenue will come down a bit as we're reducing the excessive ads Ezoic automatically added to the site. Still, the RPM (revenue per thousand impressions) has gone up dramatically. Meaning we get paid drastically more for ad viewed.
For us, this is a new milestone. We no longer need to suggest affiliate products to make money (although we love the affiliates we offer). From this point on, Wallet Squirrel makes enough money through website ads alone to perpetually support itself!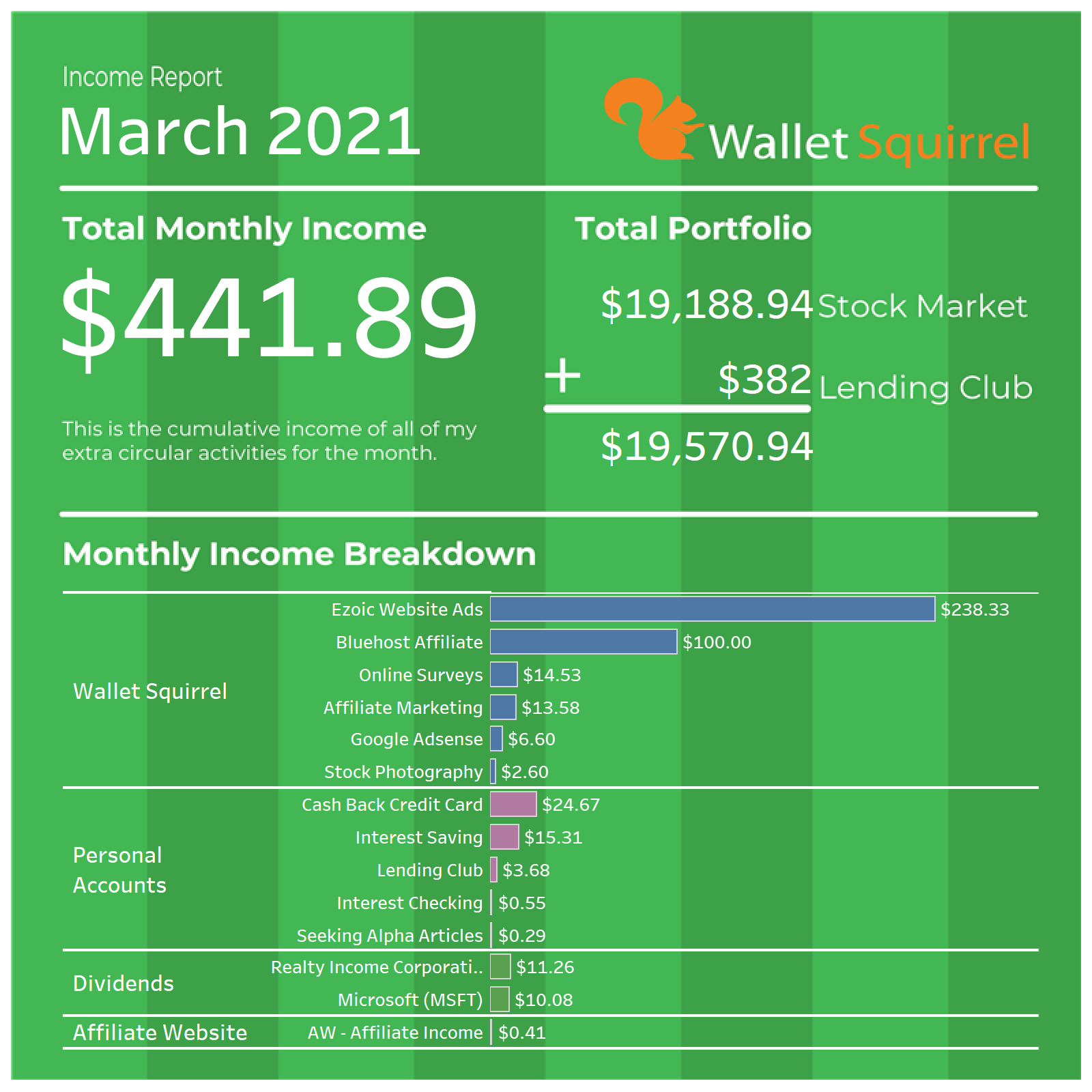 Every month we share our revenue sources from our ways to make money, and these passive income experiments continue to boost our potential income. Every day these grow and will eventually replace our entire income through blogging. Cool Right!
What Does This Money Go?
It's great to make money, but we also have several expenses in running a finance blog.
First, the money from my Personal Accounts goes directly back to me (Andrew). The interest in my savings and checking accounts stay there. Same for credit cards. I use my credit card 100% of the time, so I return the 2% cashback into my bank account.
Second, the dividends from my stock portfolio reinvest into additional dividend stocks. These produce a snowball effect that continues to generate more money over time.
Third, the Wallet Squirrel income is what we've tracked through our analytics. It may be weeks or months till the money hits our bank account. Then we use that money for website expenses and marketing initiatives because it takes money (marketing) to make money (growth).
Monthly Expenses – $231
Bluehost ($36) – hosting service
Sitelock ($8) – extra security add-on from Bluehost
Domain Name ($2) – so we can reserve the domain name WalletSquirrel.com.
Bloom ($7) – our creative email signup forms.
Grammarly ($12) – The premium version helps elevate our writing to the next level!
Money Mix Insiders ($166) – Great mastermind group for finance bloggers + Ahrefs Membership
What's Next For Wallet Squirrel in April
In the next month, we have some excellent posts coming out, we have some great posts by fellow bloggers, and we're going to create some fun finance comics for everyone to enjoy. Did I mention I'm excited about the finance comics?
P.S. If you're a blogger, let us know if you have a great guest post idea! We only accept guest posts from other bloggers.
Wallet Squirrel is a personal finance blog by best friends Andrew & Adam on how money works, building side-hustles, and the benefits of cleverly investing the profits. Featured on MSN Money, AOL Finance, and more!
https://walletsquirrel.com/wp-content/uploads/2021/04/April-2021-Wallet-Squirel-Income-Report-Infographic-1.png
1600
1600
Wallet Squirrel
https://www.walletsquirrel.com/wp-content/uploads/2015/09/Wallet-Squirrel-Logo.png
Wallet Squirrel
2021-04-06 07:30:53
2021-04-06 19:19:18
Income Report – March, 2021