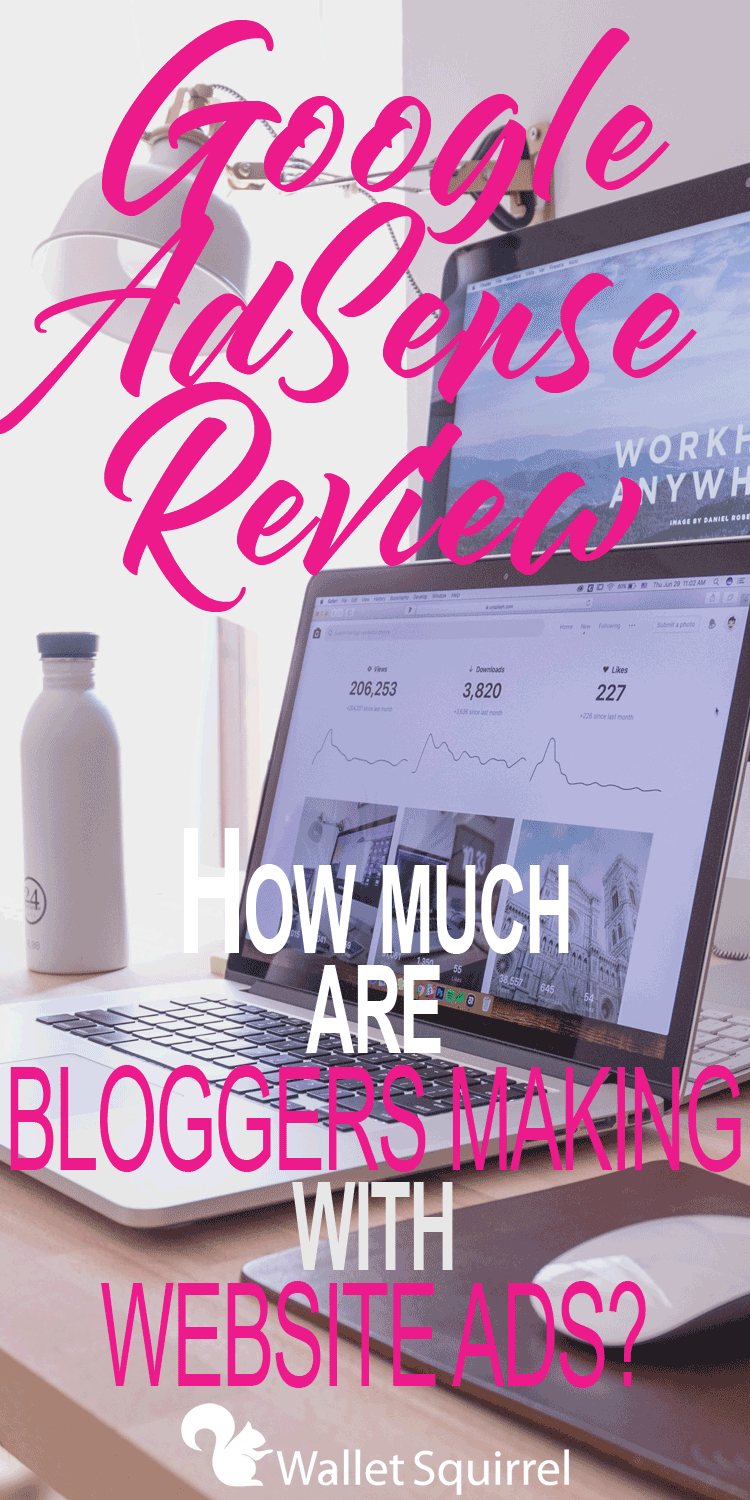 You're probably familiar with the concept of "website ads". They are often little graphics on the side of a website or embedded in an online article. While a bit annoying, they drastically help blog owners earn an income while sharing their content for free. One of the most popular ad services to bloggers is Google's AdSense. Here on Wallet Squirrel, we're particularly familiar with Google AdSense since we've been using it for the past 5 years. So we feel qualified to share a Google AdSense Review and share how much we've made over the years.
Google AdSense Review – What Is Google AdSense
Google AdSense is an online advertising network, meaning they allow bloggers/websites to post a small snippet of "code" on their blog sidebar (or wherever) and Google AdSense automatically populates that space with advertisements.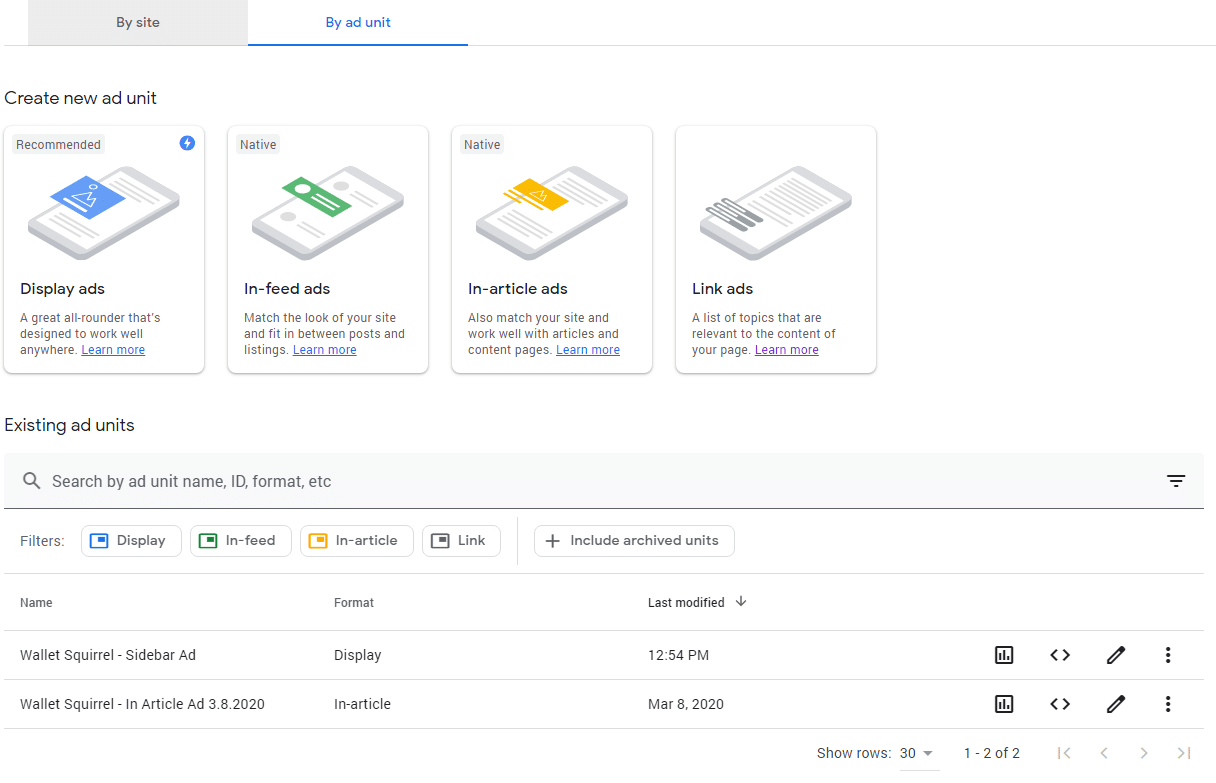 Choose an Ad
There are different types of ads that you can display on your blog, each with a different purpose and intention.
Display Ads – These are your standard graphic banners. We use this as our Sidebar Ad as an example.
In-Feed Ads – Think those "Sponsored" ads you see in your Facebook feed.
In-Article Ads – These are inside your article. They often look like they are a part of the article, but usually just a little off to designate them as an ad. We should have an example in this article for you to see.
Link Ads – These are less popular, but usually involve text-based ad. These often confuse your visitors to think it's a website hyperlink rather than an ad. It's tricky, and I personally don't like them.
Google Automatically Populates Those Ads
Google can tell based on your website's content and each unique website visitor, what advertisements are best for that visitor. This is based on complex algorithms, constantly changing and pointless to dive into. As a blogger, you simply choose one of these Ad Types and copy the code onto your website. Here is what our WordPress Widget looks like with the Google AdSense code.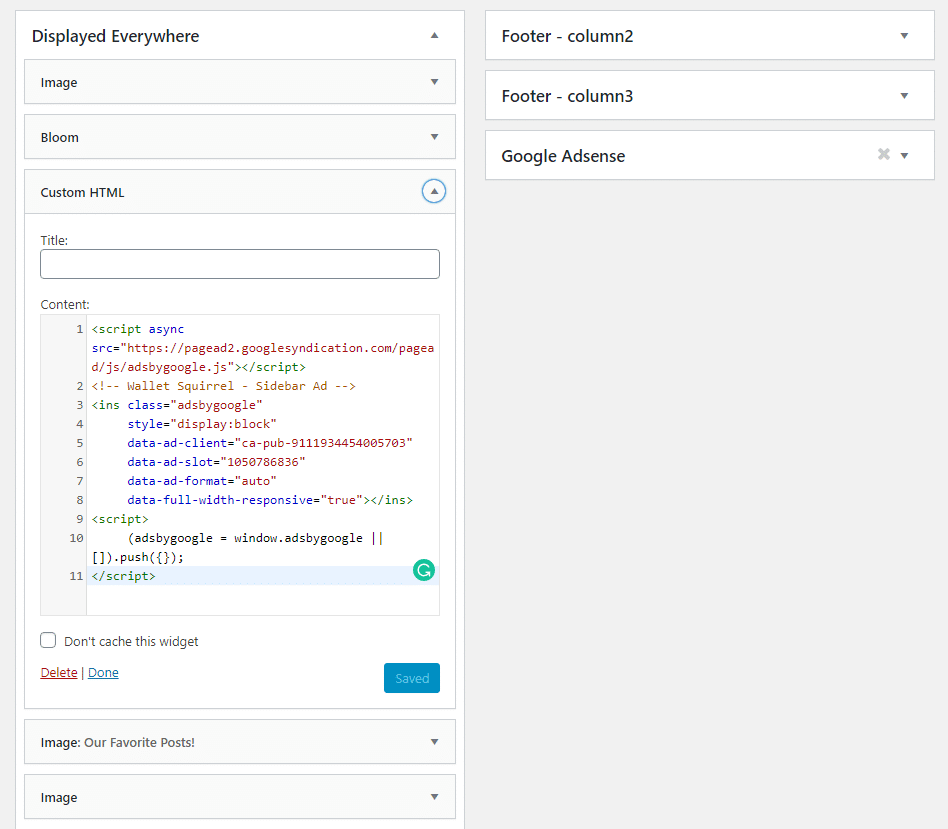 Blog Owners Get Paid
From a blogger standpoint, that's all you need to do. It runs automatically (takes a day or two to load) and you as the blog owner will start making money. You will make a small amount of money every time someone sees your ad, and a little more every time someone clicks it.
As a blogger, you have no say in what ads are used on your site through Google AdSense (nothing adult, etc.), but not always related to your blog. It usually depends on your visitor's past history.
You won't actually receive any money until you reach Google AdSense's $100 minimum payout. Once that is reached you can get paid by check, direct deposit, or quite a few additional ways. All you need to do is complete your tax information before they'll send you money.

What Happens Behind The Scenes
What's actually happening on the back end is companies from all over the world are turning to Google to help them get their ads "out there". These companies will give Google the advertisement they want to be shown, a detailed profile of their ideal audience and money.
The amount of money companies pay Google for ad space varies.
The Length of the Ad Shown – The longer you want the ad shown, the more it will cost.
Saturation of the Ad Market – If Company A is trying to sell costumes during Halloween. There are likely lots of other companies trying to do the same. Those advertisements can get very costly because you will need to outbid other companies for the same ad space. The more popular keywords you're targeting, the more expensive those ad spaces will be.
Quality of the Ad – Google prefers good looking ads that match their keywords. So if Company A has a terrible looking ad and generic keywords, Google punishes them by increasing the cost of their ads.
After the ad space is bought and paid for, Google will use its trillions of data points to locate Company A's ideal audience. Then whenever those people come across a website within Google's Ad Network (that's your blog if it has Google AdSense), they'll see an ad from Company A.
That's how Google AdSense works!
Does Google AdSense Pay Bloggers Well?
If you ask the internet, the answer is no. However, I think for this Google AdSense Review answer is a bit more difficult because there are additional considerations.
Google AdSense Is The Easiest Option For New Bloggers
One of the best qualities of Google AdSense is it's super easy to use (as I mentioned above), and you don't need a minimum amount of visitors on your website. Even if you only have 20 people visit your website a month, you can still get a Google AdSense account. This is why it's one of the most popular options. Most people get Google AdSense when their blog is first starting out and stick with it as their blog grows.
How Much Have We Made On Google AdSense
We are one of those people that have been using Google AdSense since day one and this likely makes us one of the most qualified bloggers to share the earning potential for a Google AdSense Review. If you want a breakdown of how much we've earned every month, feel free to check out our monthly Income Reports where we include every dime we make on Wallet Squirrel. However here is the full amount we've earned on Google AdSense since day 1, back in 2015.

We've had well over 325,000 visitors to WalletSquirrel.com and made $500 through Google AdSense. Cool Right! Actually, it's not that impressive. That's $0.001 per visitor (1/10 of a cent) since our website hatched.
While Google AdSense is one of the most popular Ad Networks out there, and one of the easiest for new bloggers. It is not one of the best paying.
Alternative Ad Networks For Bloggers
There are a number of Ad Networks out there for bloggers to choose from. In fact, we've started to look at a few of these to replace our current Google AdSense website ads. Writing our own Google AdSense Review has given us lots of reasons to look into other options.
Each one has its own set of requirements ranging from a minimum number of visitors to a minimum number of sessions. You just need to find the right one for your current blog size.
If you're starting off, I definitely recommend Google AdSense. However, if you've grown a little, here are some additional options.
The Wrap Up
Basically I loved Google AdSense as I built this personal finance blog. It was super easy to get approved, set up, and earn passive income (all the ways we earn passive income). However, it's not a forever solution. It simply doesn't pay as well as other Ad Networks. It's like training wheels for new bloggers. A great stepping stone to building a blog empire.
Let me know if you have any specific questions about our Google AdSense Review in the comments below. Plus if you're on our email list, we'll be sharing new details when we move to a new ad network.
Wallet Squirrel is a personal finance blog by best friends Andrew & Adam on how money works, building side-hustles, and the benefits of cleverly investing the profits. Featured on MSN Money, AOL Finance, and more!
https://walletsquirrel.com/wp-content/uploads/2020/06/google-adsense-review.png
512
1024
Wallet Squirrel
https://www.walletsquirrel.com/wp-content/uploads/2015/09/Wallet-Squirrel-Logo.png
Wallet Squirrel
2020-06-09 08:00:24
2021-02-16 12:21:14
Google AdSense Review: How Much Are Bloggers Making With Website Ads