July Round Up – Our Favorite Income Reports From Around the Web
Today we take a look around the internet of our favorite income reports from around the web. These articles bring together seven to ten bloggers to see what they did in the past month. Some of these people will be fresh for this month while others will be regulars.
The point of this article is for all of us to learn what other bloggers are doing to bring in income each month. Hopefully, you will find something new to increase your own income next month.
Here we go with this month's featured bloggers!
Sarah is a new comer to the round up post this month. I stumbled upon her blog while searching for some new income reports and was immediately blown away by how quickly she has grown her blog. This is only her third year and she is already making over $75k a year! That is amazing progress!
In July she has made $75,226.10. Most of her income comes from her own store on the blog. I thought this was really unique as we have not talked much about bloggers managing their own store with their own products. Her biggest seller is the Honest Blogger Bundle. This bundle is the starters kit to getting your blog up and running.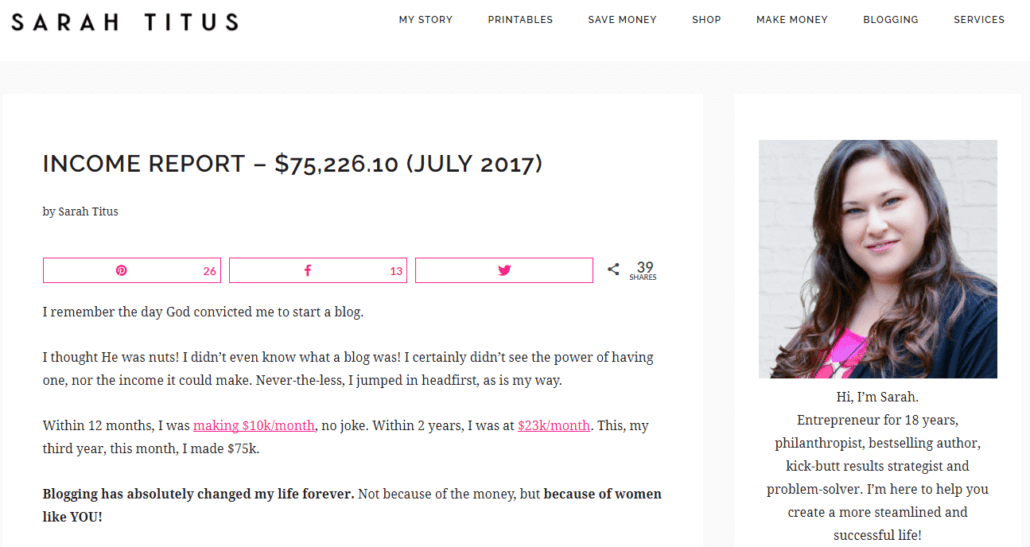 Another newcomer to this post is Matthew Woodward from the UK. He made over $22k off of affiliate income and a mysterious project. What really caught my eye was the great detail that Matthew goes into for his income reports. He goes into traffic, its sources, social media share numbers, and so on. It really gives you perspective on where you need to go.
Nadya is fun to follow because she specializes in niche websites. She will purchase existing niche websites then work at increasing the existing revenue for them.
This month she brought in $1,661.87 compared to 1,672.04 when we checked in a couple months ago. Most of her income is coming from affiliate and AdSense income.
Looking for some niche website ideas? Andrew has written a great article that looks at examples of Amazon Affiliate websites.
I like to follow Lanny and Bert's adventure for two reasons. One, they are two best friends seeking financial freedom just like Andrew and I. Second, you can get two different perspectives on dividend investing from one place!
Last month I focused on Lanny's dividend income report so we will take a look at Bert's this month. Bert had a little lower month compared to the last time we checked in with him bringing in $133.27 compared to $275.54 in May. Overall, he is showing continued growth compared to 2016 at 14.16%! That is an awesome return. Keep up the good work Bert!
Curious as to what the heck dividend income is? Andrew explains it really well in his What are Dividends and Dividend Investing article. Check it out to learn more!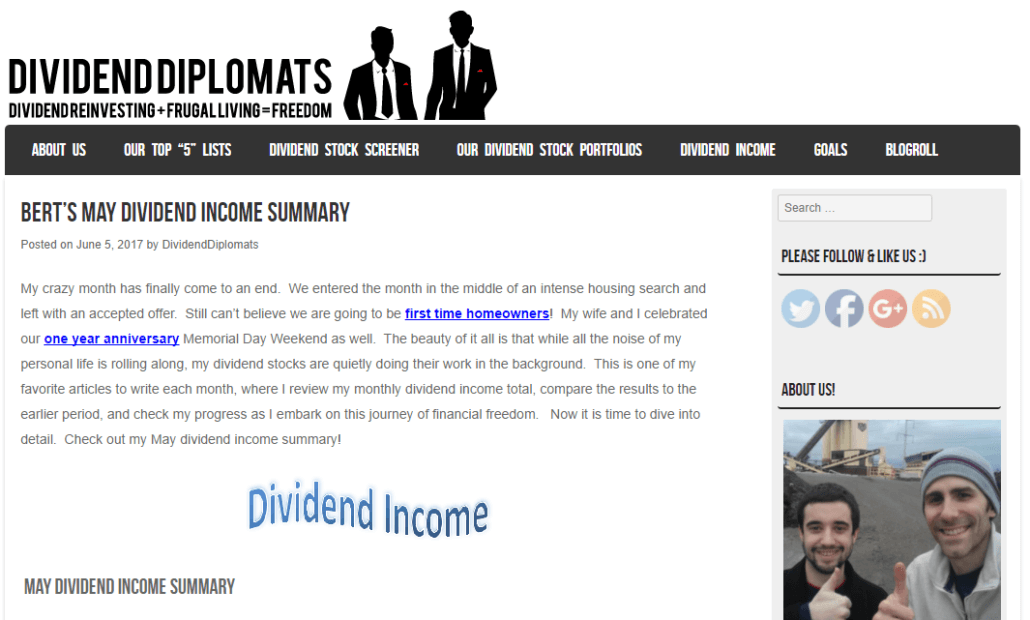 A couple months ago we looked at Investment Hunting's (IH) adventure with Lending Club. Curious? Check it out! Well, this month I wanted to check back into this creative passive income source. To date, IH has invested $5,000 in the peer-to-peer lending program. He has received a total of $1,041.99 (including interest) in payments back. In the month of July, he received $171.67 in returned principal as well as $51.99 in interest for a total of $221.76 in total payments.
I know you are interested in gaining returns like this yourself. Before jumping into Lending Club, check out Andrew's review about the service, Lending Club Review, My Experience Investing With Them.
Our last income report is a dividend report from Keith Park of DivHut. Keith had a modest month, totaling $253.27 for the month of July compared to $815.38 in the month of June. But, Keith explains that the end of quarter months tend to be much higher compared to the first month in the quarter. As he says, "As long as we can report progress each month and out annual goals are intact, who cares." I completely agree with this long term outlook!
Keith has a very nice and clean strategy to gaining extra income from dividends. Andrew has also written up what his strategy is in his My Dividend Investing Strategy.
Outcomes
This month, we can take a page from Keith's book by keeping our long-term goals in focus. Even if we have a lower month of gains, we need to remember that it is only one month. Within the perspective over the entire year that one month will average out. It is nothing to worry about unless goals are completely thrown off. Then it would be time to analyze and adjust your plan of action to get back on track.
Ready to add on another source of income to your plate? Maybe it is the first source for you? Check out our Ways to Earn More Money page. Here Andrew and I personally review as many different ways to earn extra money as we can to help you decide if it is right for you.
https://walletsquirrel.com/wp-content/uploads/2017/08/June-Round-Up-01.jpg
1792
3488
Wallet Squirrel
https://www.walletsquirrel.com/wp-content/uploads/2015/09/Wallet-Squirrel-Logo.png
Wallet Squirrel
2017-08-14 13:00:07
2017-09-15 22:18:48
July Round Up - Our Favorite Income Reports From Around the Web