Income Reports Roundup
There are so many great financial blogs on the internet that we all can learn from. All of them provide great advice and deserve some recognition. Andrew and I want to give that recognition by starting a new series highlighting some of the other financial blogs around the web. After some thought we decided that I should write these highlights around their latest income report (Some blogs are a month behind compared to when I post this article). These income reports show exactly how others are making money. Hopefully this will give you some amazing ideas on how you can expand your own little empire.
I want to highlight people from all phases of their financial freedom journey. This is why you will find big wigs like Pat Flynn and Michelle Schroeder on this list but you will also find lesser knowns such as Nadya from Living Off Cloud. I also want to show a wide variety of how people are making their extra money. You will read of people using affiliate marketing, dividend income, niche websites, and so on.
I look forward to updating this list every month for all of us to learn something new together. This list will not be the same every month as I might find a different blog with something new to share. As always, I am open to suggestions.
Oh yeah! Do not forget to keep up to date with Andrew's Income report by reading his May 2017 Income Report!
Alright, enough with my rambling. On to the income reports!
Compared to March, Pat had a rough month. He dropped from a $212,111.33 income in March to $102,915.99 in April. That sounds horrible but he explains that in March they launched two new online courses, Smart From Scratch and Power-Up Podcasting that gave their income a surge. In April, that surge settled and he is now back to normal numbers.
In April, Pat made most of his money from affiliate marketing such as Bluehost and Market Samurai. He also makes money through books sales, consulting, his podcast, niche sites. It looks like Pat has also made it into the software and WordPress theme development business as well. Just off of his Smart Podcast Player Licenses and the SPI Pro Them from StudioPress he made a whopping $12,706.32.
Pat really has diversified since I started following him a few years ago. Seeing what he is accomplishing really motivates me to diversify Wallet Squirrel!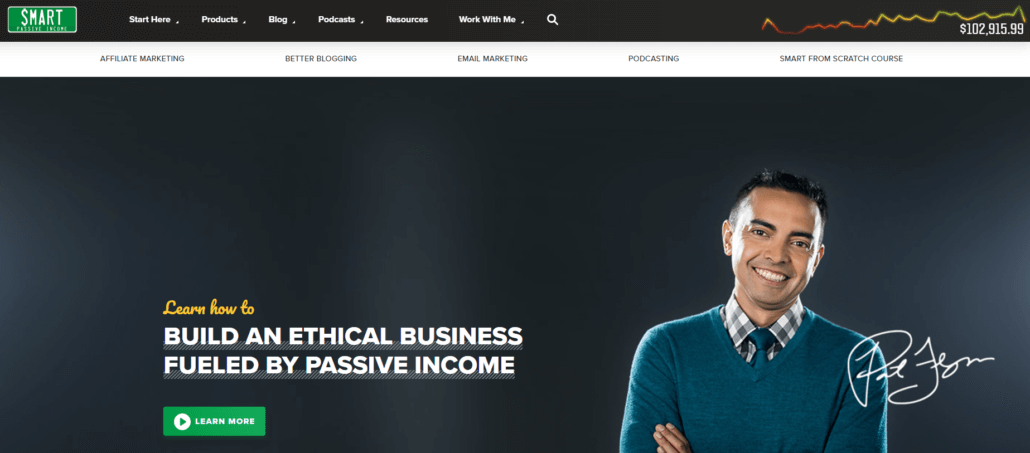 Michelle Schroeder – Making Sense of Cents – $120,104.93 (May 2017)
I found Michelle's blog about three months ago and check in on her updates a couple times a week. Michelle provides excellent content that highlights real life events allowing her readers from all walks of life to connect. Each month I check in for her income reports they have gone up and up. Sadly in May she broke that streak by bringing in $120,104.93 compared to $131,448.35 in April. This is still really impressive even if her numbers dropped slightly.
In May Michelle made just over half of her income from affiliate marketing such as Bluehost and Ebates. Another major income source is from her Making Sense of Affiliate Marketing Course. This course helps bloggers increase their income by tapping into their own blogs affiliate marketing potential.
Andrew and I have talked about creating a course ourselves but have not yet sat down together to bring that to life. Have you thought about creating one yourself? What is holding you back?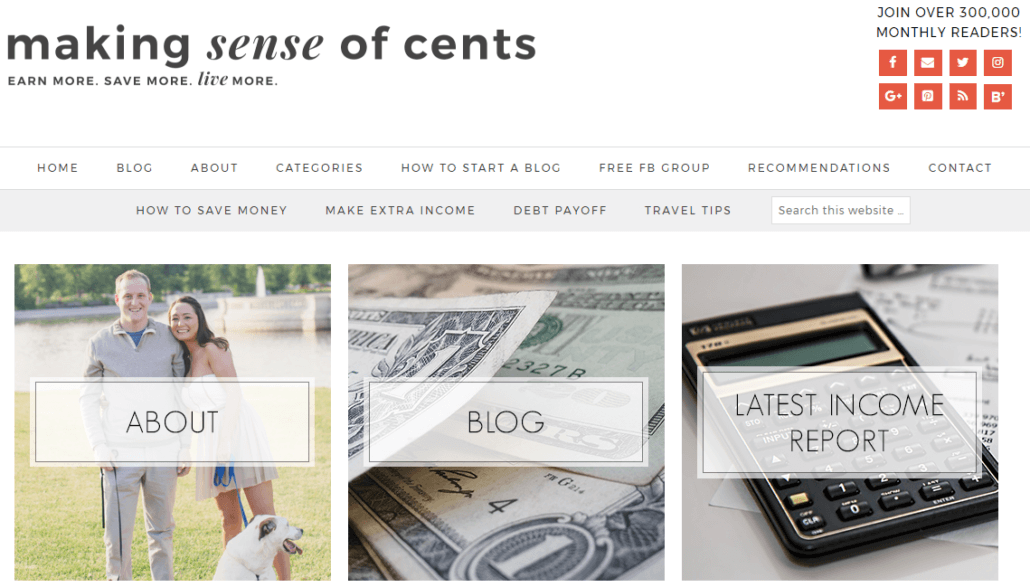 Stefan Sharpe – Millennial Budget – $11.06 (May 2017)
Stefan had an awesome May! He is our first of several income reports that focus on making extra money each money from dividends. Dividend income is special to us at Wallet Squirrel because dividends are at its roots. This is why Andrew started the blog a couple years ago.
Stefan was able to double his dividend income compared to his February report where he made $5.78. He made a killing after purchasing PAYX, Paychex Inc. This purchase brought in an extra $4.60 in May alone.
Keep up the good work Stefan! Learn more about what dividends are and dividend investing.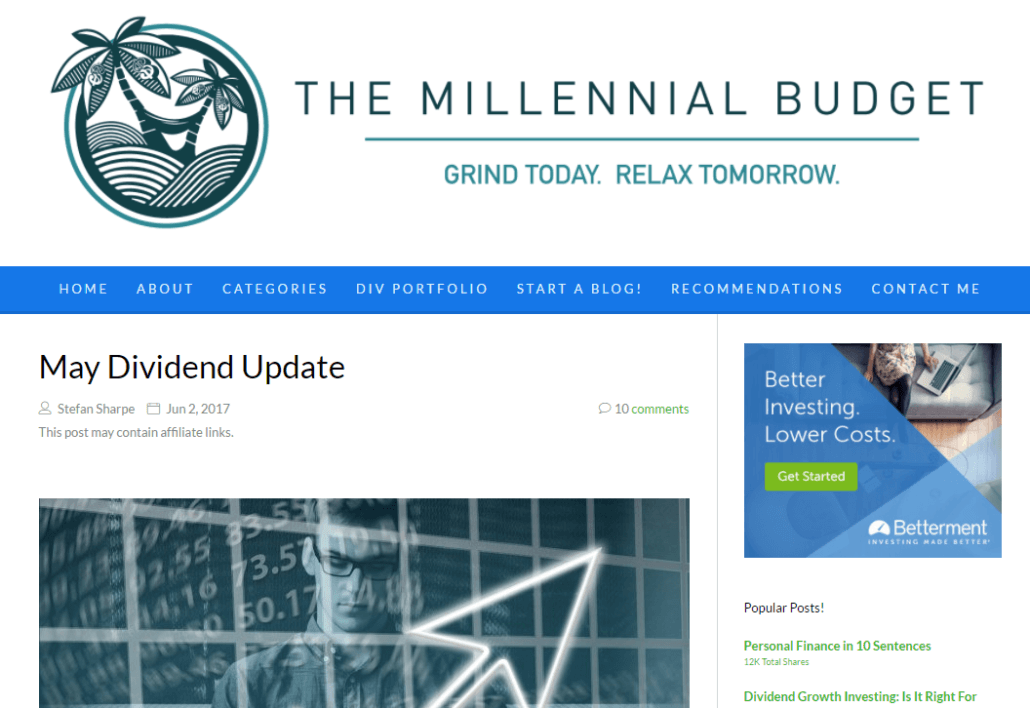 Now, to be fair, this is not an income or dividend report from Investment Hunting. This is his month four report on how his experiment with Lending Club is going. I thought I would share Investment Hunting's story here because it is looking like a great way to earn some extra money. Lending Club is a lending network that is funded not by the banks but by regular people like you and I.
Investment Hunting started his experiment by investing $5,000 into people on the network. He had a really good month in May by getting a total of $158.38 back. This included receiving back $110.77 in principal and $47.58 in interest. Throughout the four months he has made $134.27 off of the interest.
Andrew has a great article on getting started with this unique way to invest, Lending Club Review, My Experience With Them.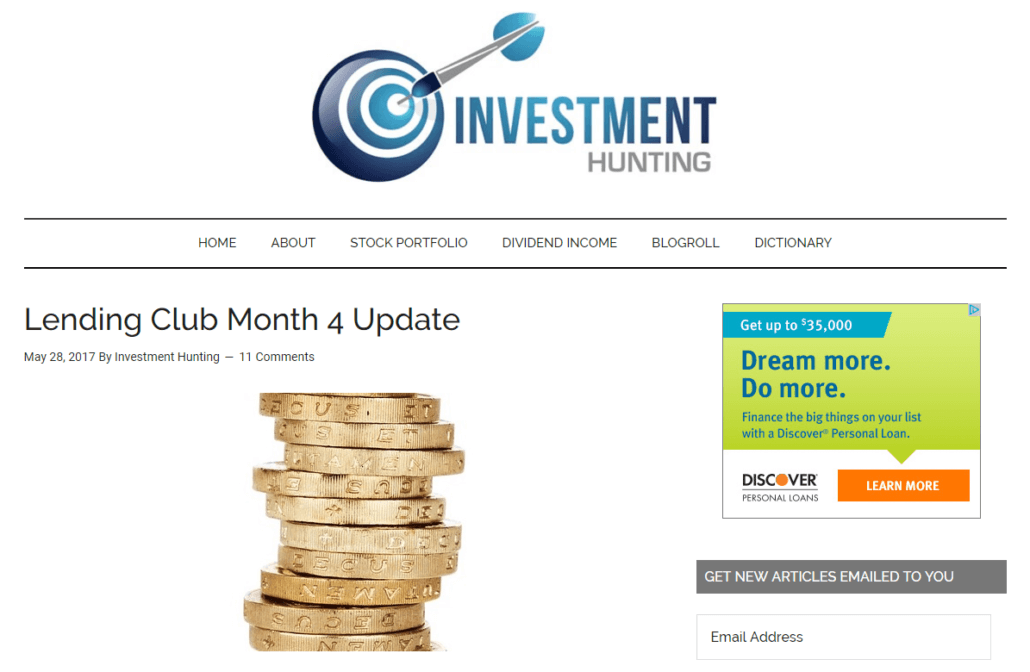 Lanny and Bert – Dividend Diplomats – $275.54 (Bert's May 2017)
Lanny and Bert are, "Two 20 something dudes who are blogging about #Investing, #Frugality, Passive Income & attempting to Reinvest Our Dividends to Financial Freedom!" Just like Andrew and I, they are two best friends that are striving for that ultimate goal of financial freedom.
This month Bert shares his dividend income summary for the month of May. He and his family (his wife contributes as well) made an amazing $275.54 in May. This is a 61.90% compared to May 2016 or a 14.41% increase if you take out his wife's portfolio who hadn't joined the cause yet last year.  Either way, this is some impressive growth!
Bert's wife was the biggest reason for the enormous increase of income in May. We are only as strong as the woman next to us, right Bert? I must say, my wife helps out so much in the background so I can be a part of Wallet Squirrel for which I am so thankful for.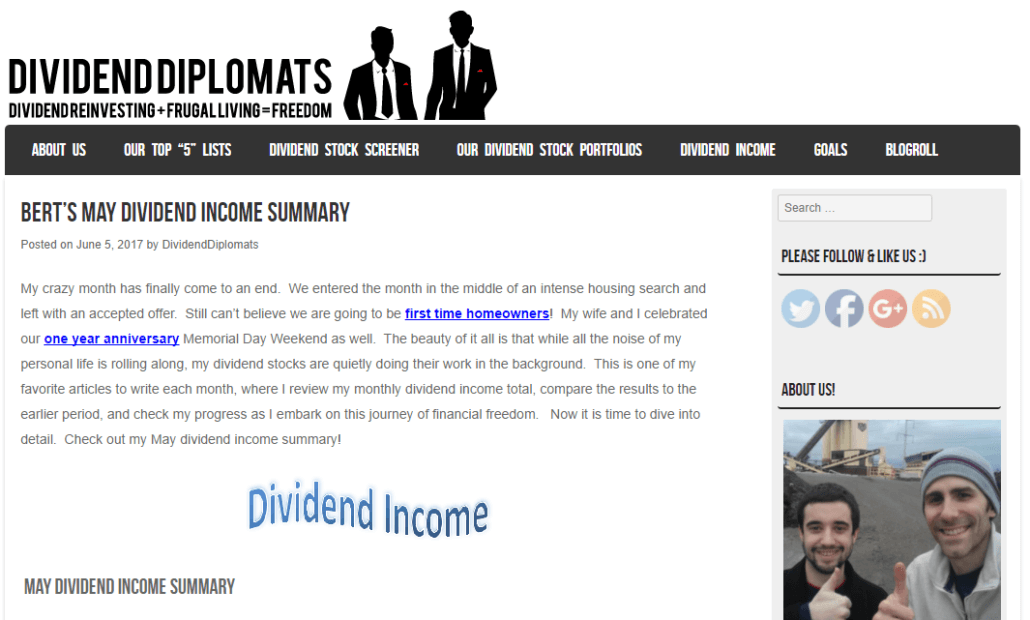 Keith Park – DivHut – $584.38 (May 2017)
Keith is another one of our featured dividend income gurus. All in all he had a very strong May 2017 compared to May 2016. He increased his dividend income by 11.3% compared to last year. This helped him rake in $584.38 just off of dividends. That is really impressive!
Overall in 2017 he has made $2,672.69 just off of dividends. This really goes to show you that dividend income can help bring in some extra income for your family. It seems like he has a really healthy curve of growth going. Let us all hope that this growth continues for Keith in the second half of 2017.
Keith shows that dividend investing can be very beneficial. If you are interested at getting started here is Andrew's Dividend Investing Strategy.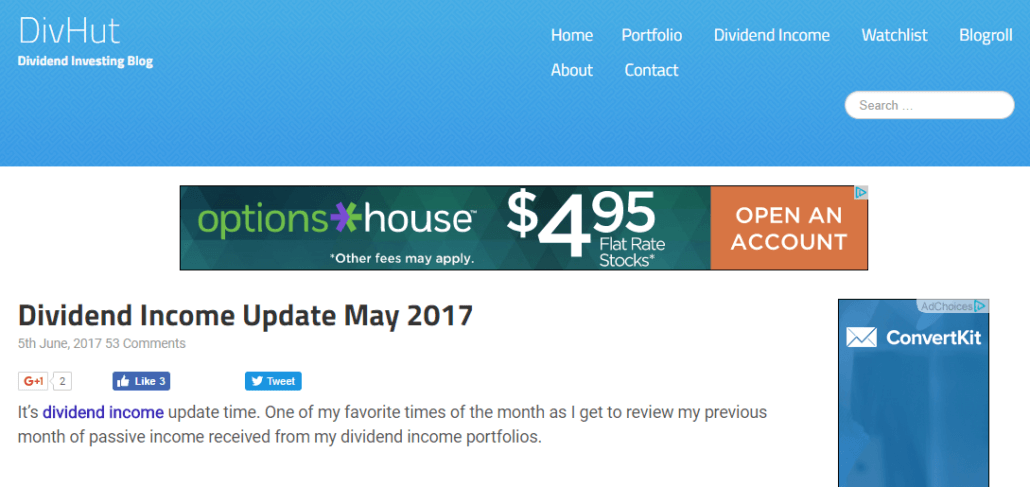 Nadya is new on my radar for bloggers to follow. Her blog really caught my eye because of all the niche sites she manages. It is really impressive that she is able to keep up four niche sites. She does not name her sites by name but gives them a code name instead such as Elephant, Horse, Rat, and Honeybee.
What really intrigued me is that she does not make these sites from scratch like most people, she has purchased them! I did not notice this until I realized that she mentioned that she has just paid off the Elephant site after purchasing it. She was able to pay it off by using its own income. Way to go Nadya!
Overall she made $1,672.04 in the month of May. This income mainly came from her Elephant and Horse websites through Amazon affiliate and Adsense.
Check out some more Affiliate Marketing sites in Andrew's, 50 Amazon Affiliate Website Examples article.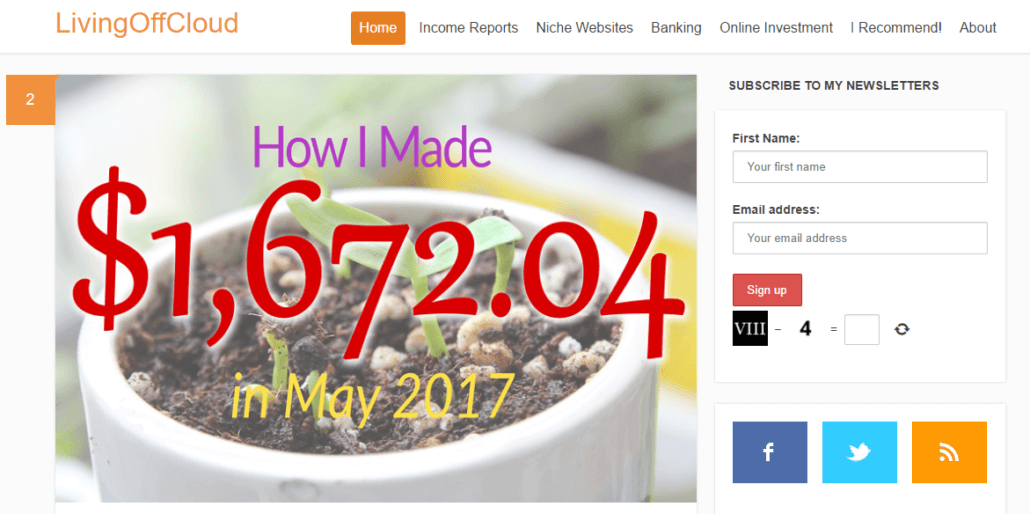 Like Nadya, Sarah is another new blogger on my radar. I really liked her site, it is very clean and well organized. The only thing that really annoyed me was that little ad at the bottom of the screen in the blog post that stayed with you no matter where you scrolled. I guess that might be why she made $356.09 just off of ads in May!
Sarah makes most of her income off of affiliate sales, totaling $2,232.70 in the month of May. This is very impressive as we do not come even close to that. It makes me wonder what Andrew and I can do to get Wallet Squirrel to that level. Well done Sarah! Keep up the good work!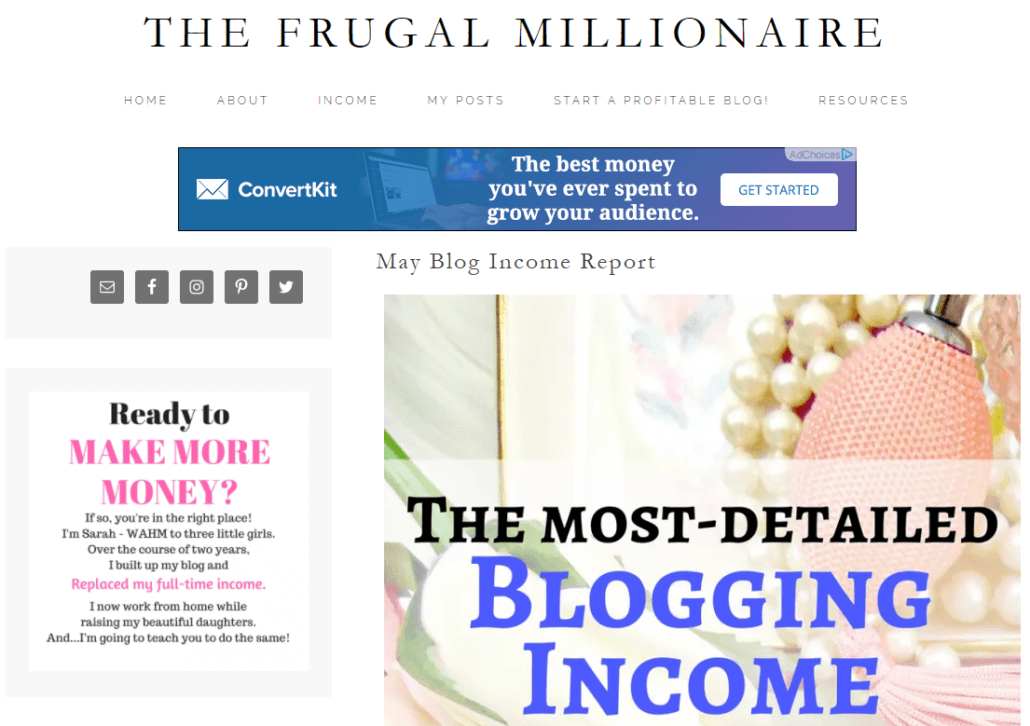 Outcomes
I personally learned a lot from my research to find other bloggers to write about. Looking at what other people are do has me think about where I focus my energy when working on Wallet Squirrel. Lately I have been so focused on SEO items. Which is good and we are seeing massive organic traffic growth. Now I am thinking that I need focus on marketing and getting more people to the site.
Hopefully these income reports give you some more ideas on where real people are making more money and what the next steps are for your site.
Do not forget to take a look at our comprehensive list on ways to make more money in 2017.
https://walletsquirrel.com/wp-content/uploads/2017/06/Ocean.png
1150
2048
Adam
https://www.walletsquirrel.com/wp-content/uploads/2015/09/Wallet-Squirrel-Logo.png
Adam
2017-06-12 13:00:02
2020-10-11 21:51:50
May 2017 Income Reports Roundup