Google Opinion Rewards – Earn Very Little Money in 30 Seconds or Less!
Who does not love some free in-game purchases? Sounds pretty awesome, right?
Well, you can have that, even if you are an iOS user (they pay you Apple users through PayPal rather than giving you Google Play credits).
Let me introduce you to Google Opinion Rewards. A great way to earn tiny bits of money to use on fun!
What is Google Opinion Rewards?
There are SO many fun "cheap" apps, games, music, movies, books, and so on within the Google Play application. It is sometimes tough to not splurge on something within the store.
With Google Opinion Rewards, you can earn "free" money by answering simple surveys to pay for anything within the Google Play store. This also includes in-game purchases.
The big drawback is that it does take time to earn that money. It takes a few months to earn enough to purchase something.
If you actually want to earn a little more money from surveys for something more serious, then check out the Best Survey Sites That Pay Cash.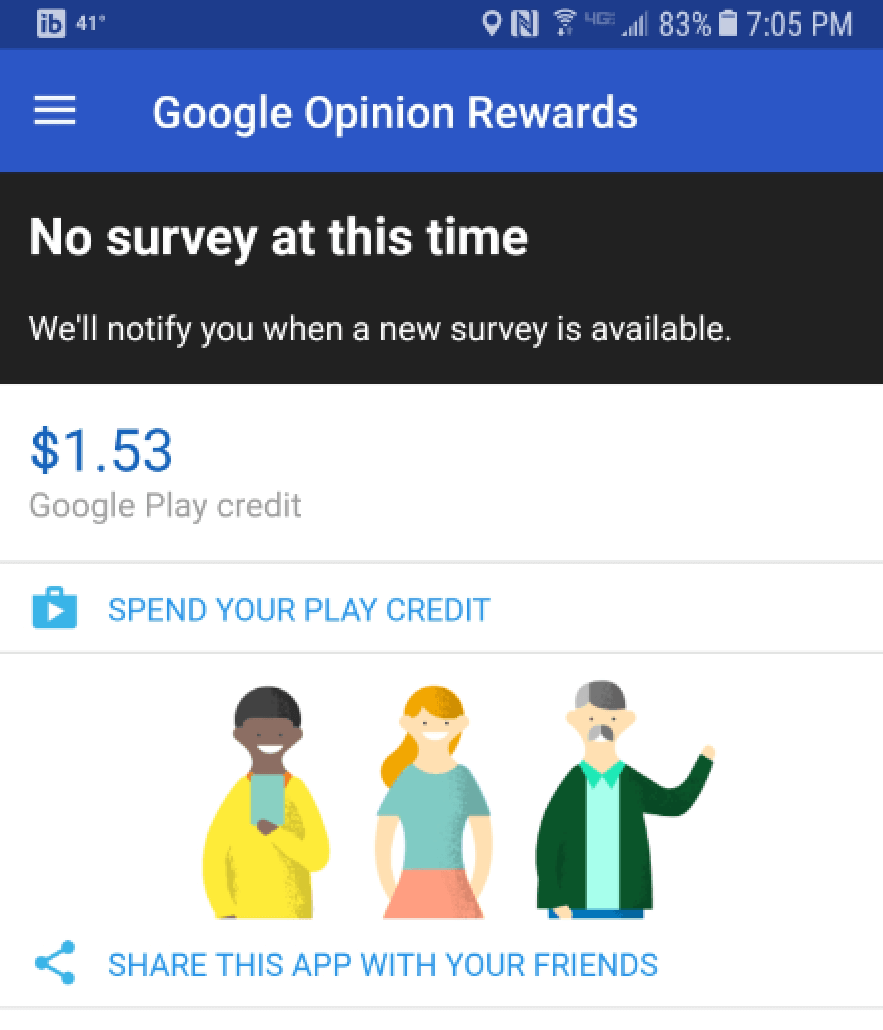 How does it work?
The survey questions that appear in Google Opinion Rewards come from Google Surveys. This is a service offered by Google that allows companies and organizations do market research on specific audiences.
When a survey is created and you match the demographic they are looking for, you receive the survey.
The application gives you a notification saying that you have a survey waiting to be filled out.
Hop in the survey, fill it out, give them your social security number, and send them a blood sample. It all only takes a minute or less.
Then Google pays you!
What data do they collect?
When you sign up your first survey will include a series of demographic questions such as age, gender, and zip/postal code.
Then Google Opinion Rewards will send you a notification that you have a survey. The company will gather the information you provide to them when answering the questions as well as the general demographic data.
The companies will not get anything personally identifying you such as name, address, social security number, or anything else like that. There is a chance a local business might ask permission to post the review up on their site. You will be clearly notified if this is the case and have the option to decline.
For more information, you can check out the Google Opinion Rewards privacy page.
What kind of questions are there?
I wish I had a screenshot of a question but I do not. I have not been asked to answer any surveys since writing this article.
Most of the questions they ask me are, "Have you visited this store? What form of payment did you use?" Here I am assuming they are trying to study trends/patterns on how people pay at different stores in different locations.
Other questions were about hobbies such as if I enjoy mushroom hunting. Weird but I guess its a viable question.
I have also been asked about Youtube (Google owns YouTube) videos I have watched in the past. This I am assuming they are doing market research on video trends/patterns people like to watch.
Overall, there is a whole array of questions they ask, do not let them surprise you.
How much can you earn?
Let's get this straight, you will not get rich by using Google Opinion Rewards. I look at this service purely for fun money within the Google Play store.
On average you will make $0.10 to $0.25 per survey. The most I have ever earned from one survey was $1.00. Not going to lie, that was a pretty exciting moment!
Like I said, you will not get rich from this survey platform. You will gain some extra "fun" money to use on some frivolous spending.
I have used this money on this sweet application to help me identify mountains in Colorado. I have also used my earned Google Play credits for in-game purchases within Pokemon Go.
Yes, I still play that silly game. 🙂
I have also used it on practical purchases to help me reprogram the Bixby button on my Note 8.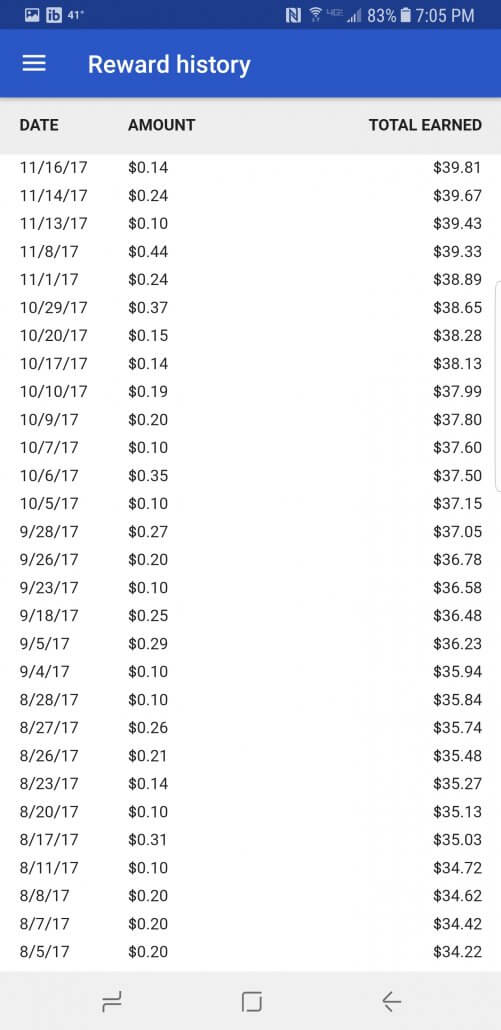 Is it right for you?
To determine if Google Opinion Rewards is right for you, answer these questions below.
Do you have an extra 30 seconds here and there to answer some quick survey questions?
Do you want to answer questions about yourself providing data to some company in return earning a little money?
Do you want to earn some extra fun money for some frivolous spending?
If you answer yes to all of these questions then Google Opinion Rewards is a good fit for you. If you answered no to any of the questions, then I would look for other ways to make money.
Personally, for me, I do not mind answering these surveys for random companies around the world. My main reason for being okay with it is that I am not providing them with any identifiable personal data.
https://walletsquirrel.com/wp-content/uploads/2017/11/Google-Opinion-Rewards-1.png
512
1024
Wallet Squirrel
http://www.walletsquirrel.com/wp-content/uploads/2015/09/Wallet-Squirrel-Logo.png
Wallet Squirrel
2017-11-20 13:00:16
2017-11-20 07:30:56
Google Opinion Rewards - Earn Very Little Money in 30 Seconds or Less!