Being outdoors participating in many different activities is one of my favorite things in life. This is one of the biggest benefits of living in Colorado, I can be active outdoors year-round. I have all of the gear. The running shoes, the fitness watch, the bike, the skis, the backpacking gear, and so on. I am set when it comes to playing outside. Today, together, we explore how to earn more money in 2018 with the Achievement App. We will look at the in's and out's of the application to decide if it is right for you.
Side note: I absolutely love my fitness watch from Garmin. It is a little pricey but allows me to track ALL of these activities when most do not. Plus, I can still wear it to business meetings after switching to the metal band. Alright, sales pitch over now back to your regularly scheduled program.
The issue I have is the lack of motivation to get up in the morning to work out. I think a lot of people would agree with me. No matter the time of day, it is tough to get that motivation. If this was not the case there would be too many David Hasselhoffs and Pamela Andersons running down the beach in slow motion. Well, how do we get help for more motivation? Enter the Achievement App.
What is it?
The Achievement App allows you to earn money from your fitness adventures. This includes walking, running, biking, hiking, and so on! Every activity you record the application rewards you with points depending on how intense and long it was. The people over at the Achievement App have even thrown in some curve balls as to how you can earn points. These include logging your foods on MyFitnessPal or tweeting healthy thoughts on Twitter. My favorite one though, they will reward you for sleeping!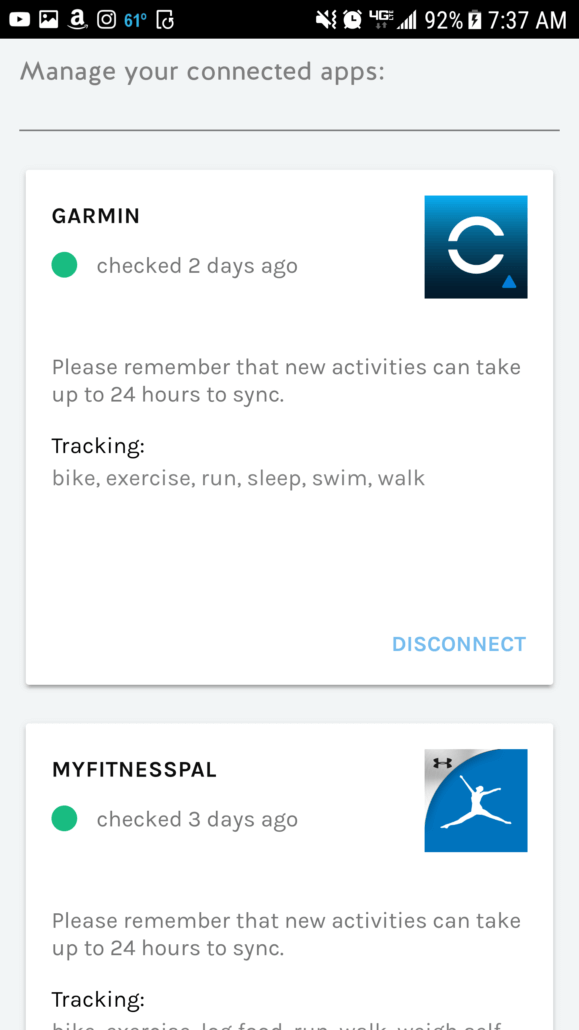 In total there are 27 apps (Their website says 40+ but I only count 27 in the Apps pages) you can sync your Achievement app to in order to earn more points. These are not obscure apps either, they include very popular and well-developed applications so most people can get connected. These applications include the UnderArmour Fitness suite, Garmin Connect, Jawbone, Fitbit, Apple Health, Foursquare, Twitter, and so much more!
Why do they do this?
You must be asking, "Why are they doing this?" Achievement has partnered with several health research companies who in turn make the rewards possible. With every 10,000 points, you earn they will pay you $10. According to their website, "There's no limit to how much you can earn." So to simply put it, they are paying you for your data so they may sell it to research companies.
Some people might find it scary that researchers are going to be looking at your data and it is a lot of data! I completely understand your hesitation. The Achievement App does not disclose a lot of information about this part of the process. It would be nice if they answered a series of questions such as…Who is doing buying this data for research? What are they researching? Is there any personal information they look at such as names? I couldn't find any answers to these questions within their Terms of Service agreement. Let me know if you do find anything. Achievement does have 1,000,000 users but I would suspect that they could have more if they answered the above questions.
My Thoughts
I love the application they have designed. It is clean, simple, and efficient. Syncing up other applications to it for tracking is a very easy process. Within a couple minutes, I had my Garmin, Twitter, and MyFitnessPal accounts all linked up. They do not have a dedicated Android application yet but the web application is so well designed I did not even notice.
Update (8/15/2017): Achievement has come out when an Android application since I first wrote this review. Check it out here.
Unfortunately, this is where the positive feedback ends.
My main issue is it takes A LONG time to earn 10,000 points. I can go for a for a long bike ride and earn only 51 points. On average I walk 7,000 steps which get me about 20 points. That is only 0.2% of the total goal!
Another issue for me is the inconsistency of the point rewarding. I can go for a mile long warm-up run and earn eight points. After the run, I complete a 53-minute long Insanity session and earn only six points. Now we know Insanity is A LOT more intense than a mile long run so it should be worth more points. At first, I thought maybe it was the lack of data compared to the run. So I started wearing my heart rate monitor to provide more data but nothing changed. This lack of consistency is really discouraging especially after an intense workout.
Yet, Another Update (8/15/2017): I feel like this still is true. I am seeing weird point distrubutions for similar activities.
Conclusion
All in all, I think the Achievement App is an interesting way on how to earn more money in 2018. If you are very active you might earn enough to take your wife out to lunch (I do not think you will earn enough for dinner). For me, seeing the points creep up at first was very motivating but then I realized how slow it was going that extra boost of motivation started to disappear.
To put it in a monetary perspective. According to Achievement's website, they have paid out over a half million dollars so far! That is a lot of money! Let's do some math before you get too excited about that number though. As mentioned earlier, the Achievement App has a million users, that means an average user has only earned fifty cents. That is it.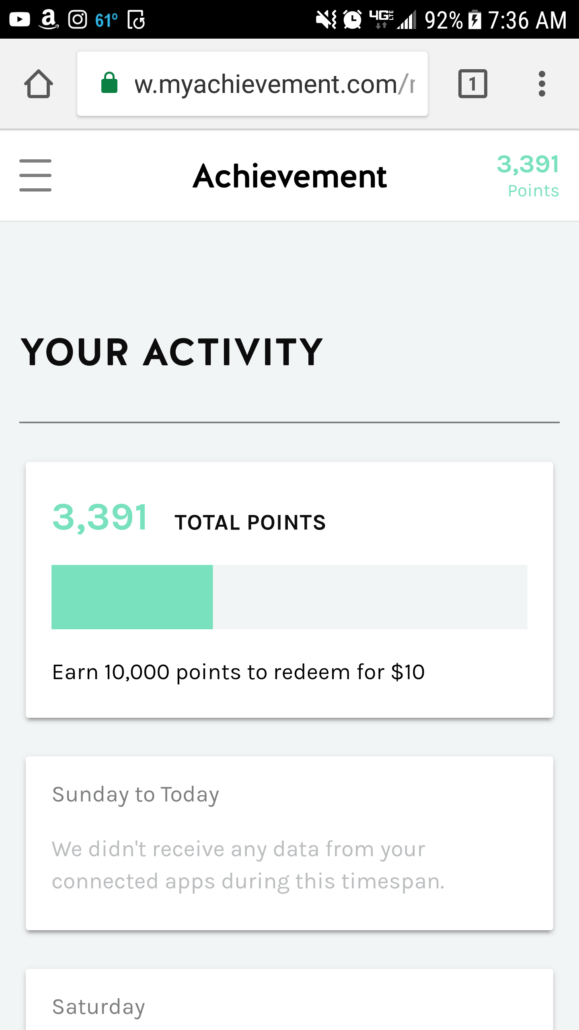 Overall, I think they have more work to do to make this application a viable way on how to earn more money in 2018.  They need make this application more consistent with how it awards points.
Also, I believe they need to make the point earning a tad bit quicker. Maybe that aspect is just me but I joined Achievement back in December 2016. Over the past three months, I haven't even hit 2,000 points yet!
Final Update (8/15/2017): I have had a very busy summer between hikes, bike rides, daily walks, and so on. I am still only 3,391 points! Even though this is frustrating, the next paragraph is still true.
I do have to remember, I do not have to do anything that I do not normally do to earn these points. It is truly passive income with Achievement collecting data from data that I already collect myself. Now I am getting paid for that data, even though that dollar sign is very small.
How to Earn More Money in 2018
Now you know a little more about way #73 to earn more money with the Achievement App. Head over to our Ways to Make Money list to check out other ways how to earn more money in 2018! We will continue to try out and review these ways throughout the year for you. If we are missing something on the list and you want to have us review it shoot us an email or tweet (@WalletSquirrel)!
Cheers!
-Adam
https://walletsquirrel.com/wp-content/uploads/2017/03/Horizontal-achievement-app.png
512
1024
Adam
https://www.walletsquirrel.com/wp-content/uploads/2015/09/Wallet-Squirrel-Logo.png
Adam
2017-03-13 13:00:15
2020-10-11 17:27:27
The Achievement App Review – How to Earn More Money in 2018