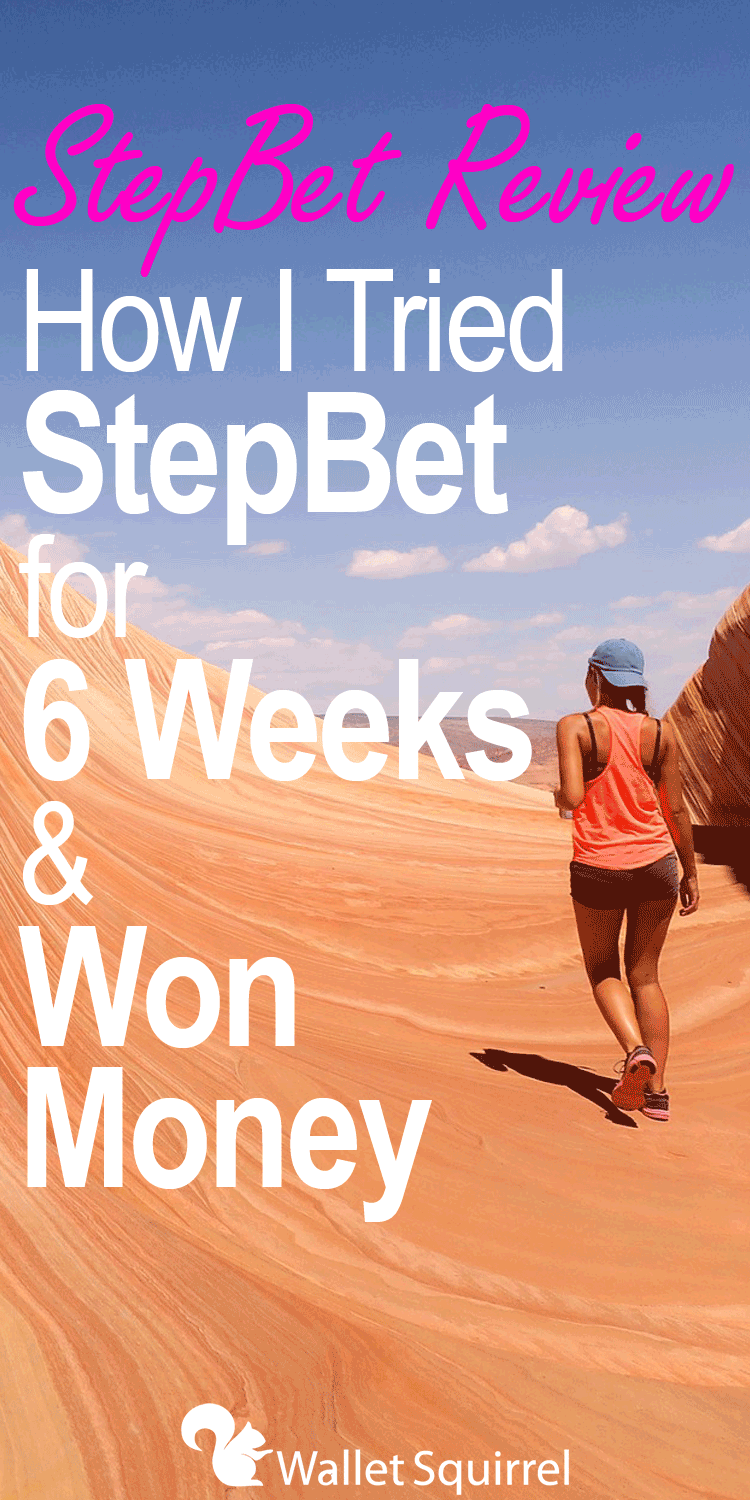 I write this article after my girlfriend won money with the StepBet app by walking. She's been using it the last couple of months, so naturally, we had to try it on Wallet Squirrel. Here is my personal experience over the last 6 weeks using StepBet for our StepBet Review.
For the record, I actually won money with the StepBet app, and the money was delivered the next day via PayPal. See how much below.
What is StepBet?
StepBet, owned by WayBetter, is both an Android and Apple app that pays users money for reaching their daily step goals through walking or running. The StepBet app achieves this by offering multiple mini-games or step challenges for users to choose from. At the start of each mini-game, all participants are required to put in their own money ($10-$100) along with a pool of people (I've seen up to 1,000 people) and each must reach their individual step goals every day for multiple weeks (average 6 weeks). If you fail to reach your goals, you lose your money. While if you reach your goals, you split the pool of money along with the other winners.
How Does It Work?
Once you download the highly reviewed StepBet App, it will automatically run through a couple of prompts.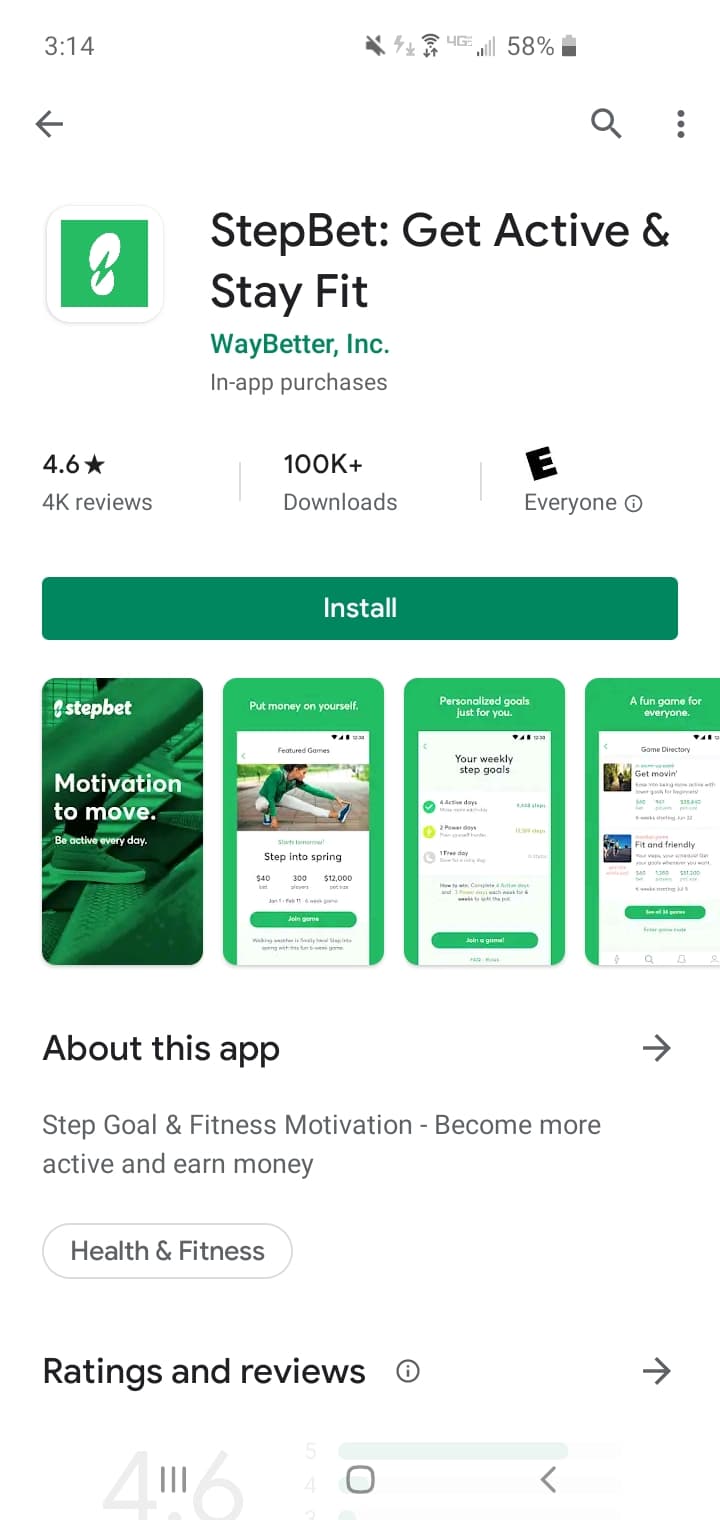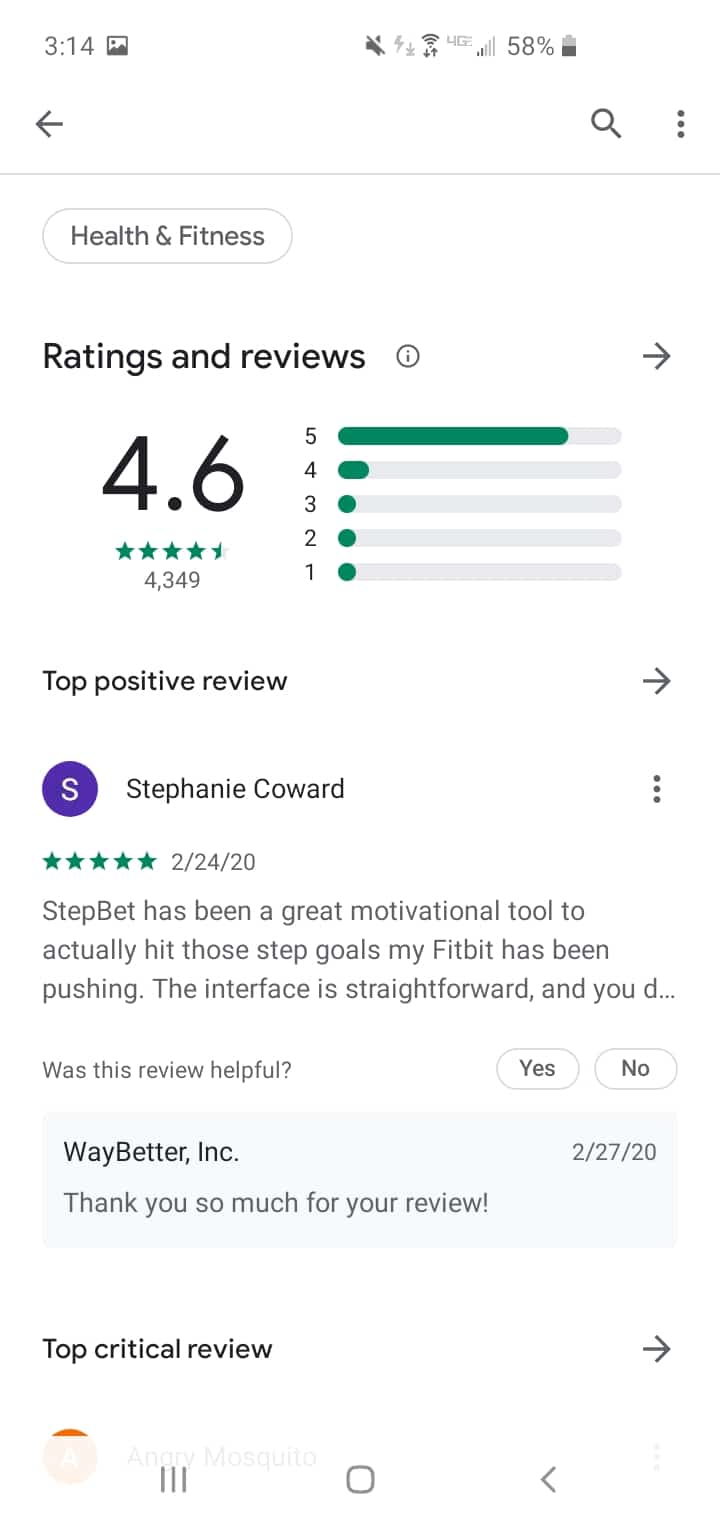 Sync A Electronic Pedometer
You WILL need to sync with an actual electronic pedometer. These can be a wearable Fitbit, Apple Watch, Garmin Device, or your phone's internal pedometer through Google Fit or S Health. It's vital to play. For the StepBet Review, I chose to use my phone and since it's a Samsung, I synced with my default "S Health" app.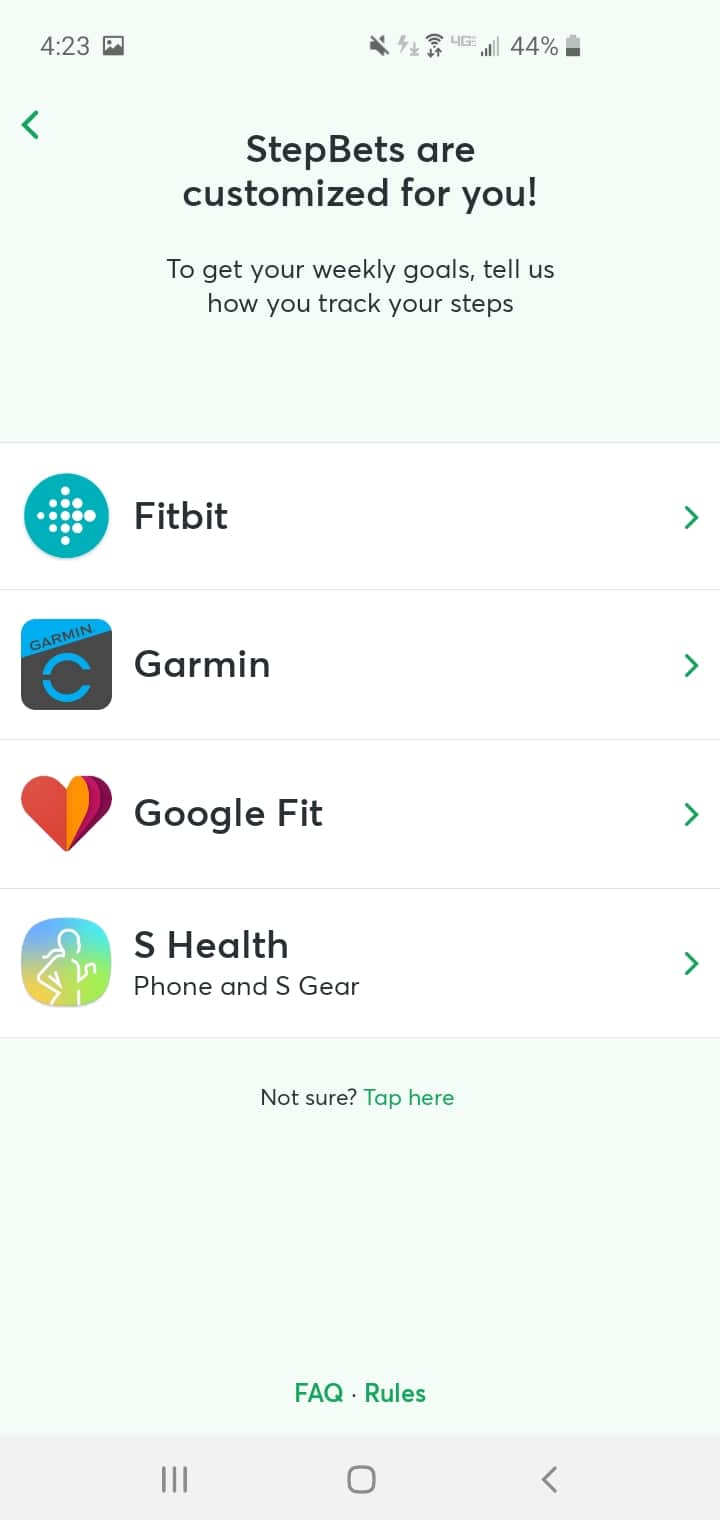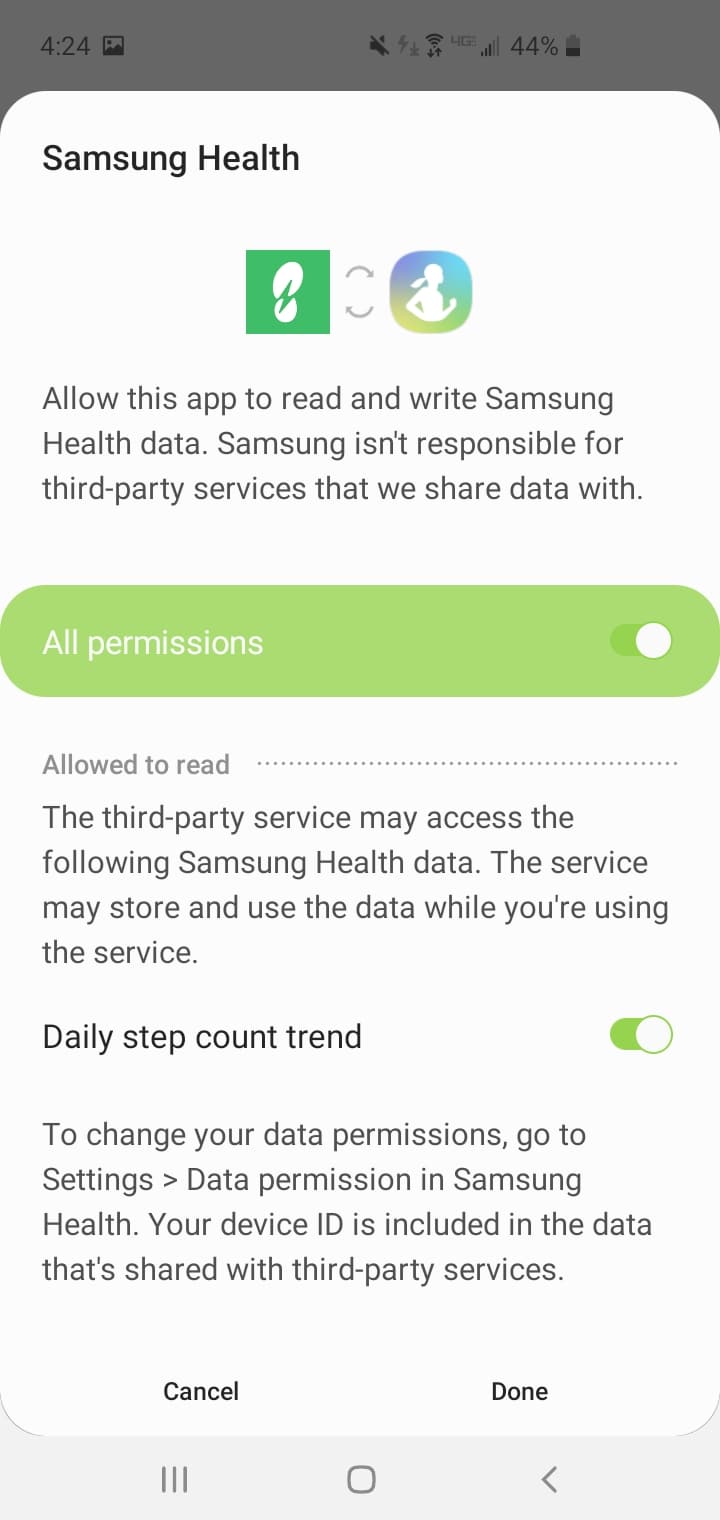 Your Step Goals Are Chosen For You Automatically
StepBet will link to the device you've chosen and review your past step history to create new step goals for you. There is no easy or hard difficulty, your goals are automatically calculated from your device's past data. If your electronic pedometer shows you normally walking 20,000 steps a day, your daily goals are going to be around 20,000 steps and vice versa if you're new to walking. Each "daily goal" is specifically set for you as an individual so you're not competing with anyone except yourself.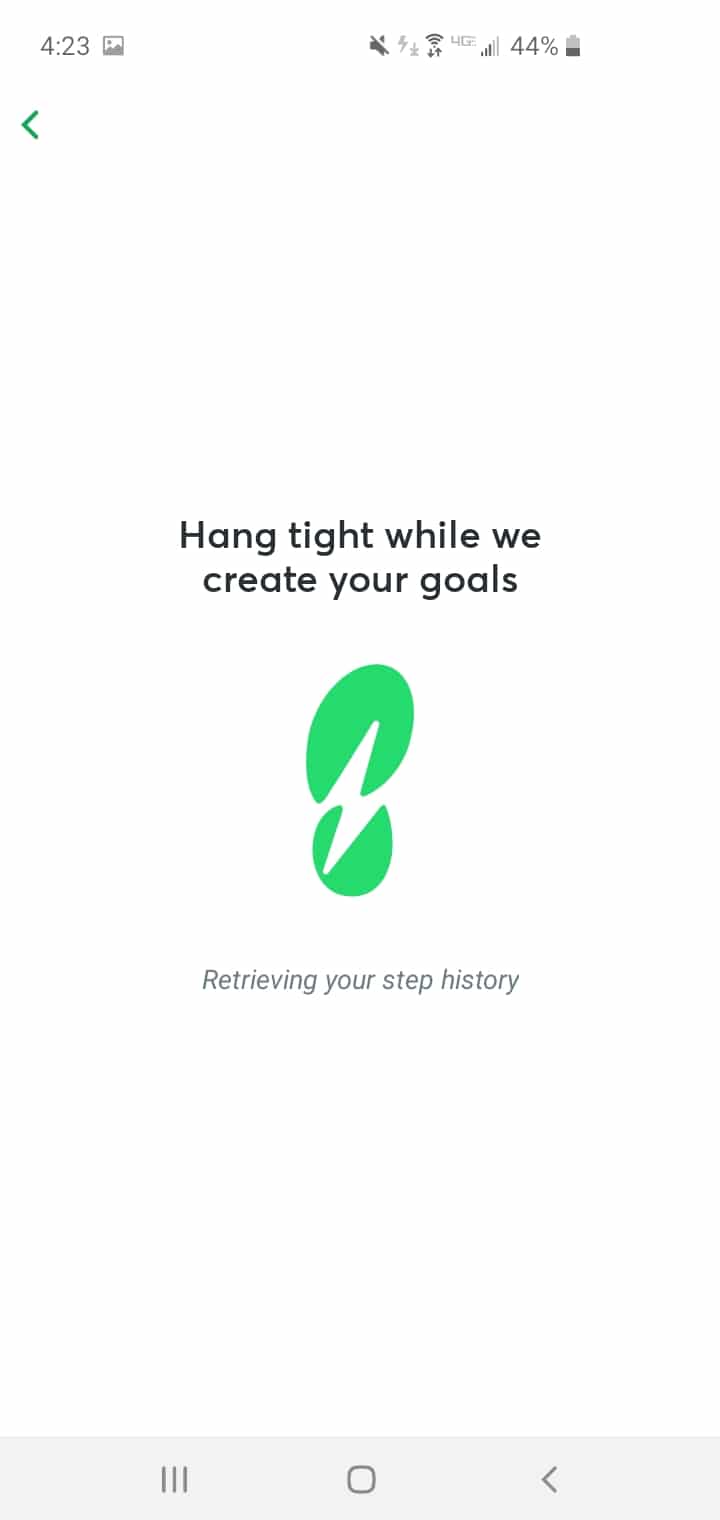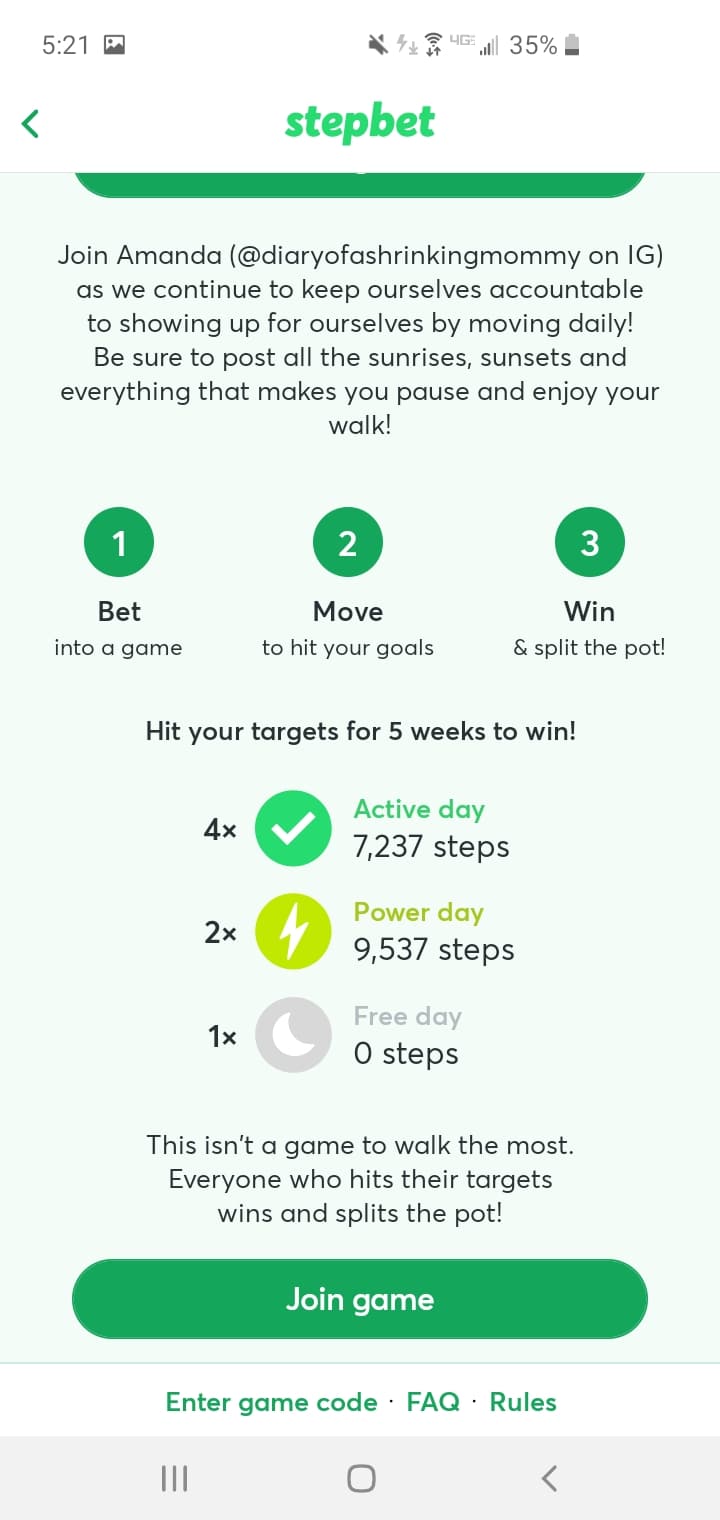 StepBet Membership
I was initially encouraged to sign up for a "Members Only" mini-game but I decided to try a "normal" experience for this StepBet Review.
The StepBet Membership is a monthly $6.99 rate that allows you to play more games, different types of games, multiple games at a time, and has higher payouts since StepBet has reduced fees for these games.
My girlfriend purchases a monthly StepBet membership and enjoys it. So far it's paid off as she's been able to earn more money than it costs.
Join A Game
Each mini-game is hosted by real people also participating in the step challenge, so you can set up your own game with friends, open it to the public, or join someone else's game. Since StepBet is an app based on a community pot payout, the larger the buy-in and more players involved create higher rewards if you win and other people fail.
StepBet has a number of mini-games to choose from, but you will notice quite a few "Members Only" games that StepBet will rank higher and shows noticeable favoritism. However, most mini-games were similar in terms of buy-in ($40 average) and length of weeks (6 weeks).
I Joined A Game For The StepBet Review
For the StepBet Review, I choose a mini-game called "Stepping into Spring w/ DSM". I don't know who this person is, but they had a nice description for the StepBet and shared their Instagram "Diary of A Shrinking Mommy". I loved their story so I joined her StepBet!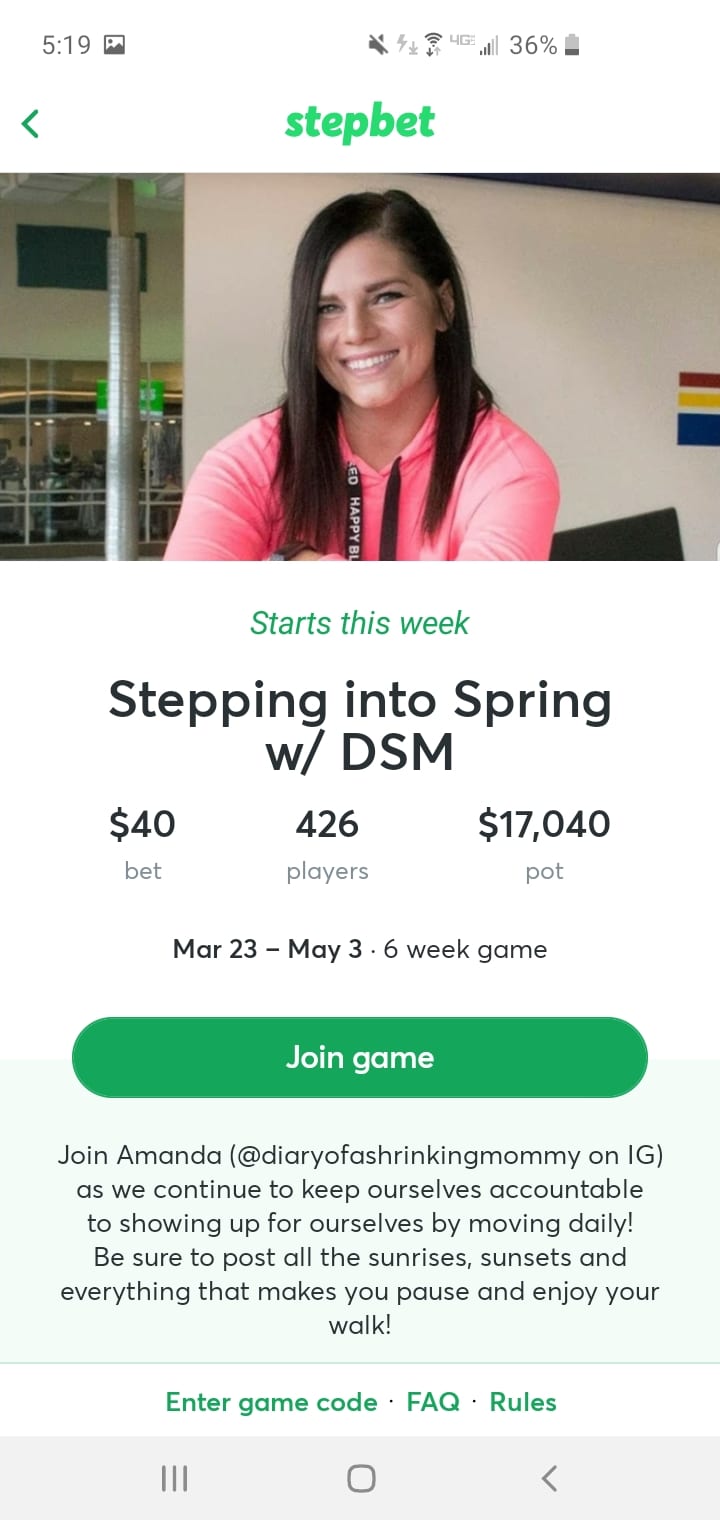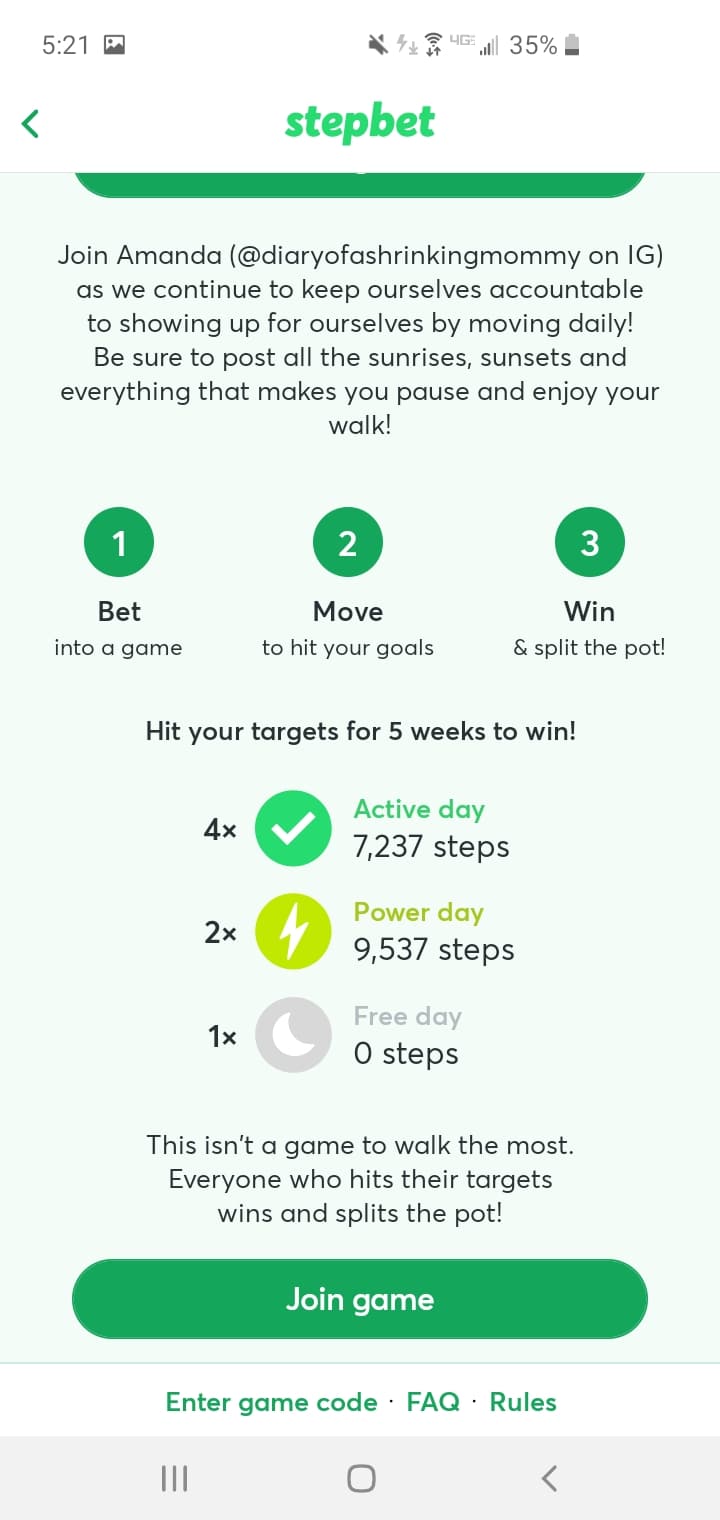 Here was the bet
I needed to bet in $40 of my own money
There were 426 players total (player count grows until the week cut off)
The pot was $17,040 to be split by the winners (pot grows until the week cut off)
The game lasted 6-weeks in total.
My individual goals I must reach

Active Days – 7,237 Steps (4 days of the week)
Power Days – 9,537 Steps (2 days of the week)
Free Day – I get one free day a week in case I don't hit my goal (Thank goodness)
After I selected "Join Game" I was asked for my $40 payment and how I would like to pay. They provided 3 easy payment options "PayPal", "Venmo", or "Credit or Debit Card". I went with Venmo and authorized it.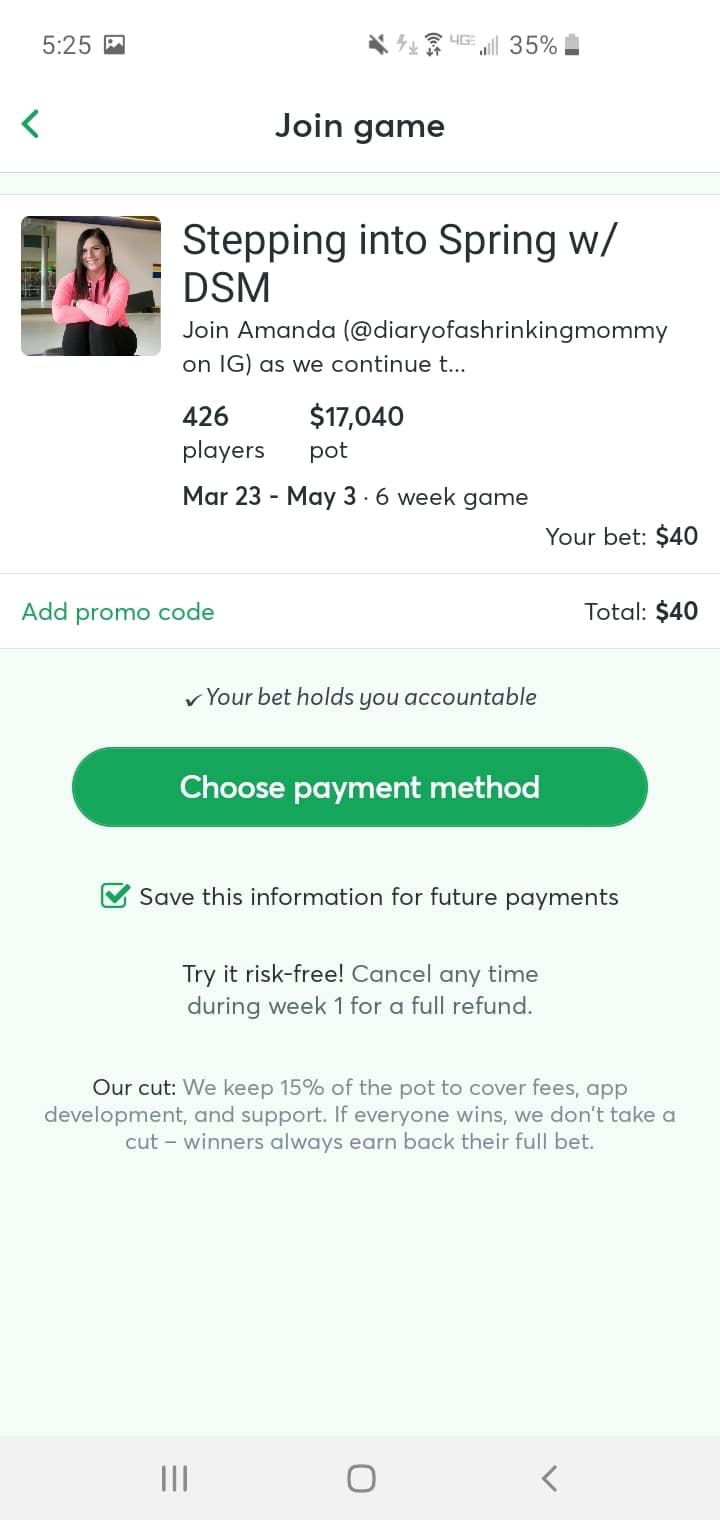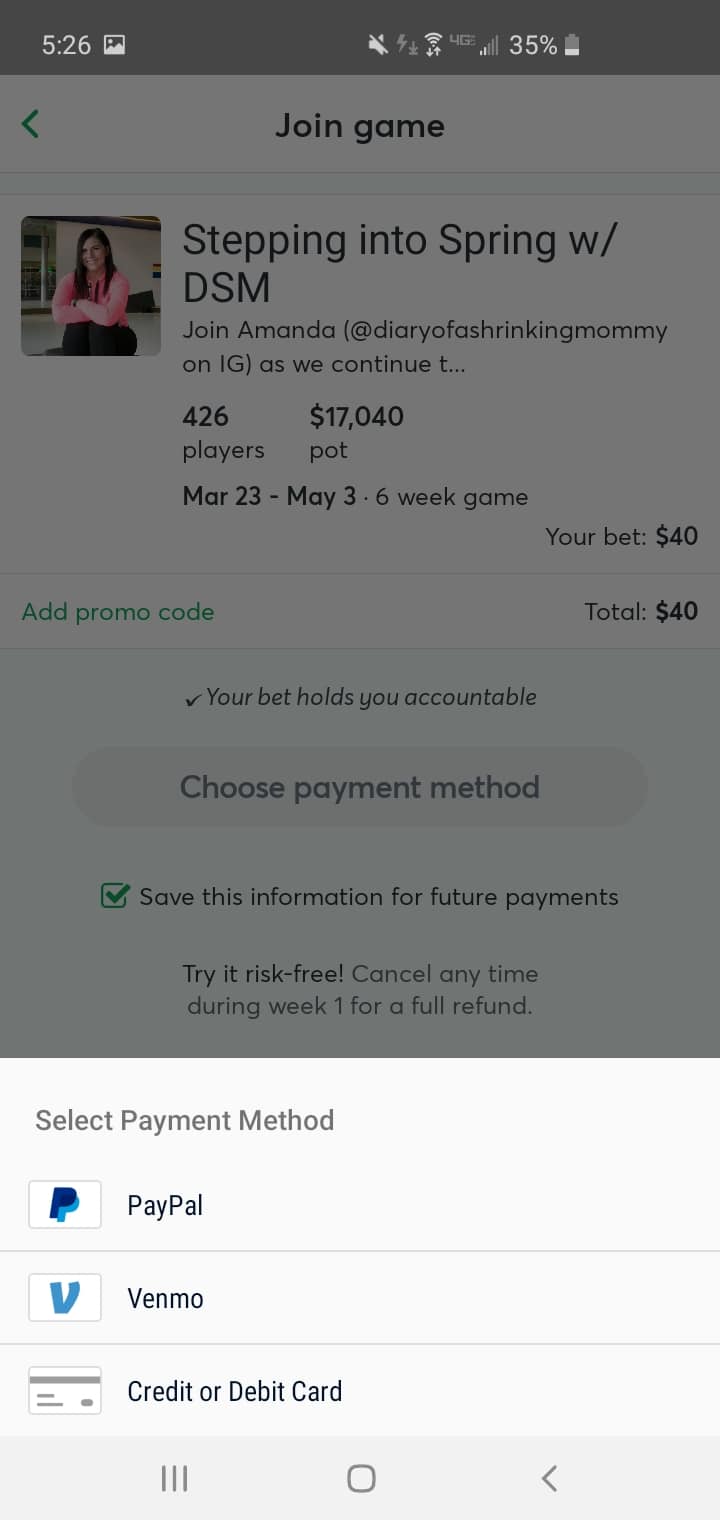 Stepbet Review – Week 1
Week 1 I learned was a warm-up week. I could walk and attempt all my step goals, but I would not be penalized if I didn't reach them (Thank goodness, because I did not). It's a warm-up period for you to acclimate using the app and getting into a routine.  This warm-up week was much appreciated!
This is what my StepBet Dashboard looked like in Week 1 of the StepBet Review: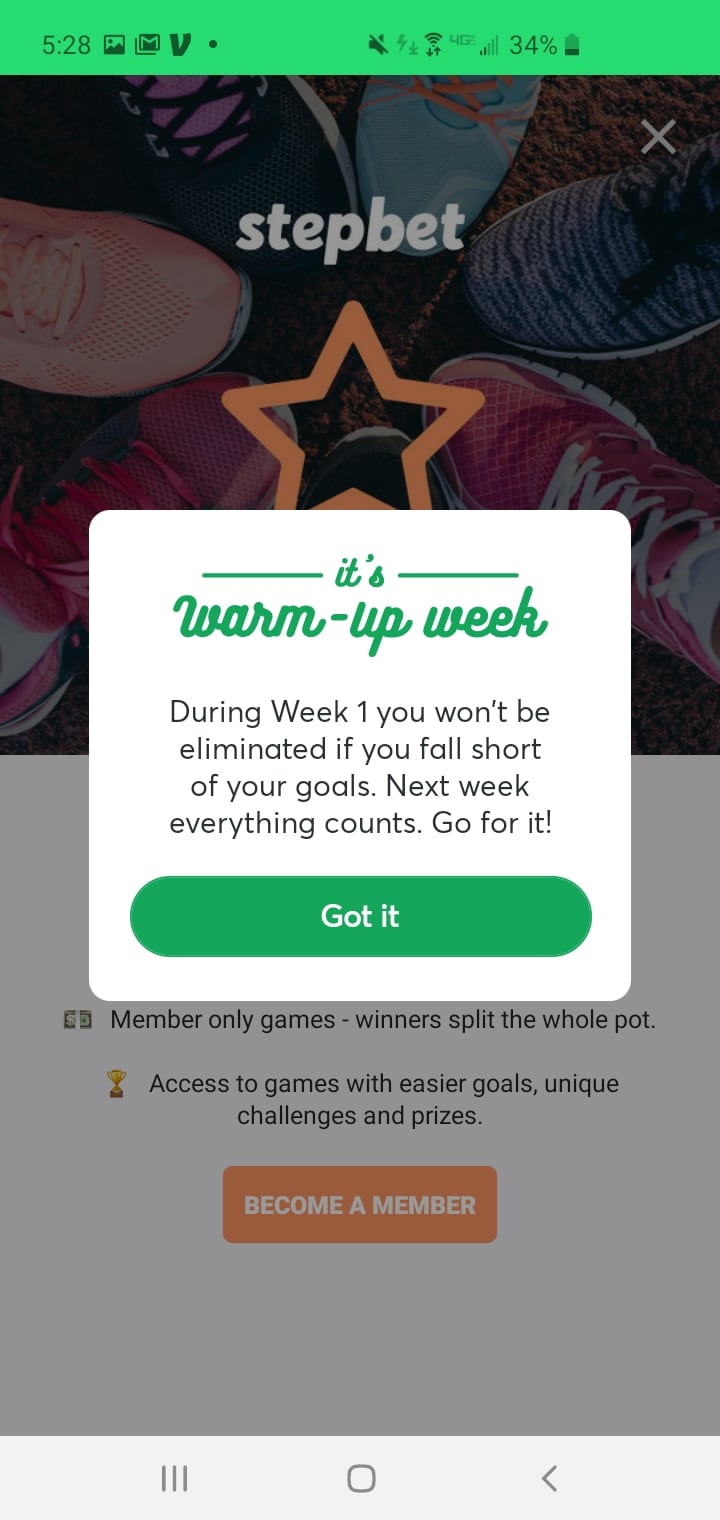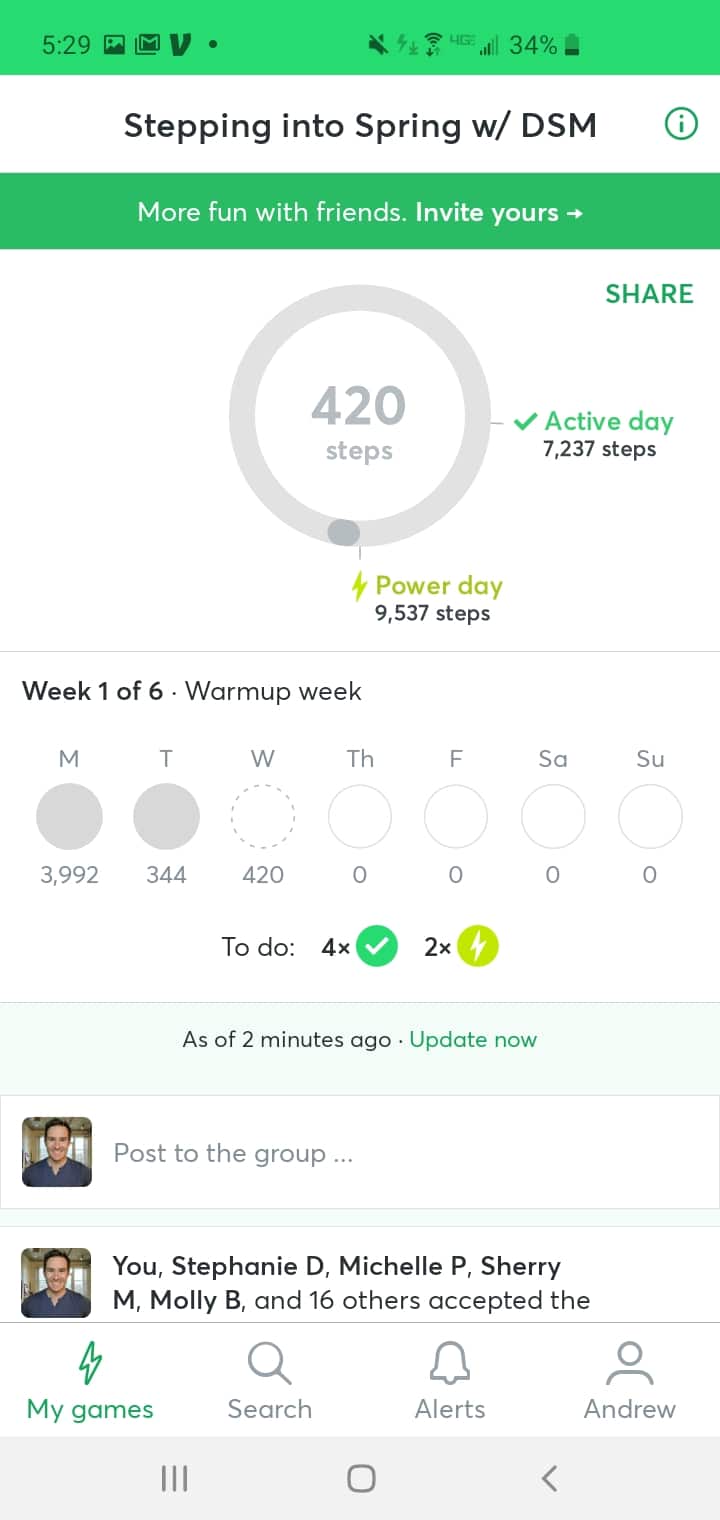 Thoughts: 
I'm excited about the additional motivation to exercise, plus the potential to win money. However, I'm a little worried that I started this StepBet during the COVID19 pandemic.

I'm forced to walk in circles isolated in my tiny apartment to reach my goals. Hopefully, my neighbors aren't making too many judgments through the window.
StepBet Review – Week 2
At the end of week 1, I noticed more people joined this mini-game (814 players) and the pot had grown exponentially to $32,560. It didn't stop growing until the end of Week 1. At that point, everyone was locked in.
Active Goals and Power Goals took me a second to understand. It's done automatically so you can hit your Active and Power days any time of the week. You'll notice in the screenshots I'm all over the place.
Active Goals/Days are the average steps you must complete 4 times a week. These are your minimum goals. In my case, it was 7,237 steps in a day.
Power Goals/Days are your highest goals you must complete at least 2 times a week. In my case, it was 9,537 steps in a day.
Free Day – Basically life happens and sometimes you need 1 day of the week to slack off. I tried to meet my steps every day, but some weeks I forgot to get my steps in and this free day was a lifesaver.
This is what my StepBet Dashboard looked like in Week 2 of the StepBet Review: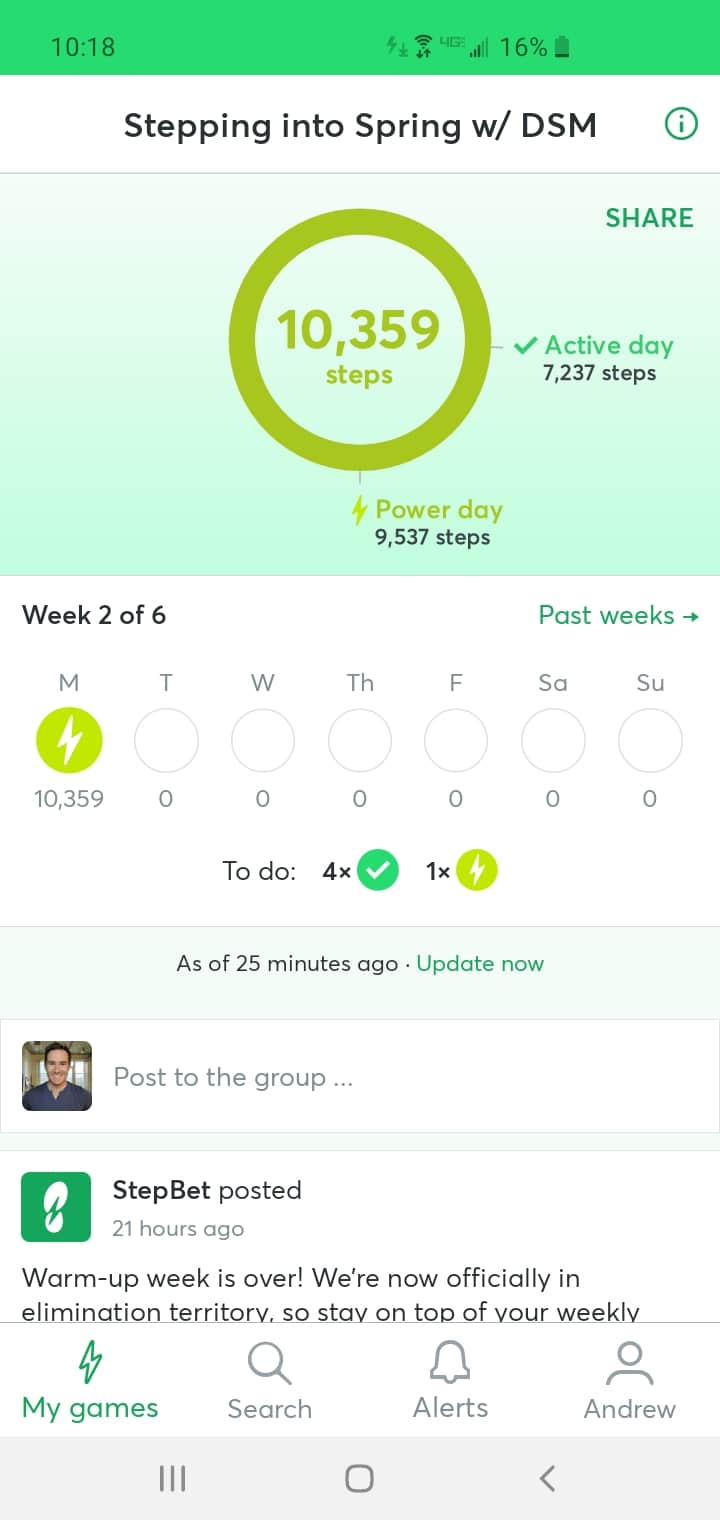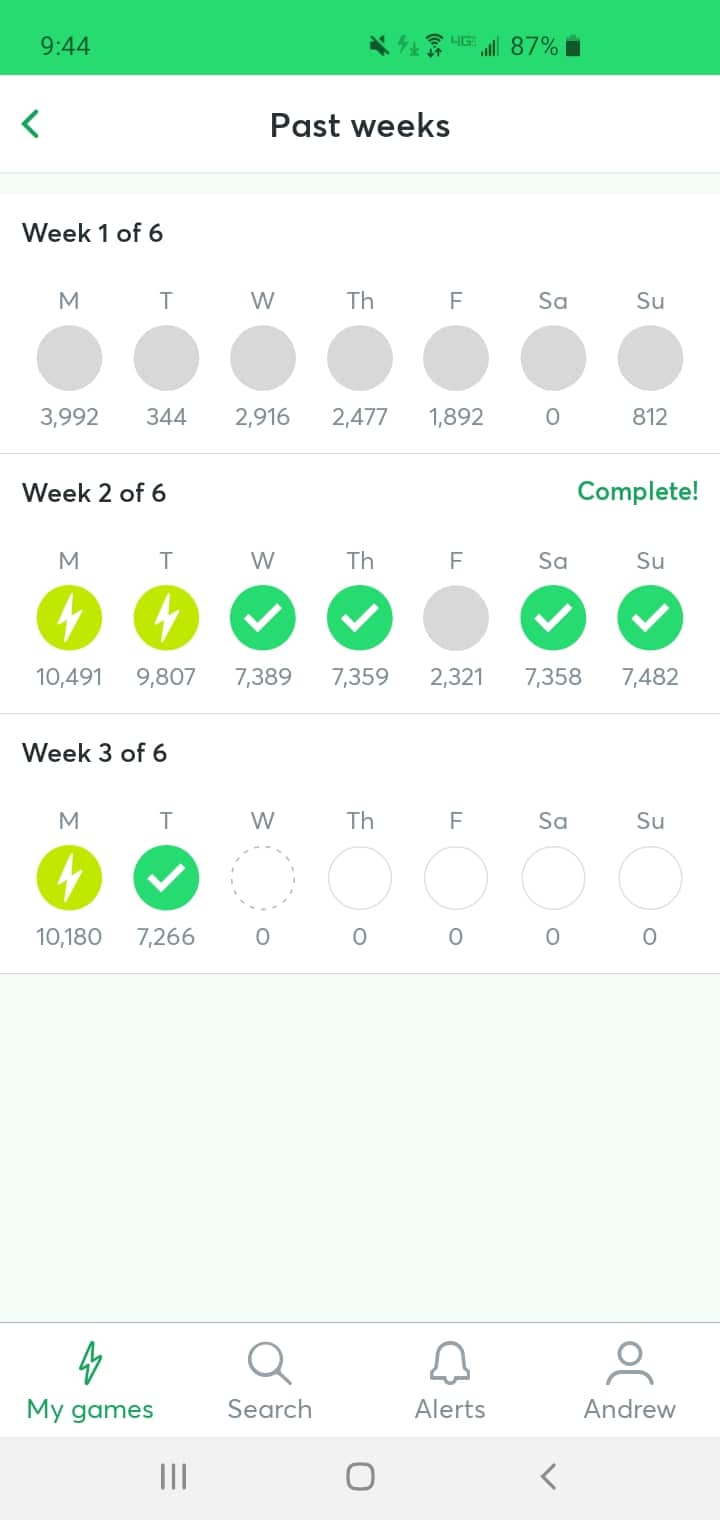 StepBet Review – Week 3 – Week 6
Honestly, it was a little tough to constantly remember to meet my step goals, especially since I usually left my pedometer/phone at my desk. I had to consciously remember to have it on me at all times for my steps to be counted towards StepBet. There were nights I had to walk in circles in my apartment because I simply forgot to have my phone on me during the day. I lost a lot of steps simply because my pedometer wasn't on me.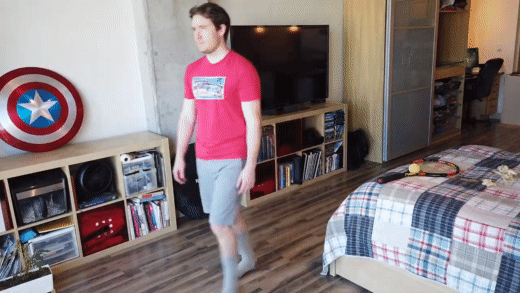 If I did this again after the StepBet Review, I would get some wearable pedometer so every step I made during the day was recorded and counted towards StepBet. I know Adam has the Garmin Fenix 6, and loves it! I personally have been looking to get a cheaper version after this challenge, the Garmin Forerunner 235. If you're an Apple fan, just get the Apple Watch since it will integrate with everything in your life. Yet for the cheapest pedometer that will work with StepBet, a regular Fitbit will be perfect!
I Did It! – Here's How Much Money I Won 
I did it! I was so excited I took a screenshot to show all my friends. Many of them could care less, but for me, it was a big victory. It was a testament that I went above and beyond for fitness goals (and money). It was a good feeling!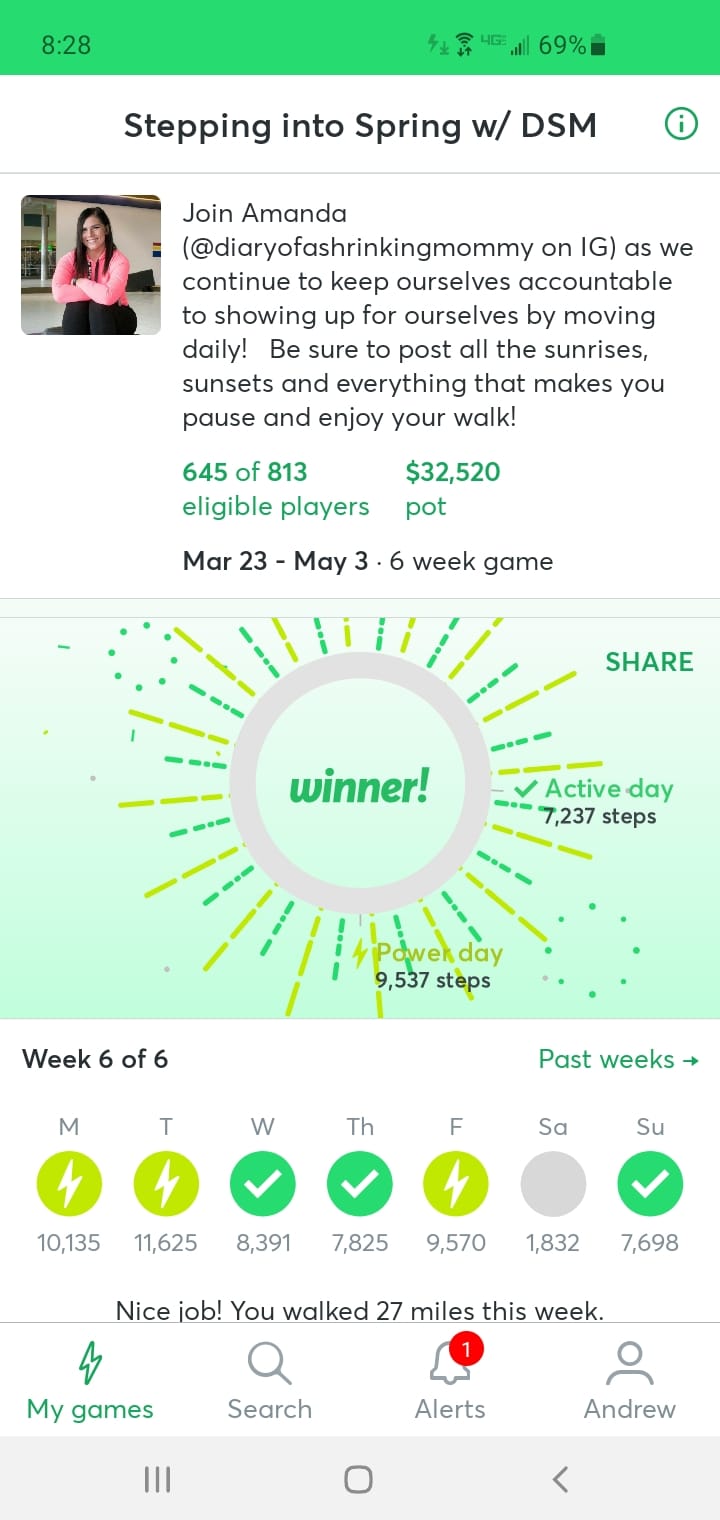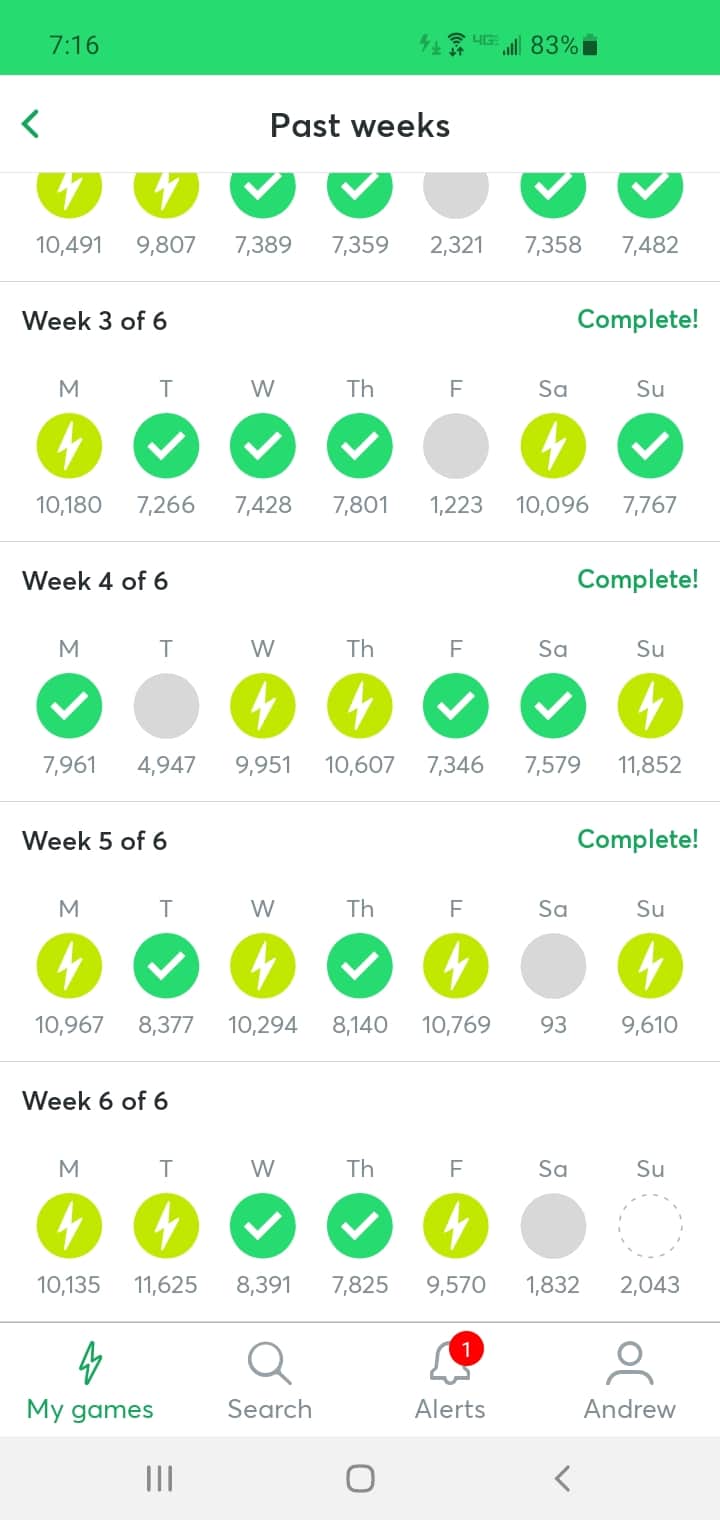 I was pleasantly surprised at how streamlined the winning process was through StepBet. It took only one day after the end of the mini-game for the app to finalize everyone's data and send out the final results/winnings. Plus I was allowed to immediately request a payout and deposit my winnings into PayPal (PayPal Only).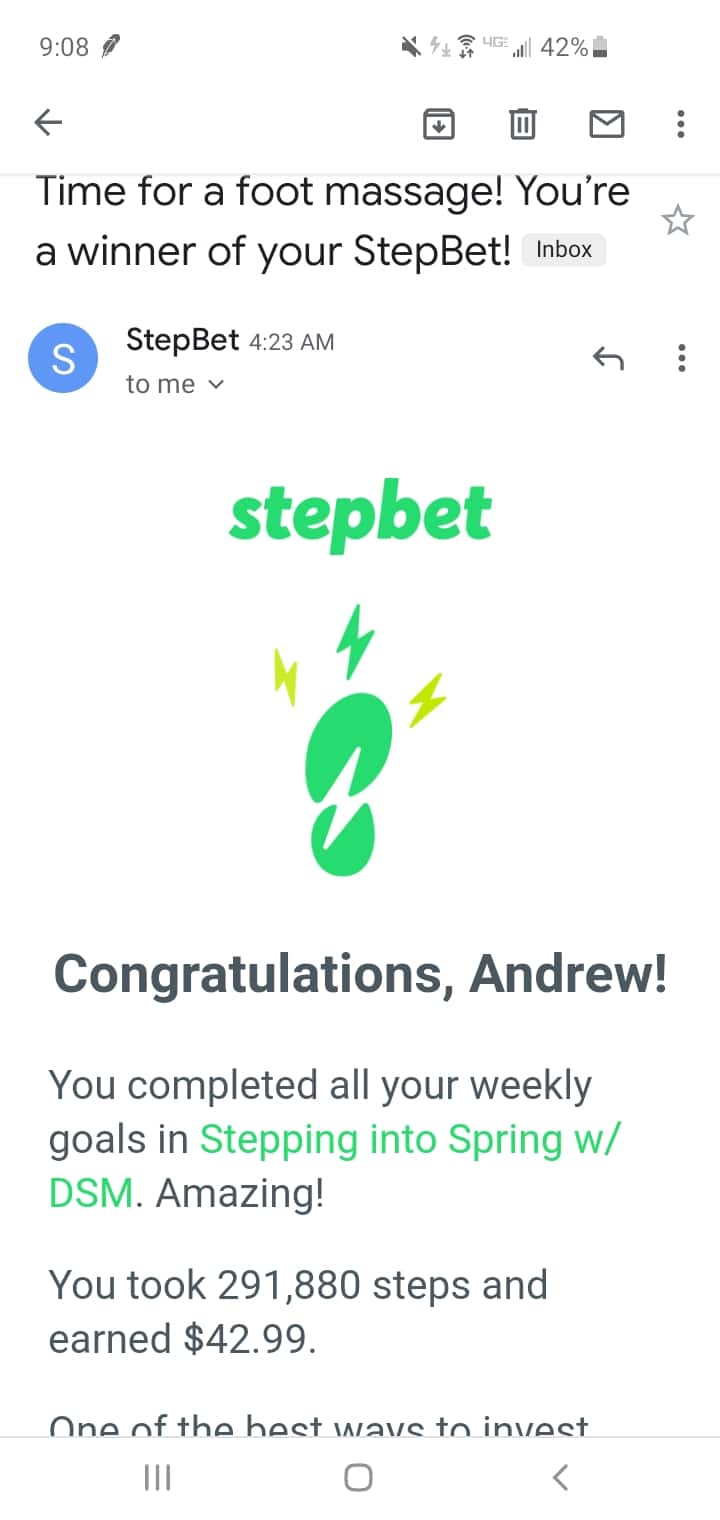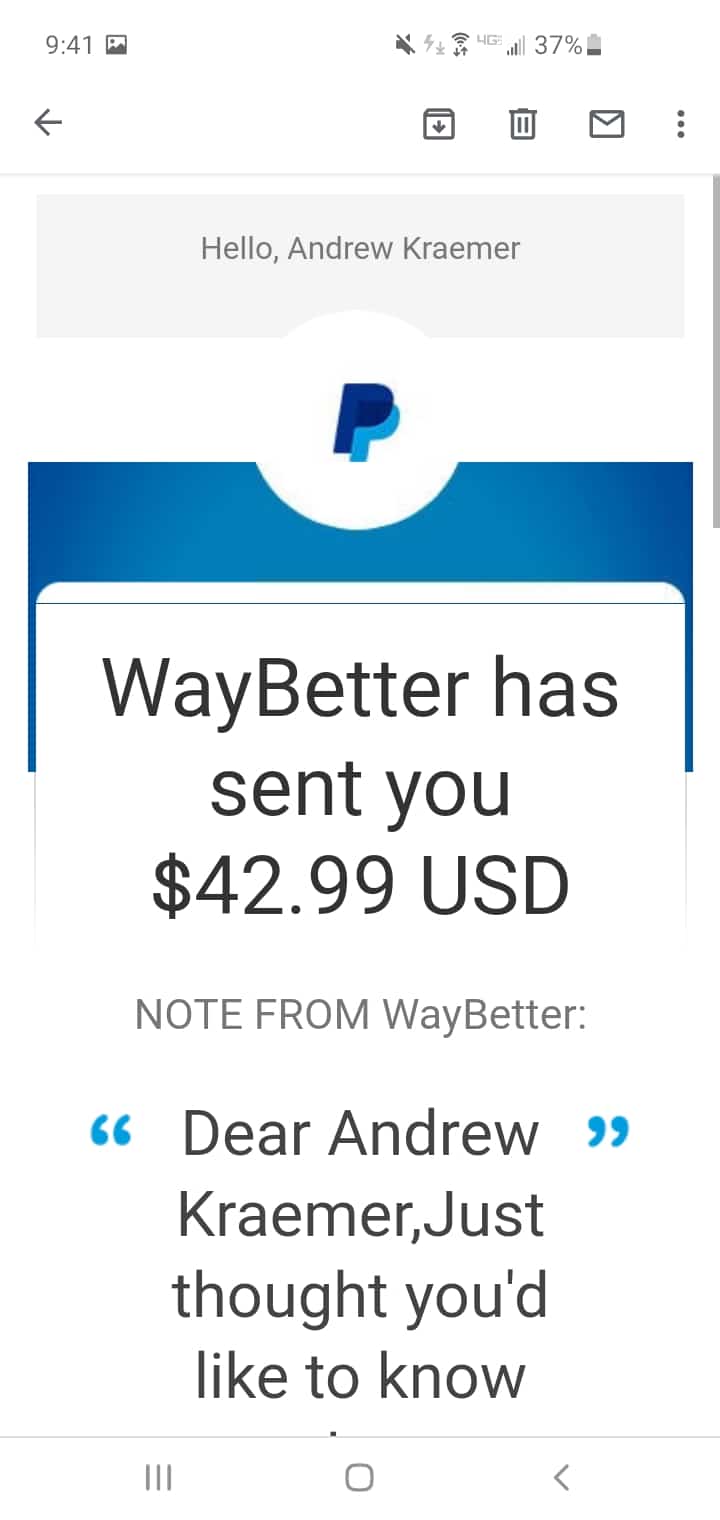 I'll admit I expected a bit more than $2.99 for my total winnings. Especially since I had been calculating the math every week of the StepBet Review as people dropped out. I could see 645 players of 813 original won, and the $32,520 pot was going to be split between all of us winners. I figured each person would get $50.41 or $10.41 in profit. I was wrong because I didn't calculate fees for StepBet. However, I still won money!
Could You Cheat If You Wanted To?
I absolutely do not encourage cheating, as this was a great community of people bettering themselves through walking and I was just happy to be included. While I did not cheat, nor know anyone who has ever cheated. After my 6-week StepBet Review experiment ended, I did test a few ways people can fool their phone's pedometer if they had ill intentions.
While these are effective for fooling your pedometer, they do require a bit of effort to pull off continuously day after day, week after week. I personally think StepBet should remove or identify users who use phones over wearable devices since phones seem to be easier to fool steps.
StepBet Review – Is StepBet Worth The Effort?
Yes! If you are used to doing lots of steps every day, I would easily recommend StepBet. It combines exercise and winning real money. You're not competing against anyone except yourself, so as long as you're vigilant in meeting your individual step goals, you'll leave the app with money in your pocket. Plus, if you're lucky, maybe a few walking friends.
Our winnings, along with all the money we make with these different money experiments are added to our Investment Portfolio. Join our email list below for new experiment ideas and see how we invest our winnings!
Wallet Squirrel is a personal finance blog by best friends Andrew & Adam on how money works, building side-hustles, and the benefits of cleverly investing the profits. Featured on MSN Money, AOL Finance, and more!
https://walletsquirrel.com/wp-content/uploads/2020/05/stepbet-review.png
512
1024
Wallet Squirrel
https://www.walletsquirrel.com/wp-content/uploads/2015/09/Wallet-Squirrel-Logo.png
Wallet Squirrel
2020-05-19 07:00:09
2021-02-16 12:21:14
StepBet Review: How I Tried StepBet for 6 Weeks & Won Money