Over the past few months, Andrew and I have been working very hard to increase website traffic to Wallet Squirrel. I can successfully say that we have accomplished that with our web marketing strategy! We are nowhere near some of the bigger bloggers but our traffic growth is aggressively pointing upward with a 65% gain between June and July! Overall, we have increased our viewership by 545% since changing our strategy in February.
In my latest SEO post, I suggested that I would be coming out with a marketing guide. Well, here it is! I am going to lay it all out here to help you gain more traffic now!
The Goal of Web Marketing
Overall, you want web marketing to increase the exposure of your content and website. The more you can share your content with others on various platforms, the more likely you are to reach new people. These new visitors are the people that could turn into loyal followers.
You also want to make sure the platforms that you are sharing on are worth your time and effort. Marketing takes a lot of time and effort which most people do not have. I know I do not have that much time with a little eight-month-old crawling all around the house. This is why I have come with this guide, to save you the time as well as the effort of guessing and checking based on what Andrew and I have already gone through.
Here you will find the techniques that we find the most useful and gain the most traffic from.
Social Media
Using social media to increase website traffic is a no-brainer. Being persistent and dedicated to social media can really expand your contents reach. The challenge with social media it is tough to stay consistent with posting every day. This is why we recently purchased CoSchedule to help us post on all of the social media platforms. CoSchedule allows you to create templates for Tweets, Facebook, Pinterest, and LinkedIn then it will automatically post them on a particular schedule.
Another thing to remember about social media is that it is not only about sending out these automated posts. Social media is also about creating conversations. I try to get on Twitter several times a day to see if I can create a conversation with someone. These conversations create a more memorable moment for people versus a traditional tweet.
Check out Andrew's review of Coschedule and how we use it for our social media web marketing.

Syndication
Andrew has had a lot of success with getting our articles syndicated on some major publications such as the AOL Finance Collective and Seeking Alpha. We continue to search for new places to get our articles hosted somewhere else. Using syndication for web marketing increases the footprint of every article written which in turn increases website traffic. It is like we are borrowing their audience.
The trick with syndication is that every article must be written with extra care. Really you should do this for every article if you want to be taken as a professional (no one is perfect though). But since you are publishing this article on a high-end professional publication it needs to look like your best work. Take some extra time to review the content. Maybe even download the Grammarly application to help you find hidden mistakes in your writing. I know this application has really helped me find some boneheaded mistakes!
Social Platforms
We have had good success using Quora to gain some more exposure around the internet. Quora is only one of several social platforms I want to play with. Others include Slideshare, Reddit, and Blogger. I'm particularly excited to try out Slideshare which allows you to create a presentation on any topic you would like.
With any social platform you will want to find trending topics then conquer that topic with a mind-blowing presentation (Slideshare) or answer (Quora). You might ask, "How do you find these trending topics?" That is a great question! Well, Quora makes it super easy as you can see the analytics of questions. For other platforms, I use social media to help me with that. With Twitter, you can easily see what people are talking about and how rigorous that conversation is.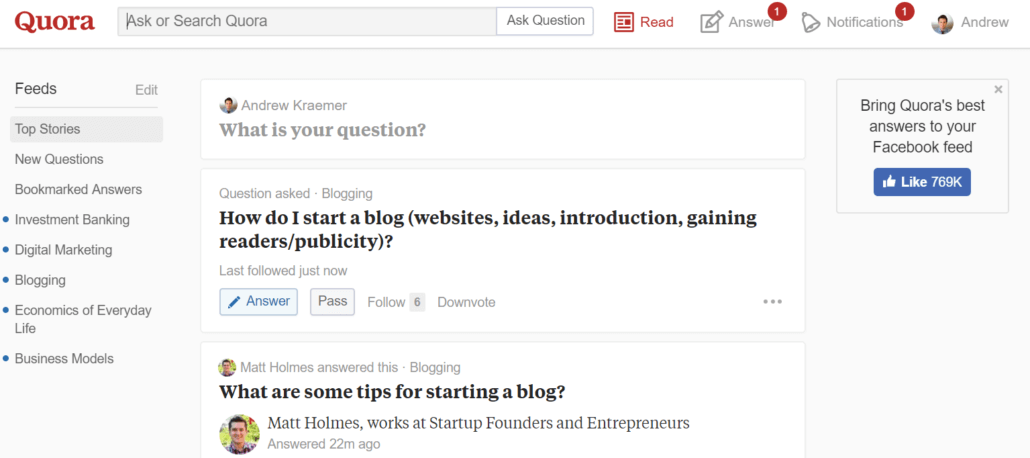 Strong Headlines
Creating strong headlines to catch the eyes of potential viewers is very important to marketing any post. If the headline does not create some sort of intrigue then no one will want to click on the link. Through CoSchedule, I use their headline analyzer to help determine if my headlines are strong or not. This analyzer will tell you if the headline has a good balance of words within it or not. It also gives the headline an overall grade, the higher the grade the better the headline is. Creating a catchy and intriguing headline is one of the simplest web marketing techniques and an easy way to increase website traffic to your blog.
Finding a Pain Point
To increase website traffic, you need to find a reason for people to visit your website. This web marketing technique requires you to find a pain point for your new visitors.  A pain point is something that the visitor must need to make their life better such as "How to market their website properly". These pain points are subjects that can be cultural trends (Pokemon Go last summer) or a pain point that is always there such as website performance. If you can find the right pain point then apply strong marketing and SEO strategies, you will see an increase in website traffic.
So What's Next for Wallet Squirrel?
There are some areas that we need to increase focus on. We really have not gotten to these yet because they are lower on the priority list as we have worked on incorporating the above tasks into our routine. As I have said in many other articles such as in my Getting Rid of Distractions post. Do not just stack the whole pile of tasks on your to-do list at once. We have been working on one task at a time, incorporating it into our routine, then adding another one on top of it once complete. Taking everything on all at once is a dangerous move because it increases the chances of failure and burning you out.
Infographics
Infographics keep growing in popularity as a form of web marketing. They are easy for others to share the story they want to tell. Creating relevant infographics can take a little time but in its self is your whole article portrayed as an image. This allows your viewer to easily summarize your article just by sharing one image. Every time that image is shared so is your brand. As you can see in the example below that Andrew made for his What Happens to Debt When You Die article, the Wallet Squirrel brand is clearly displayed.
We need to continue to create more infographics as well as make them easy to share. I believe this form of web marketing will increase the spread of the Wallet Squirrel brand around the internet. In turn, this will increase website traffic for Wallet Squirrel.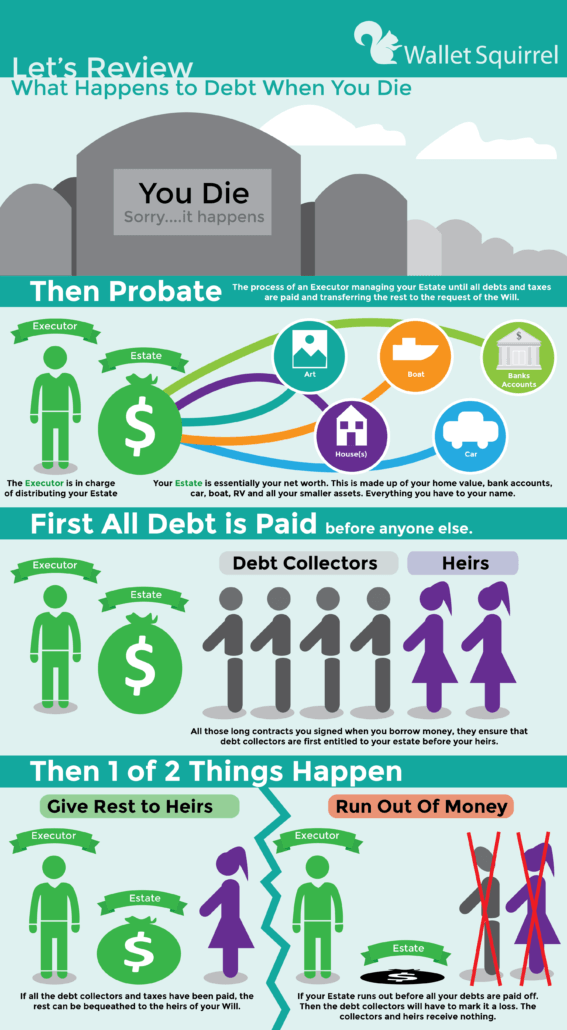 Guest Posting
We have been so focused on other things we have not made that much time for guest posting. In fact, Andrew has had to turn down several opportunities because time has slipped away. Guest posting is a very similar technique to syndication. Really the only difference is that you are posting on a fellow bloggers website instead of a publication. You gain viewership from guest posting because you are letting that blog's visitors know you exist.
SEO is still crucial
All of this goes without saying that you cannot have web marketing without good SEO. Good SEO practices are just as important as a good web marketing strategy. We gain about half of our traffic because of good SEO and the other half because of our web marketing efforts.
Now that you have the web marketing half. Go read my two posts on SEO. The Ultimate SEO Strategy for 2017 and An SEO Strategy – What Works and What Does Not.  Within these posts, I talk about how to increase the SEO of your entire website as well as each blog post you publish.
Below you will find an infographic summarizing our Web Marketing strategy plus our SEO strategy. Feel free to love, like, share, post, tweet, or whatever else floats your boat. If you can, just give us credit by linking back.

https://walletsquirrel.com/wp-content/uploads/2017/06/Horizontal-web-marketing.png
512
1024
Adam
https://www.walletsquirrel.com/wp-content/uploads/2015/09/Wallet-Squirrel-Logo.png
Adam
2017-07-31 13:00:24
2020-10-11 22:06:18
Web Marketing – How to Increase Website Traffic Now!