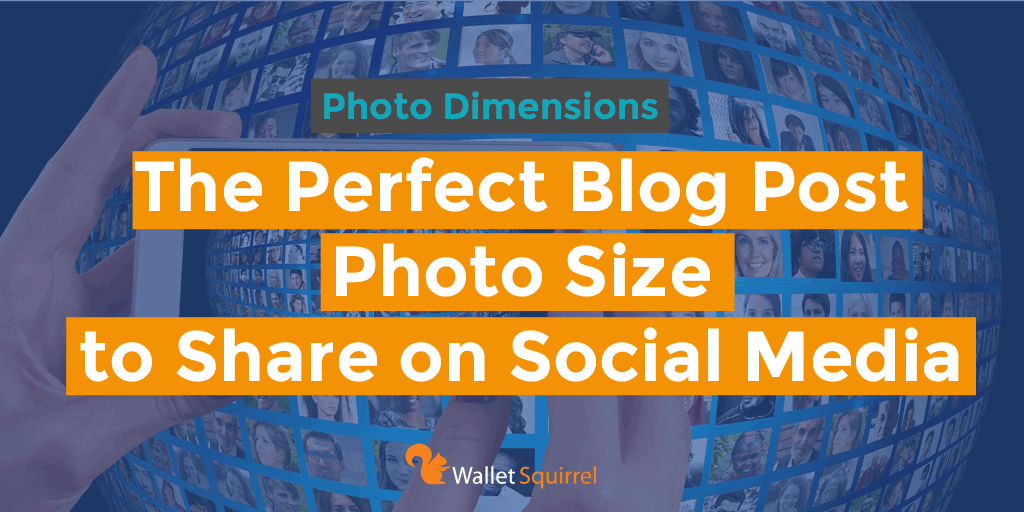 Oh my goodness, blog post photo sizes were SO confusing before I wrote this post. If you look through our older posts, they were all over the place because we made what looked pretty at any size. Now we have the data on the perfect blog post photo size for sharing on social media.
The Perfect Blog Post Image Size
Forget burying the lead, the new dimensions we're using for our future blog posts are:
Horizontal – 1,024 x 512 px
Vertical – 800 x 1,200 px
Quick article right? Keep reading if you want to know how we came to this perfect ratio of social media and blog magic.
Apparently, this is a pretty popular ratio that many social media companies (like Buffer) and social media agencies came to through their research. I'm focusing on the ideal image size for sharing articles and photos, but if you want the ideal image size for every social media photo spot like profile photos and cover images, check out Omnicore Agency's infographic.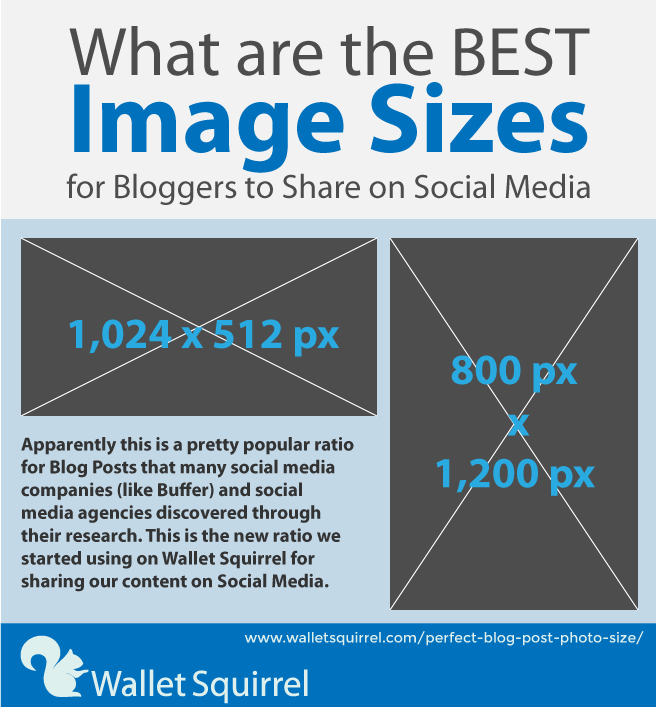 We Did the Math: Ideal Image Size by Social Platform
I'm focusing on the 4 major social media channels, Facebook, Twitter, LinkedIn, Pinterest. Yes, there are Instagram, Google+, Tumbler, etc. Yet most bloggers don't use these because they're not great platforms for sharing articles, images and posts. So we'll focus on the big 4.
No matter what size you actually upload to any of these platforms, it'll automatically be scaled to whatever social media platform you're using. Here is what they scale to.
Facebook Shared Link – 1,200 x 628 px
Whenever you add a URL to Facebook, it will create a "shared link" post. This will add your message in the text box above and below use the URL you submitted to automatically a Facebook article that uses your featured image as the post image. It'll look like this: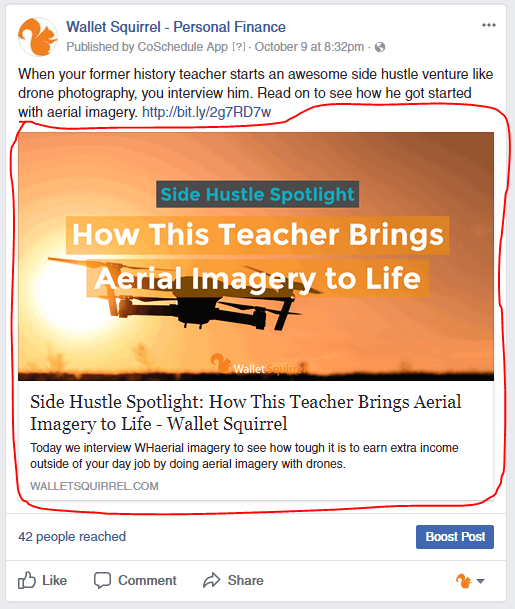 To get the most out image size (bigger is better) out of your shared article link, you'll want your Facebook photos to be 1,200 x 628 px. If most people find you via Facebook, maybe it's worth making all your blog post images this size to get the most image dimensions and Facebook real estate.
Twitter Shared Link – 1,024 x 576
Twitter has over 313 Million active users a month. If you're not on twitter you likely don't exist. So if you want to exist on Twitter, you REALLY need to use images to convey your ideas and share your articles. Tweets with images get 2x more engagement than those without.
If your adding images to your tweets you want to use the right sized images to get the most real estate for your tweets because a regular tweet only last 18 minutes. Twitter uses a 2:1 ratio and 1,024 x 576 px is ideal. This is what the photo will look like when it's selected otherwise, Twitter will minimize it to 506 x 253 px in the Twitter stream looking like this: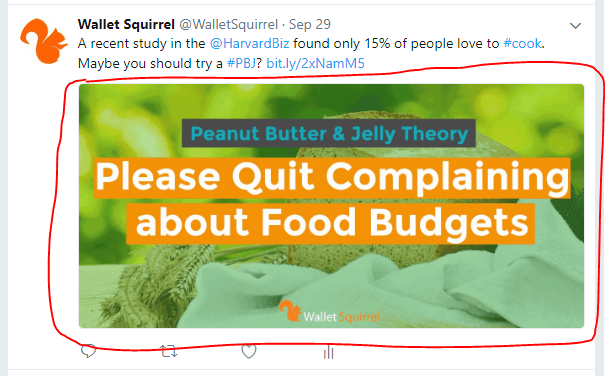 LinkedIn Shared Link – 552 x 368 px
Unlike Facebook and Twitter, LinkedIn will only allow you to add one image per post. So you can get creative having one image made up of multiple images or use one good image. Either way the ideal ratio for LinkedIn according to a moderator on LinkedIn's help forum, the ideal size for image uploads is 522 x 368 px.
Anything larger than that will be automatically cropped for the image preview to fit their maximum width and height. Your actual image won't be cropped if selected for full view, but most people only look at the image preview.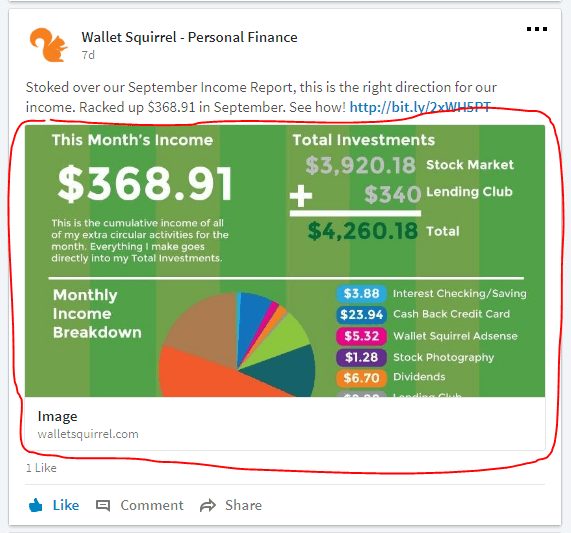 Pinterest Shared Link – 600 x 900 px
People are regularly raving how great Pinterest is for driving traffic to their website. I'm hoping to try this as stated in my recent income report because 90% of Pinterest pages are external links to people's websites.
Pinterest has said that the best aspect ratio are images with a 2:3 ratio. This could be 600 pixels wide by 900 pixels tall or 800 pixels wide by 1,200 pixels tall. You get the idea. However, the actual Pinterest feed on the main page and on boards shows pins with a width of 236 px and adjustable height.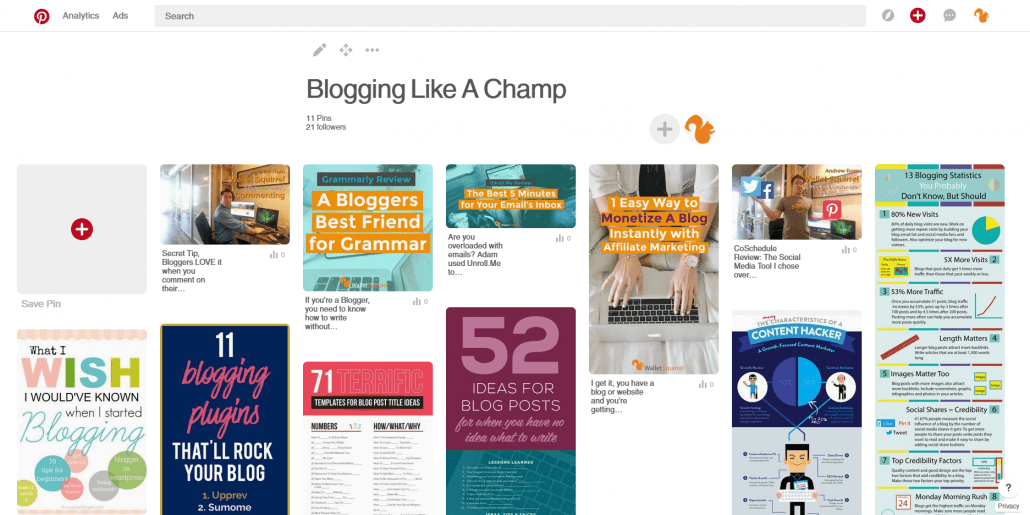 Conclusion
We're going to start using the perfect blog post image size to help us get more real estate from social sharing, what image size do you use for your blog post images?
https://walletsquirrel.com/wp-content/uploads/2017/10/The-Perfect-Blog-Post-Photo-Size-for-Sharing-on-Social-Media.png
512
1024
Wallet Squirrel
https://www.walletsquirrel.com/wp-content/uploads/2015/09/Wallet-Squirrel-Logo.png
Wallet Squirrel
2017-10-12 13:08:50
2017-10-12 20:40:30
The Perfect Blog Post Photo Size for Sharing on Social Media