If you recall from my June Income Report, my July goal is to build a social media calendar to help grow our Social Media audiences. Currently, Social Media produces only 17% of our traffic, so I wanted to tap into that potential. A social media calendar would regularly/consistently stay in contact with those audiences. So I compared 3 different social media tools for this CoSchedule Review to do just that, manage Wallet Squirrel's social media.
Obviously, from the title, I choose CoSchedule for Wallet Squirrel, but anyone wanting to dramatically improve their Social Media game should look this over.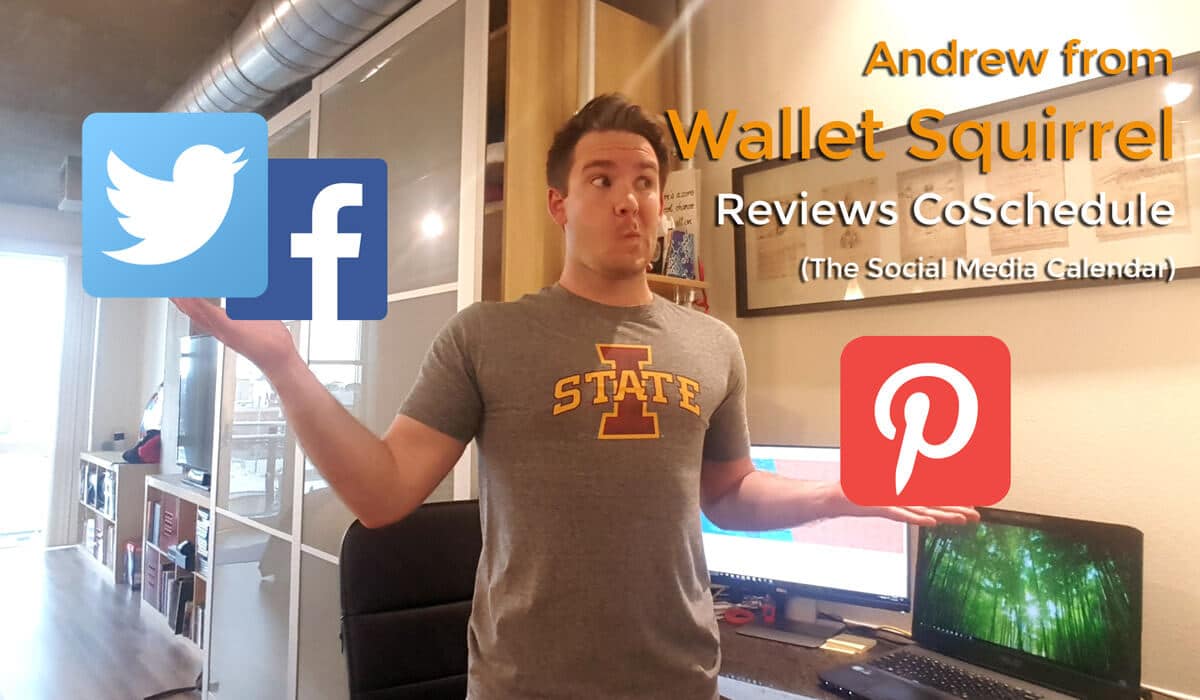 The Three Different Social Media Tools I Tested:
MeetEdgar – This tool allows you to automate your social media messages. You can write a Tweet/Facebook Post/LinkedIn Message and have it automatically repost every month, 3 months or year so that you're never running out of content. While this is a great tool, the interface was a bit clunky for me in the 14-day trial and for the price of $45 per month, I wanted a bit more than just a backlog of messages automatically posting.
Buffer – This allows you to set up a queue of social media messages on Twitter/Facebook/LinkedIn where you can write messages beforehand, and Buffer will publish them based on timeslots you decide. Think of writing one message then selecting all the different social media platforms you want to send it out to. This eliminates going into each social media account and copy/ pasting your message each time. You can also schedule retweets so you don't have a bunch of messages going out at once.
I actually use Buffer at work and love it. The biggest downfall is that once you send a message, you can't automatically reschedule it to be sent again. Since Tweeting only hits 10% of your audience at a time. You'd manually have to add the same tweet over and over and over. It's just a giant waste of time.
CoSchedule – This is really a combination of the two. CoSchedule allows you to see a full calendar of messages going out and automatically ReQueue them to go out again if they're popular. I've done the 14-day trial and now I'm a paid subscriber. I'm a bit of a fan. Let me dive a bit more into CoSchedule.
I chose CoSchedule, but what is it?
Because CoSchedule loves demonstration videos, here is a brief CoSchedule Review Video of their software.
To me, CoSchedule is a visual calendar that you can see when your different social media posts are going out. You can schedule a post in advance and automatically repost (they call it ReQueuing) popular content so your audience doesn't miss great content. Here is a screenshot of what Wallet Squirrel's calendar looks like after using it for two weeks during the CoSchedule Review.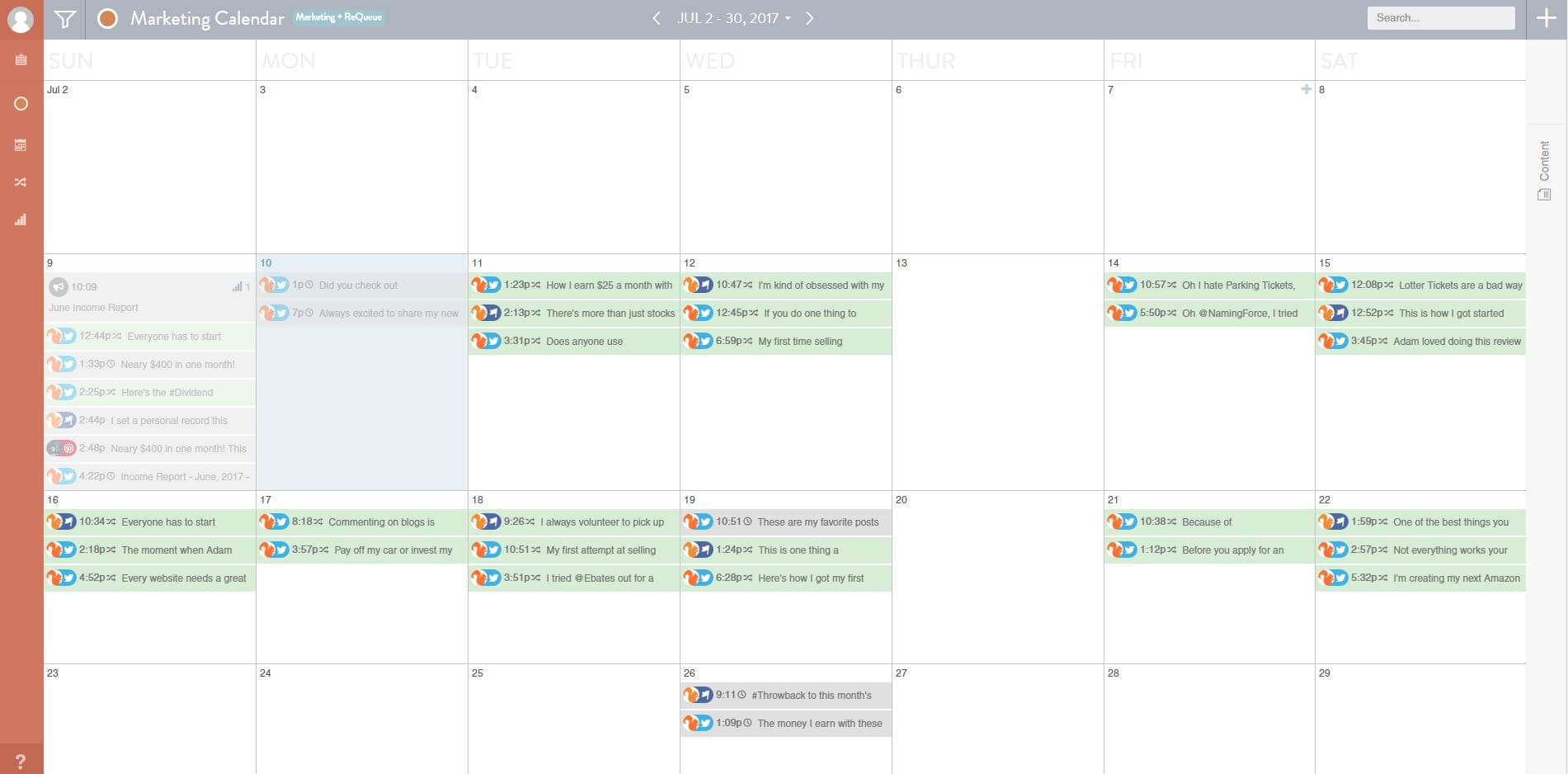 How I use CoSchedule for my Social Media Calendar
Not going to lie, it's a bit intimidating at first, as is any software. It integrates into a number of social media platforms and WordPress, it took a bit to get my head around it. However starting off, I primary use it for my social media accounts.
(they also do LinkedIn, Google+, Instagram and Tumbler, but I don't use those yet)
How I Setup Social Media Campaigns
This is a term I've heard as a buzz word, but I never really knew what it meant until this CoSchedule Review. I've come to learn that a social media campaign is a series of social media messages posted at different times, with all the same purpose. Like the 1,000 tweets you read when Lady Gaga launches a new album. Those set of tweets, collectively are a social media campaign.
For me personally, I use their social media campaign to promote new blog content. I click their campaign button and I set up a template for my new Income Reports. To describe the screenshot below, I add the URL of the post I want to promote and it automatically inserts that hyperlink into a series of messages scheduled to go out that day, the next day, a week later and a month later. All the times are completely customizable. Each message has a default basic message like "check this out", but I tweak these each time. This is one of my favorite features because it provides a carpet bombing of social media messages for new content over an entire month, created in seconds.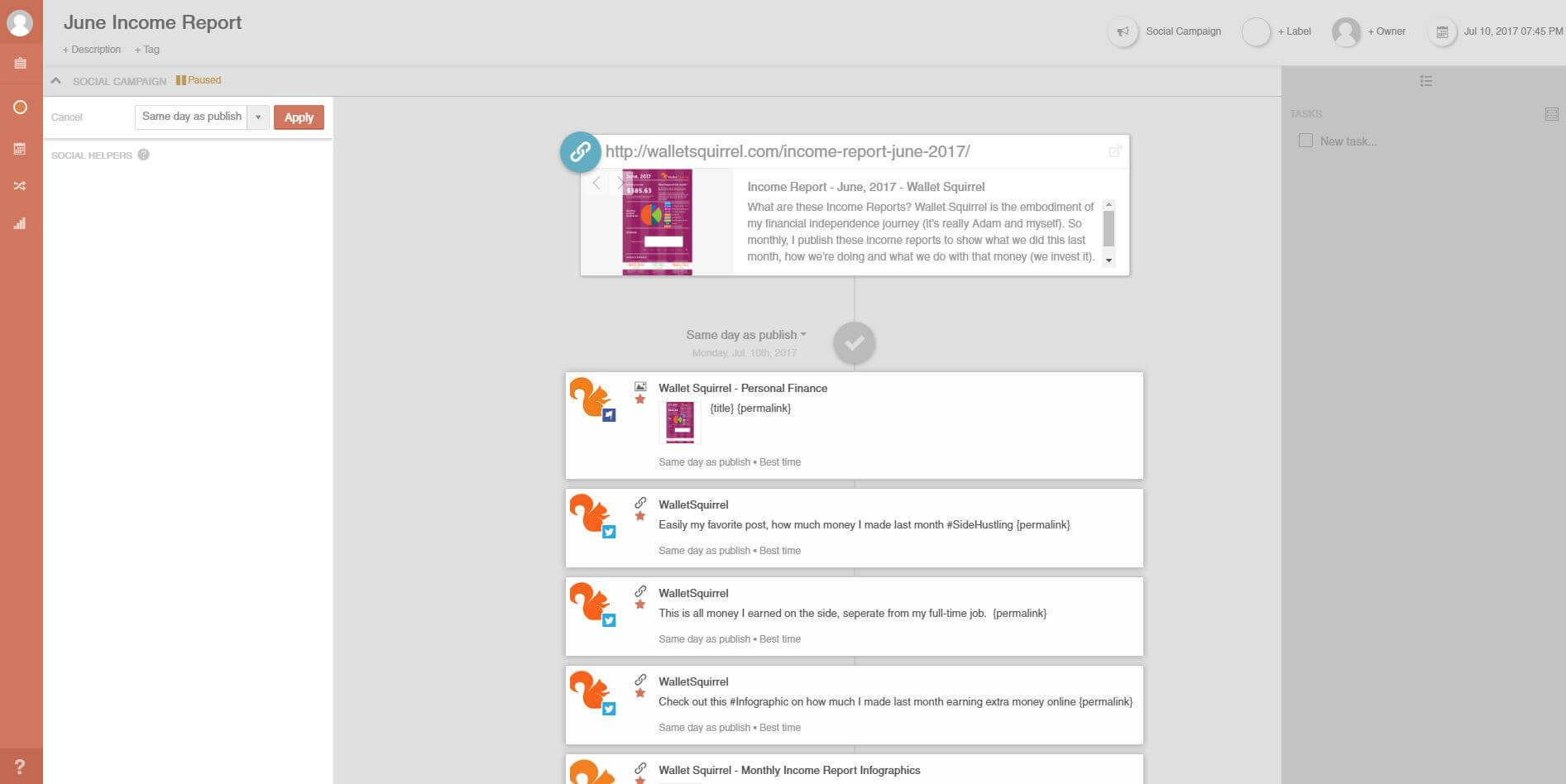 How I Automatically Repost Popular Content
CoSchedule has a popular feature called "ReQueue" which creates a cache of messages that will automatically be published if you have a gap in your social media calendar. Let's say I want to post 3 tweets each day. If I don't have a social media posts going out on Friday. CoSchedule can pull an old social media post from my library of social media messages to fill that gap.
Oh my goodness it's so nice to automatically repost evergreen content
For example last Sunday while writing this CoSchedule Review, I filled my ReQueue library with fun social media messages promoting old content. That way, I will always have at least 3 tweets going out a day. You can even set categories for your ReQueue library such as "Evergreen Content", "Promotional Content" like a referral link to Bluehost website services or any categories you can think of. Here are the categories I've created so far.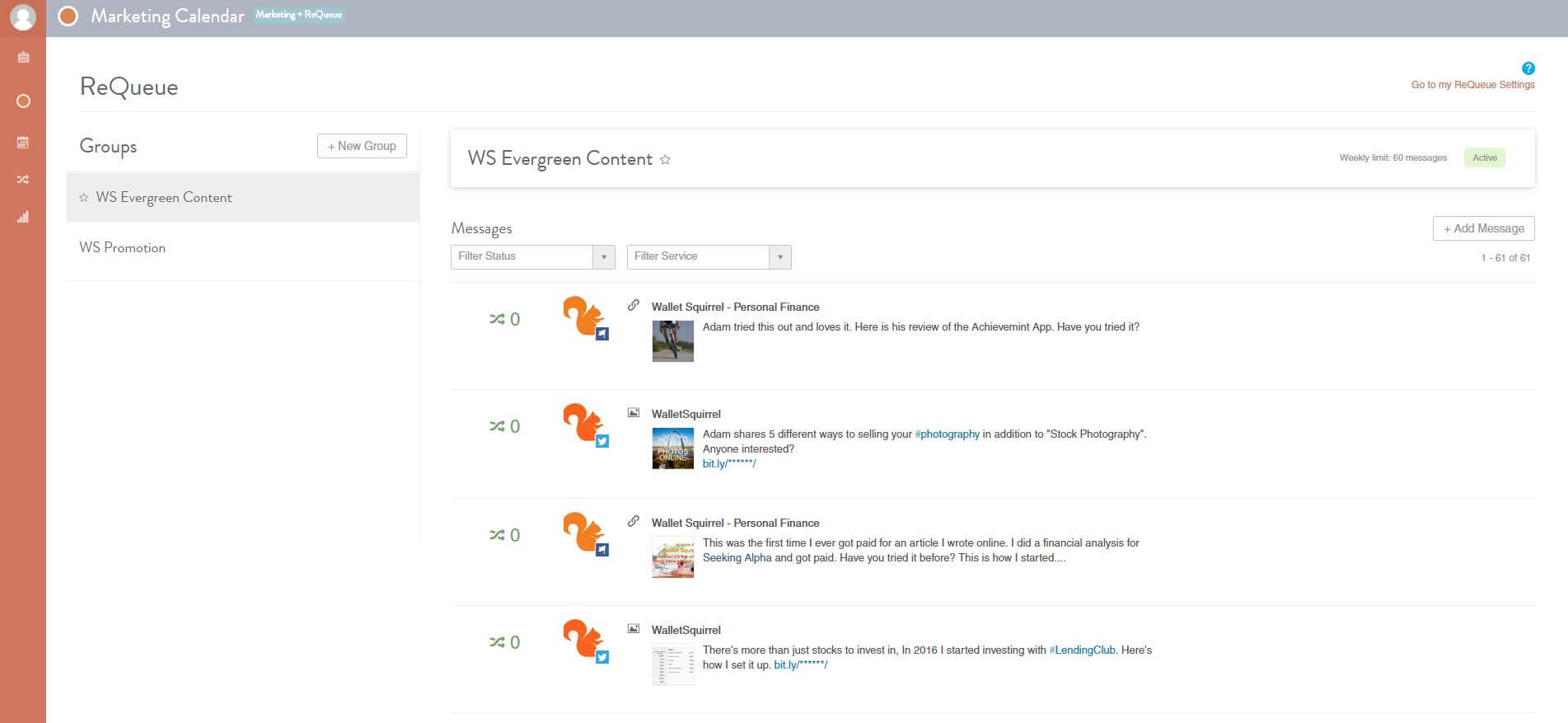 Quick CoSchedule Review Pros/Cons
Pros
The software allows you to create an entire social media campaign, aka numerous social media messages on different platforms, in seconds
CoSchedule allows you to automatically "ReQueue" popular content so that it never disappears in the social media abyss. It automatically posts old content whenever you have gaps in your social media calendar.
It has the pros of both Buffer and MeetEdgar.
The really clean design makes looking over your calendar very easy.
Cons
It's pretty pricey, it says $39 per month for their solo blogger plan, but it doesn't include the ReQueue feature which everyone wants. I especially wanted. If you want ReQueue, you need to pay another $30. So in reality, it cost $79 per month. WTF! This is one of the most expenseive social media calendars I've found.
The Social Media Analytics isn't included in the base $79 per month I'm currently paying. If you want analytics, you need to pay more. Yuk, at least Buffer had at least basic analytics in their $10 per month plan.
Why I chose CoSchedule over Buffer and MeetEdgar
As a current user of Buffer, it is great but there are days that I don't have time to post a new message to social media and my Buffer queue ran out. I needed something with Buffer's queue feature, but also automatically posted content like MeetEdgar. I considered getting both of these since combined they're cheaper than CoSchedule, but I prefer to use one piece software that incorporates the best of both.
Plus there are other benefits of CoSchedule that I haven't touched on during this CoSchedule Review. Mainly because these features are singularly what I wanted the software for. It's currently a must if I want to grow our Wallet Squirrel social media presence. Not just rapid firing social media messages, but creating conversations and dialogue while reminding our audience of older content. Those combined features won me over.
Conclusion
I'm willing to try CoSchedule out for a couple months to see how this goes, use my referral code for 14 DAYS FREE if you're interested in trying it too. So far I've been impressed with the power this software provides during my CoSchedule Review. Plus their blog has so many great tips on social media you don't need to pay for. In 6 months I'll do an ROI "Return on Investment" Analysis to follow up on my progress.
So far, I'd honestly recommend it to any blogger who can afford to spend a ridiculous $79 per month (save 50% if you write a review). It's a great tool to visualize a social media calendar that's smart enough to fill in the gaps. Like a Social Media Manager would. Follow us on Wallet Squirrel's Facebook and Twitter page to see it in action.
Are there any other tools you use I didn't mention?
*Disclaimer I wasn't paid for this review, but CoSchedule does offer a 50% discount if you write a review. Since I love saving money, we did this review but maintained our honest opinion and user experience.
https://walletsquirrel.com/wp-content/uploads/2017/07/CoSchedule-Review-Header.jpg
700
1200
Wallet Squirrel
https://www.walletsquirrel.com/wp-content/uploads/2015/09/Wallet-Squirrel-Logo.png
Wallet Squirrel
2017-07-13 12:30:47
2017-09-15 22:08:03
CoSchedule Review: The Social Media Calendar I chose over Buffer & MeetEdgar