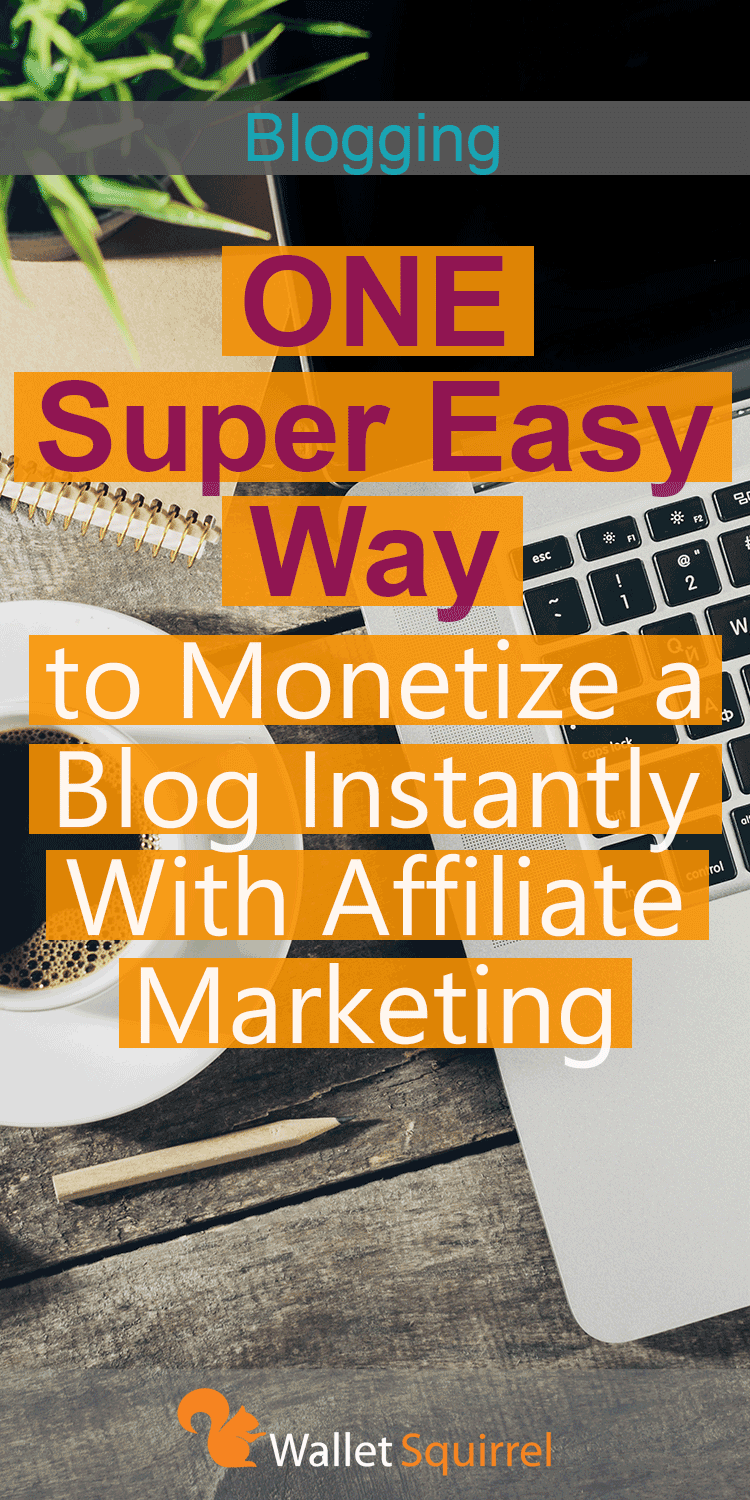 I get it, you have a website or starting a new website and you're asking yourself How to Monetize a Blog? I did the same thing 5 years ago when I started my first affiliate website. Since then I've come a long way monetizing websites with affiliate marketing. While the designs and websites have changed, I've always monetized my blogs the same way.
*If you're not familiar with Affiliate Marketing keep reading, if you know all about it, skip to "1 Easy Way to Monetize Your Blog".
Most Bloggers Monetize A Blog With Affiliate Marketing
Affiliate Marketing is the idea that when a visitor is on your website and clicks an outbound link to Amazon or Toys R' Us from your website and buys something, you receive a commission of that sale.
Most bloggers do this because they are then earning a commission on products they already have or heavily recommend. Amazon encourages this because they are receiving customers they wouldn't have gotten without your website. Everyone wins.
What does an Affiliate Marketing Link look like?
It's super simple, Affiliate Marketing links just look like regular hyperlinks. Here are some examples:
If you're writing about gym equipment, how about a Pull Up Bar?
Maybe you really love writing about Harry Potter decorations?
Or you write about upcoming events like Mother's Day and mention flowers?
All of these are affiliate marketing links. If you clicked on them and bought any of those items. I would make a commission and it's simple to set up. Here's how to do it for your site.
1 Easy Way to Monetize Your Blog
It's super easy to start monetizing your blog and it can be set up in minutes! The easiest way to start affiliate marketing is to partner with an affiliate marketing company.
Secret: 1 Easy Way to Monetize your blog is to sign up with an Affiliate Marketing company that turns every outbound link on your website into an affiliate marketing link automatically that you can earn a commission on.
There a lot of different affiliate marketing companies out there, but I'm sharing my personal experience with Viglink which has made monetizing my blogs insanely easy. I've used them the last 5 years. They have a great WordPress plugin that turns every outbound link into an affiliate link. Plus they partner with over 2,000 merchants, so nearly every online store (Amazon, Target, Etsy, Finish Line, etc.) will pay you a commission through the Viglink network.
Here's How To Start
I use Viglink for Affiliate Marketing, here's how.
Step 1 – Sign up with Viglink
Go to Viglink and fill out their forms.
Step 2 – Install the Viglink Plugin on your WordPress Blog
Do a search for the "Viglink Plugin", activate the plugin and insert your account code from your Viglink account.
Step 3 – Add links to your website and get paid
Now any regular link going to any of Viglink's partner merchants (2,000+ of them) on your website are an affiliate link automatically. Just check your Viglink Account to see how many times people click on your links and if those clicks turned into sales, paying you a commission.
It's that easy, you can monetize any blog in 5 minutes.
How much can you make affiliate marketing?
Most companies will pay you a percentage of the sale made. Each company within an affiliate marketing company is different. For example within Viglink, Amazon will pay 1% – 4.5% commission depending on the product category. Yet also in Viglink, 1-800 Flowers will pay an 8% commission. Usually the larger the company, the smaller the commission.
You'll make more money the higher priced items you have on your site. For example, a 4% commission on an $11,312 Outdoor Inflatable Movie Screen is a lot different from a $30 Stainless Steel Kitchen Set. FYI 4% of that inflatable movie screen would be a $452.28 commission for you.
It's a balancing act of having high priced items that could give you a higher commission vs lower priced items which the average person is more likely to buy.
Using an Affiliate Marketing Company vs the Vendor directly?
I think if you worked with Amazon directly through their Amazon Associates program, you may make a slightly better commission on each sale. However, you would be limited to only making money with Amazon.
Working with an affiliate marketing company like Viglink, you can sell Amazon products and products from 2,000+ other companies (here are the companies). You may lose a bit of the commission for the ease of dealing with only one platform. In my experience where I link to products all over the web, it's worth it.
There are other Affiliate Marketing Companies too
I talk about Viglink just because I use them and like them. There are other companies that offer affiliate marketing like Clickbank, Skimlinks, LinkBridge and more. I'm just going off personal experience.
Affiliate Marketing is preferred over Website Ads
I always prefer Affiliate Marketing over Website Ads because ads are hugely distracting. Website Ads blink, flash and sometimes don't even relate to the content your reading.
Affiliate Marketing simply creates a hyperlink in the content you've already written. It's not any more obtrusive than any other link you create on your blog versus ads like on the right sidebar, over on the right there. =)
Personally: I use Google AdSense for Ads in addition to Affiliate Marketing, but if I had to choose one, I'd stick with Affiliate Marketing. Most of my Google Adsense revenue is in cents from views of the ads, I rarely see people click on the ads. However, I see a lot more people click on my Affiliate Links and those lead to sales which pay a lot more.
Start Monetizing Your Blog Today
You don't have to use Viglink, but you should at least be signed up with some affiliate marketing company from Day 1 of your blog to start monetizing it. It's a non-obtrusive way to monetize your blog, earning extra money on products you're already recommending.
Let me know if you have any questions about monetizing your blog this way!
Wallet Squirrel is a personal finance blog by best friends Andrew & Adam on how money works, building side-hustles, and the benefits of cleverly investing the profits. Featured on MSN Money, AOL Finance, and more!
https://walletsquirrel.com/wp-content/uploads/2017/11/monetize-blog-with-affiliate-marketing.png
512
1024
Wallet Squirrel
https://www.walletsquirrel.com/wp-content/uploads/2015/09/Wallet-Squirrel-Logo.png
Wallet Squirrel
2017-08-24 13:40:27
2020-10-12 20:03:58
1 Easy Way to Monetize A Blog Instantly with Affiliate Marketing