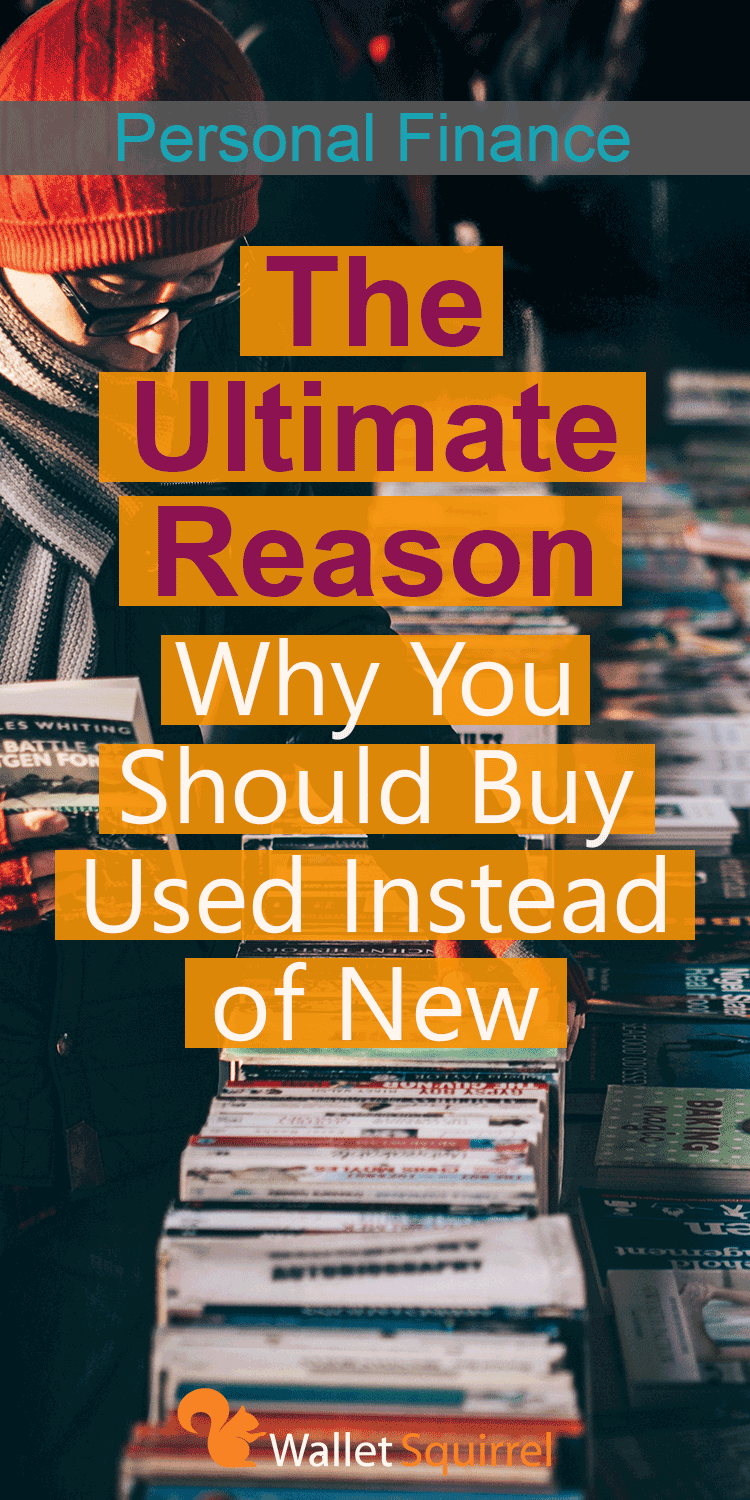 It is always tempting to buy the newest and latest. It makes total sense, we are constantly bombarded with fancy marketing that is scientifically engineered to entice us to go out and purchase the newest cars, electronics, clothes, bikes, furniture, and so on.
Frankly, the only thing in my house I would not buy second-hand is a mattress. Well, I guess there are other obvious things such as a toothbrush, bike shorts, and a toilet seat.
So Why Buy Used Instead of New?
The answer is pretty obvious here, to save money!
Here is an example of the money you can save by buying used.
A few years ago, my wife and I moved to Colorado with only one car. We needed another one as our jobs were too far apart to carpool. When making a big purchase like this I wanted to buy a brand that lasts a long time. This left us with either Toyota or Honda (personal preferences). As you might know, both brands are not cheap.
To be able to make the purchase happen, we bought a Toyota that just came off of two-year lease with only 40,000 miles on it. This saved us $10,000 compared to if we bought brand new!
I have been able to save big chunks of cash like this because I purchased second-hand time and time again. I bought my camera used, saved me $800. My computer monitor was a display model, saved me $100. Our washer and dryer were used, saved us $1,000.
Instead of buying new, we should be breaking the habits of buying new and buy used instead. If the previous owner took care of them, a lot of the items listed above can easily last many more years resulting in major savings for your checking account.
Where to Buy Used?
There are plenty of resources to help you buy second-hand. These range from actual physical stores to online stores to mobile applications.
Physical Stores
Target, Best Buy, Home Depot, and so on: Yes, all of these are places you would typically buy first-hand but you can find items that were returned by people who just did not want the item. The items are perfectly good and are usually marked down 10%.
Goodwill: A great place to find used clothes, furniture, and other small household items.
ReStore: I love Habitat for Humanity ReStore. You can find used cabinets, tools, furniture, flooring, and so on. Not all of the items are second-hand but you get the second-hand pricing! In these cases, the items were donated brand new.
Online
Craigslist: If you do not know what Craigslist is, you have been living under a rock. But just in case that is you, Craigslist allows you to buy used items directly from other people in your city. They post, you contact, then go meet at a neutral meeting area and make the purchase. You can even sell the stuff you do not want anymore on the site.
eBay: Buy basically anything you wish from anyone around the world. Just like Craigslist, you can also sell unwanted items on the site.
Nextdoor: Very similar to Craigslist but a little more personable.
Mobile Apps
Letgo: Letgo also has an online web application as well but mainly markets its mobile application. The application is basically Craigslist but updated and more modern. Personally, I have never used this service but I have heard it is a nice service.
Conclusion
As we have learned, we should buy used instead of new (unless you are buying underwear) to help purchase needed items. This will help us buy those items while not breaking the bank.
If you are looking to increase your monthly income to help purchase necessities you should check out our Ways to Earn More Money page. Here Andrew and I personally review as many different ways to earn extra money as we can to help you decide if it is right for you.
Wallet Squirrel is a personal finance blog by best friends Andrew & Adam on how money works, building side-hustles, and the benefits of cleverly investing the profits. Featured on MSN Money, AOL Finance, and more!
https://walletsquirrel.com/wp-content/uploads/2018/03/Horizontal-buy-used.png
512
1024
Wallet Squirrel
https://www.walletsquirrel.com/wp-content/uploads/2015/09/Wallet-Squirrel-Logo.png
Wallet Squirrel
2018-03-26 10:30:07
2018-03-26 07:18:12
The Ultimate Reason Why You Should Buy Used Instead of New