Ultimate Lottery Guide – What to do if you Win the Lottery
After the recent big lottery wins, people have been searching for what to do if you win the lottery. The odds are only 1 in 175 million, but it has to happen to someone right. Everyone imagines it and it's fun to think about, but if it actually happens, here's what to do according to the Ultimate Lottery Guide.
1. Sign your Ticket
Many people buy Lottery Tickets and stash them in their wallet or purse knowing that it's their lottery ticket. However, a Lottery Ticket is only owned by whoever has signed the actual ticket. So ALWAYS sign your tickets when you get them. It confirms ownership and the ticket must be signed in order to claim the lottery winnings anyways.
2. Tell No One
It's big and wonderful news, but you need to think ahead to all the potential long lost relatives, friends and random people that may soon be sitting in your front yard wanting to be your best friend. You don't want to be the bad person telling everyone "no" so avoid the awkwardness and tell no one. In 1984, Lottery Winner Mike Wittkowski received more than 1,000 letters at his home from strangers trying to tug at his heartstrings to receive money.
It might be fun initially to have 15 minutes of fame, but you may regret it months or years later when people you never met are ringing your doorbell. Stay quiet about it and don't tell anyone until you come up with a plan with your financial team. The plan should deal with how to handle friends/family/strangers request for money and how to deal with the sudden fame/money.
3. Take Your Time
There is no rush to turn in your ticket during all the hype, you have between 90 days to 1 year from the day of the drawing to turn in your ticket. Each state is a bit different so check them out. You have some time to take a breath, let the hype die down, and get your team of financial experts together before you claim your prize.
Powerball, you have 90 days to 1 year to claim your prize depending on the state via Powerball's website.
Mega Millions, you have 180 days to 1 year to claim your prize depending on the state via Mega Millions website.
4. Seek Financial Advice & Hire Finance Professionals
Hiring the right professionals will help you collect the most money from your lottery winnings, help understand tax rules and take care of the gritty details so you don't have to. Like will you take the lump sum of cash or 30-year annuity? Consider these financial professionals for your finance team.
Financial Planner – They will help you set up a plan for your new wealth. They'll help you understand the benefits of taking the lump sum versus annuity and they will work with you to set up your goals, analyze your assets and set up a budget so you can make the most out of your money and not blow it. A study of lottery winners in Florida found 70% of winners spent all of their lottery winners within 5 years of winning. Don't be one of these people, consult with a financial planner. To find a good Financial Planner check out the CFP (Certified Financial Planner) Board for a list of Certified Financial Planners in your area.
Tax Attorney -There will be a lot of tax (state taxes/federal taxes/gift taxes/corporate taxes and other taxes) issues that come up about Lottery Winnings. Hire a good lawyer to help you with this. To find a good lawyer, check out the reviews on LegalZoom, RocketLawyer, LawTrades and Avvo for lawyers in your area that are highly recommended and have experience handling large sums of money.


To give you an idea, the government will withhold 25% of your winnings before you even touch it. Then, of course, you'll have to pay State Taxes as well. Maybe even Municipal Taxes depending where you live. The rest is paid at tax time where the IRS will tax you in the top income bracket at 39.6% (source). In the end, you'll be taxed nearly 40% on those initial winnings depending on your state.

Accountant – This is the person who will have a good idea how much of the lottery winnings you'll need to set aside to pay off all the taxes. They will help plan throughout the year on the best ways to mitigate taxes and keep the most of your money. Plus with that amount of money, you'll want someone handling all your taxes for you. To find a good Accountant, check your local Society of Certified Public Accountants directory to find a certified Accountant to help with your needs.
Estate Attorney – They will help you with structuring and protecting your assets. They assist people in drafting and implementing legal documents, such as wills and trusts. It's good to have a plan for your assets in the event of your death. Who will your money go to and/or should a trust be set up for your heirs. As mentioned with finding a good Tax Attorney, check out the reviews on LegalZoom, RocketLawyer, LawTrades and Avvo for lawyers experienced with wills, trusts and large sums of money.
5. Claim your Prize – Anonymously
Here's the deal, Big Lottery wants to promote you and share with the world that a real, regular person won the lottery. Often times state law mandates sharing your name with the public. However, you can claim your prize anonymously a couple of different ways.
6 States allow you to remain anonymous – Delaware, Kansas, Maryland, North Dakota, Ohio and South Carolina.
4 States allow a trust to claim your prize – Colorado, Connecticut, Massachusetts, and Vermont will allow a trust, usually, a trustee (typically a lawyer) to claim the prize without disclosing the name of the lottery winner.
2 States allow you to remain anonymous IF – Illinois and Oregon have made exceptions to making lottery winners names public if the winners demonstrate a high risk of harm by revealing their name.
If you're not in one of these states that allow you to claim your lottery winnings anonymously. Do what this guy did and hold the check over your head when you receive the lottery winnings.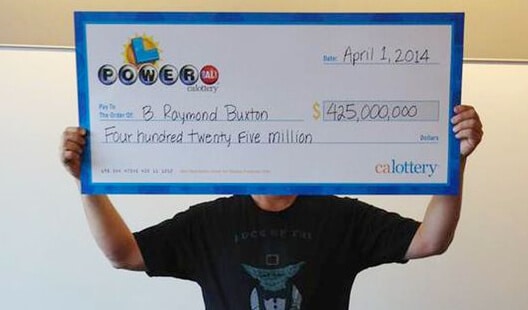 You can also sign your first name with your first initial to make it harder for people to track you down.
You may also want to get off social media like shut down all your accounts if you win the lottery. This may sound extreme, but keep in mind that people will start searching for you online, going through all photos, friends, where you work and personal details. They may try to stake out at your favorite bar or harass your friends to meet you.
6. Create a middle man for money request
If people hear about your new winnings, you'll likely have people from all over asking for money. Addressing all of these can be overwhelming and potentially depressing. Consider setting up a middle man to say "no" for you.
When a long lost friend comes out of the blue asking for money, or with a really great investment idea. Send them to your "middle man", usually a lawyer, who could review all potential investments for you. You can say that they are better at investing than you, which may be true. So they can say "no" and you don't have to feel bad telling your friend or anyone no. This will save your sanity and emotions from being the bad guy and help not waste your time/money on bad investments.
7. Pay Off All Your Debt
If you do anything with your money first, it should be paying off all your debt. You are entering a new phase of your life and it should be started off debt free.
Even if you go broke in a couple years, you'll least have all your debt paid off to pick up your life where you started off.
8. Avoid Sudden Lifestyle Changes
While you shouldn't be doing anything until you can physically hold the money, even after that you should avoid sudden lifestyle changes for the first 6 months. Buying that Ferrari or Land Rover, second house for your entire family, extravagant vacations can all feel like a nice reward for all your hard work, but these impulse buys could quickly deplete your lottery winnings.
Consider instead renting an apartment in that cool neighborhood you want to live in or doing an exotic car rental for a day to try different sports cars. It'll take you awhile to understand what you want. Find out what really makes you happy before you go on a spending spree and work with your financial planner to set a budget for frivolous things to buy so that you're still maintaining a nice nest egg for your family in the future.
9. Live within a budget
Ideally, you should only be spending the interest you've made off the lottery winnings. If you do this, you'll never run out of money. The annual interest of a $100M or more lottery winnings will be more than enough to live off of the rest of your life. Especially with a good financial planner.
Otherwise, work with your Financial Planner to set up a budget live within and understand how long your money will last with your current spending habits.
10. Protect your Assets
Consider getting Liability Insurance to help with potential lawsuits against you. With your newfound money, you will be a target for anyone wanting your money. Liability insurance will help for trip-and-fall lawsuits, personal injury claims against you like libel and slander, and freak accidents. This provides an additional layer of security.
Wallet Squirrel is a personal finance blog by best friends Andrew & Adam on how money works, building side-hustles, and the benefits of cleverly investing the profits. Featured on MSN Money, AOL Finance, and more!
https://walletsquirrel.com/wp-content/uploads/2017/09/What-To-Do-If-You-Win-The-Lottery-Header-Horizontal.png
623
1200
Wallet Squirrel
https://www.walletsquirrel.com/wp-content/uploads/2015/09/Wallet-Squirrel-Logo.png
Wallet Squirrel
2017-09-14 13:00:47
2020-10-12 20:17:21
Ultimate Lottery Guide – What to do if you Win the Lottery