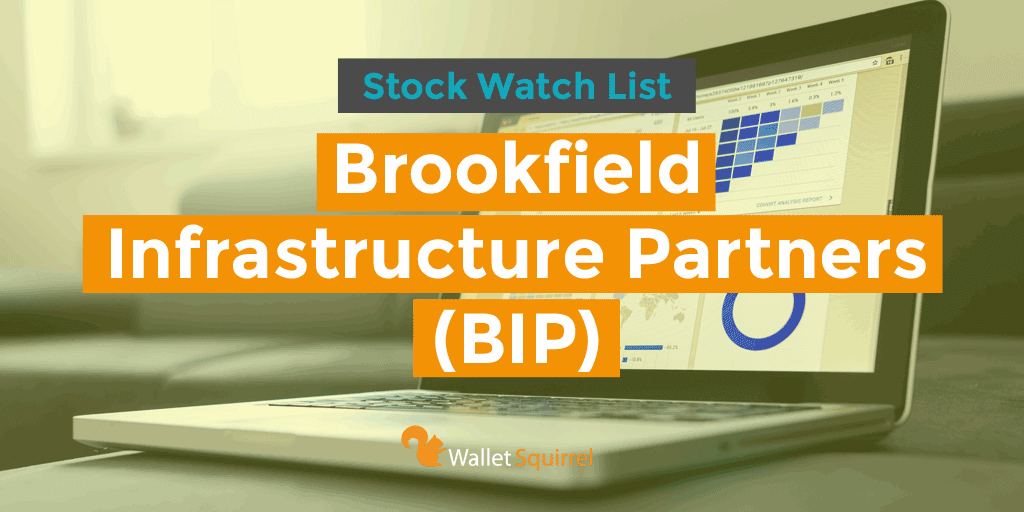 This week after listening to the Motley Fool Money podcast, I researched Brookfield Infrastructure Partners (stock ticker: BIP) for my Stock Watch List. The Motley Fool commentators said BIP was on their watch list, so I looked into it for my own portfolio.
Stock Watch List
My Stock Watch List is a collection of companies I'm looking into invest in. I'm either currently too broke to currently buy them or I'm looking into them to buy them soon. Either way, these analyses help me decided to buy or not with the extra money I earn.
What is Brookfield Infrastructure Partners?
Basically, they own one of the largest infrastructure networks globally. This is the infrastructure for the transportation and storage of energy, water, freight, passengers, and data. They earn money by way of fees for people to use their infrastructure, they have a 15.1 billion market cap on infrastructure as an MLP (Master Limited Partnership). So no matter if electricity or oil is costly or cheap, it still costs money to transport and Brookfield Infrastructure Partners makes that money.
What I like about Brookfield Infrastructure Partners
They have a 4.3% dividend. Plus many of these utilities are regulated by countries/regions and those support long-term contracts which produce stable cash flow. In addition, they have $1.1 billion of planned investments coming down the pipeline in the following years to generate high growth.
They are geographically diverse spanning over 5 continents and income diverse earning money from 35 different businesses across four different infrastructure groups including Utilities (electric and natural gas transportation), Transportation (railways, ports and toll roads), Energy (energy transmission, distribution, and storage) and Communication Infrastructure (communication towers).
I love this business model where businesses will pay to use this infrastructure regardless if the stock market is up or down. Businesses need to get their goods/services from A to B and Brookfield owns those connecting lines. Many MLPs follow this business structure but Brookfield seems to be doing a great job and consistently growing to produce additional income. Plus this reoccurring revenue makes Brookfield traditionally a reasonably safe and reliable stock.
What I don't like about Brookfield Infrastructure Partners
My biggest complaint with Brookfield Infrastructure Partners, personally, is that it's an MLP and that makes taxes a bit more complicated. I honestly can't speak to the tax issues since I'm not familiar with them myself, I just know they are more complicated.
Conclusion
I have several MLPs that I'd love to invest in like Kinder Morgan, but Brookfield Infrastructure Partners is my favorite so far. However, I likely won't invest in it until I understand a bit more about the tax implications. So, for now, I'll continue to watch it and if it gets any more attractive, I'll consult a tax professional on how it would affect my taxes and not cause a headache.
Do you own any MLPs?
https://walletsquirrel.com/wp-content/uploads/2017/10/Blog-Post-Header-Stock-Watch-List-BIP.png
512
1024
Wallet Squirrel
https://www.walletsquirrel.com/wp-content/uploads/2015/09/Wallet-Squirrel-Logo.png
Wallet Squirrel
2017-10-19 12:30:39
2017-10-18 19:29:31
Stock Watch List- Brookfield Infrastructure Partners (BIP)