Robinhood App Review: I saved $420 in trading fees in 6 months
THIS POST MAY CONTAIN AFFILIATE LINKS. PLEASE READ OUR DISCLOSURE BELOW FOR MORE INFO.
Summary: In short, I have saved $420 in trading fees in 6 months (calculations below). I tested the new Robinhood stock trading platform, since September 2015. This article is a personal summary of the headaches and "fucking awesome" moments that I yelled out loud the past couple months. Let's face it though, you hate trading fees and you're curious to see what all the hype is about with the new Robinhood App.
What is Robinhood?
Robinhood's biggest claim to fame, it has $0 trading fees. I said that right. The average trading fee is $7-$10 per trade and Robinhood said screw that! Traditional brokerages make SO MUCH MONEY, that Robinhood formed a different business model where they don't make money on their trades (I'll explain how their make dough in a bit)
You'll first notice: You'll always see Robinhood called the "Robinhood App" because it's not a traditional brokerage with a website, it is purely only an app. This is one way they keep their costs down, but also because their target audience is millennials. Robinhood specifically target new millennial investors usually around the average age of 24. Those who are starting out with little money, who can't pay trading fees but want to start investing in a simple way.
It's open to everyone: Everything I read on Robinhood talks about their waiting period. I didn't encounter that at all. I simply downloaded it on my android phone (originally built for Apple, but works on both) and signed up. They make it easy.
How Robinhood makes money
If you ever want to understand a company, understand the way they make money. Nike and Gap use child labor to make a higher margin. I'm not here to judge, just shining an example why should know the fundamentals of how profits are made. Let's take a look at Robinhood's.
Robinhood makes money by:
Collecting Interest from the cash you have lying in your brokerage account that isn't invested. For example, if you have $900 in your account and are waiting for stock prices to come down, traditional brokers are gaining interest off that $900 like a savings account. Some brokerage accounts give some of this back, but Robinhood keeps it. You won't lose any money, but you just won't gain anything extra from un-invested cash. So invest it!
Most electronic trading firms pay little to nothing to place trades, but individual investors are getting taxed up to $7 – $10 per trade. Robinhood saw this as an opportunity.
Robinhood App Review: My experience
Signing up: Pretty simple. I downloaded the Robinhood App from the Google Play store on my android phone. You will fill out the same info you would open a bank account. You will have to give your social security number, so be warned, but this is the same info you'd give to any brokerage account. It just feels weird because you're doing this all over a phone.
Once you register and sign in. You don't have to use your email and password every time. You can set up a 4 digit pin for security in case you lose your phone.
Connect your bank account: Everything is electronic, so you need to connect your bank account. Both traditional brick & mortar banks, as well as virtual banks, will work. I connected both my Wells Fargo account and Ally account. Keep in mind, when you sign up, you won't be able to trade right away. There is usually a 5 business day waiting period once you sign up. This is usually just for Robinhood to verify that your money (a few cents) can be sent to your bank and back.
Is it weird doing everything over an app? There is definitely an adjustment period where you need to get comfortable trading over the app. I've never traded over anything else, but it turned out quite easy. There are not many buttons and it's straight forward.
Search for your stock ticker
There is a large buy button, click it
There is a verify screen, where you must swipe up to verify. This removes people who accidentally double tap from making mistakes.
Done.
Here is a look at what the Robinhood App looks like.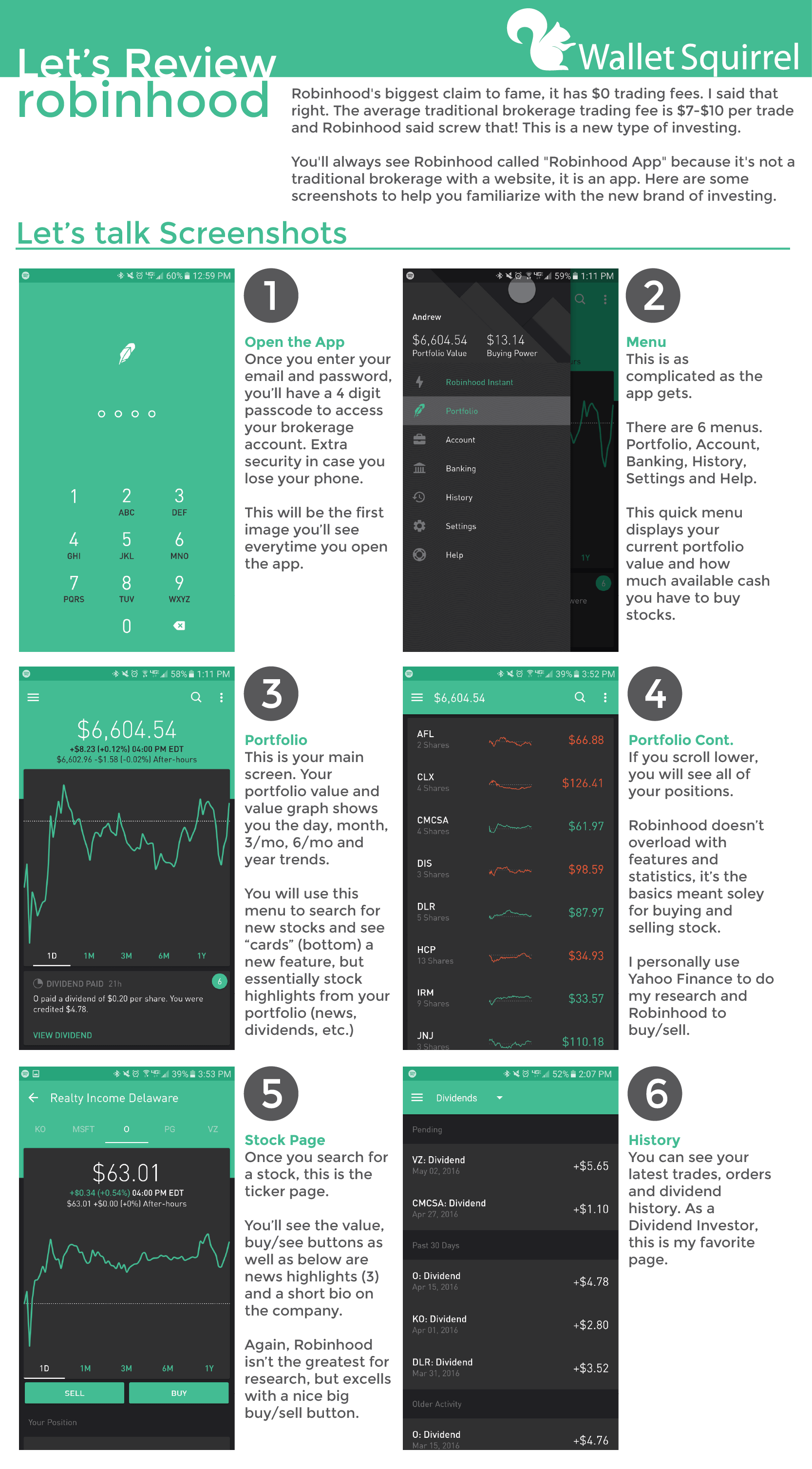 What I like about the Robinhood App
In the last 6 months, I have done 60 trades. These were a majority of buys and averaged around $101.23 per trade. I prefer dividend investing. So when I have an extra $100, I want to invest that immediately, because the longer it's invested, the more it'll make. Traditionally I would keep that $100 in my savings account until I had $1,000 or so to justify a $7 trading fee. Now I just buy stock immediately!
I can do this at my desk at work. I receive a notification from Robinhood that HCP has decreased 10%, I can open up the app and buy 2 shares of HCP faster than I check Facebook (Facebook is addicting). I don't have to think about the cost/benefit of paying $7 to do this, it's free! In the total span of 60 trades in 6 months assuming a the minimum fee of $7 I have saved $420 in trading fees. Awesome right?
What I don't like about the Robinhood App
The biggest issue with Robinhood is the three business day wait period. If you transfer money to your Robinhood brokerage account on Monday, it won't be available till Thursday. If you sell a stock, you won't have that cash available to you till 3 business days. Yes it sucks, but I have more time than money. Easily worth $0, but worth sharing. Just wait till Robinhood Instant is revealed to everyone.
UPDATED 9/22/2017 – There is no more wait period for Robinhood Instant. It's open to everyone, so no more 3 day wait period for your investments. This is awesome! 
There is no website to access your stocks whatsoever. That means I can't connect it to Mint (my money manager). Mint as consistently stated that since Robinhood doesn't have a website, it can't connect to the brokerage account. So my true financial worth isn't provided. This does kind of suck.
There is no in depth analytics to analyze stock values. It gives the basic info, but I usually use Yahoo Finance to do my research and just use the Robinhood App for pulling the trigger. With so many great analyzing tools on the web, this isn't the biggest loss.
I would be remise if I didn't mention the recent glitch Robinhood had. I woke up earlier this week to find that Robinhood glitched out and didn't display my portfolio value. I literally freaked the fuck out. My balance went from $6,604.54 to $8.14 (which was my available cash). I immediately noticed that I still had all my stock positions, but it just didn't total correctly. I knew since it was displaying my available cash instead of the portfolio value, this was a glitch and pulled the wrong info. I rightly, emailed customer support and they fixed the issue in a couple of hours. I don't think it was too crazy, but some people on the world wide web wouldn't shut up about it. Maybe it is the $0 free trades, but I can live with a small glitch for saving $420.
UPDATED 9/22/2017 – This hasn't happened since.
Don't let those negative comments scare you, I have absolutely loved the Robinhood trading platform! I plan on continuing to use it as my primary brokerage account for years to come.
The last word
Robinhood isn't the first to try the $0 free trade. Other companies have done this in the past and frankly failed. It's a difficult business model, but I think Robinhood is doing it right. They have received financial support from some large names like Google Ventures, Index Ventures and Ribbit Capital. They have something special.
I will continue to use Robinhood as my brokerage account for the foreseeable future. I do small trades and that $0 trading fee is perfect for my investing style. If you are tired of paying for trading fees, I'd suggest you give it a try. Plus their new promotion gives new sign-ups a free share of stock.
I believe the Robinhood Business model will influence other brokerage firms in the future and they'll lower prices to target this millennial demographic. This will be awesome for future investors. Would you be willing to try it? If not, what are your reservations?
https://walletsquirrel.com/wp-content/uploads/2016/04/Horizontal-robinhood.png
512
1024
Wallet Squirrel
http://www.walletsquirrel.com/wp-content/uploads/2015/09/Wallet-Squirrel-Logo.png
Wallet Squirrel
2016-04-16 23:13:00
2018-01-04 20:46:29
Robinhood App Review: I saved $420 in trading fees in 6 months