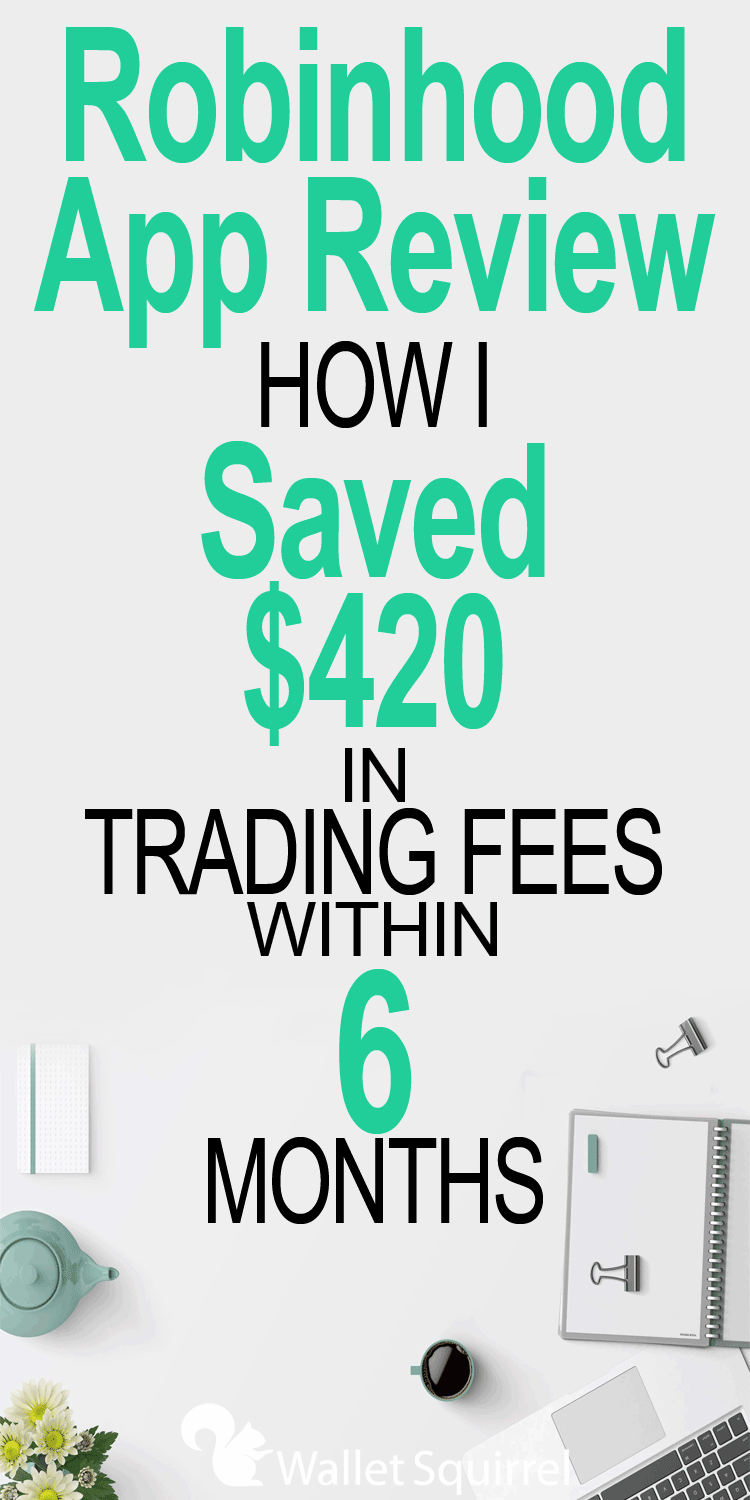 While I have recently updated this Robinhood App Review, it still holds true that the Robinhood App has saved me $420 in trading fees in my first 6 months of buying and selling stocks on the stock market.
However, our article is now updated to reflect 5-years later those savings have grown to over $1,631 in trading fees saved!
Since my initial review in 2015, the Robinhood App has grown into a wildly popular stock trading platform and their $0 trading fees have become industry standard. Companies such as Charles Schwab, Fidelity and more have all moved to $0 trading fees simply to compete with the Robinhood App now valued at $8.3 Billion (source). With all these companies reducing their fees, the average customer is the real winner, thank you Robinhood.
Nowadays with every brokerage platform offering free trades, Robinhood still holds a competitive advantage (especially with millennials) due to how simple it is to buy and sell stocks.
That's what we're going to look at today!
What is Robinhood?
Robinhood is a mobile app (plus now website interface) that allows anyone to buy and sell stocks on the stock market. Plus recently, users also have the opportunity to buy and sell cryptocurrency.
Robinhood offers $0 trading fees
Initially for this Robinhood App Review, Robinhood's biggest claim to fame was that it had $0 trading fees. This was a big deal because at the time most brokerage accounts charged $7 – $10 per trade. Meaning if you wanted to buy 1 share of Apple (APPL) or 50 shares of Apple, most traditional brokerage accounts would charge you $7 – $10 in addition to the stock price for the privilege of purchasing that stock. Plus another $7-$10 whenever you sold it.
This obviously sucked because those fees would add up and drastically cut into your profits, especially for younger investors who could only by 1 share of stock at a time.
The Robinhood App wasn't the first start-up to offer $0 trading fees, but they are one of the most well-known to have done it successfully. So much so, that it became industry standard. If you're wondering if they don't offer fees like other brokerages, how do they make money? I'll explain below in a moment.
Incredibly Easy To Buy/Sell Stocks For Beginners
The target audience for Robinhood is the millennial investor, around the average age of 24 who recognizes the benefit of buying a stock like Amazon (AMZN) but intimidated by the often mysterious process of purchasing a single share of stock.
Robinhood wanted to make the process simple, easy, and fast, so they designed an elegant and intuitive process for buying stock. Simply find the stock ticker you want and hit "buy" and confirm with a swipe.
I have personally used other brokerage accounts in the past and grown headaches for the unnecessarily complex design and clunky software. Those experiences have produced a deserved fondness for the ease of Robinhood. Since then, many of my friends have switched to the app.
It's worth noting that Robinhood has received some negative press over some individuals who have lost a significant amount of money on Robinhood because they say Robinhood makes it "Too Easy" to buy and sell stocks. While I feel terrible for those individuals, I can not fault Robinhood making such a successfully simple solution for people wishing to invest in their own financial future. We should encourage these simple solutions to complex problems, like the iPhone, Internet, and Indoor Plumbing all making our lives easier.
This ease-of-use has allowed me to build my own stock portfolio now worth over $10,000 that we track here on Wallet Squirrel.
How Robinhood Makes Money
If you ever want to understand a company, understand the way they make money. Nike and Gap use child labor to make a higher margin. I'm not here to judge, just a shining an example of why you should understand the fundamentals of how profits are made. For our Robinhood App Review, we have to look at the finances.
Robinhood makes money by:
Collecting Interest from the cash you have lying in your brokerage account that isn't invested. For example, if you have $1,000 in your account and haven't yet bought any stock. The Robinhood App gains interest off that $1,000 similar to how you would gain interest on a savings account. You won't ever lose money sitting in your brokerage account, but it'll simply be there gaining interest for Robinhood, so invest it! This is a pretty common practice for most brokerage accounts.
Robinhood Gold is an additional subscription ($5 monthly fee) that gives you additional research tools, larger instant deposits (typically any deposit up to $1,000 is instant, otherwise you need to wait 3 days) and margin investing. I typically don't recommend this for beginners and use Yahoo Finance for all my investing research.
Rebates from Market Makers and Trading Venues this means when you buy certain stocks, ETFs (Electronic Traded Funds) and options. Robinhood sometimes recieves a rebate (money back) on the back end if they have a relationship with some of the companies they purchase stocks, ETFs or options from. It's like getting a rebate on a cell phone, but instead of a discount, Robinhood gets to pocket that money. It doesn't affect you, but it's a nice little boost to Robinhood's profit line.
Stock Loan Income meaning Robinhood Securities earns income from lending stocks purchased on margin to counterparties. This is more for advance users.
Cash Management is the debit/credit card that Robinhood started. It earns fees from your card like a typical bank would see.
All in all, these are a nice way to help Robinhood make a profit without charging you additional money. It's pretty clever.
Robinhood App Review: My experience
I initially signed up for Robinhood because they have a great deal when you use this Robinhood App Referral Code, you will automatically receive one random share of stock. I am happy to say that our referral code won a free share of Apple (AAPL) now worth over $400. It's worth signing up for the free money. One of our favorite ways to make money.
Signing up: Pretty simple. I downloaded the Robinhood App from the Google Play store on my android phone (also available for iPhones). You will fill out the same info you would open a bank account. You will have to give your social security number, so be warned, but this is the same info you'd give to any brokerage account. It just feels weird because you're doing this all over the phone.
Once you register and sign in. You don't have to use your email and password every time. You can set up a 4 digit pin for security or a fingerprint if you prefer for quick access.
Connect your bank account: Everything is electronic, so you need to connect your bank account. Both traditional brick & mortar banks, as well as virtual banks, will work. I connected both my Wells Fargo account and Ally bank account. Keep in mind, when you sign up, you won't be able to trade right away. There is usually a 5 business day waiting period once you sign up. This is usually just for Robinhood to verify that your money (a few cents) can be sent to your bank and back.
Is it weird doing everything over an app? There is definitely an adjustment period where you need to get comfortable trading over the app. I've never traded over anything before this, but it turned out quite easy. There aren't many buttons, so for our Robinhood App Review, it was pretty straight forward.
Search for your stock ticker
There is a large buy button, click it
There is a verify screen, where you must swipe up to verify. This removes people who accidentally double-tap from making mistakes.
Done.
Here is a look at what the Robinhood App looks like.
What I Like About the Robinhood App
In the past 5 years, I have done over 233 trades. Most of these are buying a single share of stock at a time because that's all the money I have to invest.
For me personally, I buy stocks that offer dividends because this matches my dividend investing strategy. I like the idea that I can regularly earn money from a stock without ever selling it by collecting the dividends they produce for stock shareholders. This way I rarely worry about the stock market going up or down because I constantly am collecting dividend payments. Here are all the dividend stocks I own.
Since I did mention earlier it's easy to buy stocks on Robinhood. Here's an example.
I can receive a notification that Realty Income (Stock Ticker "O") has decreased in value over 5% and immediately open the app, hit buy, select the number of shares I want and swipe to confirm. All within 10 seconds I can buy stocks whenever I feel with absolute ease. I've done this during work meetings, walking in the park, and eating out with friends.
All investing should be this easy and free to use.
What I Don't Like About the Robinhood App
The biggest issue with Robinhood is the three business day wait period. If you transfer money to your Robinhood brokerage account on Monday, it won't be available till Thursday. If you sell a stock, you won't have that cash available to you till 3 business days. Yes it sucks, but I have more time than money. Easily worth $0, but worth sharing. Just wait till Robinhood Instant is revealed to everyone.
UPDATED 9/22/2017 – There is no more wait period for Robinhood Instant. It's open to everyone, so no more 3 day wait period for your investments. This is awesome! 
There is no website to access your stocks whatsoever. That means I can't connect it to Mint (my money manager). Mint as consistently stated that since Robinhood doesn't have a website, it can't connect to the brokerage account. So my true financial worth isn't provided. This does kind of suck.
UPDATED 11/1/2017 – Robinhood now has a website interface so you can check your stocks on your computer. Plus it now integrates with Mint, one of my favorite apps. 
There is no in-depth analytics to analyze stock values. It gives the basic info, but I usually use Yahoo Finance to do my research and just use the Robinhood App for pulling the trigger. With so many great analyzing tools on the web, this isn't the biggest loss.
UPDATED 9/29/2016 – Robinhood launched Robinhood Gold with additional research tools however, it cost $5/mo. I still prefer using Yahoo Finance. It's free and a great tool!
I would be remiss if I didn't mention the recent glitch Robinhood had. I once woke to find that Robinhood glitched out and didn't display my portfolio value. In total shock, I absolutely froze from fear. My balance went from $6,604.54 to $8.14 (which was my available cash). I immediately noticed that I still had all my stock positions, but it simply wasn't totaling correctly. I knew since it was displaying my available cash instead of the portfolio value, this was a glitch and pulled the wrong info. Customer service was promptly reached and they fixed the issue in a couple of hours.
UPDATED 8/11/2020 – This hasn't happened since.
Notice how all those negative comments have been fixed over time from the original Robinhood App Review?
Robinhood is constantly growing and improving. They still have a start-up mindset by listening to customer's feedback while being large enough to have an $8.3 billion evaluation. I use this app daily and simply haven't found a better investing solution.
Would I Recommend the Robinhood App, Yes.
Wallet Squirrel is a personal finance blog by best friends Andrew & Adam on how money works, building side-hustles, and the benefits of cleverly investing the profits. Featured on MSN Money, AOL Finance, and more!
https://walletsquirrel.com/wp-content/uploads/2016/04/Horizontal-robinhood.png
512
1024
Wallet Squirrel
https://www.walletsquirrel.com/wp-content/uploads/2015/09/Wallet-Squirrel-Logo.png
Wallet Squirrel
2020-08-11 14:00:00
2021-02-16 12:21:09
Robinhood App Review: I saved $420 in trading fees in 6 months