October Round Up – Our Favorite Income Reports From Around the Web
Today we take a look around the internet of our favorite income reports from around the web. These articles bring together seven to ten bloggers to see what they did in the past month. Some of these people will be fresh for this month while others will be regulars.
The point of this article is for all of us to learn what other bloggers are doing to bring in income each month. Hopefully, you will find something new to increase your own income next month.
Speaking of income report, Andrew had a pretty good month in October!  He brought in $171.10 during the month. Check out his October income report to see how he accomplished it.
Here we go with this month's featured bloggers!
Pat posts his income reports a little later than I post this round up so we are going to look at his September numbers.
I know I always have Pat and Michelle (see last months round up, her October numbers are not out yet) at the top of my post but they are just so darn motivating. In my opinion, these two really have set the bar in the blogging world. It is good to know what we need to do to create a high standard blog like they have.
Pat had a better September, $220,158.54, compared to August where he brought in $140,866.38. Pat makes his money from a very diverse set of income sources that include affiliate income, book sales, course sales, niche sites, podcast sponsorships, software, and apps. Phew! That is an awesome list!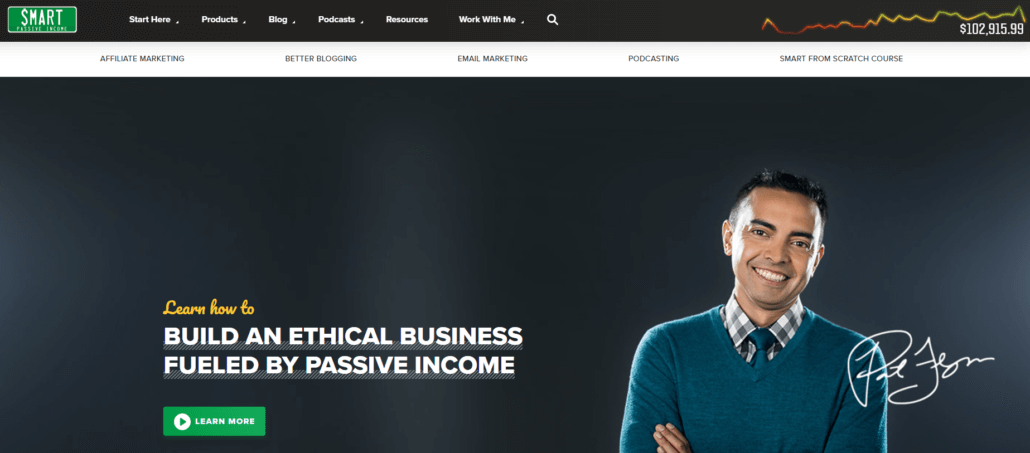 This is Alexis' second month on the income round up.
She had a very nice month bringing in $4,612, which is about $600 more than last month.
Most of her monthly income comes from sponsored posts, affiliate income, add revenue, free products, and being a virtual assistant.
I like to follow FITnancials because the maturity of the website is just about the same as Wallet Squirrel. It gives us a good bookmark on how much time Andrew and I should spend on the blog each week. Alexis spends about 20-30 hours a week on it unless she is traveling where it could drop to 5-10 hours.
How much time a week do you spend on your blog?
Bobby keeps moving up with his monthly income! In October he made an impressive $16,409.45 compared to $15,551.47 in September.
This amount is impressive because he only makes his income from affiliate marketing, advertisement, staff writing, and digital marketing.
Even though Bobby is not as diverse with his income sources such as Pat Flynn, he really does well for himself.
He could expand out his digital marketing business but does not because he enjoys the lifestyle he has now.
Personally, I highly respect him for this decision. Everyone should shoot for a healthy work/life balance. Life is not only about money when you don't get to enjoy your family as well.
Here goes the same monthly spiel about the two reasons as to why I like to follow Lanny and Bert's adventure. One, they are two best friends seeking financial freedom just like Andrew and I. Second, you can get two different perspectives on dividend investing from one place!
Even though I will probably never change that opener, I will change what income we look at from Lanny and Bert. This month we will look at Lanny's October dividend income summary.
Lanny had a really nice month, bringing in $422.03 just from dividend income. He has been enjoying some awesome dividend income from Cisco the last few months. Pretty awesome job Lanny!
Curious as to what the heck dividend income is? Andrew explains it really well in his What are Dividends and Dividend Investing article. Check it out to learn more!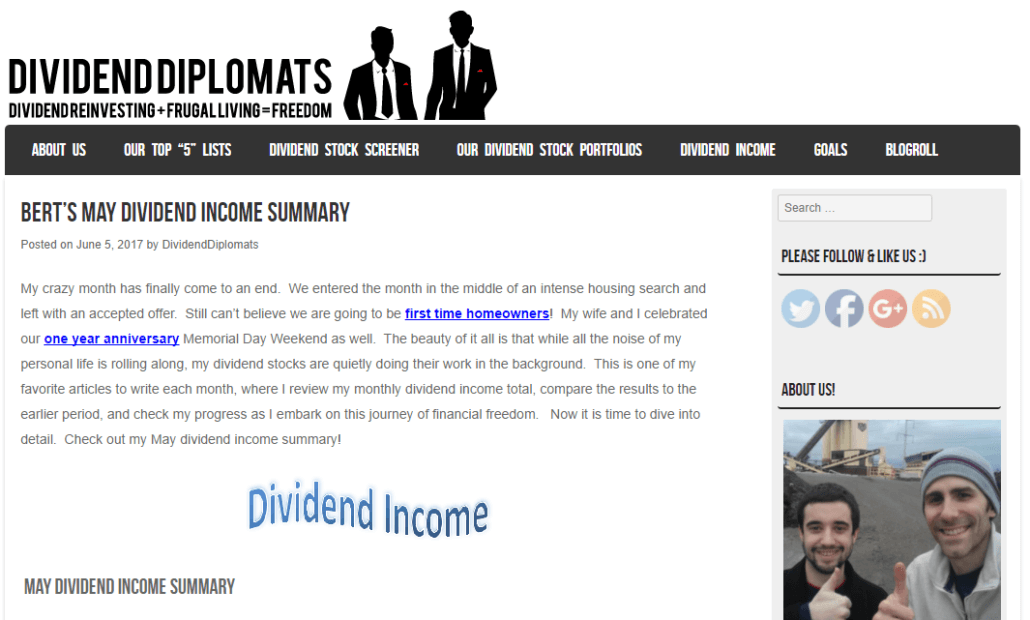 As always, Keith had another solid month of dividend income even though it was lower than September. He gained $516.43 in October compared to $867.42 in the month of September.
Even though he had a lower month, because October is the first month of the 4th quarter, he still had a 19% increase compared to last year! Well done Keith!
Keith has a very nice and clean strategy for gaining extra income from dividends. Andrew has also written up what his strategy is in his My Dividend Investing Strategy.
Investment Hunting (IH) had its best October ever from dividend and options income, recording $890.39.
IH has set a lofty goal for 2017 to make $7,500 from dividend income and $7,500 from options income. Currently, he is ahead on the dividend income goal but behind on the options goal.
The market has not played that nice this year for options and there is not much IH can do about that.
Keep up the good work!
Outcomes
Personally, I believe that diversity in income sources is the key to success in the blogging world. The ventures you touch, I believe you increase your chances of success. This can be seen from Pat Flynn.
Andrew and I have some projects for 2018 lined up that will help diversify Wallet Squirrel a little more. Stay tuned…
If you are looking to diversify your income sources more. Check out our Ways to Earn More Money page. Here Andrew and I personally review as many different ways to earn extra money as we can to help you decide if it is right for you.
https://walletsquirrel.com/wp-content/uploads/2017/11/October-Round-Up.png
512
1024
Wallet Squirrel
https://www.walletsquirrel.com/wp-content/uploads/2015/09/Wallet-Squirrel-Logo.png
Wallet Squirrel
2017-11-13 13:00:46
2017-11-13 07:17:53
October Round Up - Our Favorite Income Reports From Around the Web