Last month's Income Report was such a success that we decided to do another one!
Just kidding, we've been sharing these Income Reports since 2015 as a way to share how easy (or hard) it is to earn extra money online and what it's really like starting a blog. Overall, it's been a blast and a great hobby as we build up our savings for retirement!
What We Accomplished in September
We are flying on Wallet Squirrel lately and I think it largely has to do with the free coffee machine in my new apartment lobby. We have been building links, building content, building relationships, and everything to grow Wallet Squirrel.
We're doing really well!
Last month, we've been featured on MSN Money, Fit My Money, Making Sense of Cents, and the College of Business and Economics at California State University, Fullerton!
Contributed to a round-up on Dr. Wealth – How to Invest Post COVID.
Finally finished our Ways To Make Money Page. It's pretty epic!
Reduced image sizes on our pages to increase website speed. Google LOVES fast websites.
Reached out to 10 places for a guest post, but I guess guest posting just isn't that popular anymore.
Became "Content Certified" on CJ Affiliate so we now have hundreds more affiliate opportunities. A lot of them we use already, so we've replaced those regular links, with affiliate links.
Joined the blog directories on Campfire Finance, Bloglovin and Personal Finance Blogs. Two great links if you're wanting more visibility in the PF community.
Invested in some fun Twitter tools that helped us boost our followers from 781 to 1,041 in 2 weeks. We're hoping to share more in an upcoming post!
Updated some great articles including "8 Personal Finance Moves I Wish I Knew Before Turning 30", "How I Made $1.88 Selling Stock Photography in 10 Days" and "How To Start A Blog". The last one we did a complete reformat to what that page looks like and we've heard it's significantly helping our readers!
What Our Website Traffic Looks Like
In addition to what we do and how much we earn, we want to be transparent about our website traffic. Honestly, it's something a little scary to show and most bloggers don't share this info.
However, we're doing it because we want to give you a realistic view of what it's really like blogging.
September was probably our best month ever! We had 2 days of incredibly high traffic entirely because we were featured on MSN. We were blown away by all the visitors and amazed at all the people still flowing in from the news site. Take a look!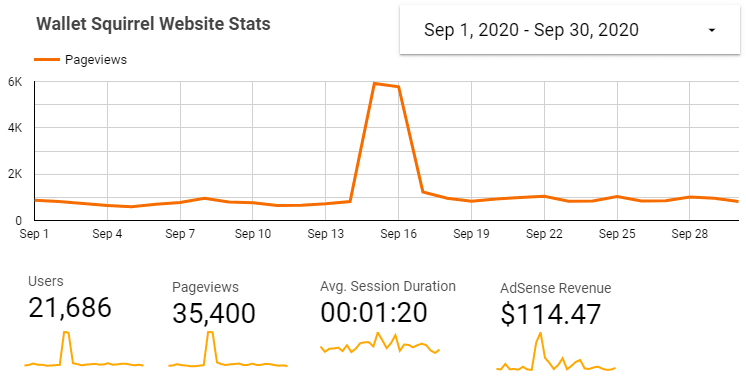 How Much Money We Made September, 2020
Additionally, this was one of the best months ever on Wallet Squirrel in terms of income!
The first part is that our article on MSN sent an incredible amount of web traffic that increased our website ad revenue. We don't have a lot of ads, so it's incredible that we made $121.37 in ad revenue! Especially since we use Google AdSense, the lowest paying ad service.
The second part that's amazing is a couple of Bluehost affiliate commissions just days after we revamped our How To Start A Blog post. This was extremely gratifying after the week we poured into making this page cleaner, and more helpful.
Here's what one of our best Income Reports looks like, nearly hitting $600!
If you're curious about any of these income streams, we've touched on each one before.
Google AdSense – we make money when people see or click (extra money) on website banner ads
Affiliate Marketing – we earn a commission if someone buys a product through a link on our website
Blue Host Affiliate –  an affiliate link for website hosting we use.
Online Surveys – we earn money from participating in online surveys like Swagbucks.
Stock Photography – we earn money whenever one of our photos sells online.
Sponsored Link – we are paid to add a link by companies we rigorously review and approve.
Interest Checking/Saving Account – we earn interest on the money in our checking and savings accounts.
Cash Back Credit Card – we earn extra money via 2% cashback from using our credit card.
Seeking Alpha – we earn recurring ad revenue from SeekingAlpha.com for some articles we wrote years ago.
Lending Club – we earn interest from peer-to-peer lending.
Dividends – we earn dividends from the stocks we own.
Monthly Expenses for September, 2020
Starting and running a blog is relatively inexpensive, but there are LOTS of tools and services out there that help you speed up the growth of your blog.
The more traffic to your blog, there is more revenue potential. So that's why we test out different products/services and share our experiences with you. You get the benefit of seeing what works and we have fun experimenting. Then as always, our extra money is invested in our portfolio here.
Here is everything we paid for last month.
Monthly Expenses – $216
Bluehost ($36) – hosting service
Sitelock ($8) – extra security add-on from Bluehost
Domain Name ($2) – so we can reserve the domain name WalletSquirrel.com.
Bloom ($7) – our creative email signup forms.
Tailwind ($14) – our super awesome Pinterest marketing tool.
Twitter ($50) – This is for a tool we're testing out.
SEMrush ($99) – This has helped us with link building and keyword research.
What's Next in October!
Now that we met last month's goals by updating our Ways To Make Money and How To Start A Blog pages, we can focus on more new content and growth.
New content, will be easy as we have some awesome ideas for some upcoming posts.
I may be a little more excited about our upcoming growth spurt. We are looking at joining a fun personal finance mastermind group, Money Mix Insiders. I've been wanting to join one for so long and collaborate with other personal finance bloggers! I joined one mastermind group 3 years ago with a wide range of entrepreneurs and it was a blast, but having more focused PF bloggers will be epic! We're thrilled to see Wallet Squirrel continue to grow!
Wallet Squirrel is a personal finance blog by best friends Andrew & Adam on how money works, building side-hustles, and the benefits of cleverly investing the profits. Featured on MSN Money, AOL Finance, and more!
https://walletsquirrel.com/wp-content/uploads/2020/10/September-2020-Wallet-Squirel-Income-Report-Infographic-1.png
1600
1600
Wallet Squirrel
https://www.walletsquirrel.com/wp-content/uploads/2015/09/Wallet-Squirrel-Logo.png
Wallet Squirrel
2020-10-06 07:30:14
2021-02-16 12:21:07
Income Report – September, 2020