I love these monthly income reports because they show a full transparency of everything we make from all our side-hustles on Wallet Squirrel. Everything we make, we invest to show that you can create an entire retirement portfolio from just extra ways to make money.
So let's start.
We Accomplished Tons in September
Andrew wrote some awesome articles
Adam also curated some awesome articles
We crushed it!
Income Report – September 2017
Every month as we continue to write articles and build our Wallet Squirrel brand, we're finding more and more opportunities to earn money. September was a great month!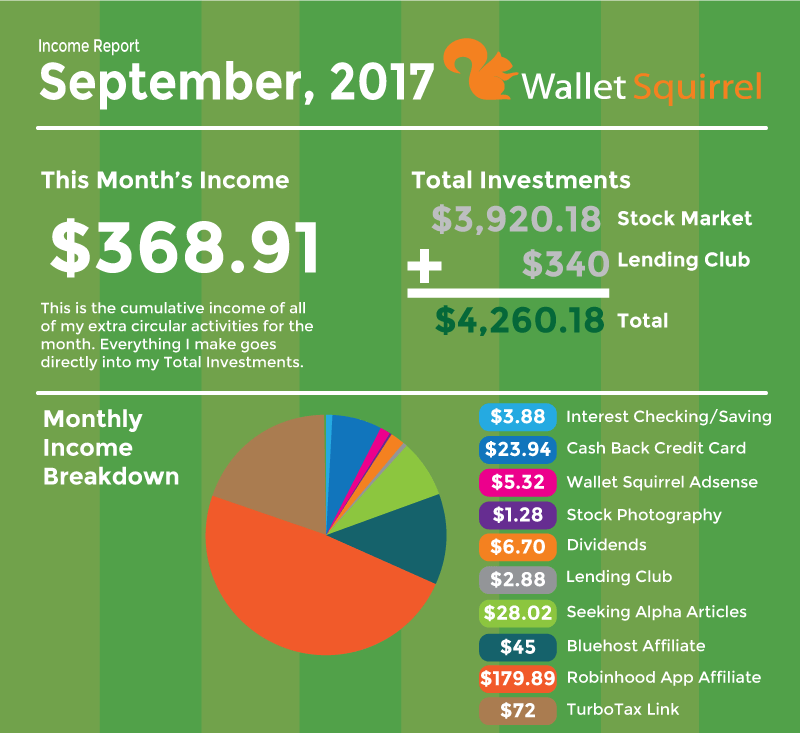 A lot of the income this month was from our Robinhood App Affiliate Program, which gives you a free share of stock when you sign up along with whoever's referral code you used. In September, 5 people used my referral code (THANKS!) and we both (referer and new sign up) were randomly selected shares of stock. Most of the stocks I random won were around $5 like Sirius XM and Groupon, but I did get one free share of Apple at $160.
Here are all the sources of income for September
$179.89 – Robinhood App Affiliate Program
$72 – TurboTax (which I use) paid to have a link in the existing Cost-Benefit Analysis article. Cool!
$45.00 – Bluehost Affiliate Income
$28.02 – Seeking Alpha Articles
$23.94 – Cashback Credit Card
$6.70 – Dividends
$5.32 – Wallet Squirrel AdSense
$3.88 – Interest Checking/Savings Account
$2.88 – Lending Club
$1.28 – Stock Photography
Where does that $368.91 go?
Since the goal of Wallet Squirrel is to create a $10,000,000 retirement account. The money I make on Wallet Squirrel is invested in my investment portfolio. This month I invested in both Verizon Communications & Cisco Systems.
Let's Talk Goals
Did I meet last month's (August) goals? –
Not Really
I was SUPPOSED to build the Ultimate Blog Post Marketing Guide. Here's the thing, I added so many details to my current marketing guide but I realized it will always be a work in progress. I am constantly adding more news networks and syndication spots, but there are ALWAYS more to add! I'm not sure when to stop. So I may hold off for a while on an ultimate guide until I feel I'm at a good spot.
October Goals
Set up a Pinterest Process! – In August, I finally learned what Pinterest was and how to use it but I haven't yet fully taken advantage of all the tools. I'm hoping to set up some pins through CoSchedule and view other people's pins and boards to learn what's successful for them. The end goal is to increase my Pinterest following, I'm currently at 24 followers.
Does anyone reading this have a successful Pinterest Board they want to share?
https://walletsquirrel.com/wp-content/uploads/2017/10/September-2017-Wallet-Squirel-Income-Report-Infographic.png
733
800
Wallet Squirrel
http://www.walletsquirrel.com/wp-content/uploads/2015/09/Wallet-Squirrel-Logo.png
Wallet Squirrel
2017-10-05 12:10:07
2017-10-04 20:05:20
Income Report - September, 2017