As we wrap up Fall, we continue to provide a transparent look at Wallet Squirrel through another monthly Income Report! These Income Reports are always a favorite because it helps us celebrate everything we've been up for the month. Plus for our readers, it's an incredible peek behind the curtain at running our website.
We reveal a lot more than other bloggers, so strap in for a real look at blogging.
What We Accomplished In October
It's funny, I actually have about 3 pages of items we accomplished in October, but many of these are unexciting little things that simply had to get done. These included testing WordPress plugins, updating URLs, etc.
Honestly, most of October was spent building links. We probably added 30+ links back to Wallet Squirrel from all high authority websites. I think these efforts helped our own recent increase in Moz Domain Authority to 36!
What Our Website Traffic Looks Like
Last month we had some huge boosts in traffic as some of our articles were picked up on MSN. That felt amazing, but I secretly prefer our slow consistent growth because it's more predictable. I'll take slow growth over volatile swings any day!
Something we recently started doing is sharing our monthly traffic here in our Income Reports. It's something I always wondered about when I was thinking about starting a blog. This also helps establish credibility because we can show there are an incredible amount of readers viewing Wallet Squirrel on a consistent basis!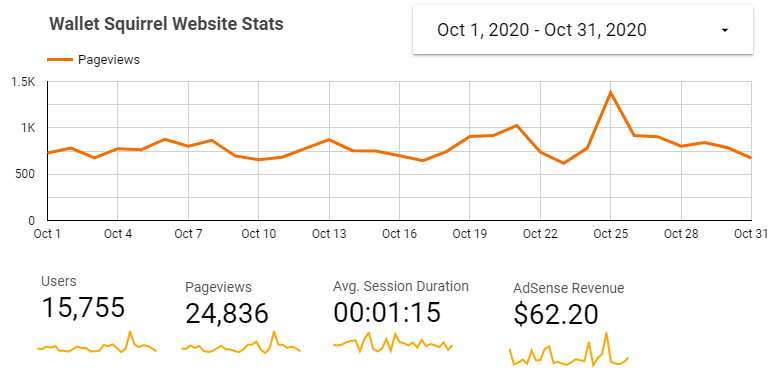 How Much Money We Made October, 2020
Last month, we did an incredibly amount of work on the blog, but usually, these efforts don't pay off till months later. So while our October Income wasn't overly impressive at $262.76. We know that this will continue in the future because of the work we're putting in now.
This amount is pretty typical with our Wallet Squirrel income lately. It's great to see any income over $200, but it's not enough to retire on. Luckily we know all our continued efforts will keep seeing this monthly income grow. Here is the breakdown!
We've written about each of these income streams in the past. Here is more information on each one of these ways to make money.
Monthly Expenses for October, 2020
Unless you run a blog, the idea of blogging and technology seems very costly. However, it's relatively cheap. Here is a breakdown of what it costs us to run WalletSquirrel.com. You'll notice that most of the costly tools are simply to help us with marketing.
Monthly Expenses – $229
Bluehost ($36) – hosting service
Sitelock ($8) – extra security add-on from Bluehost
Domain Name ($2) – so we can reserve the domain name WalletSquirrel.com.
Bloom ($7) – our creative email signup forms.
Tailwind ($14) – our super awesome Pinterest marketing tool.
Twitter ($50) – This is for a tool we're testing out.
Money Mix Insiders ($110) – Great mastermind group for finance bloggers
Blog Engage ($2) – This helped us create a lot of high-quality backlinks.
It's great to see that our income regularly covers all our expenses for Wallet Squirrel. Any additional money is added to our investment portfolio to prove you can create an entire retirement plan from trying side-hustles.
What's Next In November!
We've continued to fly at warp speed building the Wallet Squirrel brand lately. October was primarily spent building links back to Wallet Squirrel, and setting up processes to help grow the blog.
I think November will be more about creating great content. I've always been of the philosophy that each blog posts should take 20% of my time writing the content, and 80% marketing it. Yet lately I've been spending 99% of my time marketing. Now it's time to bunker down and finish some of the awesome articles I've started!
Wallet Squirrel is a personal finance blog by best friends Andrew & Adam on how money works, building side-hustles, and the benefits of cleverly investing the profits. Featured on MSN Money, AOL Finance, and more!
https://walletsquirrel.com/wp-content/uploads/2020/11/October-2020-Wallet-Squirel-Income-Report-Infographic.png
1600
1600
Wallet Squirrel
https://www.walletsquirrel.com/wp-content/uploads/2015/09/Wallet-Squirrel-Logo.png
Wallet Squirrel
2020-11-03 07:11:07
2021-02-16 12:21:06
Income Report – October, 2020