Wahoo, I get both Halloween this week as well as writing my October Income Report. This income report shows a full transparency of everything I made this month from all the side-hustles on Wallet Squirrel. Everything we make, we invest to show that you can create an entire retirement portfolio from just extra ways to earn money.
What We Accomplished in October
Andrew wrote some sweet articles
The Perfect Blog Post Image Size to help you share your blog post on social media. We never had a consistent image size for Wallet Squirrel posts, so this article helped create some consistency for a future post. If you see our homepage or social media posts, you'll see it turned out well.
After hearing about a new stock on Motley Fool, I did some research and checked out Brookfield Infrastructure Partners (BIP) to see what they did and analyze their stock for future consideration in my portfolio.
Does anyone else get anxious about tipping and judging people based on how well they serve you? I wrote "I Hate Tipping, It Ruins my Budget and Anxiety" because I totally do. I now pay wait staff 20% regardless of the service so I don't feel like a dick for under-tipping or over tip and break my wallet.
Adam also wrote some great articles
He checked out our favorite income bloggers on the web and created the September Income Report Round Up of how much our favorite bloggers made in the month of September
Adam frustrated with bad spending habits wrote: "9 Bad Spending Habits that are Killing Your Budget". I'll admit I used to be victim to some of these, what about you?
Since Amazon is looking for new cities around the US to host their new Amazon headquarters, Adam took a look at Denver as a possibility and how that would affect our cities economy and housing market.
Any favorites?
Income Report – October 2017
We had such a great month last month, so I knew we couldn't keep it up, but I was still surprised we did so well. We brought in $171.10 in October which is WAY better than our old average of $60 and it wasn't from any one source. It was a combination of all our different revenue streams that continue to grow. That's REALLY exciting.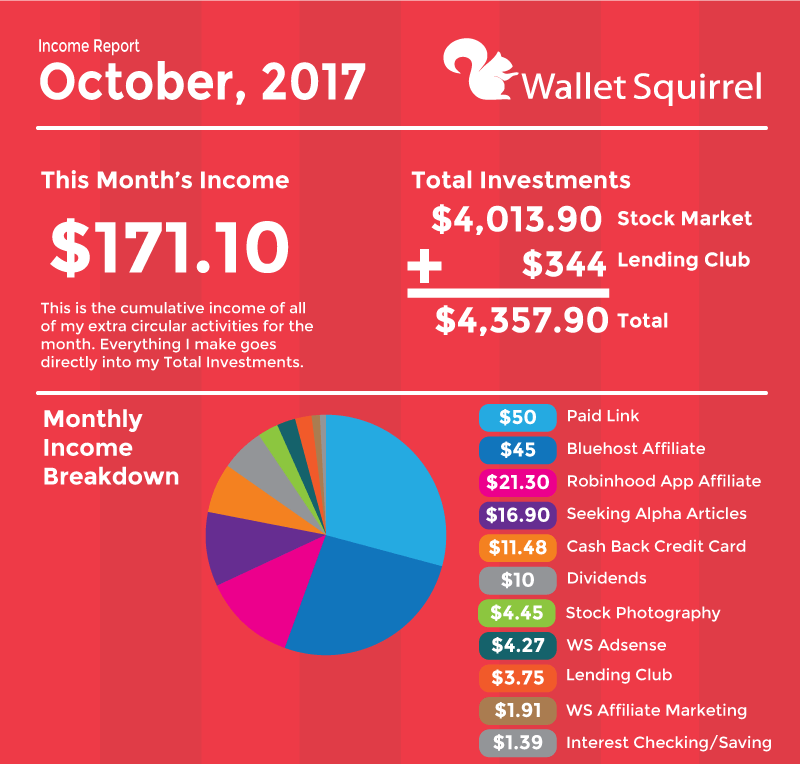 These are all great income sources, but nothing really sticks out as the major money maker. Since all of these are balancing out, maybe it's time for me to start looking into creating another affiliate marketing website and track its progress on Wallet Squirrel. What do you think?
Here are the sources of income for October.
$50 – Paid link, someone paid me to add a link to an old article. It worked well.
$45.00 – Bluehost Affiliate Income
$21.30 – Robinhood App Affiliate Program
$16.90 – Seeking Alpha Articles
$11.48 – Cashback Credit Card
$10.00 – Dividends
$4.45 – Stock Photography
$4.27 – Wallet Squirrel AdSense
$3.75 – Lending Club
$1.91 – Wallet Squirrel Affiliate Marketing
$1.39 – Interest Checking/Savings Account
Where does that $171.10 go?
A majority of that $171.10 goes toward building a $10 million dollar retirement portfolio of dividend stocks. A few of those dollars are spent to pay for our website services and website goals. Since most of it goes to my retirement portfolio though, I used it to buy more stocks, specifically more positions in Cisco Systems (CSCO) and Realty Income (O).  Wahoo!
Let's Talk Goals
Did I meet last month's (October) goals? – Kinda
I was supposed to set up a Pinterest Process, but I think I just created a process on CoSchedule for my Pinterest Boards along with joined a few other boards on Pinterest and Facebook Pinterest Groups. Yes that's apparently a thing and they are SUPER friendly, try it!
November Goals
It's a secret, I will share later this month!!!! =)
Wallet Squirrel is a personal finance blog by best friends Andrew & Adam on how money works, building side-hustles, and the benefits of cleverly investing the profits. Featured on MSN Money, AOL Finance, and more!
https://walletsquirrel.com/wp-content/uploads/2017/11/October-2017-Wallet-Squirel-Income-Report-Infographic.png
764
800
Wallet Squirrel
https://www.walletsquirrel.com/wp-content/uploads/2015/09/Wallet-Squirrel-Logo.png
Wallet Squirrel
2017-11-02 12:42:18
2017-11-02 12:51:22
Income Report – October, 2017