We're thankful for this blog and everything we have accomplished in 2020!
We'll start with that, and dive into our favorite monthly posts, Income Reports! These are a chance for us to be transparent about the income we make from blogging as well as recap over everything we do as cool bloggers!
What We Accomplished in November
Adam created some epic plans to build a basement climbing wall for the kids. Hopefully, we'll see photos on social media in the future!
We a fully plugged into the Money Mix Insiders mastermind group for finance bloggers. It's a great group and we continue to learn more about blogging!
We created our first press release for Wallet Squirrel in time for the holidays. It built some great backlinks. That was exciting!
We did a guest post for the huge blog "Your Money Geek" about high dividend stocks.
Wrote a great post on "How Does Bail Work and Do You Get Bail Money Back".
Got a 92 out of 100 (that's fast) from google for site speed. Google likes fast blogs. Check your site speed here.
Other miscellaneous stuff includes updating plugins, wrote guest posts not published yet, creating backlinks, creating new Pinterest templates, and more!
What Our Website Traffic Looks Like
We continue to share our actual blog traffic. Hardly any other bloggers do this, but we want you to see a real example of a growing blog.
November was a great month because it was continuous traffic. That's honestly most of our months here at Wallet Squirrel with slow steady growth. We're super happy with that.
How Much Money We Made in November
It's crazy we had another $500+ month. It's a great "heck yeah!" that all our efforts continue to help build our traffic, our blog income, our side hustles, and more.
Especially when you consider that we do all this extra work in addition to our actual jobs. Meaning we do our normal 8-5 job, then continue working to build this blog. Many long nights and weekends building a brand the internet is accepting as an authority on personal finance. A brand that has made $511.42 in November!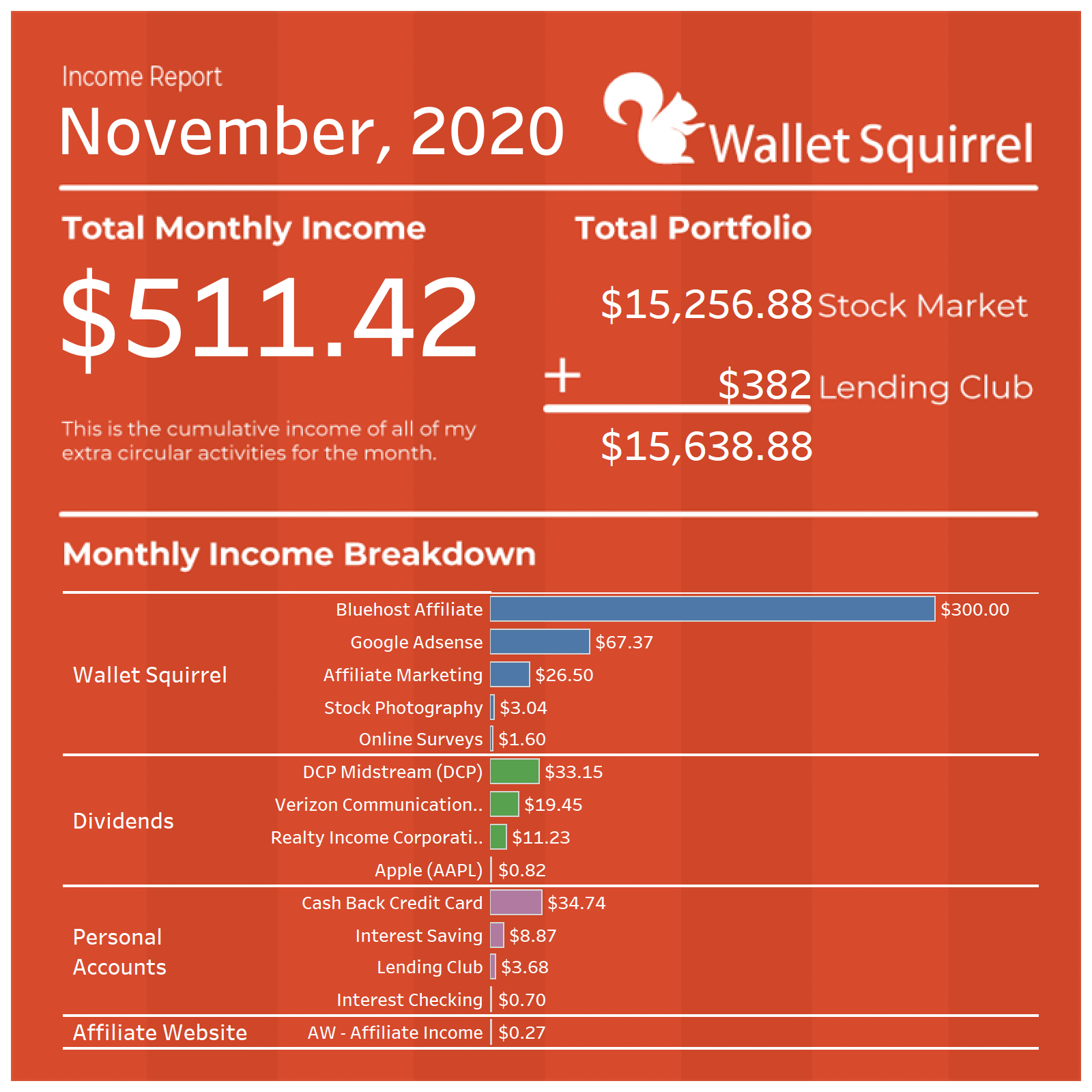 We have an extensive section on ways to make money where we've written in-depth about everything we try, but here are the highlights from income we made in November.
Monthly Expenses for November
Starting a blog is actually really cheap. The costs only start to build when you begin to pay for marketing services to help grow your blog. As we earn more money from blogging, we spend more money on marketing services to help us further grow.
Here is what it costs to run Wallet Squirrel this month. Our biggest cost was our membership to the mastermind group Money Mix Insiders, but it's worth it. We learn about new link opportunities, free press releases you can try, and a wealth of knowledge from other experienced bloggers sharing lessons learned.
Monthly Expenses – $235
Bluehost ($36) – hosting service
Sitelock ($8) – extra security add-on from Bluehost
Domain Name ($2) – so we can reserve the domain name WalletSquirrel.com.
Bloom ($7) – our creative email signup forms.
Tailwind ($14) – our super awesome Pinterest marketing tool.
Money Mix Insiders ($166) – Great mastermind group for finance bloggers + Moz Membership
We continue to make more blogging than our overall costs. Anything extra we put away in our investment portfolio we share with all of you. You literally get to see the entire money process from how we make money to how it's invested. We hope you enjoy the transparency on Wallet Squirrel!
What's Next In December
Wow, it's weird to type December. This year has been insane, but it still feels odd to say that it's nearly over.
In December we're hoping to do LOTS more guest posts. So let us know if you want a free guest post or do an interview series. We're game!
Wallet Squirrel is a personal finance blog by best friends Andrew & Adam on how money works, building side-hustles, and the benefits of cleverly investing the profits. Featured on MSN Money, AOL Finance, and more!
https://walletsquirrel.com/wp-content/uploads/2020/12/November-2020-Wallet-Squirel-Income-Report-Infographic-1.png
1600
1600
Wallet Squirrel
https://www.walletsquirrel.com/wp-content/uploads/2015/09/Wallet-Squirrel-Logo.png
Wallet Squirrel
2020-12-01 07:30:13
2021-02-16 12:21:04
Income Report – November, 2020