May was a great month, and I'll explain why in a bit but first let's refresh why we share these income reports.
Here on Wallet Squirrel, we talk about building multiple streams of income. We're transparent with what we make and how we make it.
Our goal is to build a blueprint for people to generate their own additional income streams (if you want). We do this for fun and enjoy the additional income they bring.
We've been sharing these income reports the last 5 years and we continue to so because it's a blast!
What's Been New On Wallet Squirrel Last Month?
We've been up to SO much in May, it's honestly nuts. Like someone gave drugs to a blogger, busy. Lots of cool things to share!
On the backend, if you've ever wanted to be a blogger (if you want to blog) here is what it's like.
We updated our Google AdSense ads to make them responsive (fit different screen types better).
We transitioned our affiliate links to Amazon Affiliate links rather than Viglink. (more to come on that)
Updated our "Top Posts" on the sidebar
Created a template for upcoming Wallet Squirrel Instagram posts
Sent a couple of emails to potential sponsors (hopefully that works out)
Signed up for HARO (Help A Reporter Out) to get some Wallet Squirrel Press, maybe…
Updated our Homepage look. It's REALLY cool!
We joined a couple of Influencer Networks. We're writing an article about this later.
Set up a Media Kit (email us if you want to know what that looks like)
On the frontend, we have added some awesome posts!
StepBet Review: How I Tried StepBet for 6 Weeks & Won Money – This was a crazy long experiment where I was walking around my apartment for 6 weeks to get my steps in. However, I won the challenge on the app and actually won money for being active! I was super impressed with the app and share lots of screenshots of how much I made and how it works.
I Bought 85 Shares of DCP With The Recent Oil Crash and Made $500 – It was a fun dividend purchase when both the coronavirus and oil was at an all-time low. I spent around $200 on 85 shares at $2.50 per share and now those shares are worth around $935. Pretty cool, but I really just enjoy the dividends!
May 2020 Income Report
The coolest part about May is that it was the highest Dividend Payment I ever received and since my future income relies on those dividend payments, I really love as they increase. A big part of this was those additional 85 shares of DCP I bought.
Here is the full income report with all our various streams of income.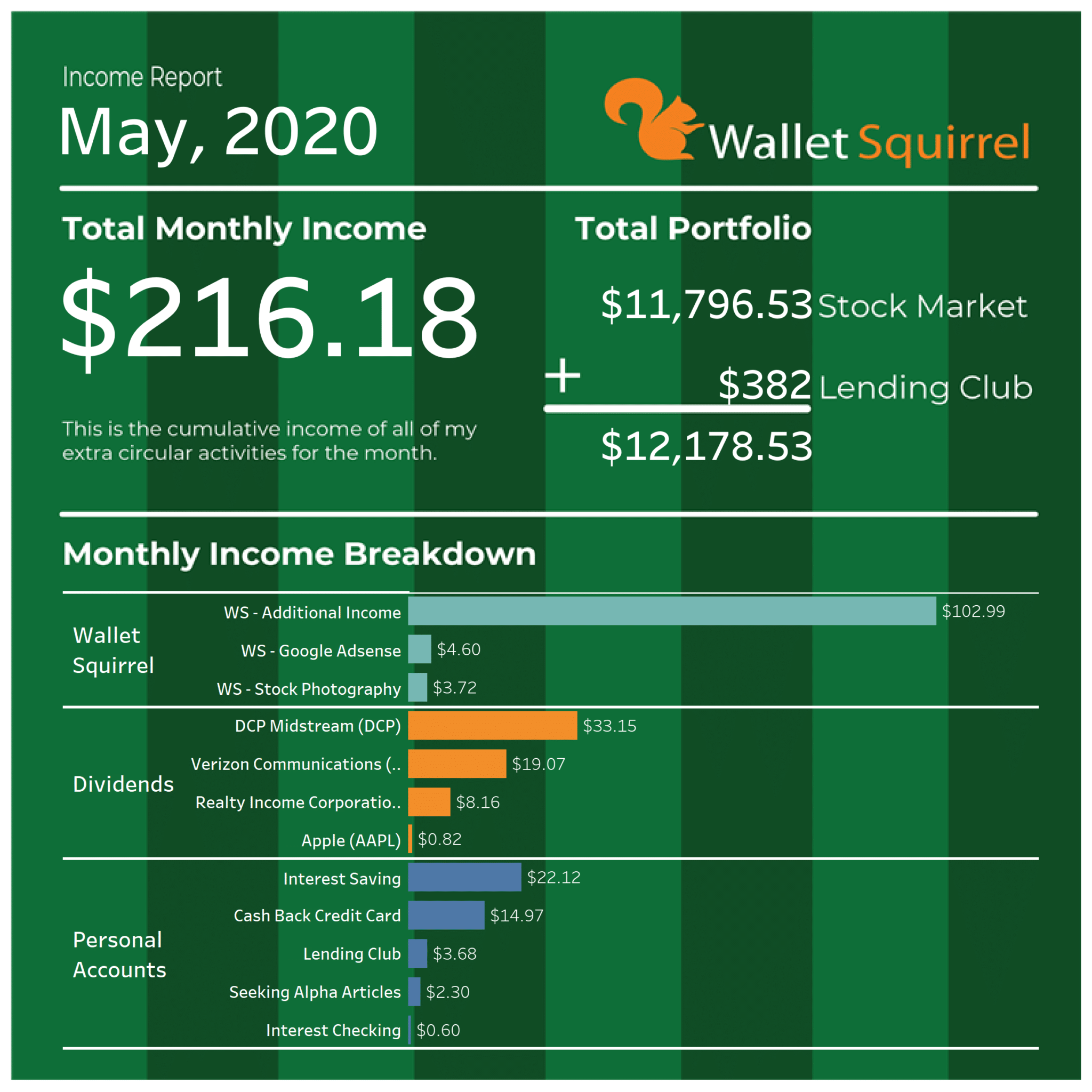 If you are curious about any of income streams, here is where we've written about them before:
Google AdSense (article coming next month)
Affiliate Marketing (earn a commission if someone buys a product through a link on your website)
Blue Host Affiliate (website hosting we use, if people use our link we earn a commission)
Stock Photography – We make money whenever one of our photos sells online.
StepBet – We made money being active. See the recent article
Sponsored Link – A trading platform paid for a link in a past blog post. It made sense because they are pretty cool.
Interest Checking/Saving Account – Making extra money from the money already in my bank account.
Cash Back Credit Card – I use my credit card all the time (responsibly) and make an average $25 back a month!
Seeking Alpha – I wrote a couple of articles for Seeking Alpha 2 years ago and continue to make money for each page view
Lending Club – A Peer-To-Peer Lending Company. I invested in loans and make interest back monthly.
Dividends – All the money we make on Wallet Squirrel, I invest in dividend stocks. These continue to residual income every month and at some point will fund my retirement if I keep building this up!
Where our money goes
It super great to earn money, but there are a lot of things we have to pay for in order to manage WalletSquirrel.com. Here are what those expenses look like. Honestly, it's not a lot of money to manage a blog.
Monthly Expenses – $83 Total = Bluehost[$36], Sitelock [$8], Domain [$2], Bloom [$7], Tailwind [$14]
Any additional income goes toward investing in those dividend stocks. It's like the circle of life but in reality the circle of investing. We make money through these money experiments and that money goes directly to our investment funds to make more money with dividends!
What's Next For June
June is going to be another big month! We're doing lots of outreach via emails and some awesome social media outreach coming up.
In fact, that's a big reason we updated our homepage (feel to tell us how great it is in the comments below). We wanted to make sure with our new outreach efforts, that when people visit our website, they would instantly know what we do and what we're about.
It's going to be a great month! I'm not sure where all this crazy blogging energy is coming from, but it's going to be fun in June!
Wallet Squirrel is a personal finance blog by best friends Andrew & Adam on how money works, building side-hustles, and the benefits of cleverly investing the profits. Featured on MSN Money, AOL Finance, and more!
https://walletsquirrel.com/wp-content/uploads/2020/06/May-2020-Wallet-Squirel-Income-Report-Infographic.png
2048
2048
Wallet Squirrel
https://www.walletsquirrel.com/wp-content/uploads/2015/09/Wallet-Squirrel-Logo.png
Wallet Squirrel
2020-06-02 07:00:21
2021-02-16 12:21:14
Income Report – May, 2020