What are these Income Reports?
Wallet Squirrel is the embodiment of my financial independence journey (it's really Adam and myself). So monthly, I publish these income reports to show what we did this last month, how we're doing and what we do with that money (we invest it). Our goal is to prove it's possible to make extra money on top of your full-time job for retirement. We're proving this by building a $10M portfolio just from the money we make side hustling.
June Highlights
June was another big month of content and not just because I had lots of time to write while my girlfriend was on vacation. lol. Here are some of the highlights in June.
(New Series) Monthly Income Roundup: Adam has started a new series featuring the income reports of dividend investors and income bloggers to help identify other bloggers making money in different ways. This is a great new series he'll continue to report how much other bloggers are making.
(New Post) Are You Considering an MBA? Answer these 2 Questions First: This is an article that outlined why I didn't get my MBA and if you're considering getting one, it's a definite read.
(New Way To Make Money) Try Getting Paid Writing for Seeking Alpha: I got my first article published on Seeking Alpha, which is a financial analysis website. I shared how I got my article published, how much I made and how it's a great way to earn $35 per article and $0.01 cent for every page view which do add up.
Income Report – June, 2017
Six months now after Adam and I have gone full throttle on Wallet Squirrel, writing articles twice a week and marketing the website. We had our highest month yet. Last month's May Income Report was only $80.48.
Paid Review: It's always a nice feeling when someone reaches out to you because they like your website. In this case AppMatch asked if we could do a review of their new app. Which I was excited about because the couple app reviews, we did for free, were really successful on Wallet Squirrel. If you recall, these were the Achievemint App and Robinhood App. So I accepted their offer of $200 to a review as long as I could be HONEST. It's definitely not a fluff piece if you want to check it out. I had some tough critiques of their product, but overall it's a fun BuzzFeed like Quiz App.
PS. I went through PayPal and that $200 quickly became $193.90 because of PayPal fees. SCREW YOU PayPal!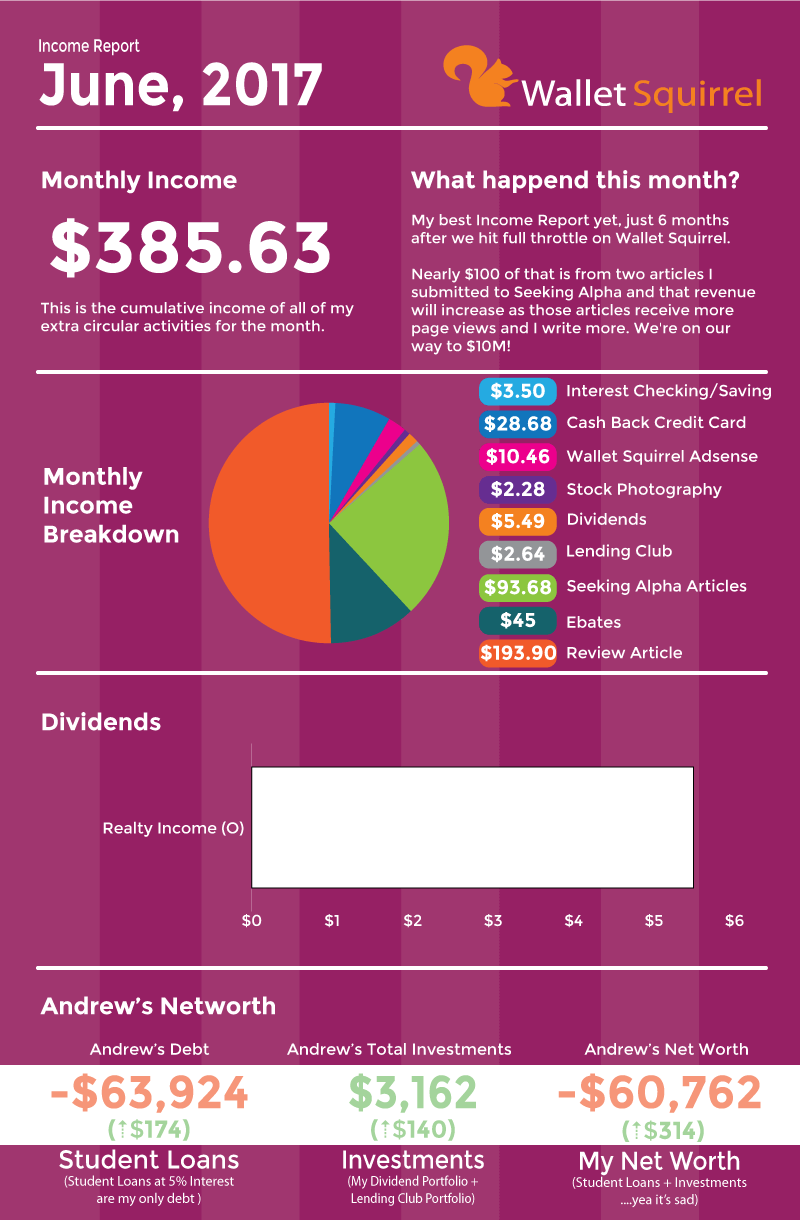 Where Did I Invest This Month?
I earn side hustle income monthly, but where does it go?
I continued to Dollar Cost Average this month, investing a regular amount into the stocks Verizon and Realty Income on the dip. Both of these stocks keep getting hit, resulting in a lower share price. I know these both will come back so I'm buying low and holding them for their dividend.
July Goals for Wallet Squirrel
Did I meet last month's (June's) goals? –
YES
Update the About Me Page –

YES!

– Our About Page is updated with a fun comic graphic up top, explanation of Wallet Squirrel and now includes biographies on both Adam and Myself. I figured it was time to start including Adam in the About page. I finished this at midnight of June 29th. =)
Write 2 Articles for Money –

YES!

– This was an ambitious goal because if you've never got paid for writing (I haven't) it's difficult to know who will pay you, how much and how the entire process goes. I ended up trying out Seeking Alpha and wrote about my first experience in "How I published my first article in Seeking Alpha and got paid". Then after that was a success, I did it again! I wrote another article in 3 hours and it was published the next day. Both of those contributed to a nice income boost ($93.68) for Wallet Squirrel.
July Goals
Build a Social Media Calendar: Our social media is doing better and better, mainly because Adam and I use it to create conversations and help other people with questions. I'm hoping use CoSchedule, Buffer or Meet Edgar to help me manage our social media. Any you use?
How did your month go?
https://walletsquirrel.com/wp-content/uploads/2017/07/June-2017-Dividend-Monthly-Income-Report-Infographic.png
1220
800
Wallet Squirrel
https://www.walletsquirrel.com/wp-content/uploads/2015/09/Wallet-Squirrel-Logo.png
Wallet Squirrel
2017-07-06 13:00:13
2017-09-15 21:53:46
Income Report - June, 2017