Every month I enjoy sharing these income reports because it provides transparency and accountability to what I'm doing on Wallet Squirrel. Plus it's a great reason for me to assess everything I make and where that money goes.
Wallet Squirrel is going through a change
Sadly, my best friend Adam who has been an awesome contributor to Wallet Squirrel has had to refocus efforts on his family and career so he is taking a break from the blog.
It's tough because so many of you have come to expect articles every Monday and Thursday. I've read it in the comments and seen our web analytics jump on these days. To be honest, it makes me so happy when people realize we've mixed it up because you're paying attention to what we do here on Wallet Squirrel!
So it's back to me, Andrew, to take over Wallet Squirrel. I've learned so much and continue to plan to implement everything I've learned. However, it's just me so I'm trying to figure out what the best publishing schedule is (maybe every Monday?) and make it work with my schedule and you, the audience.
One thing is always certain, I will ALWAYS publish these income reports. These are my favorite and I love them!
Income Report – July, 2018
It was a big month for Wallet Squirrel. I had my best month yet and this marks the first time my income from Wallet Squirrel broke $500! I knew it was possible, but it's been a long road to get here. It's still hard to think about when I write this, but here it is!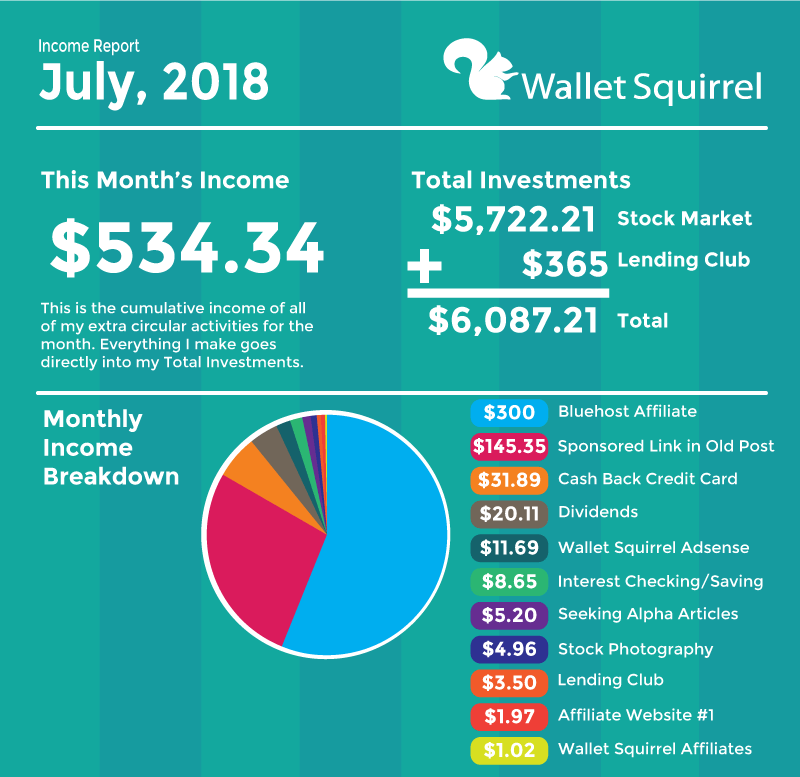 How cool is that! This breakdown is as follows, making my Bluehost affiliate the largest income this month.
Sources of Income This Month – $534.34
$300 – Bluehost Affiliate Income
$145.35 – Sponsored Link in Old Post
$31.89 – Cashback Credit Card
$20.11 – Dividends
$11.69 – Wallet Squirrel AdSense
$8.65 – Interest Checking/Savings Account
$5.20 – Seeking Alpha Articles
$4.96 – Stock Photography
$3.50 – Lending Club
$1.97 – Epic Niche Site Affiliate Marketing
$1.02 – Wallet Squirrel Affiliate Marketing
Where does this money go every month?
Every month I spend money on maintaining the website and marketing tools. Last month I spent roughly $100 on everything to maintain the site. Plus I bought 2 shares of stock for my dividend portfolio. One share of Microsoft at $108.64, yes I know it was high (ugh) and one share of Iron Mountain Realty at $34.84. These will slowly add to my list of dividends I receive every month. Wahoo!
What's Next!
In addition to me getting used to run Wallet Squirrel on my own again. I have an idea for a start-up, I'll share more details in upcoming posts, but I'm currently creating a business plan for this start-up so I can think through it fully and understand all the details before I jump into it or not.
PS. Writing a business plan tough work, lol.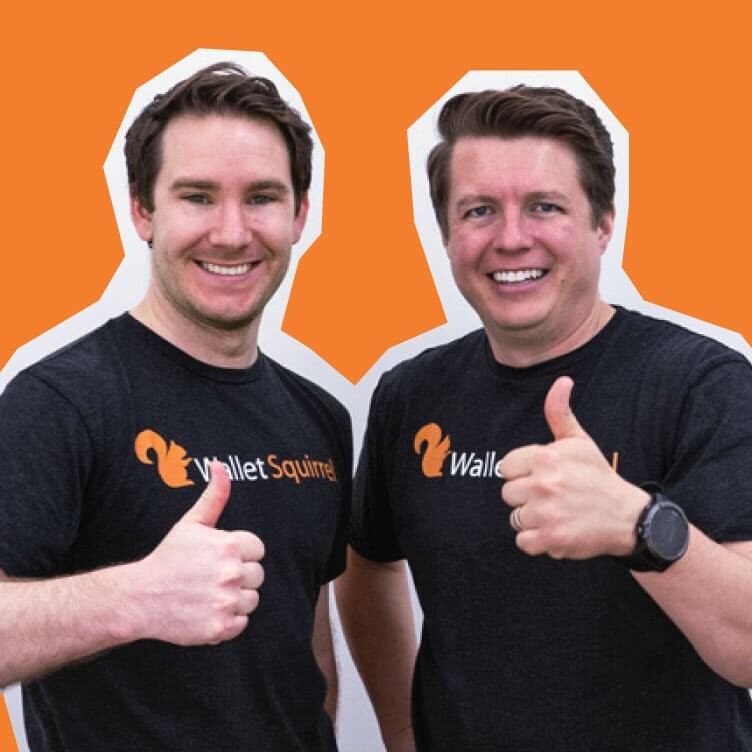 Wallet Squirrel is a personal finance blog by best friends Andrew & Adam on how money works, building side-hustles, and the benefits of cleverly investing the profits. Featured on MSN Money, AOL Finance, and more!