Wrapping up July means I get to publish my monthly income report! These are some of the most exciting posts for me to write.
It's exciting because I publish these monthly income reports to show that it is possible to earn extra money (new ways every month), so you can start saving up for retirement. You should totally try some of these! This is how much I've made so far.
Income Report – July, 2017
I started off this month taking a bit of a vacation. You see, Adam and I (plus our significant others) went to visit our buddy, Tristian, in Maine for the first week in July. It was awesome but it was tough to take a break from Wallet Squirrel.
Then again how can you work when you're having this much fun.
Our main July highlights were:
How much did we make in July?
These are technically my income reports, but some of the income streams we share like the affiliate sales and AdSense revenue. So here is my income report for July, just duplicate it for Adams.
I changed the infographic up a bit, focusing more on the income and investments. Not so much the other stuff. It's still a work in progress. =)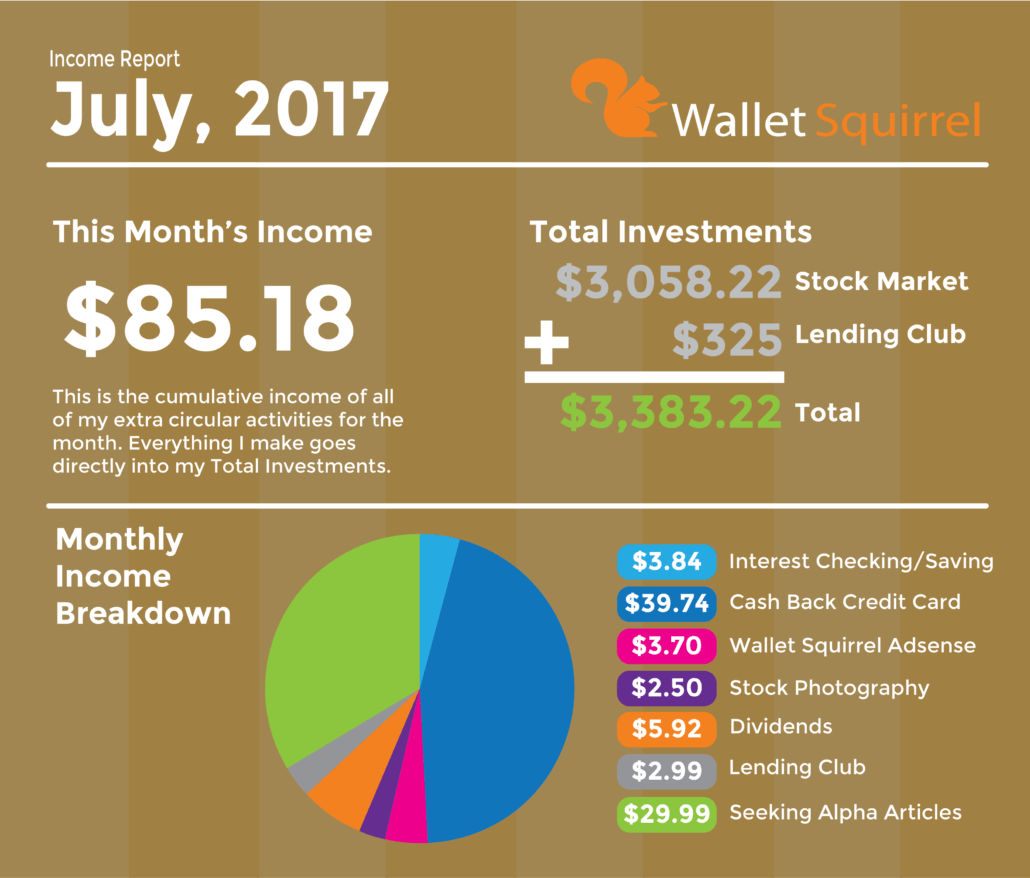 A lot of my side income this month was through my cash back credit because I spent more money than I'd like in Maine. I'm constantly striving to be frugal, it just doesn't always happen. Here is the break down in order of revenue.
$39.74 – Cashback Credit Card
$29.49 – Seeking Alpha Articles
$5.92 – Dividends
$3.84 – Interest Checking/Savings Account
$3.70 – Wallet Squirrel AdSense
$2.99 – Lending Club
$2.50 – Stock Photography
The biggest surprise was that I was still making money with my Seeking Alpha articles. I've only written two articles so far and they pay a base fee of $35 per article when I wrote them, but it adds $0.01 per view afterward. So in August, I didn't write any new articles, but I received 2,949 views on my previous articles or $29.49 in revenue.
Have you tried any of these to make money?
Where did I invest this month?
As always, I add my extra income every month to my investment portfolio.
This month I invested more into Verizon and Realty Income. I'm glad I picked up a few more shares of Verizon at $43 because it's back up to $48 now. Wahoo! I will start diversifying into some other stocks soon here.
August Goals for Wallet Squirrel
Did I meet last month's (July's) goals? –
Yes
I finally built a social media calendar! Our social media game is now on point and we've already seen a nice uptick in social media traffic to Wallet Squirrel since I started using CoSchedule. If you're not using a social media calendar, it helps SO MUCH! It's great to keep track of everything you're sending out and web traffic you're generating for your website.
August Goals
I really want to learn Pinterest – I'm familiar with nearly all the social media platforms, but Pinterest is still a bit of a mystery to me. I see it being successful for so many other bloggers, so I want to really dive into it this month. I'm hoping to create some awesome graphics and learn how to promote them on this social media platform. Any tips?
https://walletsquirrel.com/wp-content/uploads/2017/08/July-2017-Wallet-Squirel-Income-Report-Infographic-2.png
2842
3333
Wallet Squirrel
https://www.walletsquirrel.com/wp-content/uploads/2015/09/Wallet-Squirrel-Logo.png
Wallet Squirrel
2017-08-03 13:00:28
2017-09-15 22:15:43
Income Report - July, 2017