With school coming up, that means September is starting and August is over. So I tallied up my August income and excited to share what I made.
It's exciting because I publish these monthly income reports to show that it is possible to earn extra money (new ways every month), so you can start saving up for retirement. You should totally try some of these! This is how much I've made so far.
What we accomplished in August!
• Adam reviewed the Ibotta App, I guess he was pleasantly surprised.
• Adam listed the income reports of our favorite bloggers in the July Income Report Round Up.
• Adam created a list of 14 True Passive Income Ideas You Should Know About. A couple of these are on this income report.
• Adam threw a party and shared with his friends (like me) some awesome backyard games, he made himself. Here's how he did it.
• Andrew tried out Domain Flipping, seeing how people make money by buying domain names and selling them for a profit.
• Andrew analyzed the Cisco Systems (CSCO) and bought a couple shares.
• Andrew shared how to monetize a blog with affiliate marketing, it's fairly simple and this is how Adam and I monetize all our blogs.
Income Report – August, 2017
Check out the infographic on where the August income came from.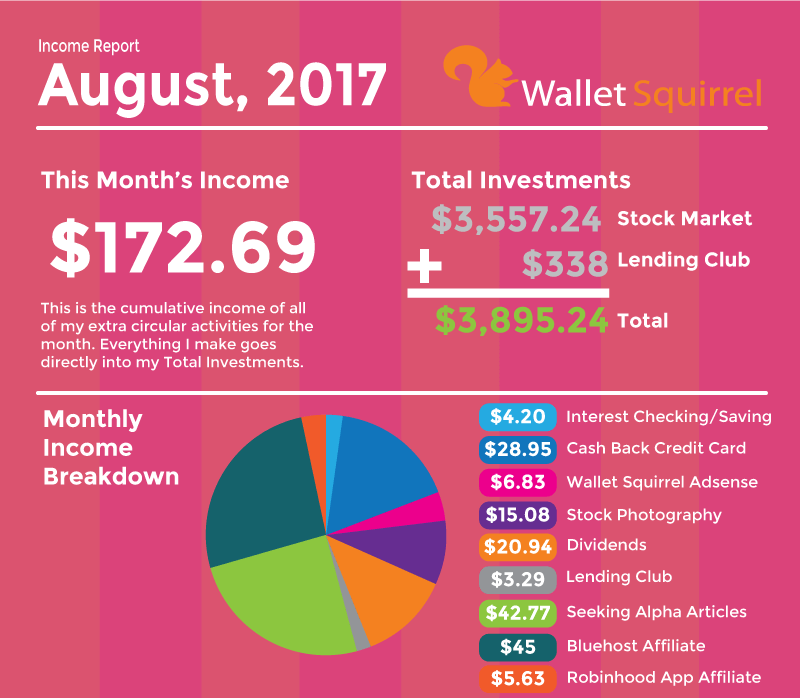 A majority of the income this month came from our ONE Bluehost Affiliate sale. Wahoo! Apparently, people are finding the How to Start A Blog post helpful. Here are the other sources of income this month.
$45.00 – Bluehost Affiliate Income
$42.77 – Seeking Alpha Articles
$28.95 – Cashback Credit Card
$20.94 – Dividends
$15.08 – Stock Photography
$6.83 – Wallet Squirrel AdSense
$5.63 – Robinhood App Referral
$4.20 – Interest Checking/Savings Account
$3.29 – Lending Club
It's pretty awesome that all these forms of income combined make up $172.69 for the month of August. That's my largest income yet without a sponsored post. Yay!
Where does that money go?
Since our goal is to create a $10,000,000 retirement account. The money I make on Wallet Squirrel goes toward that goal. So last month, I invested my extra money into Cisco Systems. I bought 12 shares at $31.54.
Let's Talk Goals
Did I meet last month's (August) goals? –
Yes
I Learned Pinterest! – This is one of the large social media networks that I didn't know much about. I spent an entire weekend researching and reading Pinterest Guides. I've now started formatting blog post images both horizontally and now vertically for Pinterest.
September Goals
Build the Ultimate Blog Post Marketing Guide! – I'm currently updating our "How To Start A Blog" post and plan to market it heavily. Both because it's going to have a cool infographic and the Bluehost Affiliate link has the most potential for income.
https://walletsquirrel.com/wp-content/uploads/2017/09/August-2017-Wallet-Squirel-Income-Report-Infographic-1.png
698
800
Wallet Squirrel
http://www.walletsquirrel.com/wp-content/uploads/2015/09/Wallet-Squirrel-Logo.png
Wallet Squirrel
2017-09-07 12:55:00
2017-09-14 17:42:28
Income Report - August, 2017