DIY Backyard Games – Know How You Can Save Money on Fun!
Recently, I had the experience to try to purchase some backyard games for an upcoming party in celebration of our new backyard.
You are probably asking yourself, "Why a party for your backyard?"
Well, a few months ago my wife and I (with the help of friends) redid our back yard. The remodel consisted of us completely clearing out the backyard to a blank slate then putting in a sprinkler system, garden, planter beds, and seeding. Yay!
Read about our home remodel savings here.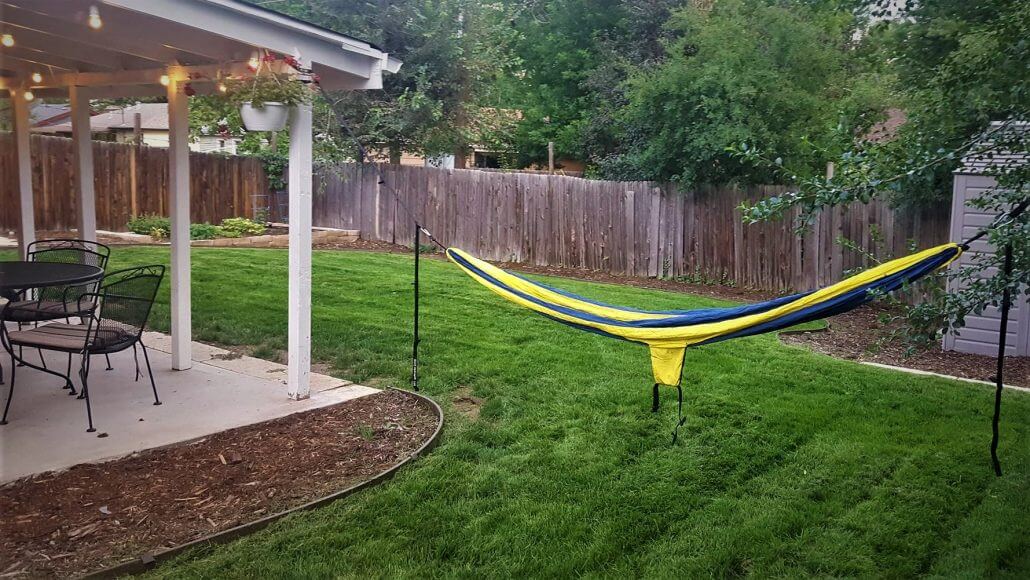 Now that the seed has sprouted to create a fairly lush lawn, we wanted to host a party in celebration. Kinda, like a house warming party. I know, I am weird.
Anyways, we decided that we needed some backyard games for the party. My wife wanted bags (or cornhole, I hate that name). I wanted Spikeball.
Why is everything so expensive!?!?
When looking to purchase, I couldn't believe how expensive these game sets are. For bags, the finished product was $200 or more! Spikeball was $60 itself.
I even looked at other backyard games to see if something was cheaper. Nope. All were super expensive!
I thought to myself, there has to be a better way!
Buying off Brand
So, my journey started off by looking for a cheaper version of Spikeball. I knew I could not make this game on more own based on the custom net and the balls that you needed to play the game.
My thought was to maybe look for a knockoff brand. Usually, I am very skeptical and picky buying an off brand because I have been burned way too many times. Most of the time you save $10 bucks but the item only lasts a fraction of the time.
I decided to see what I could find. As always, I started off on Amazon. I like to start there because most items have so many helpful reviews. You can easily check if the item is going to last or not by the user reviews.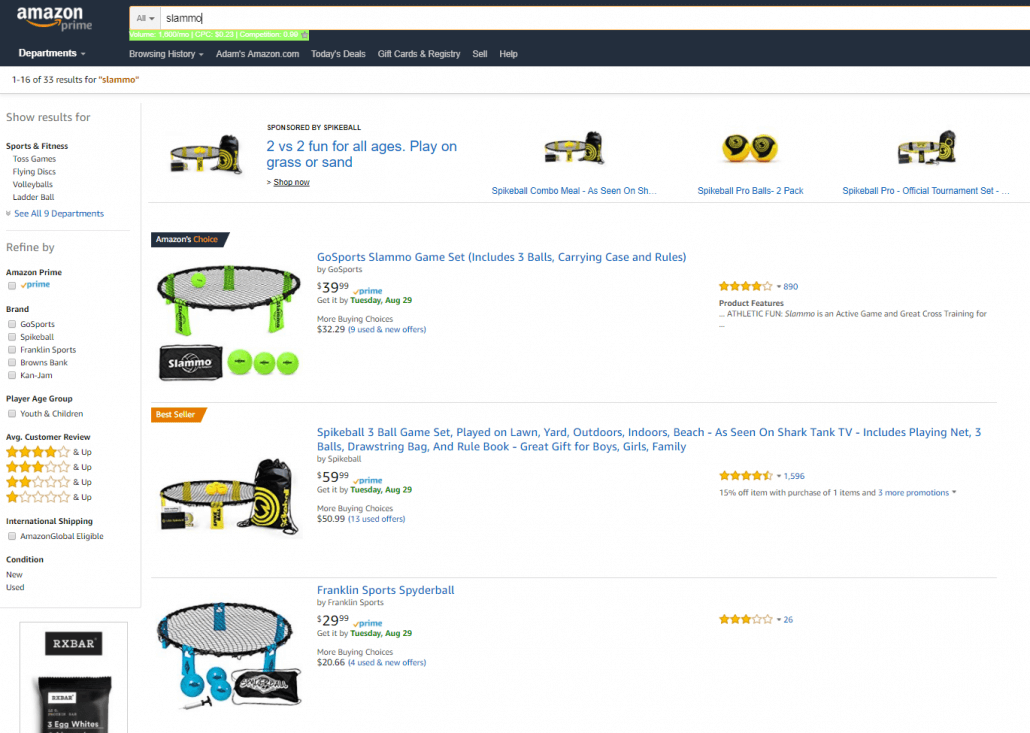 Luckily for me, it did not take long to find Slammo.
Its reviews were awesome. But just to be sure. I went to Google and looked up Slammo reviews. Sure enough, all came back with positive ratings! So I ordered Slammo instead.
What was the damage? Well, remember that Spikeball was $60 for the net, frame, 3 balls, and carrying case. Slammo is $40 for the net, frame, carrying case, 2 regulation balls, and a training ball. Plus, I saved an extra $3 using the Honey app on Amazon.
So far we have been very happy with the purchase. It just shows you that a little research and trust in a different brand can really save you some money.
DIY – Making your own
The next item to tackle was finding a bags set on the cheap. Like before, I checked out Amazon first. I was able to find cheaper sets but they looked like they were made for Oompa Loompas. The materials and the sizing were all off!
So, I thought to myself that I could make my own DIY backyard game bags set. I started by looking at the ACA website (yes, there is a professional cornhole association) for the regulation specs on how the boards should be made. From here, I put together a shopping list which was actually fairly short.
4 – 8 foot long 2×4's
2 – pre-cut 2′ x 4′ plywood or any other piece of sheet wood (I used birch)
4 – 3 1/2 inch carriage bolts
4 – carriage bolt wing nuts
Wood Screws
Other items include paint or vinyl stickers
Next, I went to the nearest hardware store to buy all of the supplies for our new backyard game. Once home, I started measuring, sawing, cutting, and putting together the two boards (for the full instructions check here).
Oh! I forgot to mention that I did not make the bean bags myself. That would be a horrible idea! Instead, I went on Etsy and found these amazingly made Broncos bags for $30.
When everything was complete we took them out into the backyard and started playing. It was actually really easy to make the boards, only taking two hours.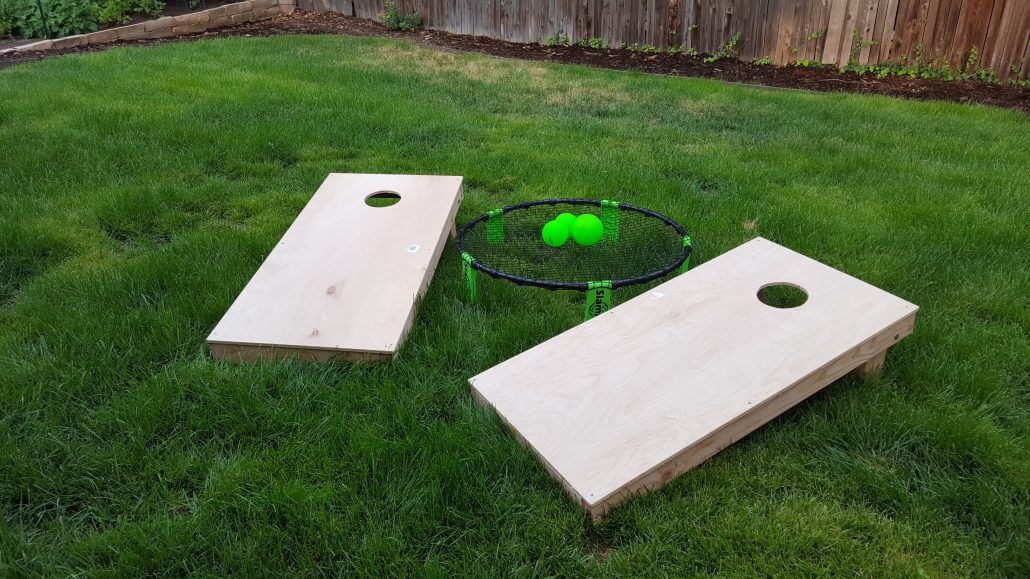 All that is left to-do is to paint the set. My wife and I are trying to decide what general design we are going to use. We do know it will be Broncos colors with a vinyl logo.
Check out this Pinterest Board. Let me know what you think is your favorite is in the comments below!
Other DIY backyard games you could build
There are so many different DIY backyard games you could build for yourself. Below you will find a list of what comes to my mind.
Ladders
Giant Jenga
Washers
Horse Shoes
Pipe Ball
For the really ambitious – a miniature golf course
Tetherball
Do you have any other backyard game ideas?
Conclusion
All in all, I feel very proud of the money we saved. It is also scary though. Why? Well, because I want to keep building more games! I think next on the to-build list will either be ladders or giant Jenga.
Between buying an off brand and building my own DIY backyard game, I will save about $120 after I get the bag boards painted. I still cannot believe how expensive they are to purchase.
What would you build first?
Cheers!
-Adam
https://walletsquirrel.com/wp-content/uploads/2017/08/backyard-games-01.png
434
844
Adam
https://www.walletsquirrel.com/wp-content/uploads/2015/09/Wallet-Squirrel-Logo.png
Adam
2017-08-28 13:00:43
2017-09-15 22:23:09
DIY Backyard Games - Know How You Can Save Money on Fun!