The team at AppMatch recently reached out to Wallet Squirrel to ask if we could do an AppMatch Review for the latest version of their app. At first, I laughed because I thought it was an app to tell you about other apps and it absolutely was. However, it was more like a StubleUpon for Apps, curating tons of apps to find those that fit your interests.
What is AppMatch
AppMatch is a site (only accessible on your smartphone's web browser) that provides a 5-minute questionnaire, using your answers to filter apps, finding the absolute best apps for you. Think of a BuzzFeed Quiz, but for apps.
AppMatch hopes to solve the difficulty of navigating millions of apps on the app stores by getting to know you and recommending apps based on your responses to their curated questionnaire.
What Happened When I Tried AppMatch
I started my AppMatch Review by going to their website from my computer. It's a simple website that has a large button "Click to Start".

After instinctively clicking "Click to Start". I was quick to find a pop-up that asked me to visit their website through my mobile browser rather than my desktop. They don't have an app, so you can only access the service through the mobile browser on your phone and don't try to search the app store for one because you'll only find dating apps like "Match".
They don't have an app, you can only access the service through the mobile browser on your phone.
Not for lack of trying. I later discovered this was because the App Store doesn't allow apps that recommend other apps in the App Store, perhaps Apple doesn't like the competition. AppMatch did submit an app, but it was rejected, like all discovery apps. That's why there are no other apps like this out there right now. Luckily web browsers on phones nowadays are just as powerful as apps.
So I opened AppMatch.com on my phone.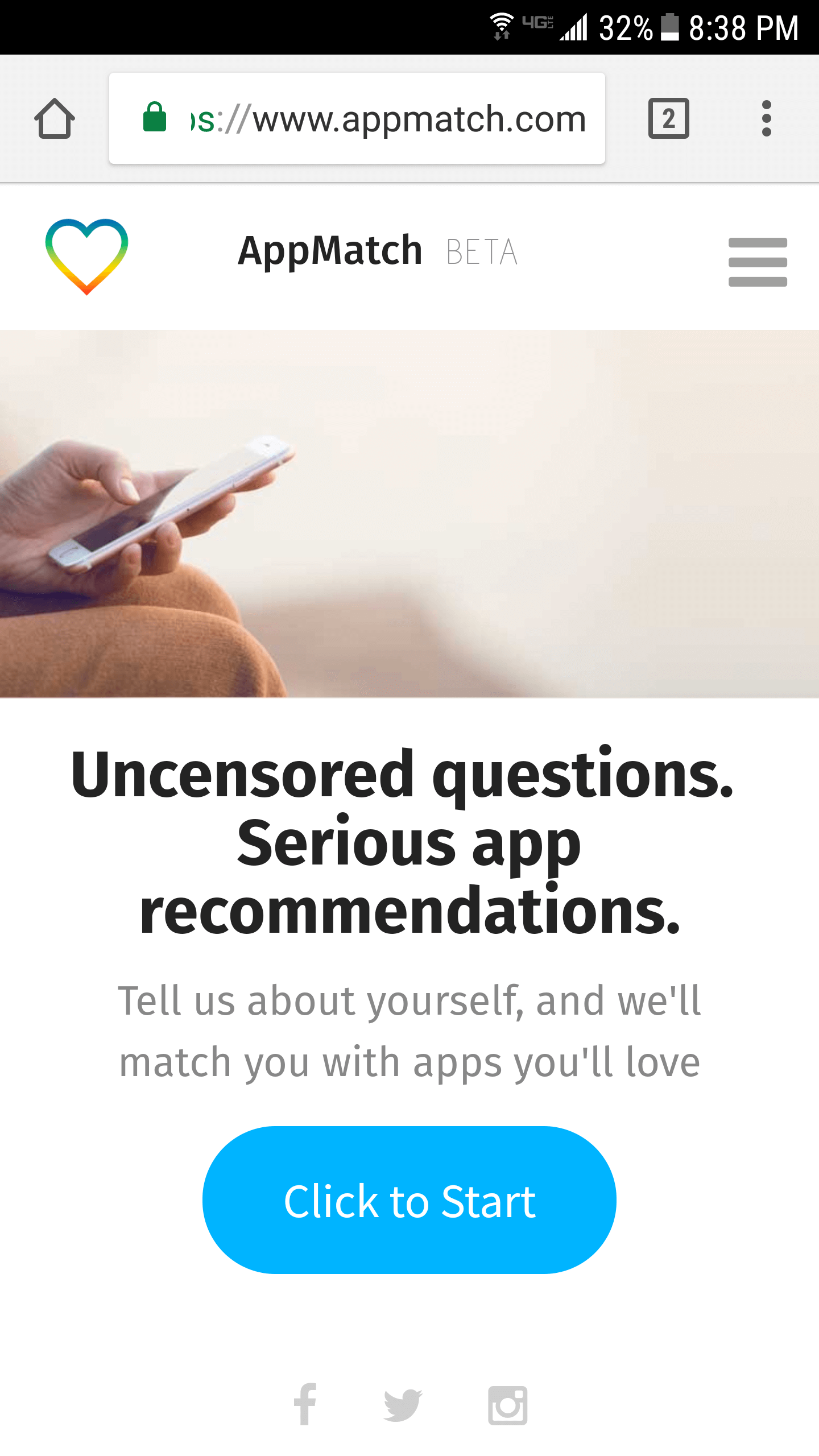 I Took Their App Personality Test
I couldn't resist the large "Click to Start" button and was immediately thrown into their personality test. I have to admit it was super nice to start without having to sign up or give my email address. You just start.
You have to answer some "Introductions" questions first, there are maybe 7 Introduction Questions.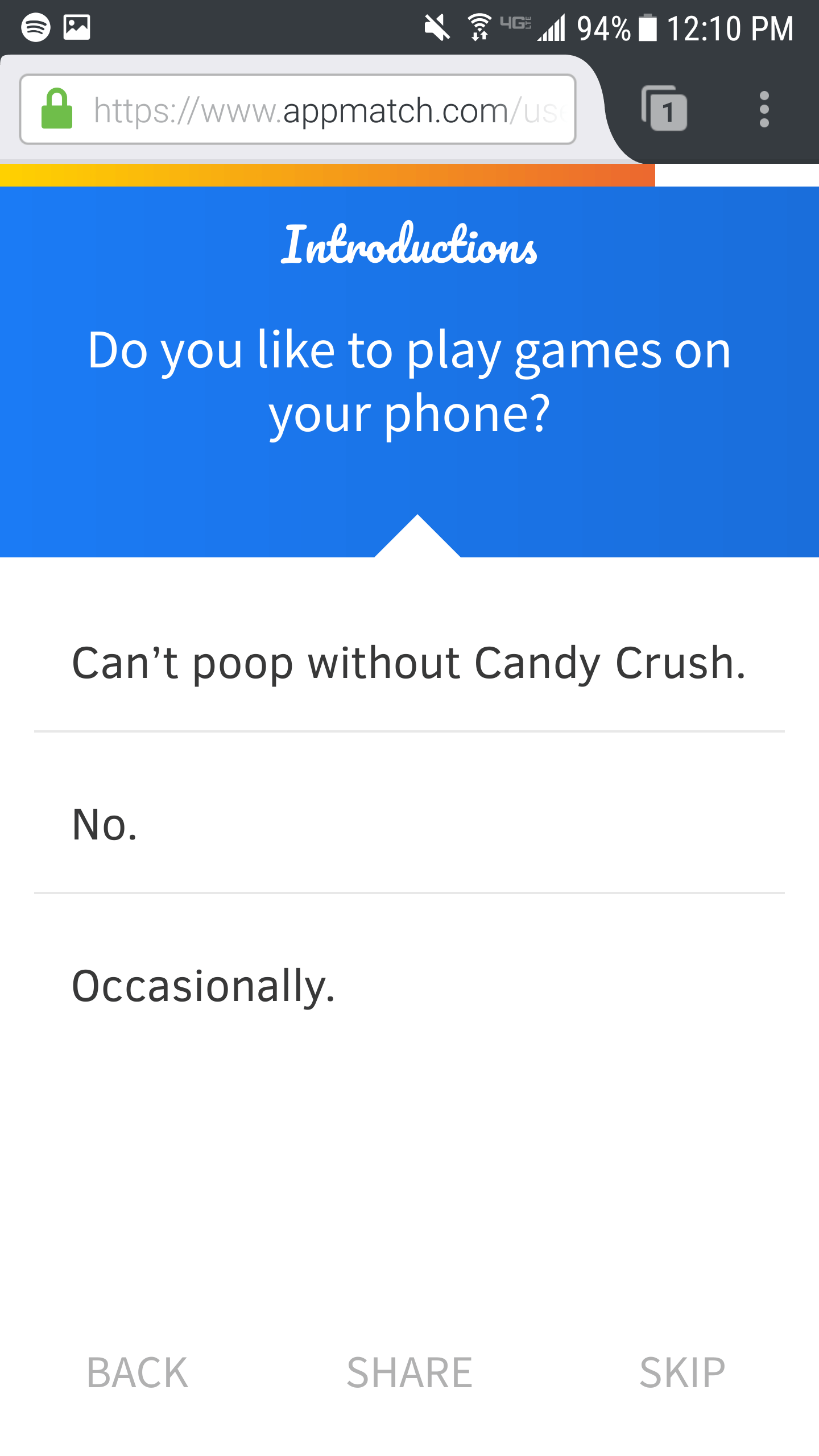 Once you answer their Introduction questions, you're pulled into their "Quizzes" section where you select different quizzes based on your preferences. I assume this is like categories in the app store. From the screenshot below, you can guess "Lifestyle", "Finances", "Productivity" and I'm not sure about Paranoid Android. Maybe security?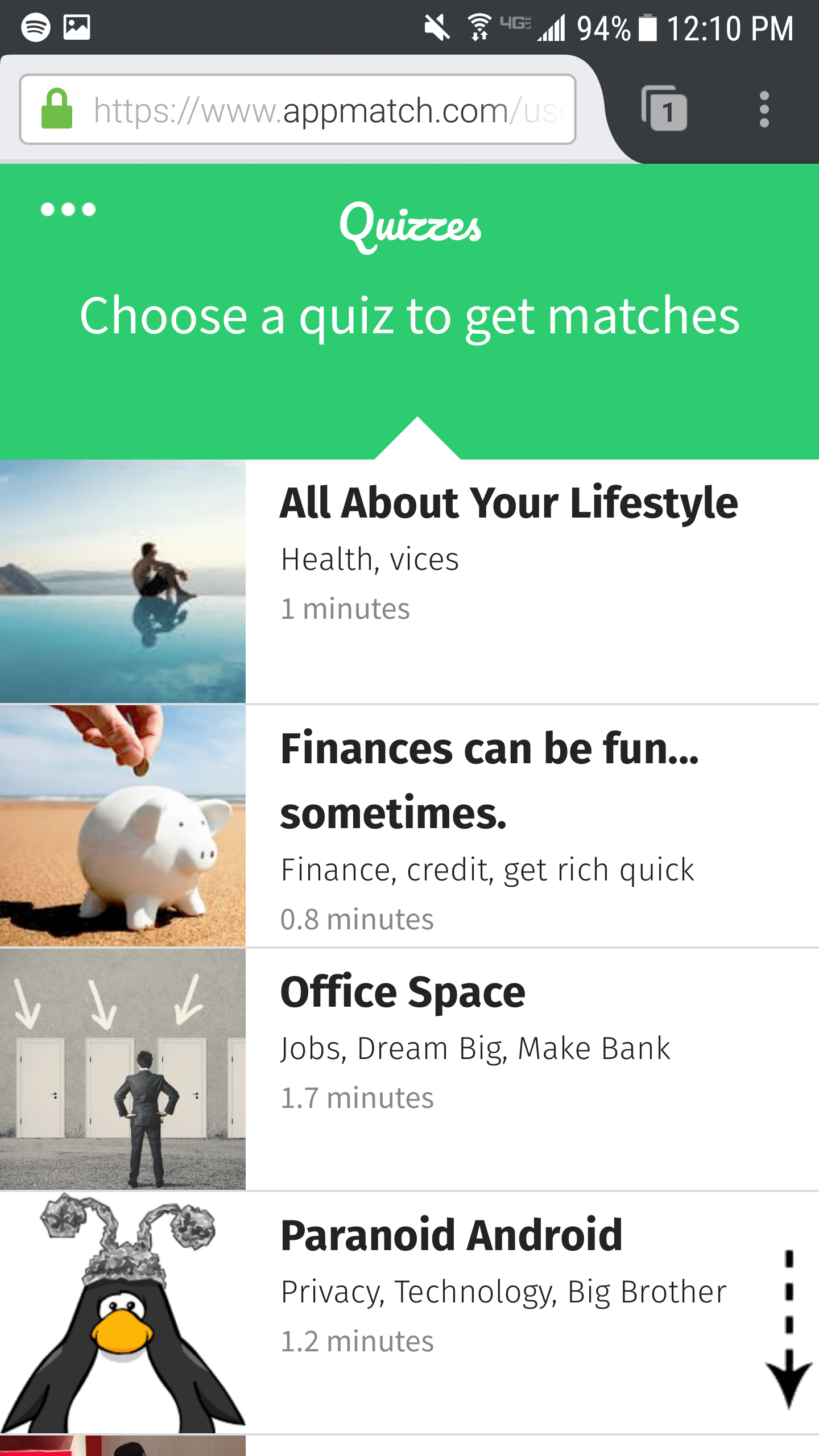 I selected "Finances can be fun….Sometimes" and took a couple of their other personality test to see what would happen and what apps it'd match me with. I don't know maybe it'd match me with the Fluid App or a cashback app like Ebates.
Some questions made sense: The questions asked if I'm secure with my phone, my profession, and a happy person. I'm assuming this is trying to figure out if I like phone security and light-hearted apps that centered around my profession (Marketing). OK I get that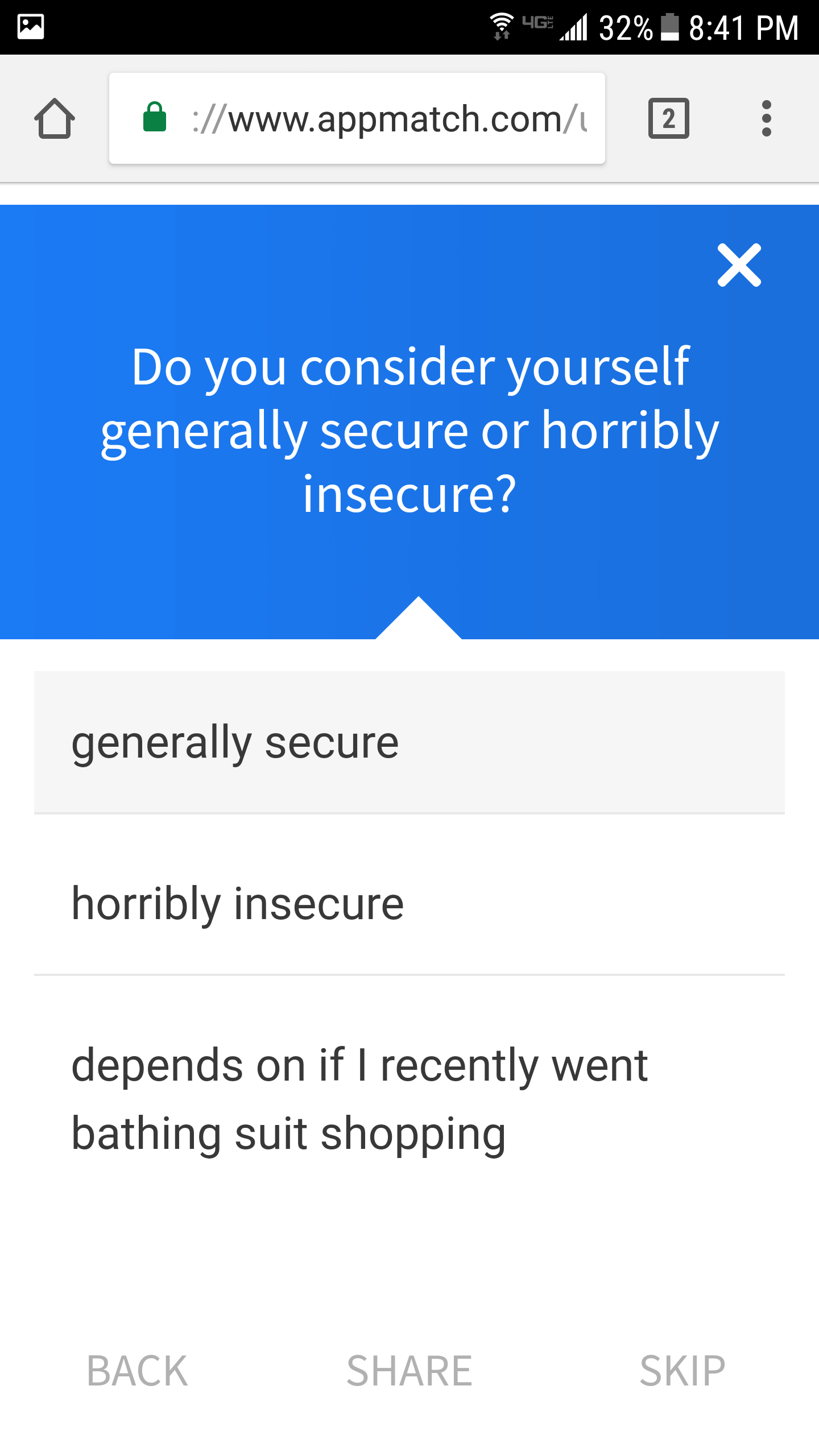 Some questions made no sense: "How is your relationship with your mother" & "Do you have deep rooted emotional issues"? I have absolutely no idea how this will affect what apps I prefer, but I continued. Maybe they threw in some questions to make sure you were paying attention?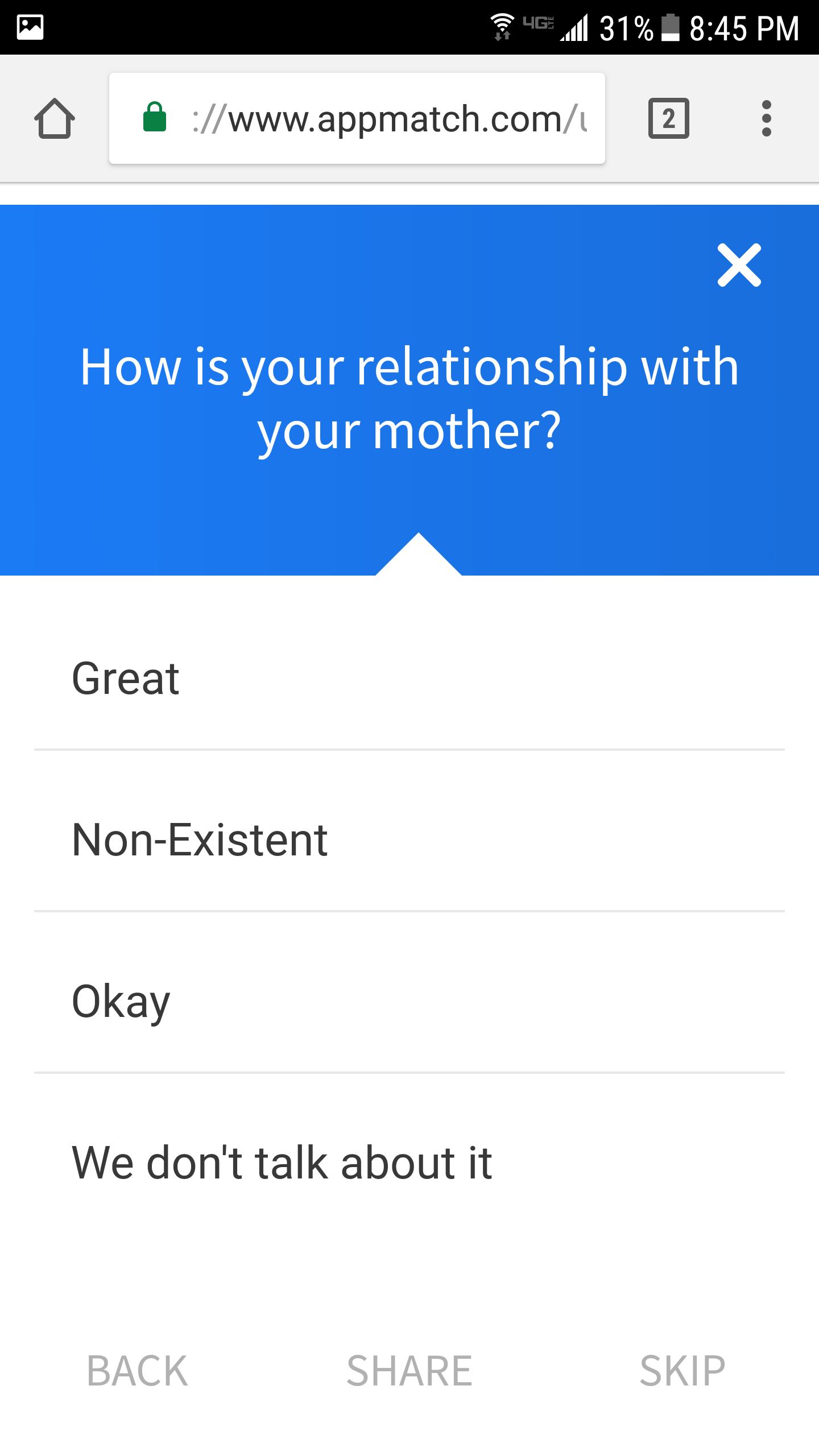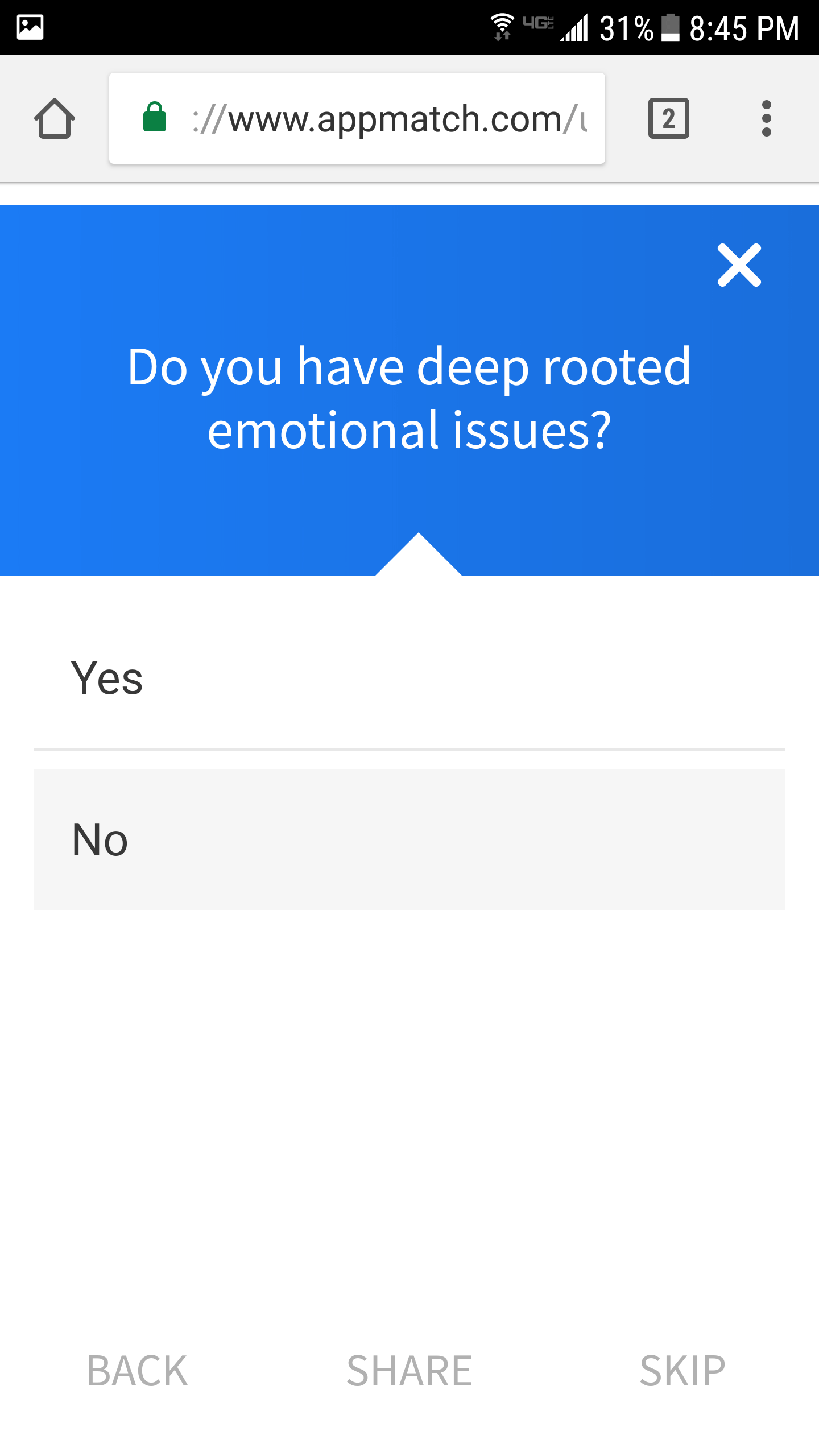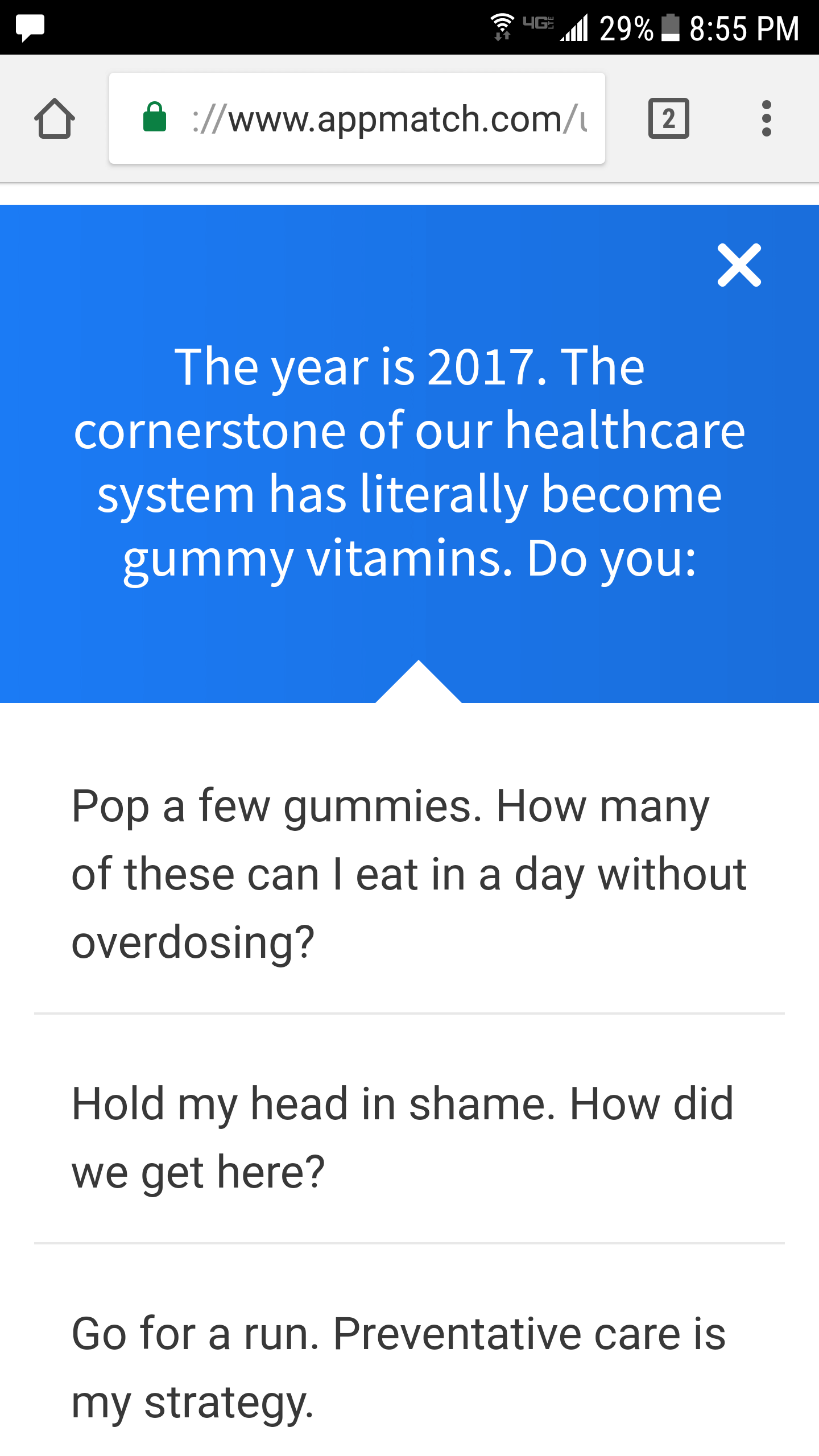 I'll admit the questions during the AppMatch Review were creative and they're not afraid to cuss. I feel like these questions were curated by someone's sassy best friend after a few glasses of wine. Check out the fourth response down.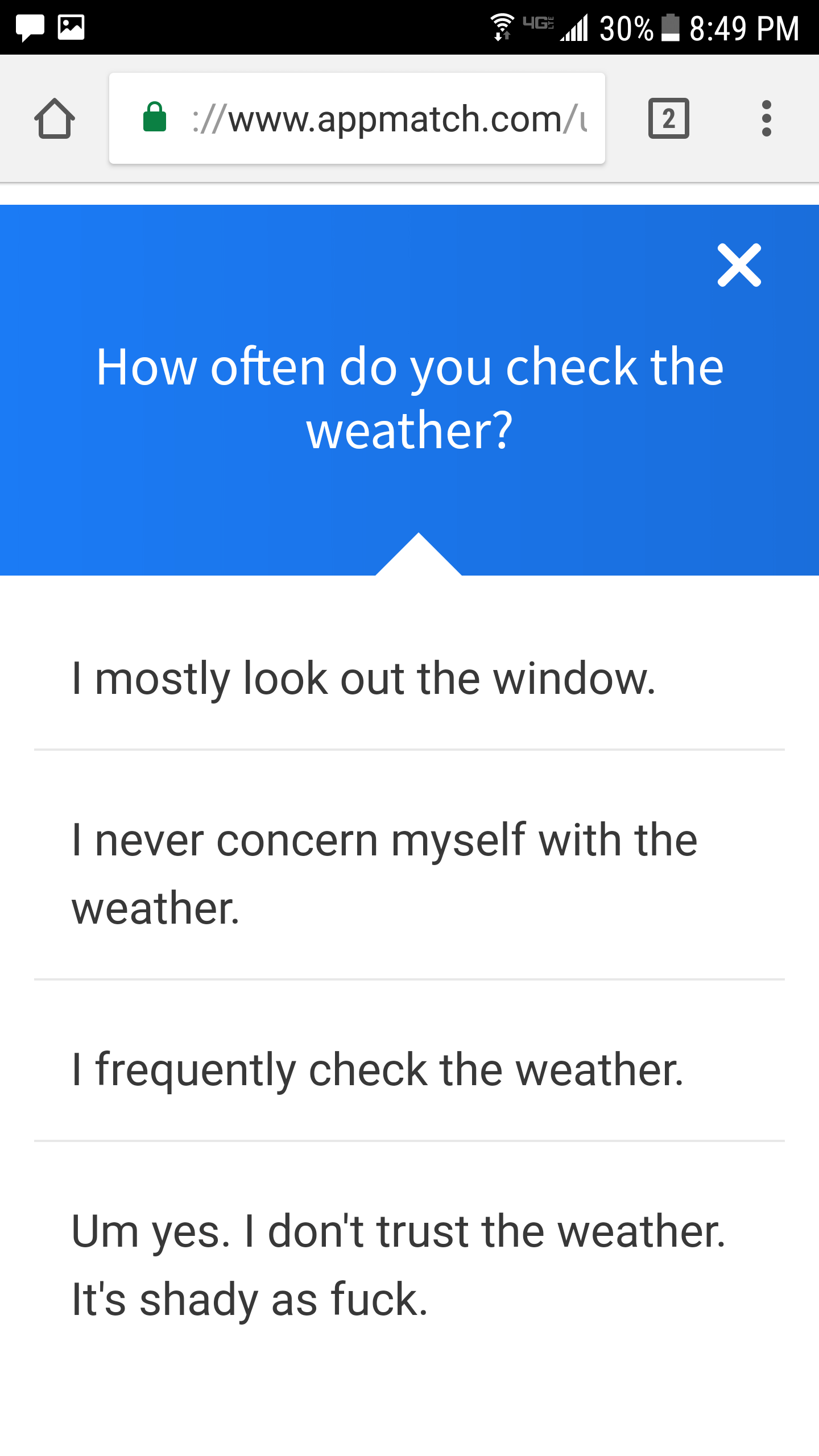 I Finished The Test
In the end, it recommended to me some app called "Slice". I instinctively thought, I've never heard of this, this is stupid. However, upon further review, I looked up Slice and it looks really cool. Especially since I just had an Amazon package lost in the mail (FYI – Slice tracks things you buy online). I could totally see myself using this.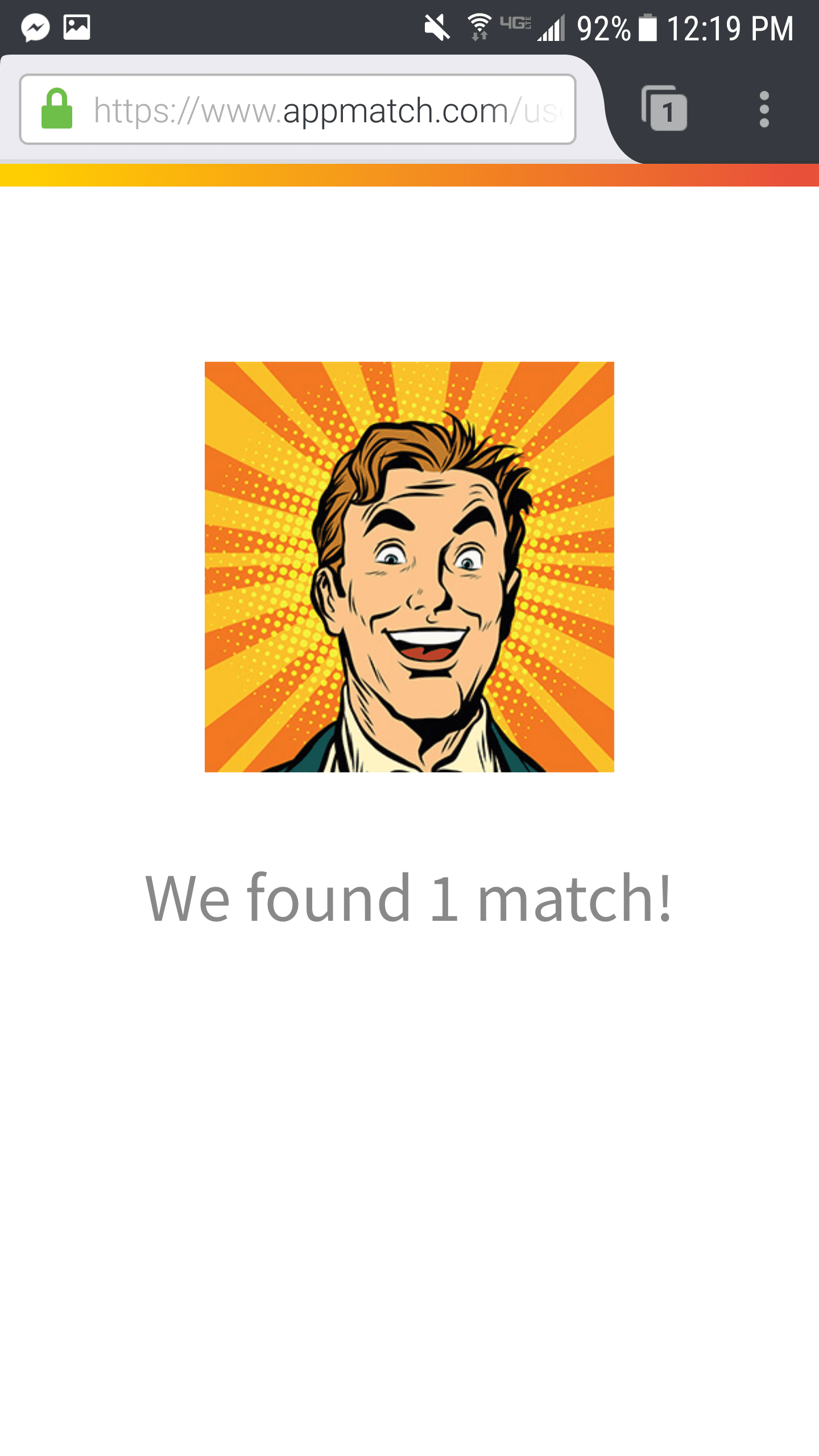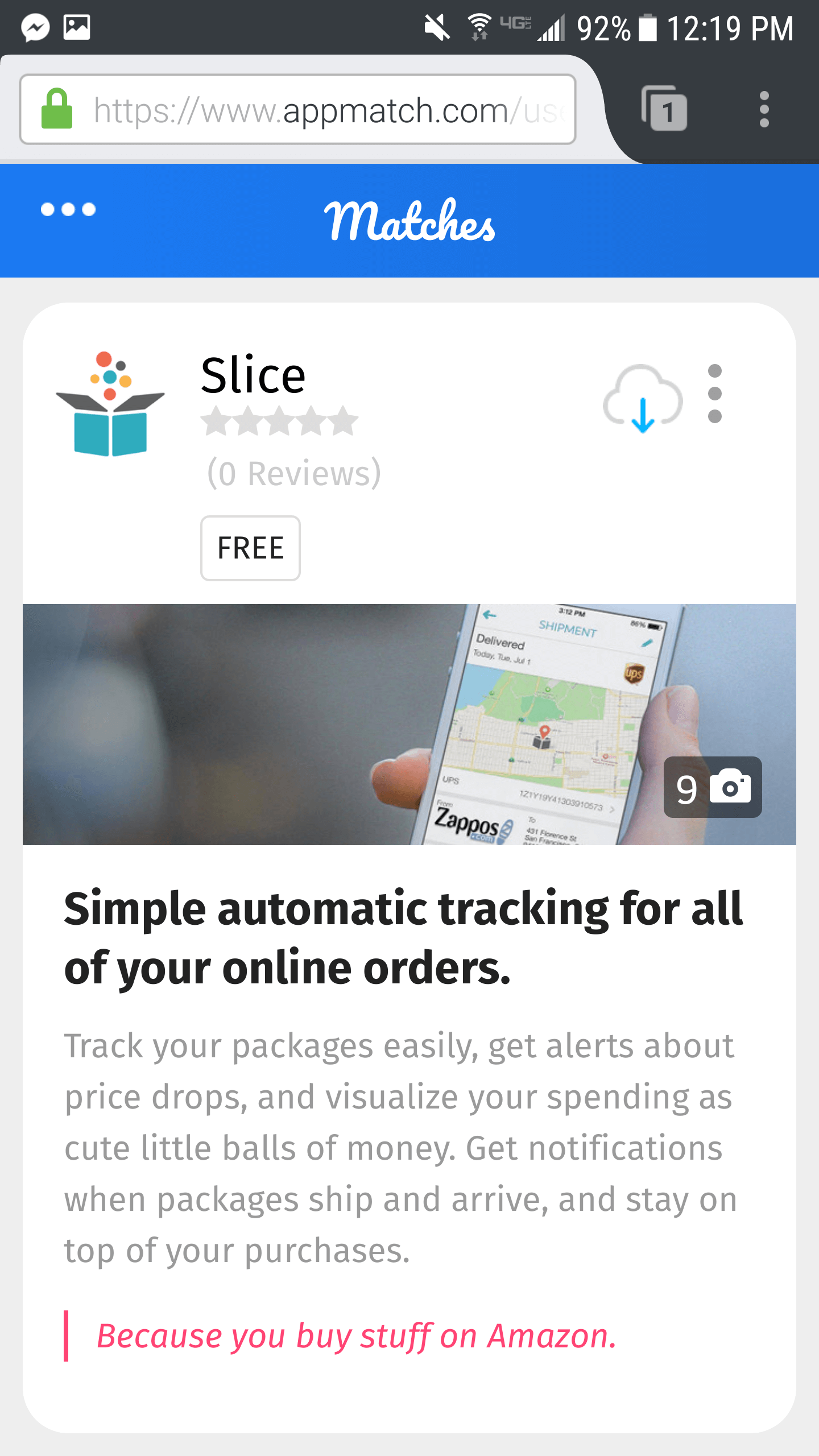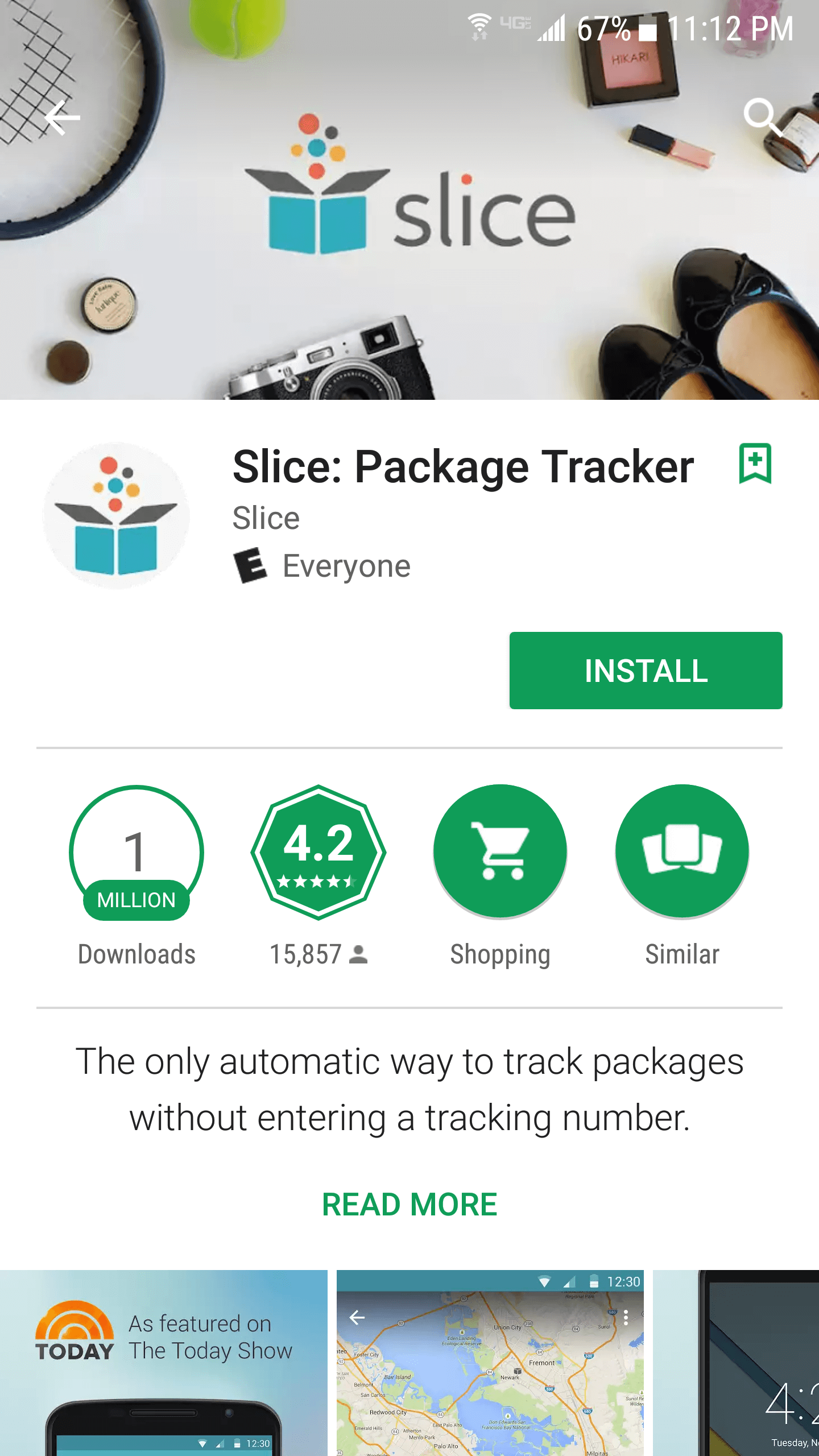 What was on the AppMatch Review Pro List?
It's a cool idea. They are solving the problem of millions of apps on the app stores by sorting them on your personality.
It's really fun to take a few funky questions and see what apps pop up specifically recommended to you. It has the fun of a BuzzFeed quiz, but without all the ads in your face.
What was on the AppMatch Review Con List?
On my first attempt, the website did crash on me. They explicitly state that it's in Beta. So I can understand a few hiccups. It's a work in progress.
You can ONLY take their test on your phone, so when it recommends an app after the test, you can download it from your mobile device. I'd like to see a similar feature from their desktop website since it' my primary web surfing device.
There are over 2 million apps on the app store, but not all of them are cataloged on AppMatch yet. AppMatch says they are regularly sifting through the App Store and tagging apps to be filtered by their personality test, but we have no idea how many apps they currently have cataloged. So we don't know the diversity of their recommendations.
I retook the test and it told me it found ZERO matches. Does that mean I have no personality? How out of all the apps out there, there are ZERO that fit me? I think this is another of the hiccups of their BETA.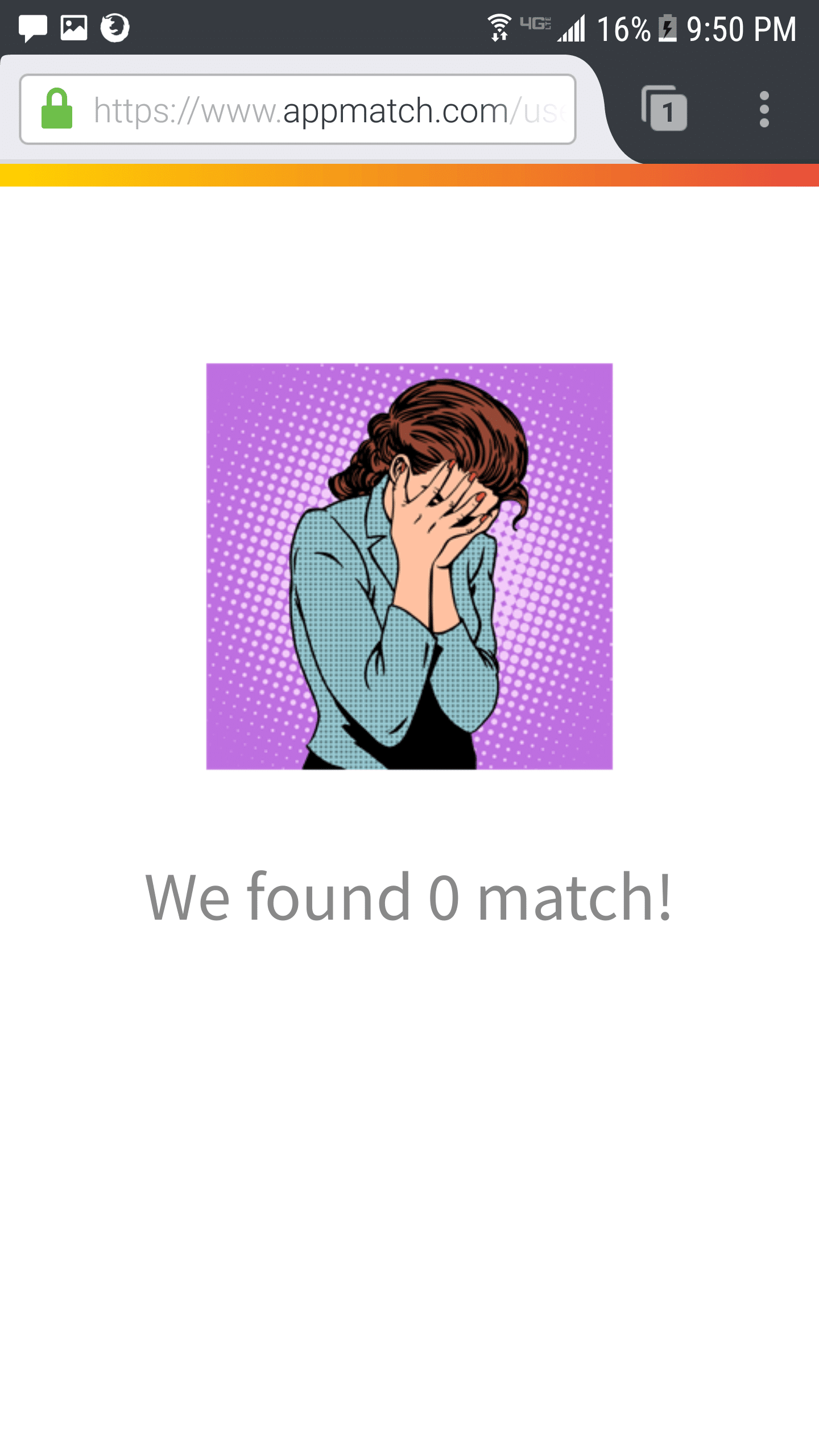 How AppMatch Makes Money
To understand how a business is run you need to understand how they make money. From their website, it looks like AppMatch makes money from App Developers paying them to review their app for placement in the AppMatch ecosystem.
AppMatch has the audience of people taking their tests and App Developers will pay to be one of those apps recommended to us. Being in the AppMatch ecosystem doesn't guarantee that the App Developer's app will be suggested, only that it will be reviewed before the 2 million plus other apps in the App Store.
AppMatch Review Conclusion
I'll admit it was a lot of fun (minus the small crash) testing this for the AppMatch Review. I love finding new productivity apps out there to help me do/be better. This was just another way to find those apps without scrolling through the app store, looking at description after description. I'll admit, I was hoping for some more cool finance apps like Mint and Robinhood, but I'll continue looking.
They still obviously have much work to be done, but I can see it as a fun solution of an overcrowded app store.
*Disclosure – I was paid for this review, even after telling them I would only give my honest opinion. 
https://walletsquirrel.com/wp-content/uploads/2017/06/AppMatch-Homepage.jpg
665
1864
Wallet Squirrel
https://www.walletsquirrel.com/wp-content/uploads/2015/09/Wallet-Squirrel-Logo.png
Wallet Squirrel
2017-06-29 13:00:56
2017-09-15 21:56:04
AppMatch Review: A Test to Find the Perfect App for You