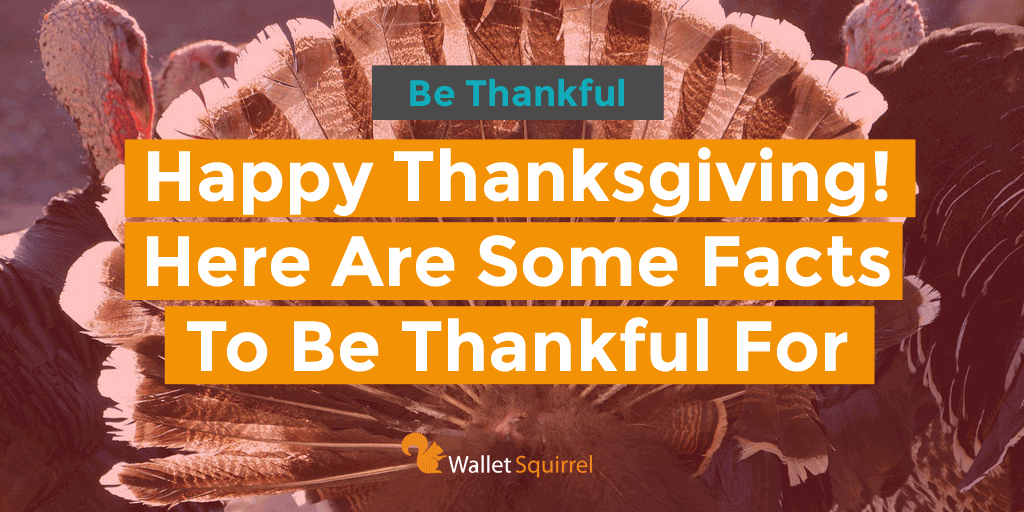 Happy Thanksgiving (American readers)! However, if you're an international reader, Thanksgiving in America is just a day where people are reminded to be thankful for everything we have and celebrate with eating lots of turkey and pie. Usually surrounded by friends and family.
However in this Thanksgiving post, I wanted to be reminded of how far I've come, and our readers, in understanding finance. Because it wasn't long ago (only in 2015 I paid off $6,000 of credit card debt) that I knew NOTHING about finance and started learning. So I found some interesting finance facts to remind myself of how far I've come.
10 Fun Finance Facts
Student Loans are in the trillions of dollars and two of five student loan accounts become delinquent within the first five years of making an attempt to pay student loan payments (source). I have auto-deduct on my student loans, it helps A LOT!
Nearly 30% of Americans don't have at least 3 months of money to get them by if something happens (source). Personally, my Emergency Fund has 3 months of cash I can tap before I start pulling from my investment accounts to get me by.
In the days of the pilgrims (see thanksgiving themed fact) a US Dollar was called a "buck" because the pelt of a male deer was worth a dollar (source). I didn't know this before!
Did you know Walt Disney every year for the holidays gave his housekeeper stocks of Disney? By the time his housekeeper, Thelma Howard died, she amassed a $9.5 million dollar fortune (source). Be nice to housekeepers and thankful for everyone doing these thankless jobs!
Don't take investment advice from celebrities. I'm thankful I never have. The Rapper 50 Cent in 2011 started tweeting about H&H Imports (stock ticker HNHI), an investment he owns and told people to invest. Although his tweets are now taken down, he made $8.7 million from his comments on the penny stock (source). Can't imagine his followers did as well.
If you're having a bad day, just remember Ronald Wayne. Ronald was a third co-founder of Apple along with Steve Jobs and Steve Wozniak. Ronald sold his 10% stake in Apple in 1976 for $800. That 10% stake is now worth more than $35 billion (source). I'm thankful not to have that guilt on my conscious. Remember buy/hold!
I hate coins, but I'm thankful they add up! In 2015, the TSA (the people at airport security lines) collected $765,759.15 in loose change. This is the money people just left behind in those long lines and x-ray machine bins. They get to keep it all too (source)!
Buy and hold stocks are a thing. As of January 2013, there were 16 people left in the world who were born in the 1800's. If they invested (and held) in the stock market, US stocks had increased 28,000% during their lifetimes (source). I'm thankful to start buying and holding so young. I could totally live to be a hundred.
46.1% of Americans will die with less than $10,000 in assets (source). This factoid haunts my dreams. I'm thankful I  have more than this currently.
In 2011, US charitable giving was $298 billion. That's more than the GDP of all the countries in the world, except 33 of them (source). That's pretty awesome and something to be thankful for!
Have a great day everyone!
http://walletsquirrel.com/wp-content/uploads/2017/11/Thanks-Giving-Post-Header.png
512
1024
Wallet Squirrel
http://www.walletsquirrel.com/wp-content/uploads/2015/09/Wallet-Squirrel-Logo.png
Wallet Squirrel
2017-11-23 11:33:28
2017-11-23 11:34:22
Happy Thanksgiving! Here Are Some Facts To Be Thankful For