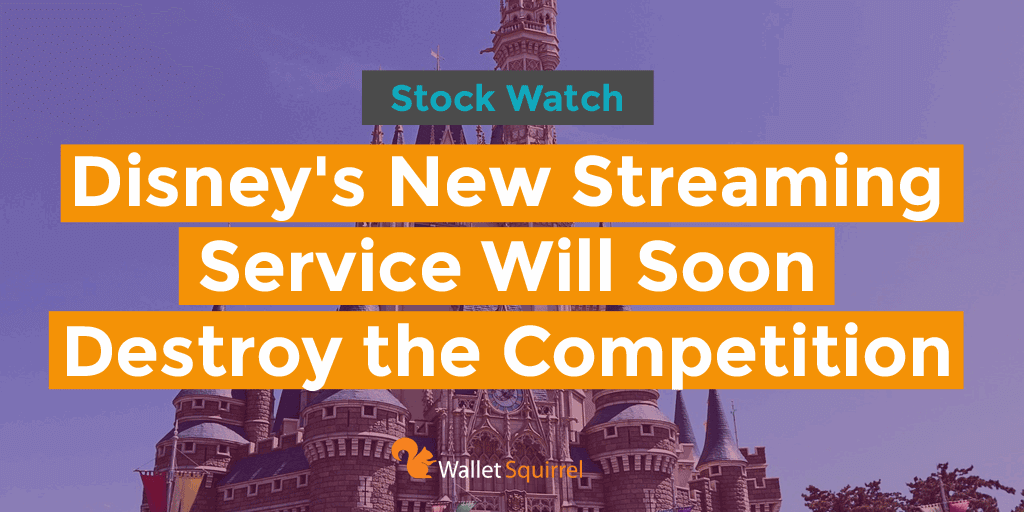 Disney's New Streaming Service Will Soon Destroy the Competition
We talk about the rise of Netflix, Amazon's streaming service, Hulu and even YouTube but I don't think we've discussed enough of the impact Disney's new streaming service is going to have.
Yes, Disney is Developing its Own Streaming Service
If you didn't know, Disney is developing its own streaming service that's looking to be priced substantially below Netflix at its launch. They have been leaking bits and pieces about their new streaming service here and there so we only know a little, but I don't think people realize how big of news this is.
Cable TV is Dying, Streaming is the New Thing
In 2015, Netflix and Hulu grew 29% to a $5.1 billion market cap while cable and satellite tv only grew by 3%. It's safe to say that streaming is taking over. Netflix alone has 109.3 million subscribers and anticipates another 6.3 million subscriptions this quarter. Those 109.3 million people are paying $10.99/month. That's $1,202,300,000 per month. Not bad.
With Streaming, Content is King
Netflix realized a while ago, that anyone can get copy rights to movies and tv shows to be a streaming service, but what makes you unique is the original content you produce. That's content you exclusively control. Think "House of Cards" you can't get that anywhere except Netflix. Those original shows draw crowds of people to Netflix and they stay for the wide range of shows to watch. So much so that most people don't need cable anymore other than sports, which have started streaming as well.
If you're curious to know how serious original content is Netflix. Netflix plans to spend $8 billion on original content in 2018.
No One Has More Content Than Disney
Nearly every childhood movie (Lion King, Aladdin, 101 Dalmatians, etc.) is owned by Disney. Now add onto those the Pixar movies (Toy Story, Finding Nemo, Cars), Marvel Studios (Iron Man, Captain America, Thor, Avengers, etc.) as well as Lucas Films (Star Wars). These are just a taste of the original content has, and can start streaming on their own network when ready. They own the exclusive rights to these films that can be leveraged in their new streaming service.
These are huge name franchises here! The Marvel Films alone have averaged $840 million at the global box office per movie.
Then you also need to consider all the Disney channel content and shows that it's created for tv, soon going to be available in one location. I wouldn't be surprised to see the Disney Streaming service being the one streaming service owned by every mom in America.
Here's a taste of the Disney Vault of movies.
Now start to consider what if Disney started to produce new content, including Star Wars, Marvel and/or movies exclusively for their new streaming service. That will be a huge draw to the service!
As much as Netflix, Hulu, Amazon Video and YouTube can crank out content. Disney has a winning formula it's used for years to amass loads of quality content and proven itself over and over. It WILL win the original content game. If Disney can continue to dominate the original content game, they will win the streaming game.
When Does Disney's Streaming Service Start?
The only thing we know is that Disney plans to debut their streaming service in 2019. Coincidently, this is when their current contract with Netflix is through. So when Netflix loses all their Disney content (think Marvel Series like Jessica Jones, Luke Cage, Daredevil, etc plus other Disney content), Disney will likely publish these shows on their own streaming service.
Keep in mind, they'll start their ESPN streaming service in 2018 to start catching those cable-cutters who love sports. This will give them an opportunity to help hash out all the bugs for their larger digital content streaming service.
Will This Impact the Streaming Industry?
To give you an idea of the impact the news about a Disney streaming service. When Disney made the announcement, Netflix stock price dropped 4%.
Plus Disney has the resources not only from its box office hits, but it's depths of resources to undercut all these other streaming services in price. So while Netfilx will continue to raise it's monthly subscription price to pay for their original content, Disney win the war on prices and simply choke Netflix out. We'll likely see Amazon Video and Disney as the lasting champions in the streaming game.
Conclusion
I am going to try to pick up a few more shares of Disney while the price is low before 2019. It's not the greatest dividend for my dividend strategy at a 1.51% dividend, but it's a great company with a great plan to be the #1 player in streaming services.
If you liked this article, I'd love if you shared it! =)
http://walletsquirrel.com/wp-content/uploads/2017/11/Disney-Streaming-Service-Header.png
512
1024
Wallet Squirrel
http://www.walletsquirrel.com/wp-content/uploads/2015/09/Wallet-Squirrel-Logo.png
Wallet Squirrel
2017-11-16 12:30:15
2017-11-16 19:23:04
Disney's New Streaming Service Will Soon Destroy the Competition